Salmon Soup features lemongrass notes, sweet peas, sweet corn and is served with crunchy bacon crumbles.
We enjoy a warm and comfort soup, such as this Salmon Soup. We have a big list of soup recipes on our blog for you to look at. Among our popular soups are Instant Pot Creamy Tomato Soup, Slow Cooker Corn Chowder with Bacon and Creamy Tortellini Soup.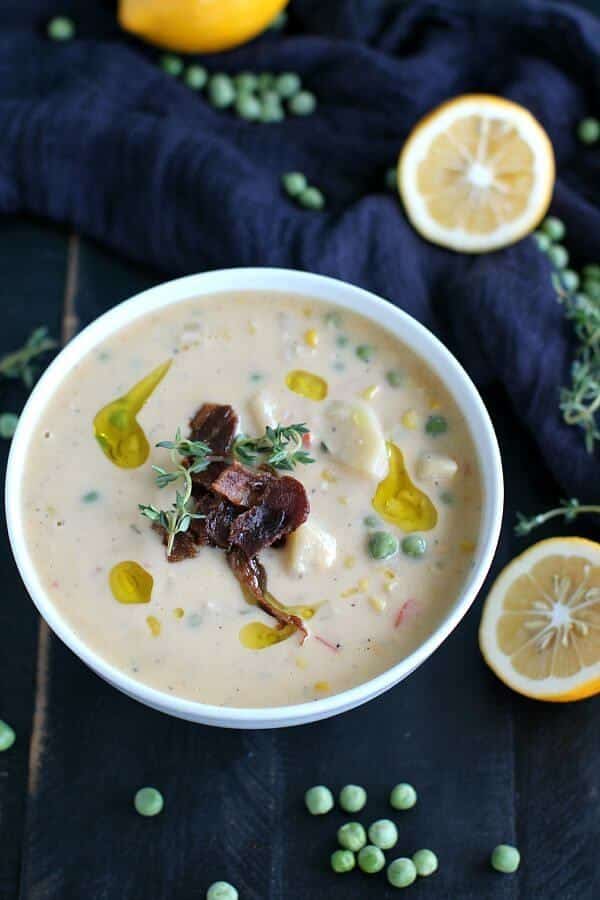 Salmon Soup
This Salmon Soup turned out amazing from my first try. I mean, you can't really go wrong with flaky salmon, cream, bacon, sweet peas and corn. The flavors are so fresh, and I added some lemon grass and also lemon juice. As a result, the soup feels light and a tad citrusy. Also, I want to mention that this creamy salmon soup it's not labor intensive. It involves a few steps to follow, but nothing crazy, so you can totally go ahead and make this on a weeknight. In addition, this is also a great way to use any leftover roasted salmon. I only used one cup of cream, to make it on the healthier side. Then I added potatoes, which I blended after they were fully cooked. This is a great trick to make a very creamy and dense soup while still keeping it healthy.
The sweet peas and corn add such a nice flavor, and their sweet and summery taste brighten up the soup. They add a nice pop of color and some fun texture. The creamy salmon soup is topped with crumbled bacon for a savory, salty finish. The flaky roasted salmon, the creamy broth, and the subtle lemon undertones, all work so nicely together to create a comforting yet beautiful meal.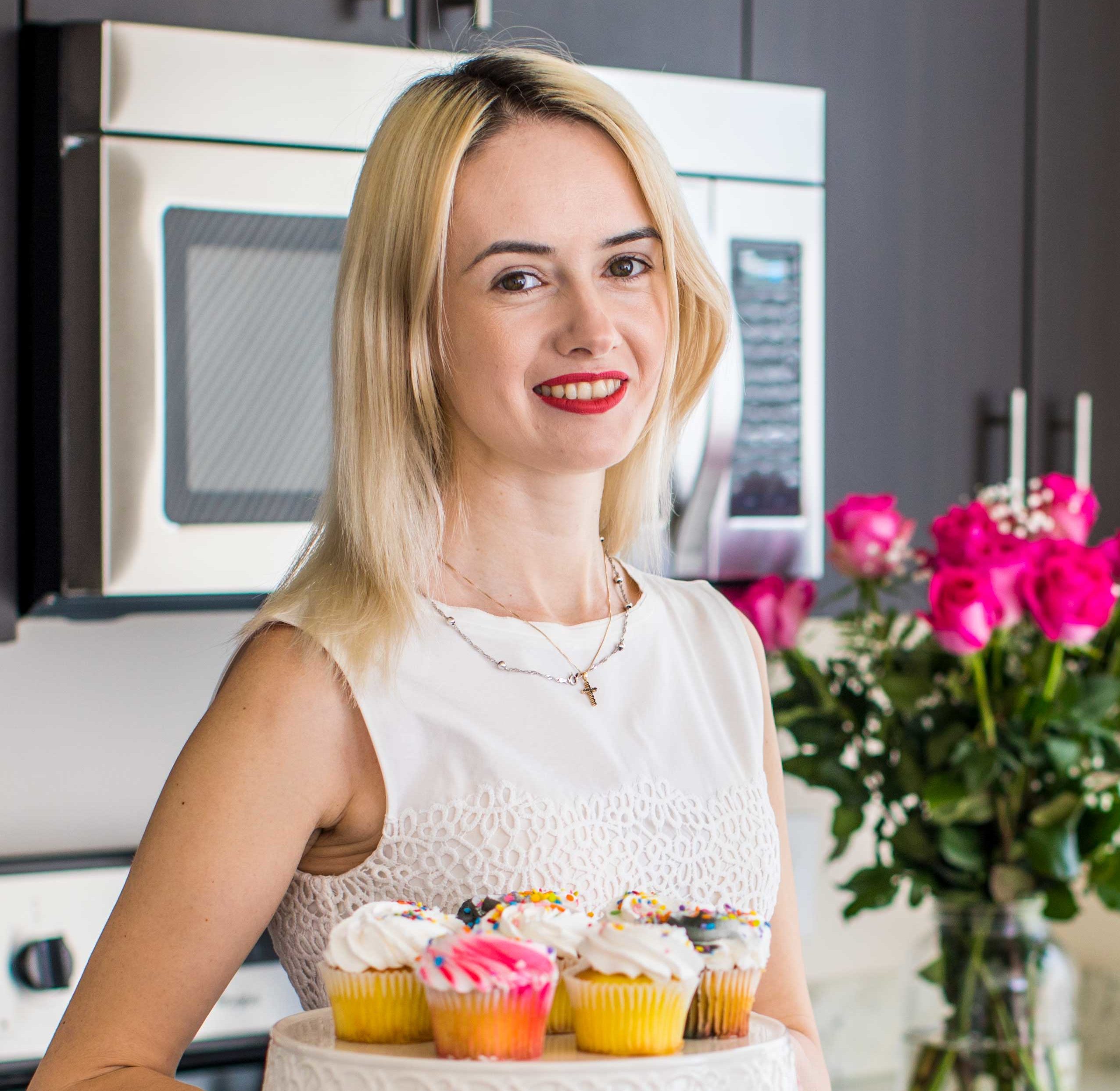 Follow us on Pinterest for more delicious recipes!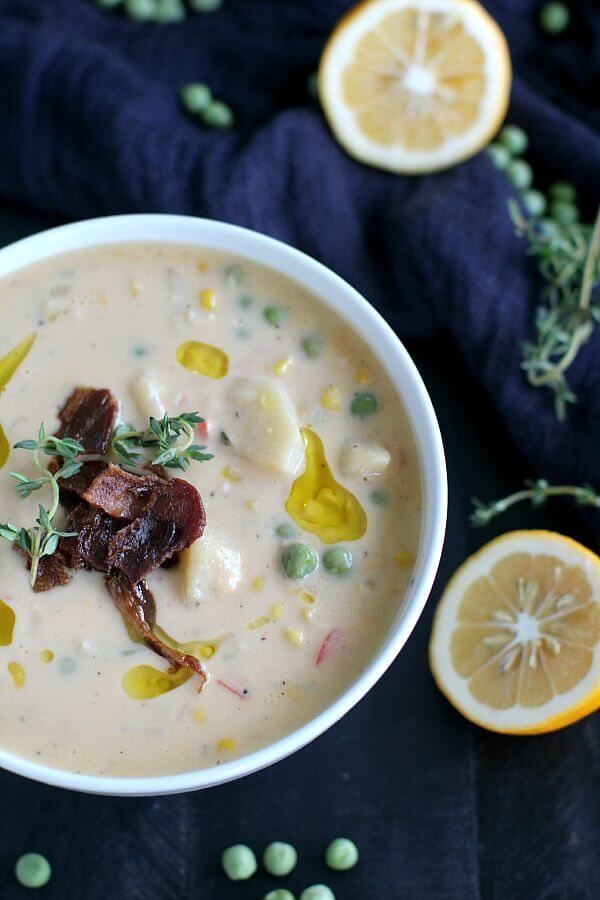 How to make homemade vegetable stock?
Heat oil in a large stockpot over medium-high heat.
Add the garlic, onions, celery, and carrots to it.
Cook until softened, for about 5-8 minutes, while stirring often.
Add the water, frozen vegetable scraps, bay leaves, parsley, thyme, salt and pepper.
Reduce heat to low and simmer, partially covered, for 45 minutes.
CAN YOU FREEZE Salmon SOUP?
Yes. I recommend using quart bags for this soup. First, use a cup to transfer the soup from the pot into the bag. Then, squeeze out excess air and seal the bags. The bags can nicely be stored in the freezer for up to 2-3 months. When reheating, you may need to add a bit of heavy cream, add ¼ cup at a time. Preferably heat it on the stove top if you will be adding more heavy cream.
Save Recipe
Salmon Soup
Salmon Soup features lemongrass notes, sweet peas, sweet corn and is served with crunchy bacon crumbles.
Author: Catalina Castravet
Serves: 8 servings
Prep time:

30

minutes
Cook time:

1

hour
Total time:

1

hr

30

mins
Nutrition information
Calories: 456 Carbohydrates: 22 Protein: 17 Fat: 33 Saturated Fat: 9 Cholesterol: 51 Sodium: 308 Potassium: 555 Fiber: 2 Sugar: 17 Vitamin A: 770 Vitamin C: 36.1 Calcium: 104 Iron: 1.4
Save Recipe
More recipes you might love
Categories: