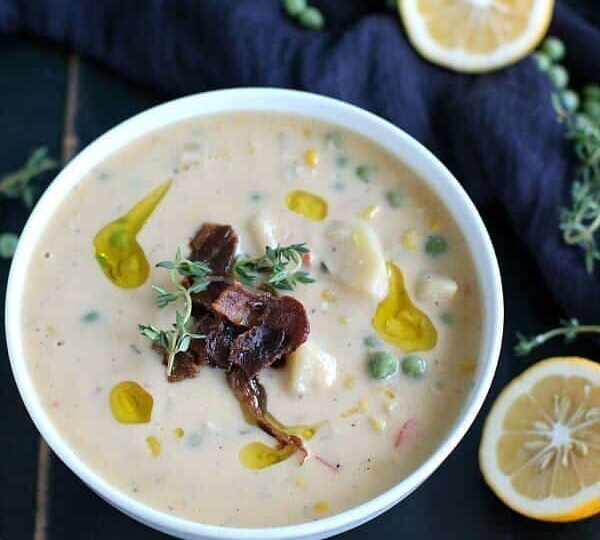 Salmon Soup is a creamy and hearty soup made with salmon filets, lemongrass notes, sweet peas, potatoes, sweet corn and is served with crunchy bacon crumbles.
We enjoy warm and comfortable soup recipes during the fall and winter seasons. Among our popular soups are Instant Pot Creamy Tomato Soup, Slow Cooker Corn Chowder with Bacon, and Creamy Tortellini Soup.
Salmon Soup (or Lohikeitto)
This Salmon Soup is creamy, hearty and one of the best dishes you can have during a cold winter night. The salmon chowder turned out amazing on my first try. I mean, you can't really go wrong with flaky salmon, cream, bacon, sweet peas, and corn.
The flavors are so fresh, and I added some lemongrass and also lemon juice for a citrusy finish. As a result, the soup feels light and a tad citrusy. Also, I want to mention that this creamy salmon soup it's not labor-intensive.
It involves a few steps to follow, but nothing crazy, so you can totally go ahead and make this on a weeknight. In addition, this is also a great way to use any leftover roasted salmon or skin. I only used one cup of cream, to make it on the healthier side.
Then I added potatoes, which I blended after they were fully cooked. This is a great trick to make a very creamy and dense soup while still keeping it healthy. The sweet peas and corn add such a nice flavor, and their sweet and summery taste brightens up the soup.
They add a nice pop of color and some fun texture. The creamy fish soup is topped with crumbled bacon for a savory, salty finish. The flaky roasted salmon, the creamy broth, and the subtle lemon undertones, all work so nicely together to create a comforting yet beautiful meal.
Ingredients:
Here is what you will need:
Salmon: I love using salmon filet without the skin here as it has a nice texture. You could also use the skin-on salmon but I found out that when you boil the fish, the skip tends to come soggy and robbery. Hence, I usually omit it. However, you can use salmon skin or the salmon carcass.
Onion and garlic cloves: This adds plenty of flavors, so do not skip them!
Olive oil: To sautee the veggies.
Vegetables: Potatoes, bell peppers, sweet peas, sweet corn.
Seasoning: Fresh thyme, salt, and black pepper.
Lemongrass paste and lemon: It adds a nice citrusy finish to the whole dish. However, feel free to skip it.
Broth or stock: I use vegetable broth here as I want the broth to absorb as much of the fish as possible. But, chicken broth or fish broth will work as well.
Heavy cream: This makes the soup extra rich and creamy.
Bacon and fresh dish: To garnish.
How to make Salmon Soup?
Saute aromatics: In a large pot, add some olive oil over medium heat. Then, sautee the chopped onion, minced garlic, and lemongrass paste. Stir together and cook for 1-2 minutes.
Add the potatoes and the broth: Next, stir in the potatoes and the seasoning. Then, pour the vegetable broth and the heavy cream. Bring to boil for one minute, then lower the heat to low.
Cook on low: Let the mixture cook on low heat for about 15 minutes, until the potatoes are firm-tender but not mushy. Stir occasionally.
Add the salmon: Season the fish with some kosher salt and ground black pepper, and gently add it to the simmering soup. Simmer on low heat for about 5 minutes until the salmon is cooked and flakes easily.
Mix in the corn: Lastly, add in the sweet corn and sweet peas and cook for another 2-3 minutes.
Serve: Garnish with some crispy bacon and fresh dill, and serve warm with some crunchy bread.
Variations and substitutions:
Fish: You can make this fish soup with other types of fish. Simply swap the salmon with cod, trout, etc.
Dill: If you cannot find a fresh dish, use dry dill. Alternatively, go with fresh parsley, cilantro, or fresh basil.
Ginger salmon soup: Add some fresh ginger to the mixture.
Sweet potatoes: Feel free to swap the regular potatoes with sweet potatoes.
Seasonings: Go with your favorite seasoning. Some great addition would be bay leaves, fresh rosemary, red pepper flakes, cayenne pepper, dry oregano, dry coriander, etc.
How do you know when salmon is done?
In general, fish like salmon requires little cooking time. It is important NOT TO OVERCOOK the fish because the dish will turn out mush.
Since salmon is cooked easily, it is important to keep an eye on it as it cooks. It generally needs about 5-7 minutes of cooking.
You know it is ready when the flesh turns opaque and it flakes easily with a fork. Also, use a meat thermometer to check for doneness. According to the USDA, it needs to have an internal temperature of 145 degrees F.
Just remember that the fish will continue to cook off heat as it sits in the broth. So, it is best to cook it to about 135 degrees F, as the temperature will increase as it sits.
More creamy soup recipes:
How to make homemade vegetable stock?
Heat oil in a large stockpot over medium-high heat.
Next, add the garlic, onions, celery, and carrots to it.
Cook until softened, for about 5-8 minutes, while stirring often.
Then, add the water, frozen vegetable scraps, bay leaves, parsley, thyme, salt, and pepper.
Reduce heat to low and simmer, partially covered, for 45 minutes.
How to store leftovers?
First, let leftover cool at room temperature. Then, transfer leftover soup to an airtight container and refrigerate for up to 3 days.
Reheat it in a microwave or a pot over low heat, until fully warm.
Can you freeze salmon soup?
Yes. I recommend using quart bags for this soup. First, use a cup to transfer the soup from the pot into the bag.
Then, squeeze out excess air and seal the bags. The bags can nicely be stored in the freezer for up to 2-3 months.
Also, when reheating, you may need to add a bit of heavy cream, add ¼ cup at a time. Preferably heat it on the stovetop if you will be adding more heavy cream.
Cooking tips:
I love using boneless skinless salmon filets here. However, you could use the skin-on or even different fish types.
Also, feel free to add other veggies to it. Such as green peas, broccoli, etc.
To make it extra creamy, you can use a food processor or immersion blender and blend about half of the soup with potatoes together.
I added some crispy bacon on top. But this is optional.
In addition, for a more festive look, serve this creamy fish soup in individual bread bowls and garnish it with chopped dill.
Salmon Soup Recipe
Ingredients
1

large onion

chopped

8

garlic cloves

minced

2

tablespoons

lemon grass paste

6

medium

potatoes

peeled and chopped into 1inch cubes

1

cup

vegetable broth

1

cup

heavy cream

use light cream for a lighter version

1

cup

boiled hot water

1

lemon

1

bell pepper

chopped

1

cup

fresh sweet peas

1

cup

canned sweet corn morsels

1

lb.

salmon filet

without skin

7

bacon slices

1/2

cup

olive oil

+ 3 tablespoons

3

fresh thyme stems

salt and black pepper

fresh dill

to garnish
Instructions
Sautee the veggies
Place a 5-quart heavy pot over medium heat, add 1/2 cup of olive oil, let the oil heat for 30 seconds, and add the chopped onion. Cook the onion until soft, about 3 - 4 minutes, stirring occasionally.

Next, add the minced garlic and lemongrass paste, stir and cook for one minute.
Simmer
Add the potatoes and thyme stems, a little salt and pepper, stir everything well and add the vegetable broth and heavy cream. Let the mixture cook on low heat until the potatoes are tender, 20 - 30 minutes. Stir occasionally.

Once the potatoes are tender, transfer half of the mixture to a blender, add one cup of hot water and the juice of one lemon (cut the lemon in half and don't discard after squeezing), blend until smooth.

Flake the salmon with a fork, in medium pieces, not too small.

Open the can of sweet corn and drain any water.

Return the mixture to the pot, remove the thyme stems, add the lemon halves (they will add flavor), salmon, sweet peas, and sweet corn. Cook for a few minutes until the soup starts to boil Turn off the heat.

Serve the soup with bacon crumbles.
Deliciousness to your inbox
Enjoy weekly hand picked recipes and recommendations