Salmon Soup with Sweet Peas & Corn
This post may contain affiliate links. Please read my disclosure policy.
A healthier version of creamy salmon soup features lemongrass notes, sweet peas, sweet corn and is served with crunchy bacon crumbles.
Can you guys believe that I don't have any recipes featuring sweet peas on my blog? I mean, my blog name is Peas and Peonies, but not a single pea recipe. I had to shake my head in disbelief and fix this problem asap, and I fixed it deliciously by making a creamy salmon soup with sweet peas and also sweet corn.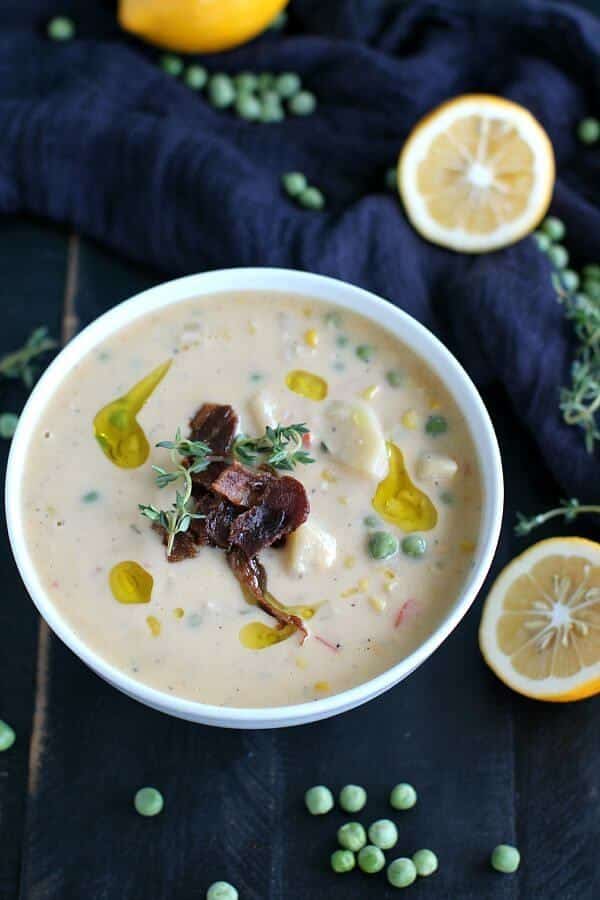 I guess when I made this creamy salmon soup the soup stars have aligned, because it turned out amazing from my first try. I mean, you can't really go wrong with flaky salmon, cream, bacon, sweet peas and corn. The flavors are so fresh, I added some lemon grass and also lemon juice so the soup feels light and a tad citrusy.

I want to mention that this creamy salmon soup it's not labor intensive, it involves a few steps to follow, but nothing crazy, so you can totally go ahead and make this on a weeknight. This is also a great way to use any leftover roasted salmon. I only used one cup of cream, to make it on the healthier side, and I added potatoes, which I blended after they were fully cooked. This is a great trick to make a very creamy and dense soup while still keeping it healthy.

MY LATEST VIDEOS
The sweet peas and corn add such a nice flavor, and their sweet and summery taste brighten up the soup. They add a nice pop of color and some fun texture. The creamy salmon soup is topped with crumbled bacon for a savory, salty finish.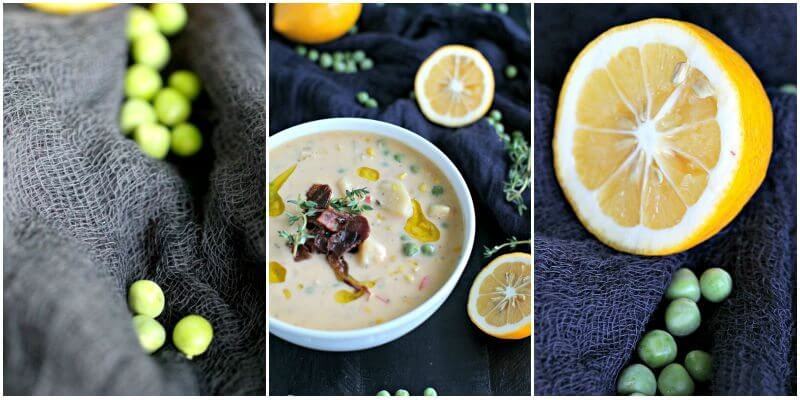 My husband had to go on a business trip a few days ago, he left in the morning and came back in the evening, two flights in one day can be really tiring, this creamy salmon soup was waiting for him when he got home and he totally loved it. The flaky roasted salmon, the creamy broth, the subtle lemon undertones all work so nicely together to create  a comforting yet beautiful meal.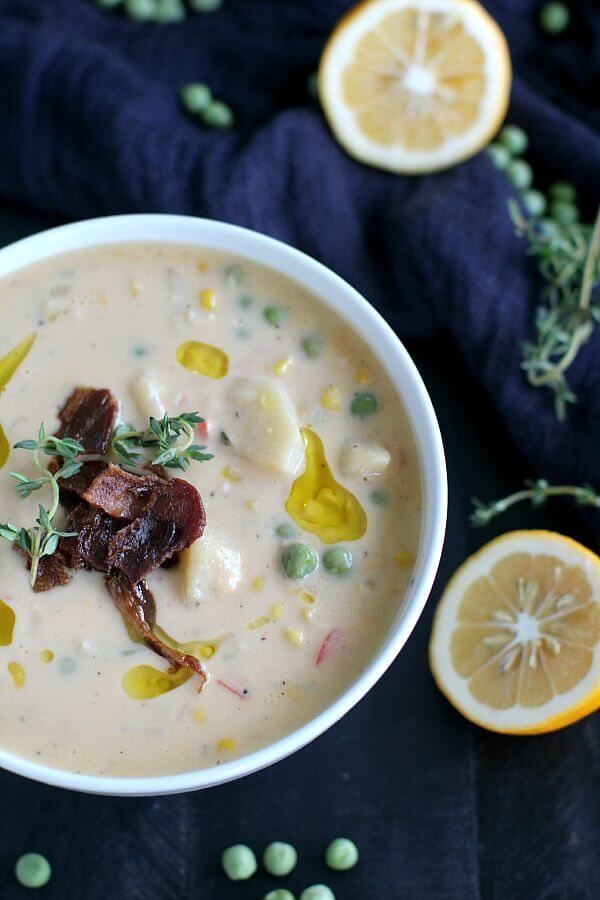 I am head over heels in love with this creamy salmon soup, I think it's my favorite soup at the moment, and that says a lot since I make soup on a weekly basis. My toddler loved the peas and the corn, my husband loved it, and my mother in law couldn't have enough of it, so I guess it's a winner!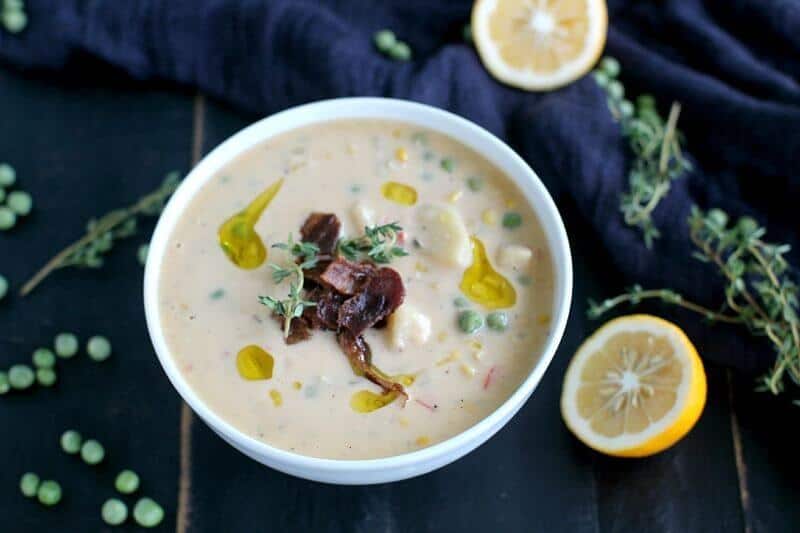 And here you have it, my first recipe featuring sweet peas! Enjoy!

Creamy Salmon Soup with Sweet Peas and Corn
A healthier version of creamy salmon soup features lemongrass notes, sweet peas, sweet corn and is served with crunchy bacon crumbles.
Author:
Katalina Kastravet
Ingredients
1 large onion, chopped
8 garlic cloves, minced
2 tablespoons lemon grass paste
6 medium potatoes peeled and chopped into 1inch cubes
1 cup vegetable broth
1 cup heavy cream, use light cream for a lighter version
1 cup boiled hot water
1 lemon
1 bell pepper, chopped
1 cup fresh sweet peas
1 cup canned sweet corn morsels
1 lb. salmon filet, without skin
7 bacon slices
½ cup olive oil + 3 tablespoons
3 fresh thyme stems
salt
pepper
Instructions
Preheat oven to 350 degrees F.
Place a 5 quart heavy pot over medium heat, when the pot is hot add ½ cup of olive oil, let the oil heat for 30 seconds and add the chopped onion. Cook the onion until soft, about 3 - 4 minutes, stir occasionally. Add the minced garlic and lemon grass paste, stir and cook for one minute. Add the potatoes and thyme stems, a little salt and pepper, stir everything well and add the vegetable broth and heavy cream. Let the mixture cook on low heat until the potatoes are tender, 20 - 30 minutes. Stir occasionally.
In the meantime, line a baking pan with parchment paper, smoother the salmon in the remaining 2 table spoons of olive oil, some salt and pepper and place on the baking pan. Also, place the bacon slices on the pan near the salmon. Cook for 20 minutes. Remove the salmon from the oven and set aside. Check if the bacon is crispy, if yes remove from oven, crumble it and set aside. If the bacon is still tender cook for a few more minutes. Check constantly not to burn it.
Once the potatoes are tender, transfer half of the mixture to a blender, add one cup of hot water and the juice of one lemon (cut the lemon in half and don't discard after squeezing), blend until smooth.
Flake the salmon with a fork, in medium pieces, not too small.
Open the can of sweet corn and drain any water.
Return the mixture to the pot, remove the thyme stems, add the lemon halves (they will add flavor), salmon, sweet peas and sweet corn. Cook for a few minutes until the soup starts to boil Turn off the heat.
Serve the soup with bacon crumbles.
Peas and Peonies, LLC. owns the copyright on all images and text and does not allow for its original recipes and pictures to be reproduced anywhere other than at this site unless authorization is given. If you enjoyed the recipe and would like to publish it on your own site, please re-write it in your own words, and link back to my site and recipe page. Copying and/or pasting full recipes to social media or personal blogs is strictly prohibited. Sharing this recipe is very much appreciated and encouraged. Read my disclosure and privacy policy. This post may contain affiliate links.