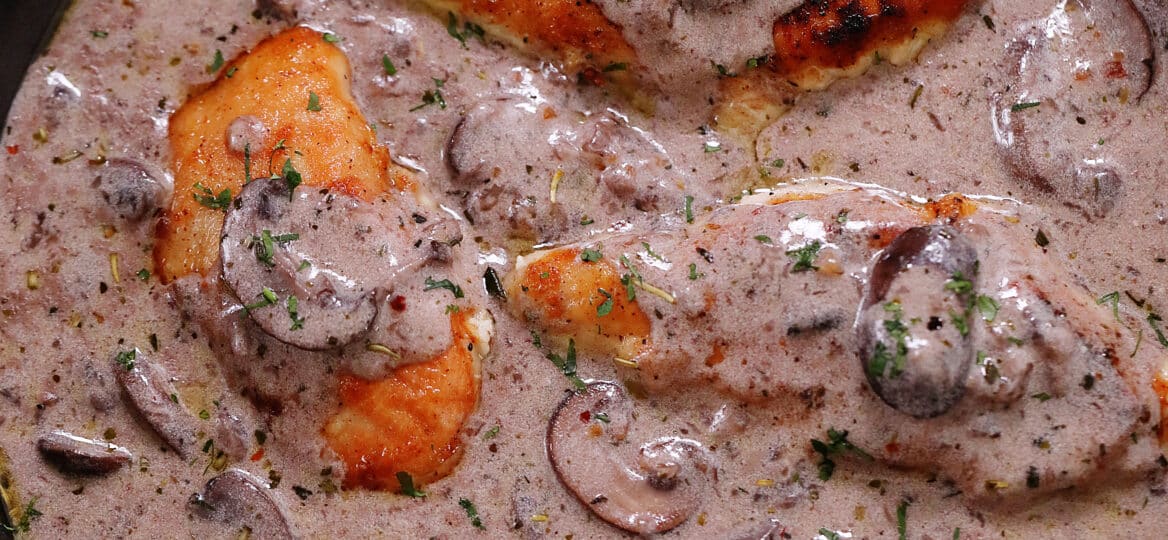 Creamy Chicken Marsala Recipe
Creamy Chicken Marsala is a classic Italian recipe that is super easy to make with savory mushrooms and soaked in a rich marsala wine sauce. A delicious restaurant quality dish ready in 30 minutes!
This dish is super flavorful and we love making it with extra sauce. It is the PERFECT weeknight dinner, and very easy to make in your own kitchen. For a complete meal, serve it with rice, pasta, or roasted vegetables.
Easy Chicken Marsala
This Chicken Marsala recipe is totally addictive and is our favorite dinners to make. You pan-fry the thinly sliced chicken to make it crispy around the edges. Then, you coat the meat in the most delicious and luxurious mushroom sauce. This recipe will be ready in no time with minimal ingredients required.
The sauce uses Marsala wine with a good kick of garlic, which elevates the flavor to the next level. It definitely rivals any restaurant out there. The great thing about this dish is that is also one-pot, which makes it fuss-free, and easy to clean.
In addition, you can easily store leftovers for the next day, and it tastes just as good. Save some money and try this easy and delicious Italian recipe and we guarantee that you will be making it again and again!
How to make chicken marsala sauce?
The secret to this dish starts with the sauce. It is front and center here, so you want to have a rich and flavorful one. Though Marsala wine plays a huge role in its taste, it's not the complete equation for the perfect finish.
Start by adding some olive oil to a hot skillet.
Then, add garlic, brown mushrooms or Cremini mushrooms and saute till tender.
Add a little flour and cook for another one minute, and then deglaze the pan with some Marsala wine.
Lastly, add some chicken stock to it until thick and blended.
How to make chicken marsala?
Start by preparing the chicken breast cutlets, and dredge them in seasoned flour.
Then, add the poultry to a large skillet over medium-high heat.
Sear the cutlets on each side for about 3-4 minutes, until browned.
Remove it from the skillet and place it onto a separate plate.
Make the Marsala sauce as per the above instructions, and add the chicken to it.
Enjoy, it's that simple!
What is the best Marsala wine to use?
This type of wine is a fortified wine that comes from Sicily and has a deep flavor to it. It is mainly used in this sauce to boost the aromas and flavor. For the best results, we recommend using dry Marsala in this dish.
marsala wine substitutes:
If you cannot find it, we recommend using half a cup of grape juice mixed with two teaspoons of brandy. Similarly, feel free to use the following:
Dry White wine (1/2 cup) mixed with two teaspoons of brandy.
Port (1/2 cup)
Red Vermouth (1/2 cup)
How to make chicken marsala in the Instant Pot?
Although you might not believe it, making this recipe in the Instant Pot is equally delicious. Also, it is done very fast when cooked in the pressure cooker, so you can enjoy some spare time on hand.
We already have the Instant Pot version of this meal, and you can access it by clicking this link.
Crockpot Chicken Marsala Directions:
You can make this dish in the Crockpot or Slow Cooker as well. For that, you can skip the fillet part of the breasts. Also, feel free to even use bone-in cuts, such as thighs if planning to cook in the crockpot.
Simply, place all the ingredients in a slow cooker and cook on HIGH for 3-4 hours or on LOW for 6-7 hours.
At the end, simply make the cornstarch and water slurry and add it over it to thicken the sauce.
what to serve with chicken marsala?
Traditionally this dish is served over pasta since it is full of creamy sauce. Also, you could serve it over mashed potatoes, rice, noodles, or with some roasted asparagus.
How to store chicken marsala?
If you end up with leftovers, it can be easily stored in the refrigerator and enjoyed at a later date. Simply, transfer the meal into an airtight container, and make sure it is properly sealed. Then store in the fridge for up to 3 days. Reheat before consuming.
More delicious Italian Dishes:
Recipe Tips:
Although traditionally this meal is made with breasts, you can use thighs as well.
Normally this dish does not include any cream. However, we experienced that adding some cream balances well with the wine, and also elevates the flavor. So feel free to use some.
Also, the sauce will not thicken immediately after adding in the cream. Once you add the floured chicken back into the pan, the flour will help thicken it.
If you need this to be a gluten-free recipe, use a gluten-free flour blend.