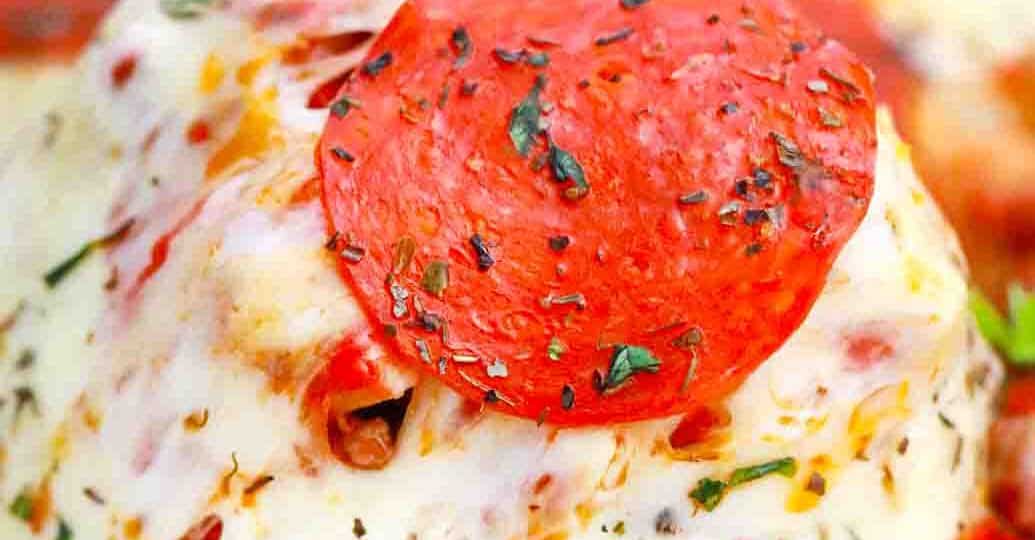 Cheesy Pizza Casserole Recipe [Video]
Pizza Casserole is the perfect comfort food, made with rigatoni, ground sausage, and lots of cheese it is the best easy meal for busy weeknights. This easy pizza casserole recipe is perfect for pizza night too! Pizza pasta casserole goes great with pizza or breadsticks and a salad for a hearty meal.
Looking for more casserole recipes? Try our White Pizza Casserole made with penne pasta, heavy cream, and parmesan cheese. Another popular dish in our house is this Cheesy Crack Chicken Casserole with cream cheese, bacon, and chicken soup.
Pizza casserole is the best thing that has ever happened to dinner! With your favorite pizza sauce and ooey gooey cheese, this is a delicious casserole that you will love as much as the kids do.
You can add your own favorite pizza toppings besides Italian sausage, cheese, and pepperoni like mushrooms, green peppers, black olives, and bacon or whatever other toppings you like. You can even add some hot wings too on the side! Your family will give it 5 stars just like mine did!
How about some pizza recipes? These family-friendly recipes are easy and fast. Our heirloom tomato pizza is unique and yummy with honey in the crust and mini sweet peppers and heirloom tomatoes on top. If you want something fast and easy, try these tortilla pizzas with just four ingredients.
Baked dishes like casseroles have been around for thousands of years. The earliest casseroles date back to ancient Greece when they mashed rice and meat together in a small cup or bowl.
But the first printed casserole was made by Elmire Jolicoeur in 1866. He was a French Canadian immigrant living in New Hampshire.
Ingredients needed:
For this delicious pizza casserole recipe, all you will need is the ingredients listed here. Then, you can get the step-by-step recipe instructions and precise measurements from our recipe card at the bottom of this page.
Pepperoni slices
Ground pork sausage: Cooked Italian sausage.
Shredded mozzarella cheese
Uncooked pasta: We used rigatoni.
Diced onion: We used yellow.
Pasta sauce
Pizza sauce
Minced garlic cloves
Italian seasoning: Divided.
Smoked paprika
Finely ground sea salt
Fresh basil: For garnish.
How to make pizza casserole from scratch?
Cook pasta:
Preheat the oven: Preheat oven to 350 degrees F and spray a 9×13-inch casserole dish with non-stick cooking spray and set it aside.
Make and drain the pasta: While you wait for the oven to heat up, make pasta al dente in a large pot using the directions on the package. Then, drain pasta and set it aside.
Make the sausage mixture:
Cook the sausage: After, cook the Italian sausage, smoked paprika, Italian seasoning, and diced onion in a large skillet over medium heat.
Brown meat: Continue to cook, stirring often, until there are no more pink spots in the sausage and the onions are translucent.
Finish cooking meat mixture: Next, stir in the garlic and let it cook for one minute before removing the pan from the heat and setting it aside.
Assemble casserole:
Make the sauce: Now, stir the pizza sauce, pasta sauce, salt, and pepper until it is thoroughly combined. Pour one cup of the sauce into the prepared pan. Do not use too much sauce.
Add pasta, meat, and sauce: Then, add the cooked pasta to the baking dish and top that with the browned meat mixture, and pour the remaining sauce on top.
Layer on the rest: Next, sprinkle half the mozzarella cheese and one layer of pepperoni slices. Add the remaining cheese and pepperoni on top of that before sprinkling the rest of the Italian seasoning on top.
Bake and serve casserole:
Bake your casserole: Lastly, cover with aluminum foil and bake for 30 to 40 minutes or until the cheese is melted and the sauce is bubbling.
Serve: Finally, top with fresh basil and serve hot.
Recipe variations:
Another sausage: You can use cooked Italian sausage instead of pork sausage.
Favorite pizza toppings: Feel free to add your own favorite pizza toppings like ground beef, mushrooms, green bell pepper (or any bell peppers), tomatoes, black olives, and whatever else you like.
No garlic: If you do not have fresh garlic, just use garlic powder.
No onion: The same with the onion. You can use onion powder.
Healthier meat: For less saturated fat, use turkey pepperoni instead of regular and ground turkey instead of ground beef.
Make it spicy: If you like spicy food, add a pinch of red pepper flakes.
Vegetarian dish: For a vegetarian dish, leave out the pepperoni and sausage.
Other cheese: Try using Mexican cheese or pepper jack to make taco pizza casserole.
How to serve:
This delicious pizza pasta casserole recipe is easy and fast with little prep time. Try one of these serving ideas or share one of your own in the comments below.
Make this dinner a little more sophisticated with a bottle of red wine.
Serve with our tasty homemade breadsticks to soak up the sauce.
Add some romano and parmesan cheese on top just before serving.
This casserole dish goes great with any kind of salad such as a green side salad or our yummy Italian chopped salad.
Use leftovers to serve for lunch the next day.
If you have any remaining pasta, use it to make some slow-cooker lasagna soup.
You can also use leftovers to add to a whole new casserole. Make up your own recipe adding whatever you like.
Frequently asked questions
What is the best pasta to make pizza casserole?
Although our recipe instructions call for rigatoni pasta, you can use your own favorite. For instance, penne pasta is a good choice. Just cook penne pasta al dente in the same way as the rigatoni. It is best to use a noodle that is cut short with scoops, twists, or hollow middles like penne, shells, or rigatoni.
What is a British casserole?
A British casserole is made with sausage links instead of ground sausage like we used in our pizza casserole recipe. But it also has a thick onion gravy and is seasoned with Worcestershire sauce, barbecue sauce, rosemary, thyme, and sage. It often includes vegetables and is all done in one pot, cooked in 30 minutes or less.
What is typically in a casserole?
In the United States, a casserole is also known as a hot dish. It has three main ingredients that include meat like ground beef or sausage, chopped vegetables like peas and green peppers, and some kind of starch to bind it.
In many kinds of casseroles, the starch is typically pasta, potatoes, or flour. Often, a liquid is added such as tomato sauce, broth, or juice.
What are the nutrition facts in this recipe?
Each serving of this delicious and easy pizza casserole recipe has 543 calories, 42 grams of carbohydrates, and 32 grams of fat with 14 grams of saturated fat. It also contains 1,330 mg of sodium, 86 mg of cholesterol, and 7 grams of sugar.
But you also get 3 mg of iron, 335 mg of calcium, 20 mg of vitamin C, and 742 units of vitamin A as well as 3 grams of fiber and 630 mg of potassium.
How to store leftovers:
Store: Put your leftover pizza casserole in an airtight container or wrap your casserole dish with plastic wrap. It will stay fresh in the fridge for several days.
Freeze: It is also safe to freeze your pizza casserole for up to three months. Be sure to use a freezer-safe container and mark the date on it. Use within the next three months.
Thaw: Remember to put your frozen leftovers in the refrigerator overnight before serving them for the best results.
Reheat: If your leftover pizza casserole is still in the casserole dish, cover it and bake at 350 degrees F for 15 to 20 minutes or until heated through. Add some more sauce and cheese if needed.
More casserole recipes to try:
Cooking tips:
You can use any baking dish you have but you will need to adjust the cooking time if you use one that is smaller or larger than 9×13 inches.
If you do not have pasta sauce, you can use marinara sauce or tomato sauce instead.
Use the lid for the baking dish if you have it instead of aluminum foil.
Do not cook pasta for too long. Make it just al dente because it will continue to cook in the oven. You do not want it to get mushy.
If you use garlic salt instead of garlic powder, do not add any other salt.
Prepare this dish ahead of time and refrigerate it. Then, when you are ready to eat, just heat it up. But since it is cold, you will need to cook it for about 10 minutes longer.
Whether you are worried about nutrition, calories, or vitamins, you can alter this casserole recipe to fit whatever you need.
Cheesy Pizza Casserole
Ingredients
12

oz

uncooked pasta

measured dry - used rigatoni

1

lb

ground pork sausage

mild or hot - or any ground meat

1

small yellow onion

diced

1

tablespoon

Italian seasoning

1

tablespoon

smoked paprika

4

cloves

garlic

minced

24

ounces

pasta sauce

1 1/2

cup

pizza sauce

1

teaspoon

salt

or to taste
Topping:
3

cups

mozzarella cheese

shredded

24

slices

small pepperoni slices

or use fewer slices of large pepperoni

1

teaspoon

Italian seasoning

Fresh basil for garnish
Instructions
Spray a 9×13 inch baking dish with non-stick cooking spray and set aside.

Cook pasta per package directions, aiming for al dente. Drain and set aside.

Heat a large non-stick or cast iron skillet over medium heat. Cook the ground sausage, diced onion, Italian seasoning, and paprika, until the meat, is no longer pink. Beak it down with a wooden spoon, and cook until lightly browned.

Add the minced garlic and cook for about one more minute. Remove from the heat and set it aside.

In a large bowl, combine the pasta sauce, pizza sauce, and add and pepper to taste.

Pour 1 cup of the sauce on the bottom of the prepared baking pan, distribute it evenly and add the pasta on top in an even layer.

After that add the cooked sausage mixture.

Next, pour the remaining sauce on top of the meat.

Sprinkle with mozzarella cheese on top.

Layer the pepperoni slices on top of the cheese and sprinkle the remaining 1 teaspoon of Italian seasoning on top.

Bake for 30-40 minutes, or until the cheese is melted and the sauce is bubbly.

Top with fresh basil and serve immediately.
Deliciousness to your inbox
Enjoy weekly hand picked recipes and recommendations