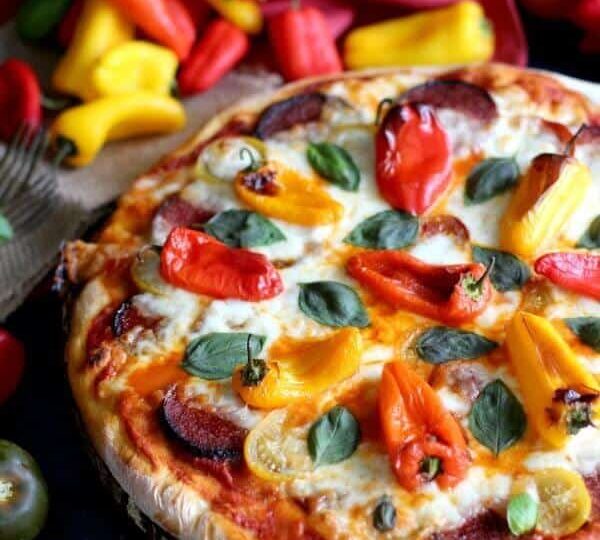 The Best Heirloom Tomato Pizza
Heirloom Tomato Pizza is embracing the best summer produce with mini sweet peppers, fresh mozzarella and pepperoni.
I love making easy and healthy pizzas for families to enjoy, like Mini Sweet Pepper Tomato Pizza and Golden Tomato Pepperoni Pizza.
Heirloom Tomato Pizza
For this Heirloom Tomato Pizza I made the dough in advance and I froze it. All I had to do next day, is take it from the freezer, roll it, top it with mouth watering ingredients, and bake it. Then, enjoy a glorious pizza made in 30 minutes. You can't beat that! For instance, take-out usually takes longer and doesn't taste that good and fresh!
I always wanted to make a Heirloom Tomato and Basil Pizza, because these are my two "go to" summer ingredients. I always have them on hand. In addition, they pair well with cheese, crusty bread, salty pepperoni and the cutest mini sweet peppers. Also, I adore heirloom tomatoes, and I have a slight obsession with mini sweet peppers. They are so good and at the peak of their sweetness. They are perfect roasted on top of this heirloom tomato pizza as their buttery, soft and sweet taste makes for the best combo with the salty pepperoni. Lastly, I add some basil to the pizza, for a perfect dinner serve.
Why you will love Heirloom Tomato Pizza
First, its very easy to make at home.
Also, the ingredients mix is very flavorful and the colors are just amazing.
It's also a cheap and healthier alternative to conventional take out pizza.
Can be made with whole wheat, for healthier option.
Lastly, you will have tasty and delicious left overs.
This Heirloom Tomato Pizza has been by far one of the most flavorful pizzas I have had in a while. I highly recommend that you use fresh mozzarella, this pizza is basically a baked caprese salad. Also, if you want to be all fancy pants, drizzle some balsamic reduction over it before serving.
Tools/Ingredients I used to make the Homemade Heirloom Tomatoes Pizza Recipe:
Deliciousness to your inbox
Enjoy weekly hand picked recipes and recommendations