Mini Sweet Peppers Heirloom Tomato Pizza
This post may contain affiliate links. Please read my disclosure policy.
A homemade heirloom tomato pizza embracing the best summer produce with mini sweet peppers, fresh mozzarella and pepperoni.
Fridays call for pizza, right? Specifically for heirloom tomato pizza as they are in season now. What better way to celebrate the almost start of the weekend! I always wanted to make a heirloom tomato and basil pizza, since it seems that these are my two "go to" summer ingredients. I always have them on hand, and obviously they pair well with cheese, crusty bread, salty pepperoni and the cutest mini sweet peppers.

Any fun plans for this weekend?
I had huge plans, but my husband last minute decided on Thursday that he is going to Toronto, since its salmon fishing season, so all my weekend plans need to be changed. Well, I hope he will catch some fish, in the meantime I plan on hitting a local sushi place with my friends on Saturday.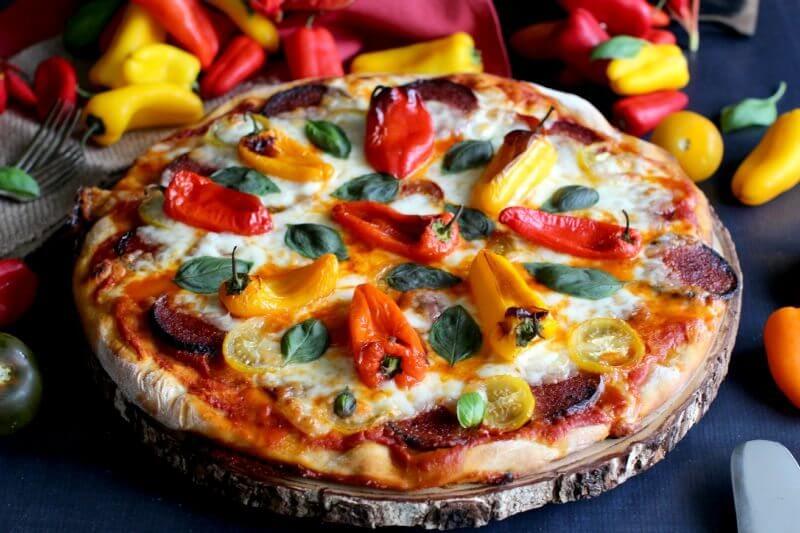 Yes, I keep showing you pizza, I guess I better tell you more about it. I made this pizza on a weeknight, the dough was prepared in advance and I froze it. All I had to do is take it from the freezer before I left for work and when I got home I just had to roll it, top it with mouth watering ingredients, bake it and enjoy a glorious pizza. 30 minutes and dinner is ready, you can't beat that, take-out usually takes longer and doesn't taste that good and fresh!

MY LATEST VIDEOS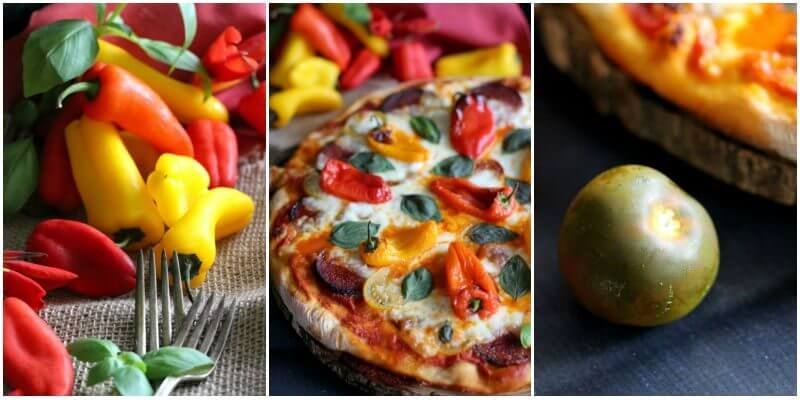 I adore heirloom tomatoes, I get them in bulk every weekend, and I have a slight obsession with mini sweet peppers, they are so good and at the peak of their sweetness. They are perfect roasted on top of this heirloom tomato pizza as their buttery, soft and sweet taste makes for the best combo with the salty pepperoni.
Basil is something that we always have on hand no matter the season, we add it to salads, fried shrimp, we sprinkle it on meat dishes and obviously we put it on pizza.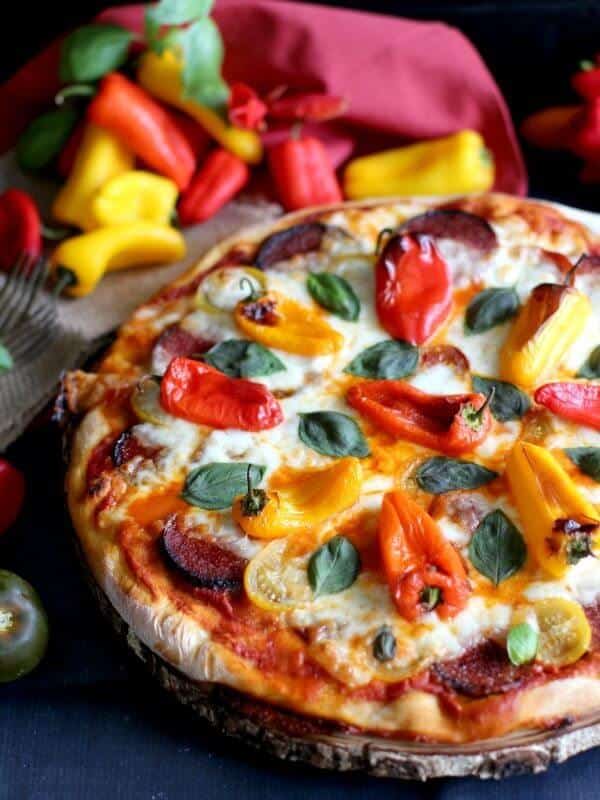 This by far has been one of the most flavorful pizzas I have had in a while, I highly recommend that you use fresh mozzarella, this pizza is basically a baked caprese salad, if you want to be all fancy pants, drizzle some balsamic reduction over it before serving. I honestly was so hungry that I barely made myself take some photos.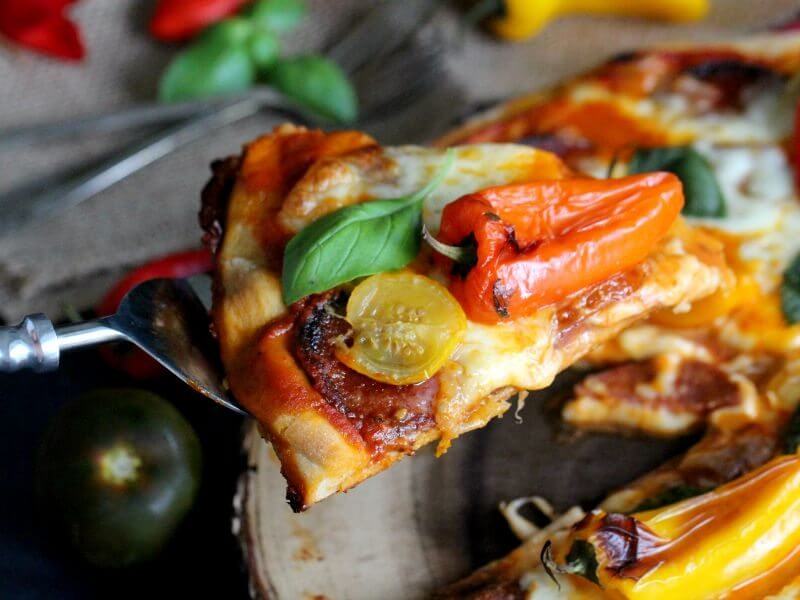 My husband had 4 slices and declared that we must introduce a pizza night every week, and we should, next time I will make sure not to forget the balsamic. Heirloom tomato pizza all summer long!
Don't you love dinners like this? Looking so good, tasting so amazing, ready in 30 minutes. You can also make this with store bought dough. Instead of ordering pizza from your local chain, just stop by the store, get the dough and you will have a fresh and yummy pizza ready in minutes.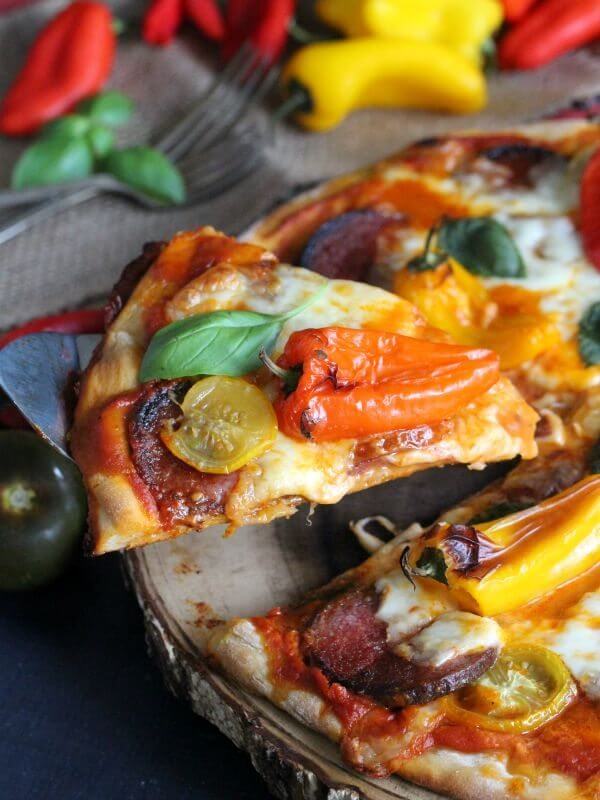 This heirloom tomato pizza is a dish you have to try this summer!

Fresh Mozzarella, Pepperoni, Mini Sweet Peppers, Heirloom Tomato and Basil Pizza
A homemade heirloom tomato and basil pizza embracing the best summer produce with mini sweet peppers, fresh mozzarella and pepperoni.
Author:
Katalina Kastravet
Ingredients
Pizza Dough:
1⅛ cups warm water
3 teaspoons active dry yeast
1 tablespoon honey
1 tablespoon olive oil
3 cups all-purpose flour
1 teaspoon salt
Pizza Toppings:
1 lb heirloom tomatoes
14 ounces fresh mozzarella cheese, thinly sliced
9 mini sweet peppers
1 cup pepperoni pieces
½ cup fresh basil
Instructions
In a large bowl, combine water, yeast and olive oil and let sit until foamy, about 10 minutes. Add in 2½ cups flour and salt, stir the dough with a spatula until its combined, but still sticky.
Using your hands, form the dough into a ball place it on a floured surface, add the remaining ½ cup of flour to the dough and knead it for a few minutes.
Rub the same bowl with olive oil then place the dough inside, cover with a towel and place in a warm place to rise for about 1-1½ hours.
After the dough has risen, punch it down and place it back on the floured surface.
Using a rolling pin, form it into your desired shape that would match the pizza pan you will be using for baking.
Transfer the dough to the pizza pan, cover with a towel and let it sit in the warm for 15 minutes.
Preheat oven to 450 degrees.
Spread the sauce over the pizza base. Top with the pepperoni, followed by sliced heirloom tomatoes, mozzarella cheese and mini sweet peppers.
Bake for 15-17 minutes, or until the crust is golden brown.
Remove from oven and garnish with basil.
Notes
If you use a pizza stone, preheat oven to 475F and bake for 15 minutes.
To save time, you can use store bought dough.
Peas and Peonies, LLC. owns the copyright on all images and text and does not allow for its original recipes and pictures to be reproduced anywhere other than at this site unless authorization is given. If you enjoyed the recipe and would like to publish it on your own site, please re-write it in your own words, and link back to my site and recipe page. Copying and/or pasting full recipes to social media or personal blogs is strictly prohibited. Sharing this recipe is very much appreciated and encouraged. Read my disclosure and privacy policy. This post may contain affiliate links.