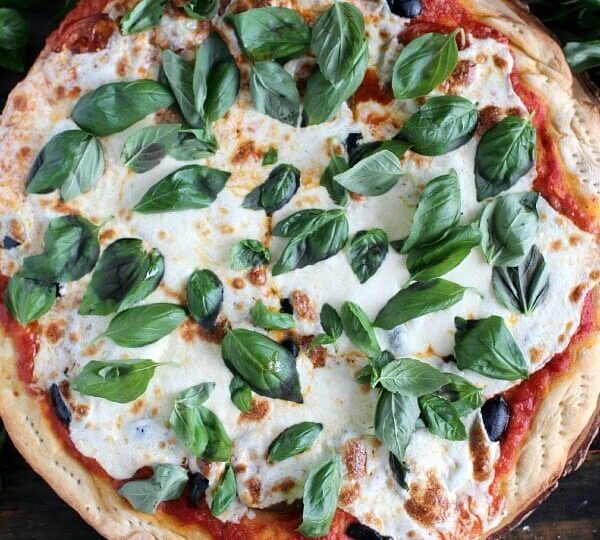 Heirloom Tomatoes Pizza with Black Olives
Heirloom Tomatoes Pizza With Black Olives is easy to make, vegetarian and delicious. Topped with fresh mozzarella cheese and lots of fresh basil.
I love making easy and healthy pizzas for families to enjoy, like Mini Sweet Pepper Tomato Pizza and Golden Tomato Pepperoni Pizza.
Heirloom Tomatoes Pizza
Heirloom Tomatoes Pizza is one of our go to dinners when ripe tomatoes are in season. Finding heirloom tomatoes that are bursting with flavor at my local market, feels like finding gold. I don't even care that they cost like a good pair of shoes. I love the sweet and juicy taste so much that I am willing to pay for the enjoyment.
My favorite way to eat heirloom tomatoes is with fresh french bread and feta cheese. This is the sandwich of my childhood. I also love them on Heirloom Tomato Pizza with salty black olives, lots of mozzarella cheese and fresh basil. Our son is obsessed with olives and tomatoes, so this fun take on a margarita pizza is something that he gladly devours!
Heirloom Tomatoes Pizza with Black Olives Recipe Tips
First, the dough makes 6 small pizzas, if you want you could bake them into 6 individual pizzas or you can make 3 larger pizzas.
Also, I highly recommend trying this combo that I used: fresh mozzarella cheese, beefy heirloom tomatoes, black olives and lots and lots of fresh basil.
In addition, all-purpose flour will work fine and this is what I used. But you know what is the secret to Italian restaurant style pizza dough? That perfect chewy crust that we all love is usually made with high protein bread flour or pizza flour. I like using King Arthur bread flour when I have it on hand.
You can make your dough, throw it in a zipper-lock bag, and refrigerate it for a few days. This way, it can stay in your refrigerator for up to 3 days. When you are ready to bake it, take it out, shape it, and allow it to proof at room temperature before stretching and baking.
Also, if you are short on time, you can use store bought pizza dough, no shame in that!
Similarly, it is very important to use high quality tomato pizza sauce and cheese. So try not to save on these two ingredients.
A hotter oven is also very important to achieve restaurant style pizza. It will help create also a better contrast between crisp on the outside and soft on the inside crust with that lightly charred exterior.
Why You'll Love this Homemade Heirloom Tomatoes Pizza Recipe:
Easy to make, perfect for weeknight dinners and to feed a large family.
Endless possibilities of toppings for vegetarians and meat lovers.
Great way to get children to help, they can customize their own pies!
Minimum dishes to clean!
Tools/Ingredients I used to make the Homemade Heirloom Tomatoes Pizza Recipe: