HEIRLOOM TOMATOES PIZZA
This post may contain affiliate links. Please read my disclosure policy.
HEIRLOOM TOMATOES PIZZA WITH BLACK OLIVES IS EASY TO MAKE, VEGETARIAN AND DELICIOUS. TOPPED WITH FRESH MOZZARELLA CHEESE AND LOTS OF FRESH BASIL.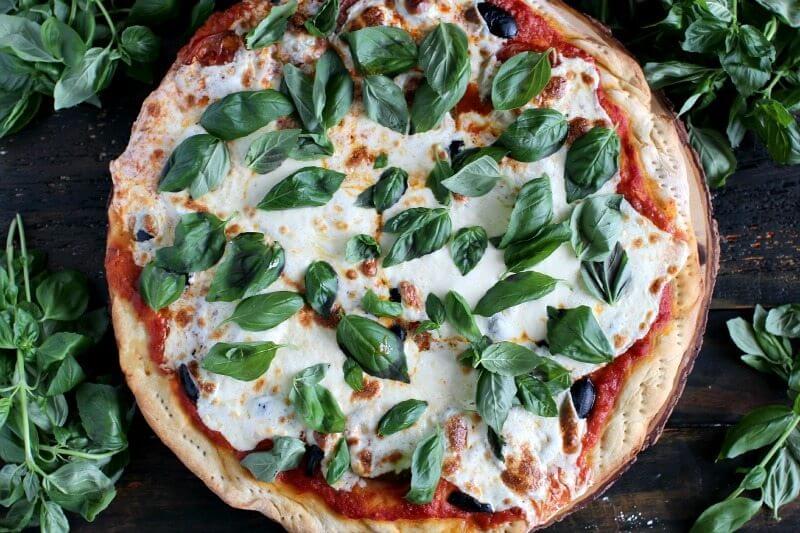 Heirloom Tomatoes Pizza is one of our go to dinners when ripe tomatoes are in season. Finding heirloom tomatoes that are bursting with flavor at my local market, feels like finding gold. i don't even care that they cost like a good pair of shoes, I love the sweet and juicy taste so much. My favorite way to eat heirloom tomatoes is with fresh french bread and feta cheese, this is the sandwich of my childhood. I also love them on Heirloom Tomato Pizza with salty black olives, lots of mozzarella cheese and fresh basil. Our son is obsessed with olives and tomatoes, so this fun take on a margarita pizza is something that he gladly devours!
Tips & Tricks on how to make the perfect Heirloom Tomatoes Pizza with Black Olives:
The dough makes 6 small pizzas, if you want you could bake them into 6 individual pizzas or you can make 3 larger pizzas, this is what I did. You can also freeze the dough.
You can come up with your own toppings, but I highly recommend trying this combo that I used: fresh mozzarella cheese, beefy heirloom tomatoes, black olives and lots and lots of fresh basil.
All-purpose flour will work fine and this is what I used. But you know what is the secret to Italian restaurant style pizza dough? That perfect chewy crust that we all love is usually made with high protein bread flour or pizza flour. I like using King Arthur bread flour when I have it on hand.
I left the dough ferment in a warm place, but have you heard of the cold fermenting process? If you are feeling adventurous and want to try a few new things you can store the dough in the refrigerator after forming it. This can help improve both its flavor and the way it will bake and get that beautiful golden brown color. This is a method that you will have to try and learn, as with any dough recipes.
You can make your dough, throw it in a zipper-lock bag, and refrigerate it for a few days, it can stay in your refrigerator for up to 3 days. When you are ready to bake it, take it out, shape it, and allow it to proof at room temperature before stretching and baking.
Also, if you are short on time, you can use store bought pizza dough, no shame in that!
It is very important to use high quality tomato pizza sauce and cheese, if you use a cheap, low quality brand, this is how your pizza will taste too. It will take you some time to test and try and find the best sauce that you like, but its a journey worth pursuing. The cheese is incredibly important, I never buy the pre shredded type. I tend to buy fresh mozzarella cheese, as it gets all nice and bubbly on the pizza and creates the perfect cheese stretch.
It's hard to resist NOT topping your pizza with a LOT of good stuff, but keep in mind that best pies are those that have minimal toppings. Two or three are enough, choose topping that work together flavor wise and don't pile too much on top of your pie.
A hotter oven is also very important to achieve restaurant style pizza. It will help create also a better contrast between crisp on the outside and soft on the inside crust with that lightly charred exterior.
You can use a pizza stone or a baking steel, both have higher speed capacity and it'll help deliver the crispest crust you've have ever tasted! It is very important that you heat them before sliding your pizza onto the pizza stone or baking steel, they need to be HOT!
If you are using a Pizza Pan, no need to heat it up in advance.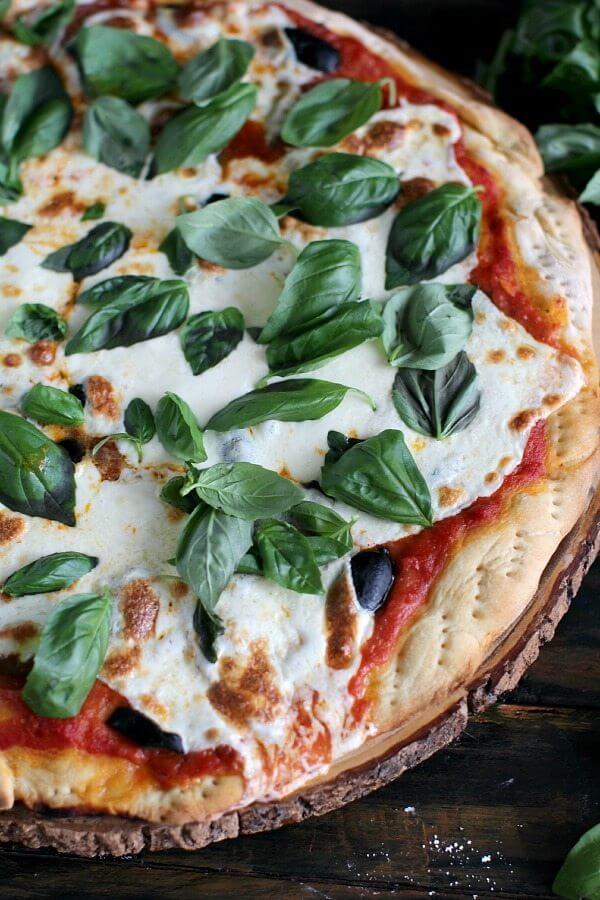 Why You'll Love this Homemade Heirloom Tomatoes Pizza Recipe:
Easy to make, perfect for weeknight dinners and to feed a large family
Endless possibilities of toppings for vegetarians and meat lovers
Great way to get children to help, they can customize their own pies!
Minimum dishes to clean!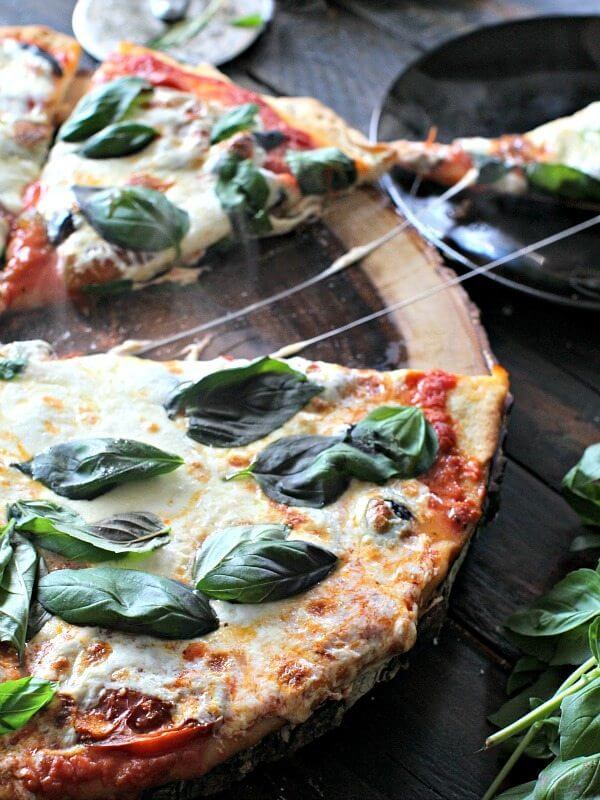 Tools/Ingredients I used to make the Homemade Heirloom Tomatoes Pizza Recipe: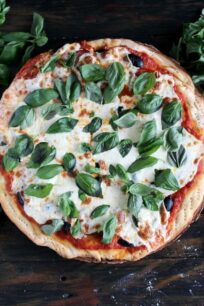 HEIRLOOM TOMATOES PIZZA WITH BLACK OLIVES
Heirloom Tomatoes Pizza with Black Olives is easy to make, vegetarian and delicious. Topped with fresh mozzarella cheese and lots of fresh basil.
Ingredients
Pizza Dough:
1⅛

cups

warm water

3

teaspoons

active dry yeast

1

tablespoon

honey

1

tablespoon

olive oil

3

cups

all-purpose flour

1

teaspoon

salt
Toppings:
2

medium

heirloom tomatoes

sliced rondelle

8

tablespoons

Marinara or Pizza Sauce

12

black olives

pitted and halved

1

lb

fresh mozzarella cheese

sliced rondelle

Fresh basil leaves
Instructions
Pizza Dough:
In a large bowl, combine water, yeast and olive oil and let sit until foamy, about 10 minutes. Add in 2½ cups flour and salt, stir the dough with a spatula until its combined, but still sticky.

Using your hands, form the dough into a ball place it on a floured surface, add the remaining ½ cup of flour to the dough and knead it for a few minutes.

Rub the same bowl with olive oil, then place the dough inside, cover with a towel and place in a warm place to rise for about 1-1½ hours.

After the dough has risen, punch it down and place it back on the floured surface.

Using a rolling pin, form it into your desired shape that would match the pizza pan you will be using for baking.

If using a pizza stone, preheat it in a very hot 500F oven for at least 45 minutes. I do not own a pizza stone, so I baked the pizza on a pizza pan at 425F.
Assemble:
Once you rolled your pizza, if you are using a pizza pan like I did, transfer the pie now to the pan and start assembling it.

If using a pizza stone, place the pie on cardboard or pizza peel that was well dusted with semolina flour or corn meal.

Pour the pizza sauce in the center, using a spoon spread it around leaving 1 inch at the edges. Top with sliced heirloom tomatoes, followed by mozzarella cheese and black olives.

Gently slide the pie on the preheated pizza stone in a hot 500 - 525 degree or more oven, and bake for 5 to 7 minutes or until golden brown on the edges.

If using a pizza pan like I did, transfer the pan to the oven and bake for 10-12 minutes or until golden brown on the edges.

Remove from the oven and garnish with fresh basil. Allow the pizza to rest for a few minutes before serving for the cheese to set.
Recipe Notes
The preparation time does not include the rest period for the dough, 2 hours.
Calories: 392, Fat: 16g, Saturated Fat: 7g, Cholesterol: 44mg, Sodium: 823mg, Potassium: 204mg, Carbohydrates: 42g, Fiber: 2g, Sugar: 3g, Protein: 19g, Vitamin A: 10.7%, Vitamin C: 2.6%, Calcium: 30%, Iron: 15%
Made this Recipe?
Show me what you made on Instagram and tag me at @sweetnsavorymeals or hashtag it #sweetandsavorymeals.
Love homemade pizza? You should try this Golden Tomatoes Pepperoni Pizza: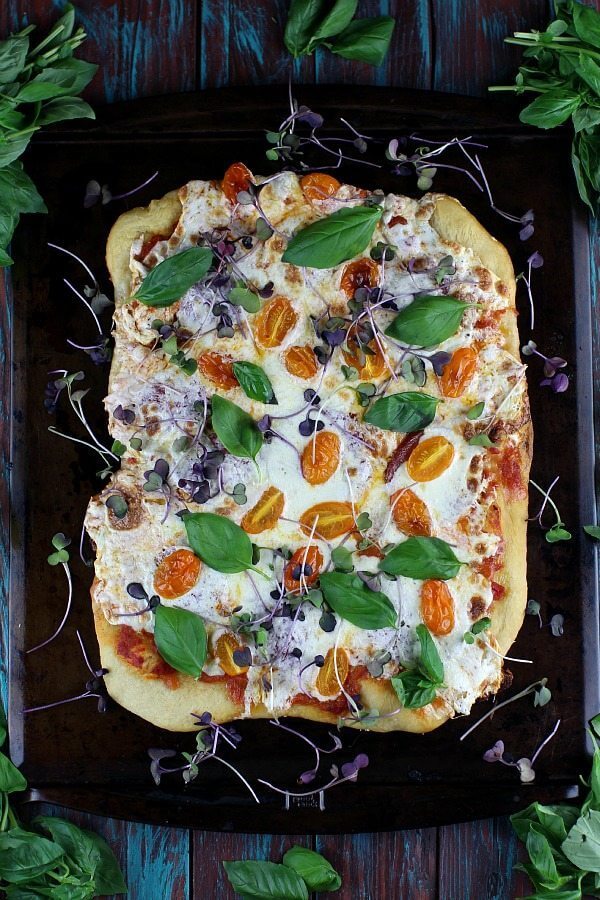 Sweet Peppers Heirloom Tomato Pizza: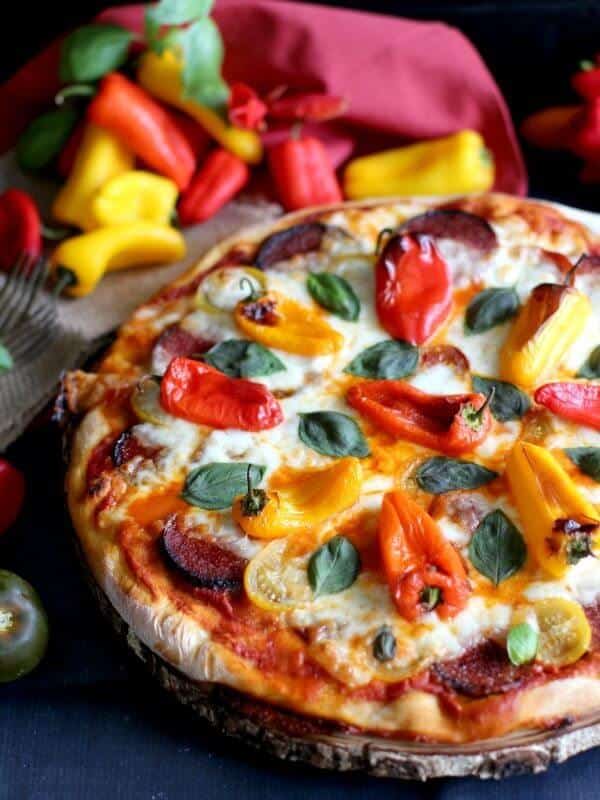 Peas and Peonies, LLC. owns the copyright on all images and text and does not allow for its original recipes and pictures to be reproduced anywhere other than at this site unless authorization is given. If you enjoyed the recipe and would like to publish it on your own site, please re-write it in your own words, and link back to my site and recipe page. Copying and/or pasting full recipes to social media or personal blogs is strictly prohibited. Sharing this recipe is very much appreciated and encouraged. Read my disclosure and privacy policy. This post may contain affiliate links.