BLT dip is a scrumptious appetizer made from crispy bacon, shredded lettuce, and chopped tomatoes on a bed of ranch-seasoned cream cheese layer. Seasoned with dry ranch dressing, garlic powder, green onions, and basil, this creamy and delicious dip is easy to make and goes with any chips, veggies, or crackers.
If you really like bacon, you will love these Air Fryer Bacon Wrapped Chicken Tenders made with sweet chili sauce and brown sugar. For a delicious side dish or appetizer, our Mexican Street Corn Potato Salad is unique with its fresh corn, cotija cheese, and spicy lime dressing.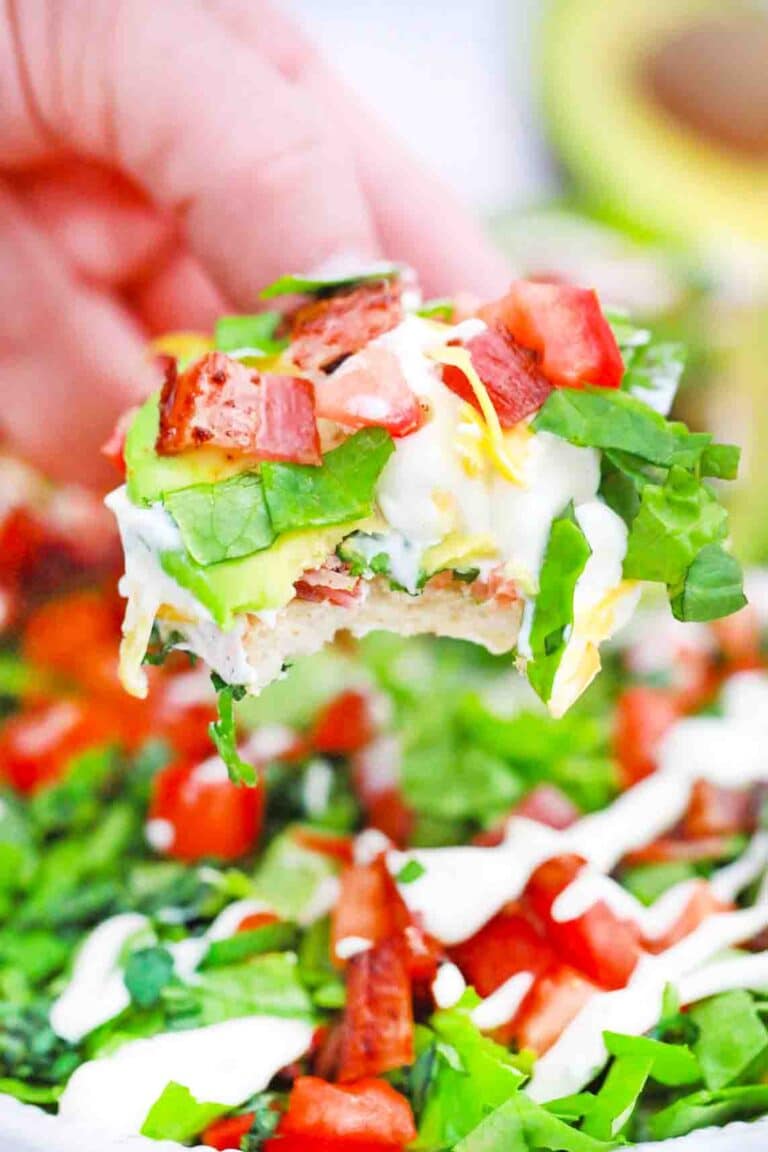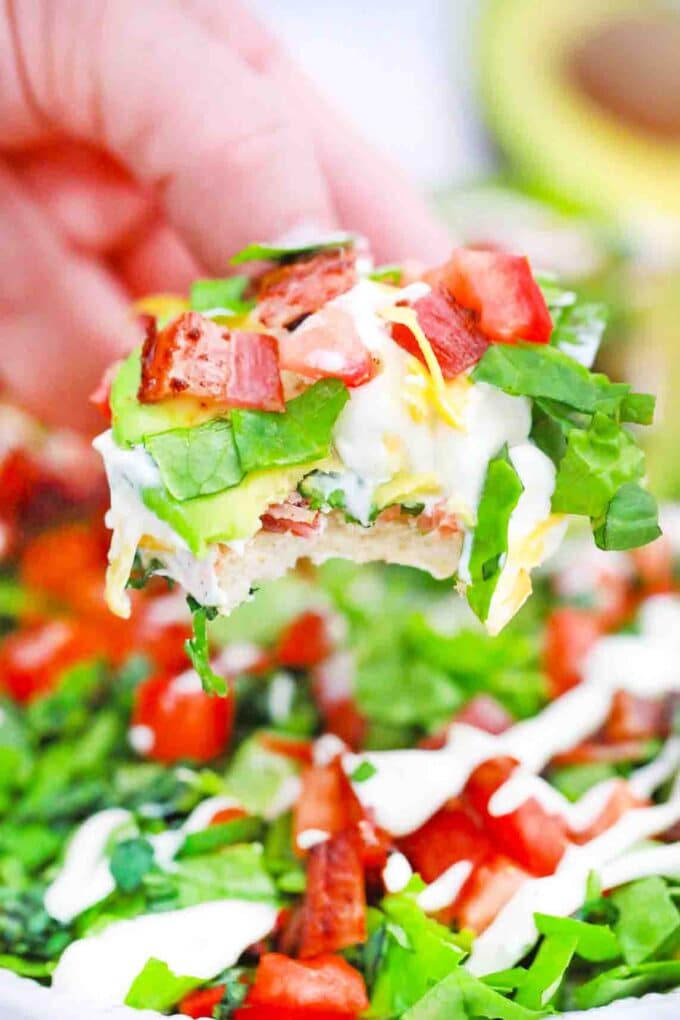 Even though bacon, lettuce, and tomatoes have been around for thousands of years, the BLT sandwich was not brought to light until it was seen in a Good Housekeeping Everyday Cook Book in 1903. It was actually a club sandwich because it had turkey on it, but it was the first actual sandwich predominantly made with the three famous ingredients. Today, it is number six out of the top 10 sandwiches in the US.
This is such a delicious dip recipe made with bacon, lettuce, tomatoes, and other ingredients that just blend so well together. The BLT dip is full of crunchy chopped bacon and cheese and goes great with anything from pita chips to toasted bread.
The cream cheese mixture ingredients meld well with the fresh veggies whether you slather it on sliced baguettes or spread it on a classic sandwich.
If you are looking for more dip recipes, we have what you want! For example, this buffalo shrimp dip is a keto-friendly dish made from cooked shrimp, mozzarella, and cream cheese. For something simpler, our easy beer cheese dip is made with just a handful of ingredients.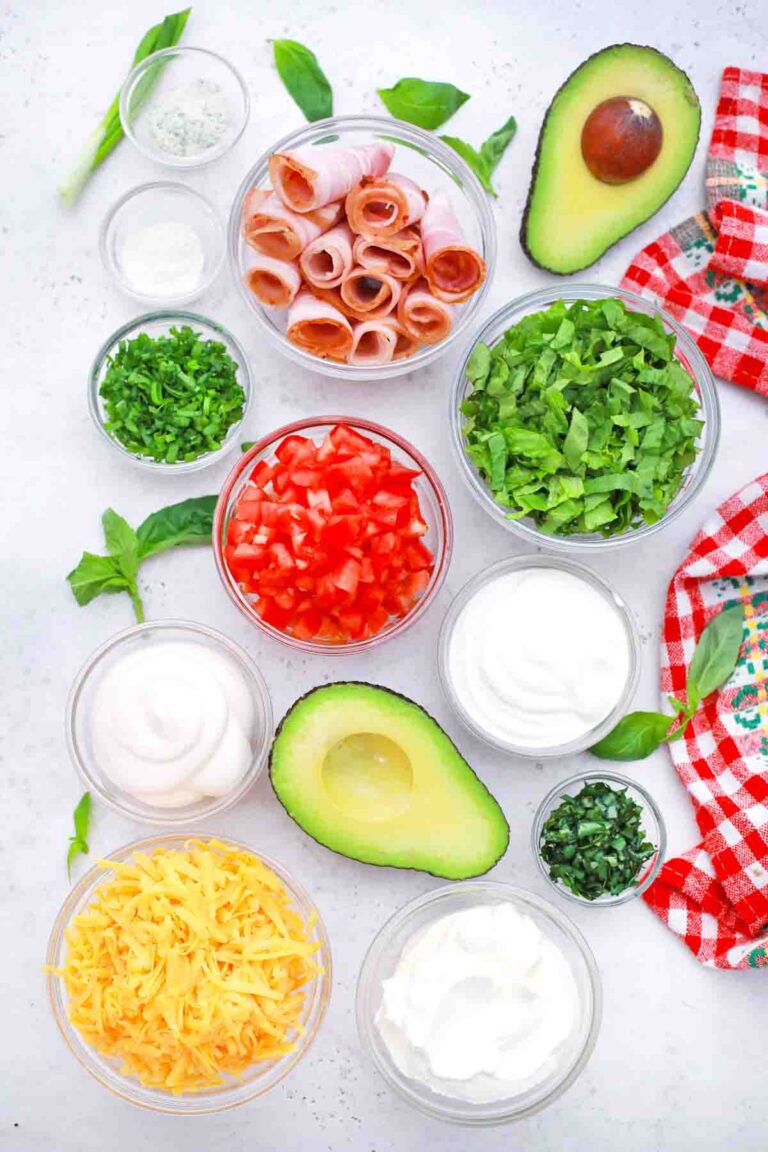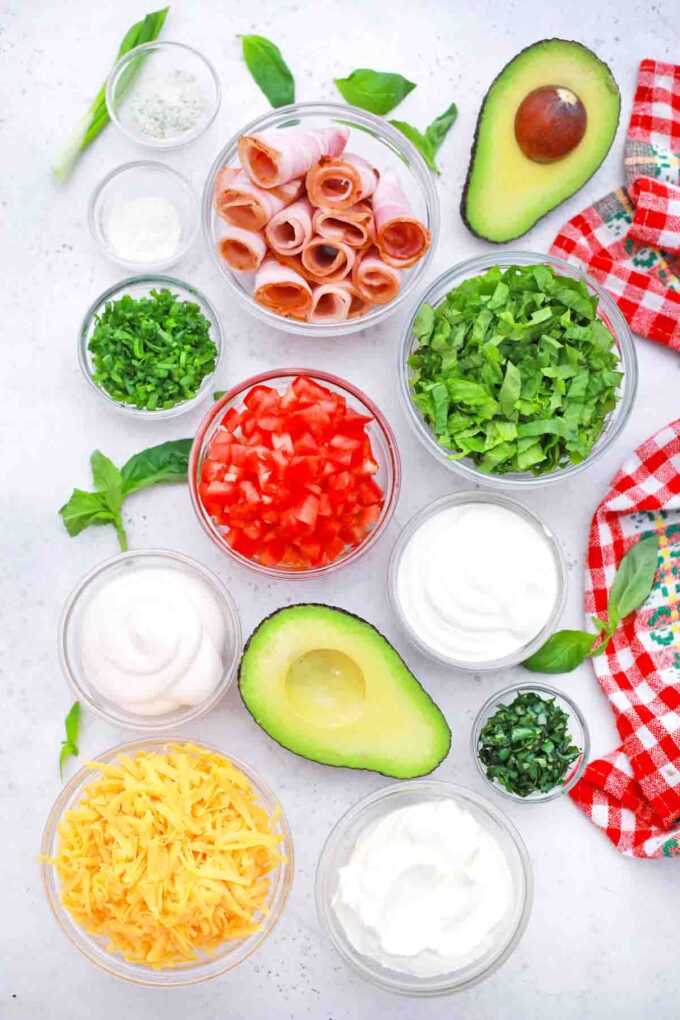 Ingredients needed:
To make this perfect dip recipe, all you need are the simple ingredients listed below. Then scroll down to our recipe card for complete instructions and exact measurements when you are ready to begin making your BLT dip.
Cooked bacon
Shredded lettuce
Diced tomatoes
Sliced green onions
Sliced avocado
Finely chopped basil
Shredded cheddar cheese
Garlic powder
Dry ranch
Mayonnaise
Sour cream
Softened cream cheese
How to make BLT dip from scratch?
Cook bacon: First, cook the bacon on medium-high heat until it is crispy. When it is finished cooking, drain the grease before removing it with a slotted spoon. Pat it dry with a paper towel and crumble the bacon before putting it on a paper towel-lined plate until you are ready to use it.
Make the cream cheese mixture: Next, in a medium bowl, mix softened cream cheese, sour cream, mayo, garlic powder, and dry ranch dressing. Stir until it is creamy and smooth. Then, spread it into a nine-inch pie pan or serving dish.
Layer on the rest: Now, add cheddar cheese, sliced green onions, avocado, cooked and crumbled bacon, diced tomatoes, basil, and shredded lettuce on top.
Serve BLT dip: Finally, place in a serving dish or any shallow dish and serve with fresh veggies, crusty bread, corn chips, or whatever you like to dip with.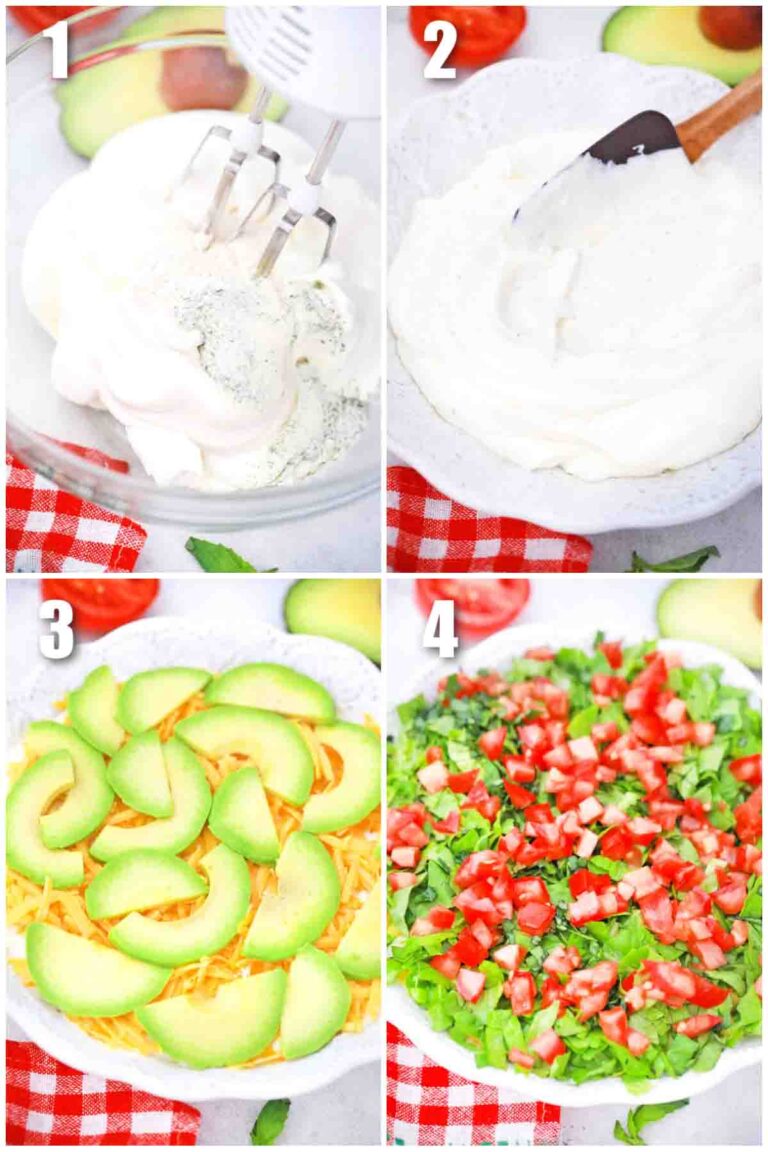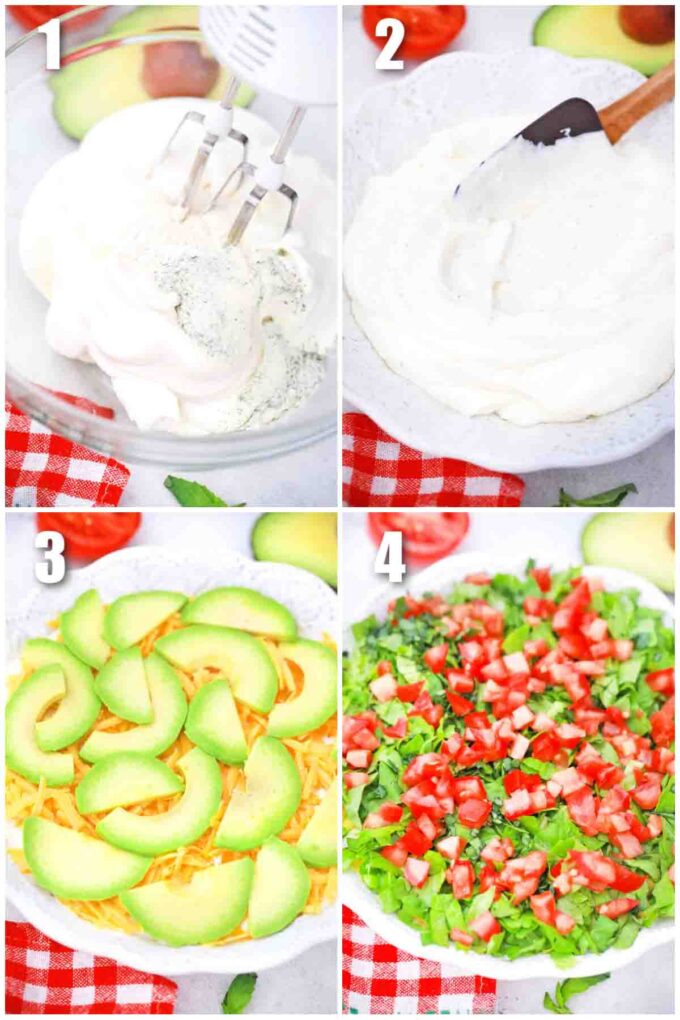 How to make baked BLT dip recipe?
Preheat oven: To get started, preheat your oven to 350 degrees F.

Make cream cheese mixture: Then, mix the cream cheese, sour cream, mayo, and seasonings in a bowl and stir well.
Add the extras: Next, add in the cooked and crumbled bacon and green onions.

Bake until bubbly: Scoop the mixture into a pie pan or shallow dish and bake for 15 to 20 minutes, until the mixture is bubbly.

Top and serve: Lastly, top with additional green onions, lettuce, and diced tomatoes before you serve it with sliced avocados on top.
Recipe variations:
Bake the bacon: Instead of frying the bacon in a frying pan, you can cook it in a preheated oven at 425 degrees F for 10 to 15 minutes.
Any lettuce: You can use any lettuce you want such as iceberg, summer crisp, butterhead, or romaine lettuce. Or you can use a mixture of all of these. You could even use spinach, turnip greens, or any other greens you like.
Any tomato: Similarly, feel free to use your favorite types of tomato like Roma tomatoes or cherry tomatoes.
Other cheese: Also, add your own favorite shredded cheese such as mozzarella, pepper jack, asiago, or swiss.
Soft: Other soft cheeses like cotija, camembert, or feta would also be great.
Cut the fat: Using ingredients with less fat can help cut down on fat and calories. Try low-fat cream cheese, mayo, and sour cream. You could also use turkey bacon.
Even healthier: Instead of sour cream, you can use Greek yogurt for even less fat and fewer calories.

Spice it up: If you love spicy food, add some chopped jalapenos, red pepper flakes, or cayenne pepper.

Sweeten it up: Alternatively, mix in a spoonful of brown sugar or powdered sugar for a sweeter dip.
Fresh herbs: You could also add your own favorite herbs such as thyme, paprika, rosemary, oregano, or cumin.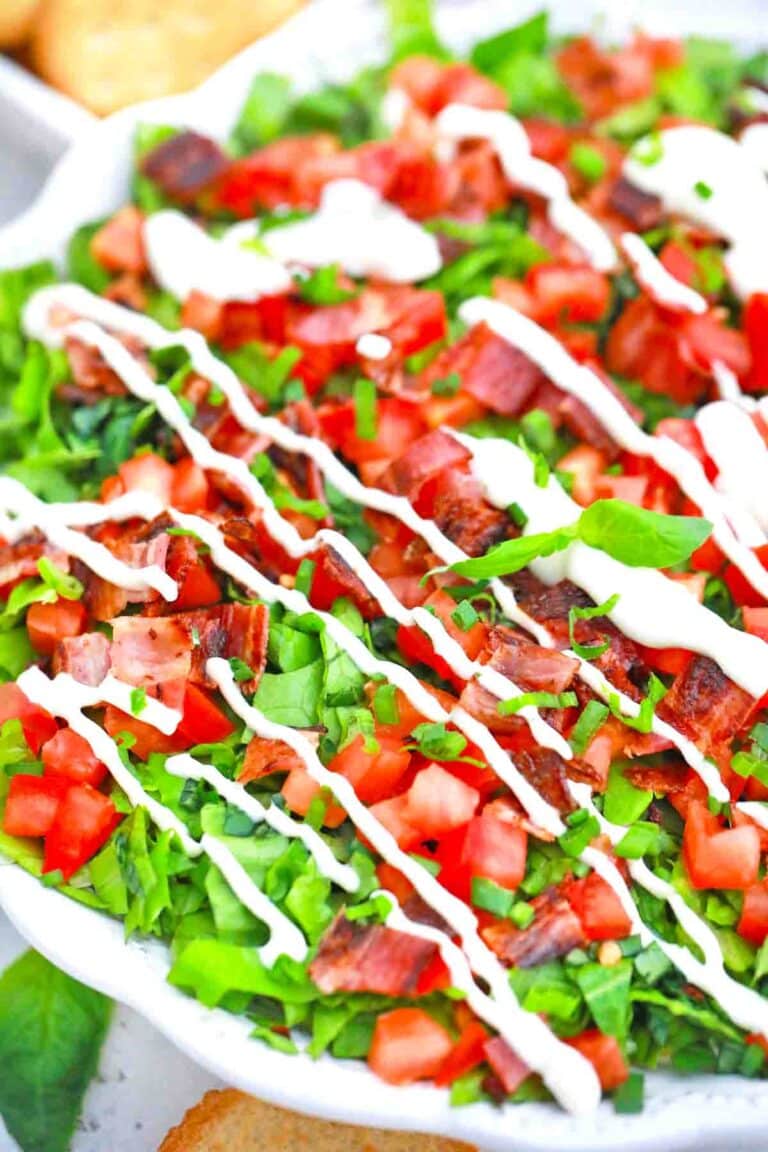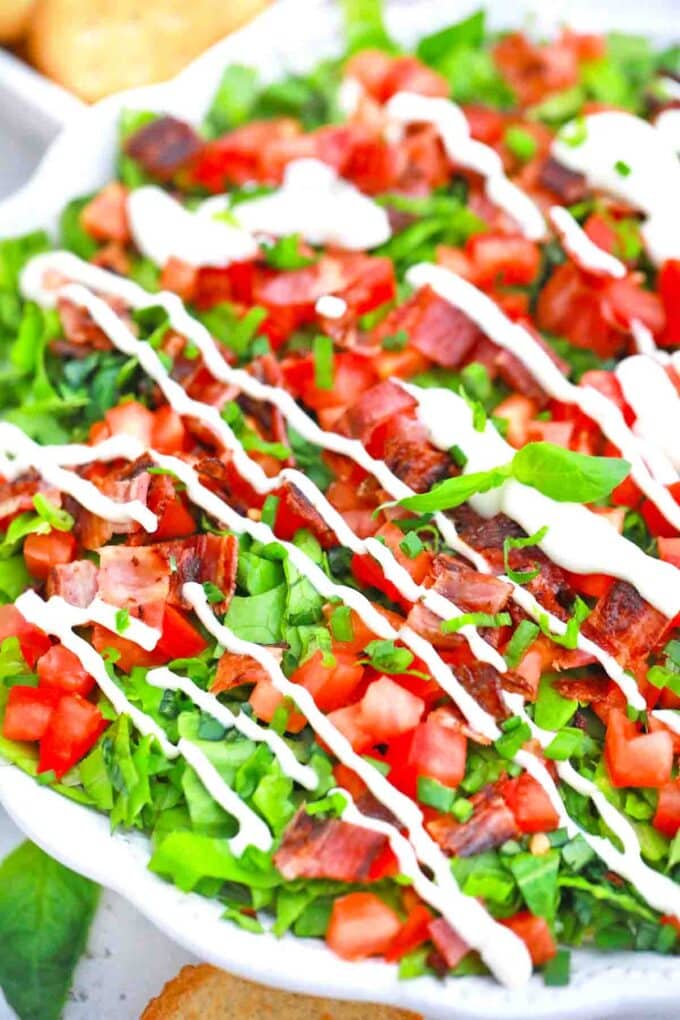 How to serve:
This BLT party dip is a huge hit during football season as well as for parties and holiday dinners. This easy dip can be served with just about anything and is just like your favorite BLT sandwich in dip form. You can try one of our favorite serving ideas or share some of your own ideas in the comments section at the bottom of the page.
Make this a meal by adding chopped ham, turkey, or chicken.
You can spread this dip on an actual BLT sandwich for even more BLT flavor.
Feel free to add your own favorite veggies as well. Some good ideas are sliced black or green olives, chopped red or white onions, mushrooms, diced celery, or broccoli florets. These pickled red onions would be perfect.

In fact, fruit would be good too. You can try chopped apples, pears, grapes, or even pineapple chunks. Sprinkle some romano or parmesan on top for a richer and saltier flavor.
Use leftovers to make this scrumptious BLT salad.

Since this is such a thick dip, flimsy chips may break. Provide small spoons or butter knives for spreading instead.
Serve with any kind of crusty bread like baguettes or boules.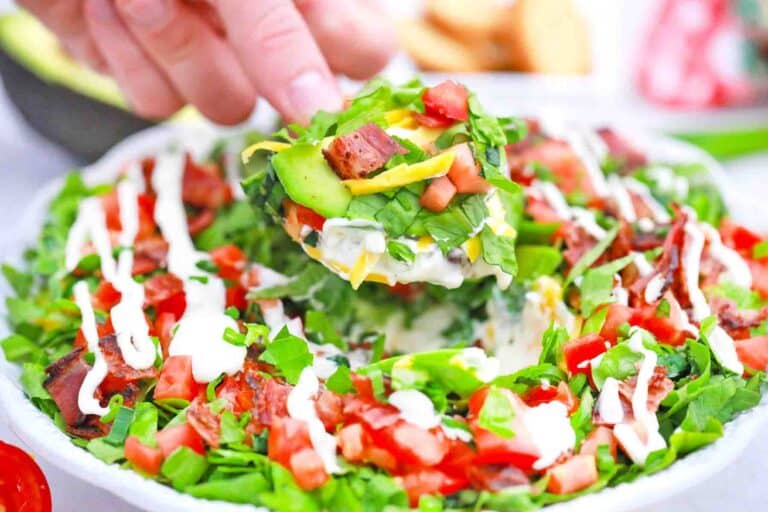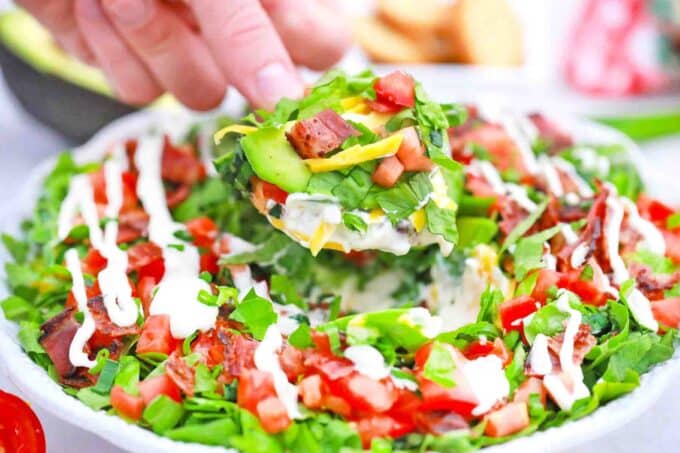 Frequently asked questions
What are the different kinds of lettuce that go well with this BLT dip?
Any kind of lettuce or salad greens would be delicious with this popular dip. Regular leaf lettuce is the most popular but romaine lettuce and bibb or butter lettuce come in second and third. Iceberg lettuce and spinach are great choices too. For something with a little more zing, try chicory, escarole, turnip greens, arugula, or watercress.
What other types of cheese are good in this dip?
Although the recipe calls for cheddar cheese, you can use any kind you like. For a creamier flavor, try swiss, mozzarella, Monterey jack, or gouda. Dry cheeses are also good like parmesan or romano. Soft cheeses can be crumbled on as well. Try camembert, cotija, brie, or chevre.
What are the most popular game day snacks?
The number one most popular game day snack is any kind of chip. Specifically, tortilla chips, potato chips, and corn chips. Second is the chicken wings; fried, baked, hot, or mild. With ranch or blue cheese dressing. The third is beer. Yes, beer is a snack according to those who are hosting a game day get-together.
But you cannot forget potato skins, pizza, guacamole, and pigs in a blanket. Also, jalapeno poppers, cheese sticks, veggie or relish trays, and fried shrimp are fun appetizers. Or you can try taquitos, empanadas, mini tacos, and tostones. Really, anything that you can eat with your hands is a great game-day snack. Even popcorn!
What are the nutrition facts in this recipe?
With each serving size being about three tablespoons, the calories are about 210, fat is 19 grams, and saturated fat is 8 grams. It also has 43 mg of cholesterol, 4 grams of carbs, 229 mg of sodium, and 2 grams of sugar. But you also get 2 mg of vitamin C, 22 mg of calcium, 229 units of vitamin A, 200 mg of potassium, and 10 grams of protein.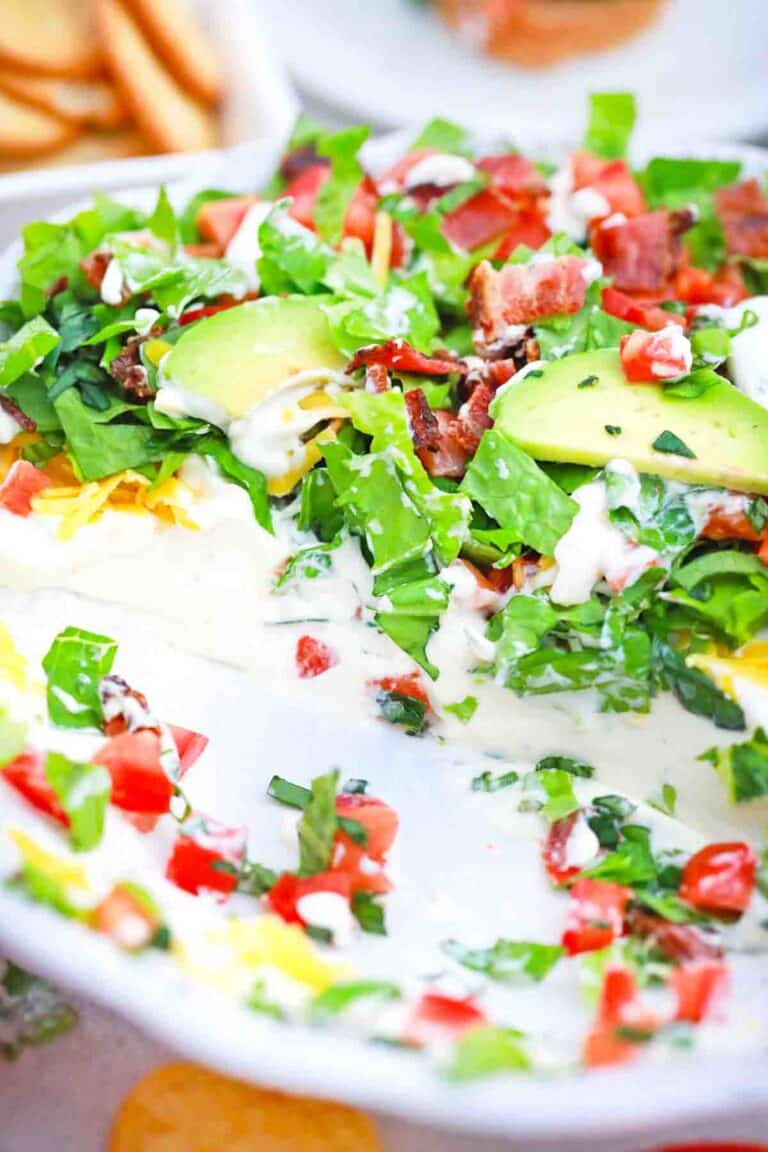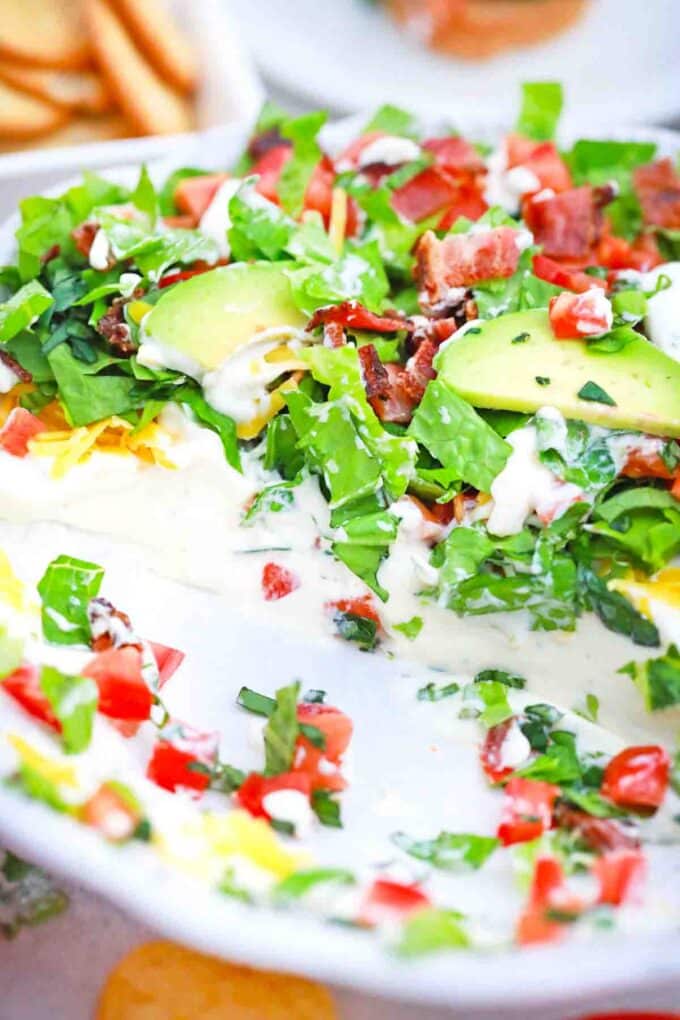 How to store leftovers:
Store: Refrigerate leftover BLT dip right away in an airtight container or jar. It will last for up to four days in the fridge.

Freeze: Freezing is not recommended.
More dips to try:
Recipe tips:
Be sure to squeeze the excess moisture from the tomatoes before chopping so they are not too juicy. Even though that sounds delicious, the juiciness will make your dip runny.
Chop everything the same size for better uniformity and taste.
The nutrition, calories, and fat vary depending on whether you add or remove any ingredients and what you use for dipping or spreading.

Be sure to taste and season your BLT dip before you serve it. Add salt and pepper to taste.

Lettuce wilts and avocados turn brown, so it is best to eat this BLT salad within one or two days.

Make the cream cheese layer a day ahead and refrigerate it for a shorter prep time.
For even faster prep time, use bacon bits and pre-chopped veggies.
Best BLT dip
BLT dip is a scrumptious appetizer made from crispy bacon, shredded lettuce, and chopped tomatoes on a bed of ranch-seasoned cream cheese layer.
Save
Share
Print
Pin
Rate
Ingredients
1

lb

smoked bacon strips

8

oz

cream cheese

(softened)

1/2

cup

sour cream

1/2

cup

mayonnaise

1

tablespoon

dry ranch seasoning mix

1

teaspoon

garlic powder

1

cup

cheddar cheese

(shredded)

1

avocado

(thinly sliced or chopped)

1

cup

lettuce

(finely chopped)

1

tablespoon

fresh basil

(finely chopped)

1

cup

cherry tomatoes

(diced)

2

green onions

(chopped)
Instructions
In a large cast iron pan or non-stick skillet, over medium-high heat cook bacon until brown and crispy. Arrange on paper towels to remove excess grease.

Crumble the slightly cooked bacon into small pieces and set aside.

In a bowl, beat softened cream cheese, sour cream, mayonnaise, ranch seasoning, and garlic powder until smooth and creamy.

Spread the mixture into a 9-inch pie dish.

On top of the cream cheese sprinkle the cheddar cheese, and arrange the sliced avocado.

Next add the chopped lettuce, basil, tomatoes, crumbled bacon, and green onions.

Chill the dip or serve immediately with chips, crackers, french baguette, crostinis, or veggie sticks.
Nutrition
Calories:
647
kcal
|
Carbohydrates:
12
g
|
Protein:
19
g
|
Fat:
58
g
|
Saturated Fat:
18
g
|
Polyunsaturated Fat:
14
g
|
Monounsaturated Fat:
22
g
|
Trans Fat:
0.1
g
|
Cholesterol:
89
mg
|
Sodium:
1081
mg
|
Potassium:
551
mg
|
Fiber:
3
g
|
Sugar:
4
g
|
Vitamin A:
639
IU
|
Vitamin C:
10
mg
|
Calcium:
179
mg
|
Iron:
1
mg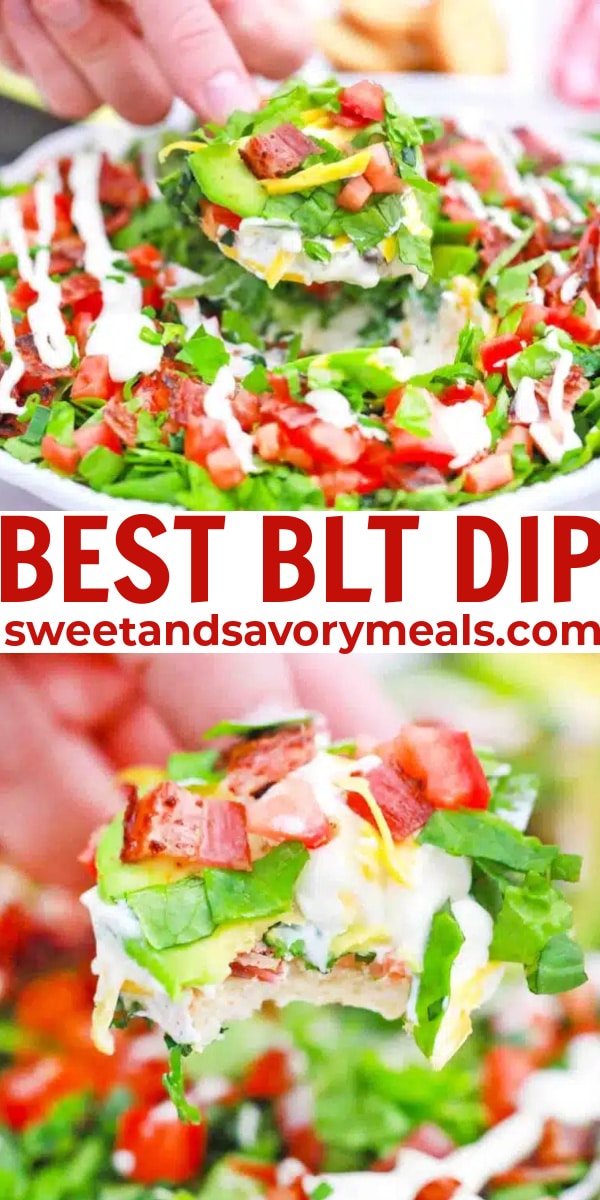 More recipes you might love