Beef and Mushrooms Recipe [Video]
Last updated on March 1st, 2023 at 02:18 pm
Beef and Mushrooms is a one-pan meal made with tender beef chuck roast and baby Bella mushrooms, in a herbed-infused red wine sauce. All you need for this delicious recipe is sliced mushrooms, beef chunks, carrots, and onion seasoned with red wine, Worcestershire sauce, and tomato paste. The earthy mushrooms give your finished dish a nutty flavor that is absolutely delicious.
Looking for something different? Try our Instant Pot Mongolian Beef made from flank steak, brown sugar, and sesame oil. Or you can make this Ultimate Instant Pot Beef Stew with pearl onions, carrots, and mini potatoes in just over an hour.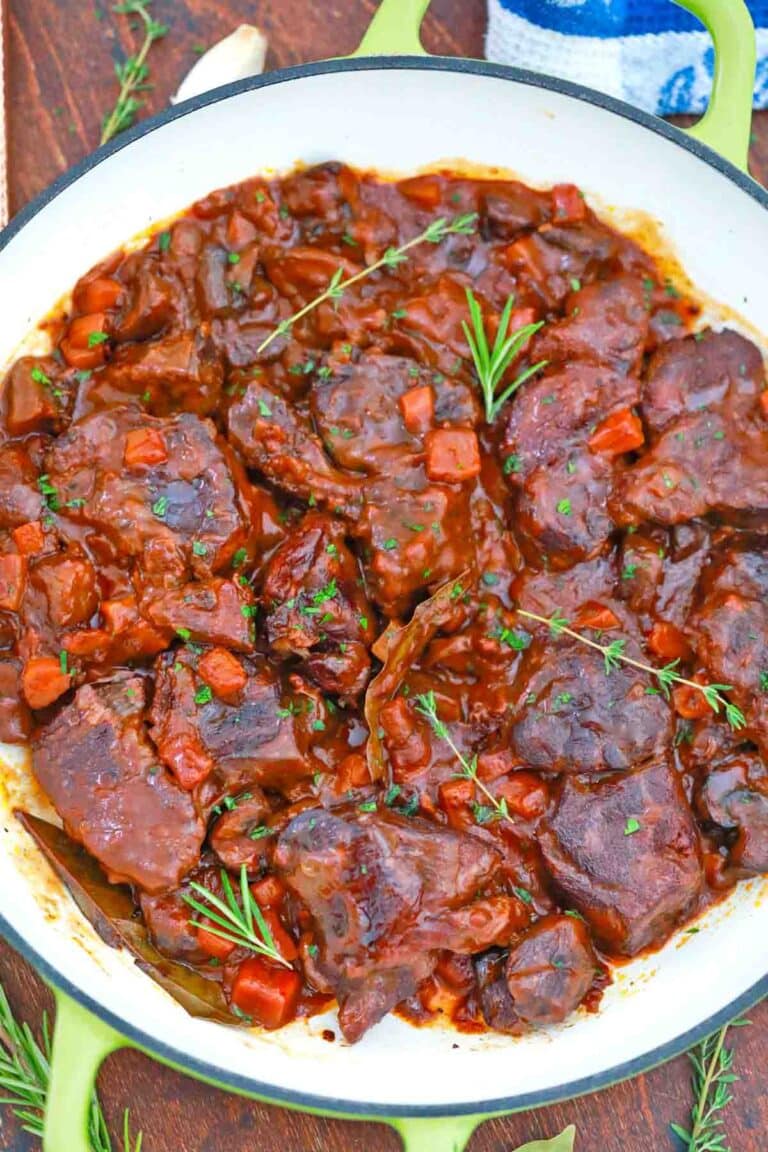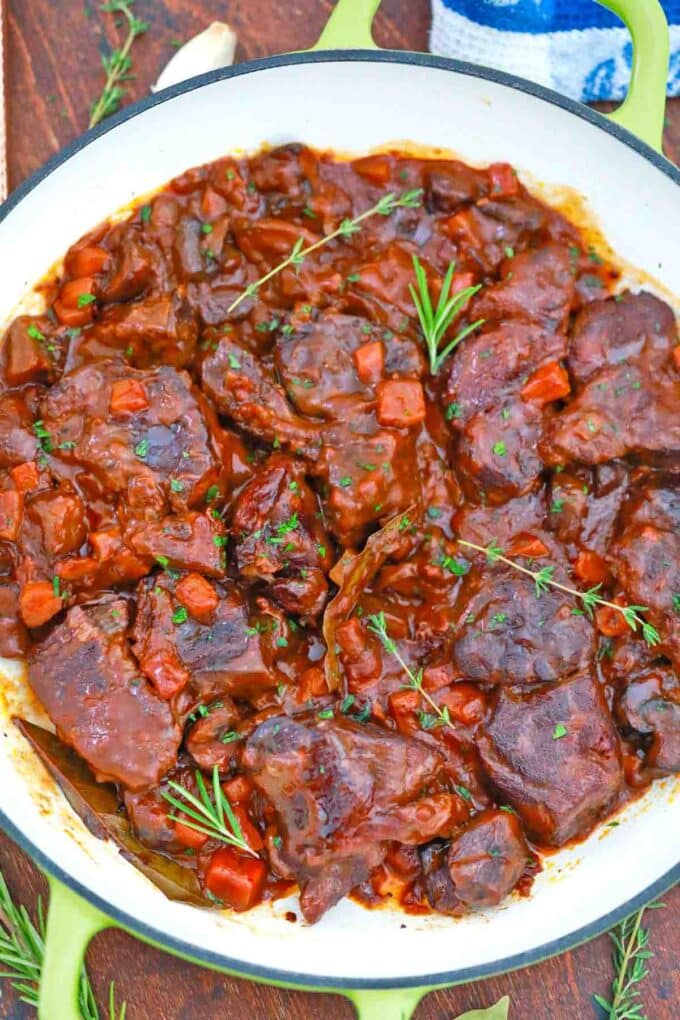 Scientists know that we have been eating beef since prehistoric times because of the cave paintings showing men hunting large wild cattle. Sometime around 8000 BC, humans domesticated cows, and the rest is history. Beef has become one of the most popular meats and can be used in thousands of different recipes. This beef and mushroom dish is just one example.
This beef and mushroom recipe is made with wine-braised beef in a mushroom sauce flavored with onion, garlic, oregano, and paprika as well as Worcestershire sauce, tomato paste, and wine. The flavorful sauce gets an extra flavor boost with bay leaves, rosemary, and thyme. It has so much flavor that the whole family will love it.
This one pan meal is great for date night, or for special occasions and holidays like Thanksgiving and Christmas. In addition, the meal can be made ahead of time and you can just reheat it before serving. Also, the leftovers are even better the next day!
If you think this sounds delicious, try one of our other tasty beef dishes. This instant pot beef and broccoli recipe is easily made with flank steak and frozen broccoli seasoned with fresh ginger and soy sauce. Or try something different like this creamy beef and shells using pasta shells, ground beef, and sweet onion.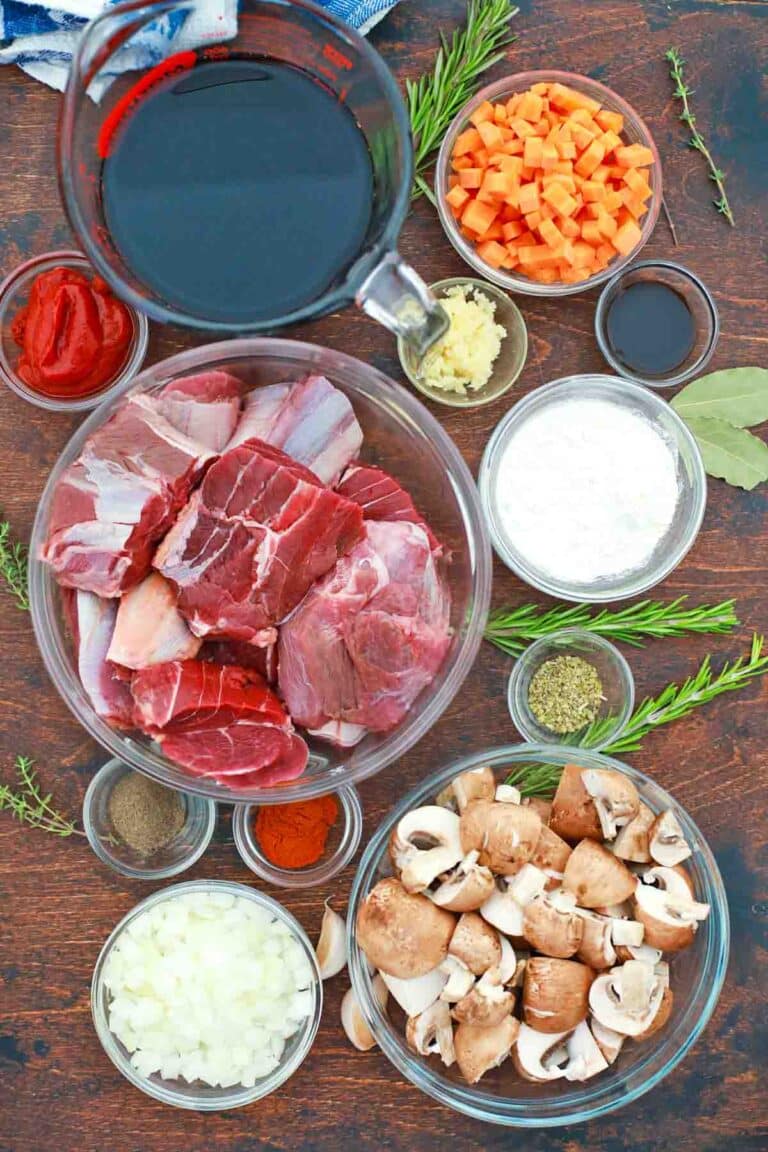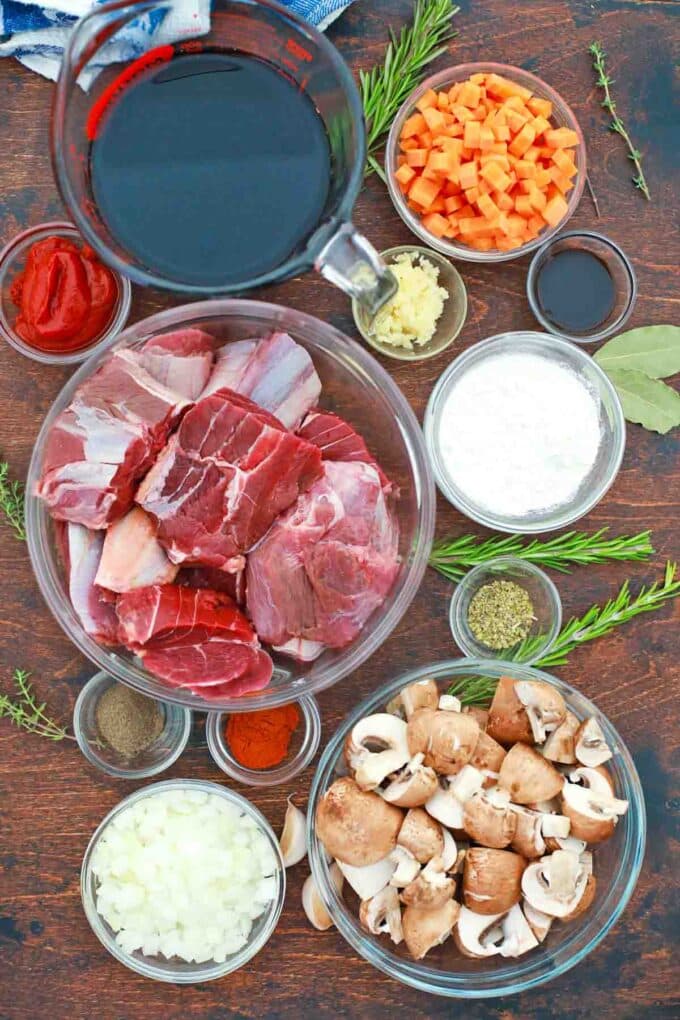 Ingredients needed:
To make this beef mushroom stir fry recipe, you will need to gather the following ingredients. Then, when you are ready to begin, scroll down to the recipe card at the bottom of the page for the exact measurements and instructions.
Chuck roast: Cut into three or four-inch pieces with fat trimmed.
Chopped mushrooms: We used baby Bella mushrooms cut into quarters.
Diced onion
Diced carrots
Minced garlic cloves
Worcestershire sauce
Tomato paste
All-purpose flour
Light red wine: Pinot Noir, Shaoxing wine, or something similar.
Extra virgin olive oil
Bay leaves
Dried oregano
Dried paprika
Sprigs of fresh rosemary
Sprigs of fresh thyme
Kosher salt
Black pepper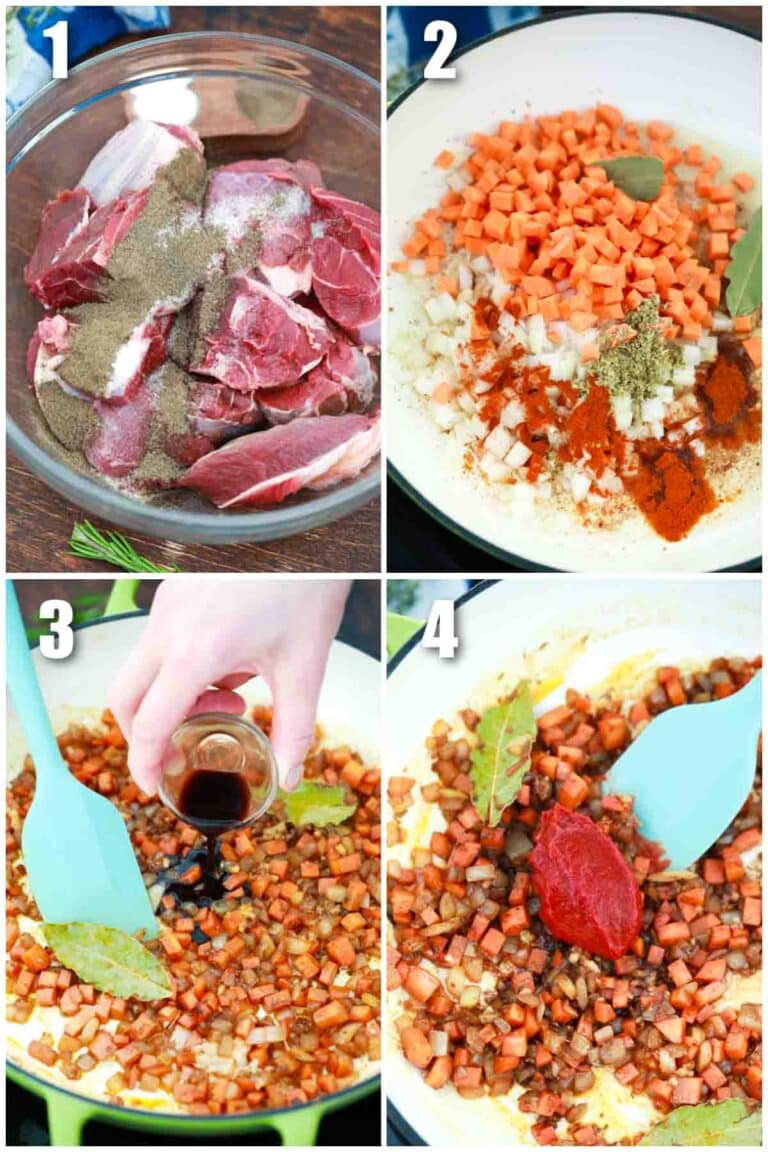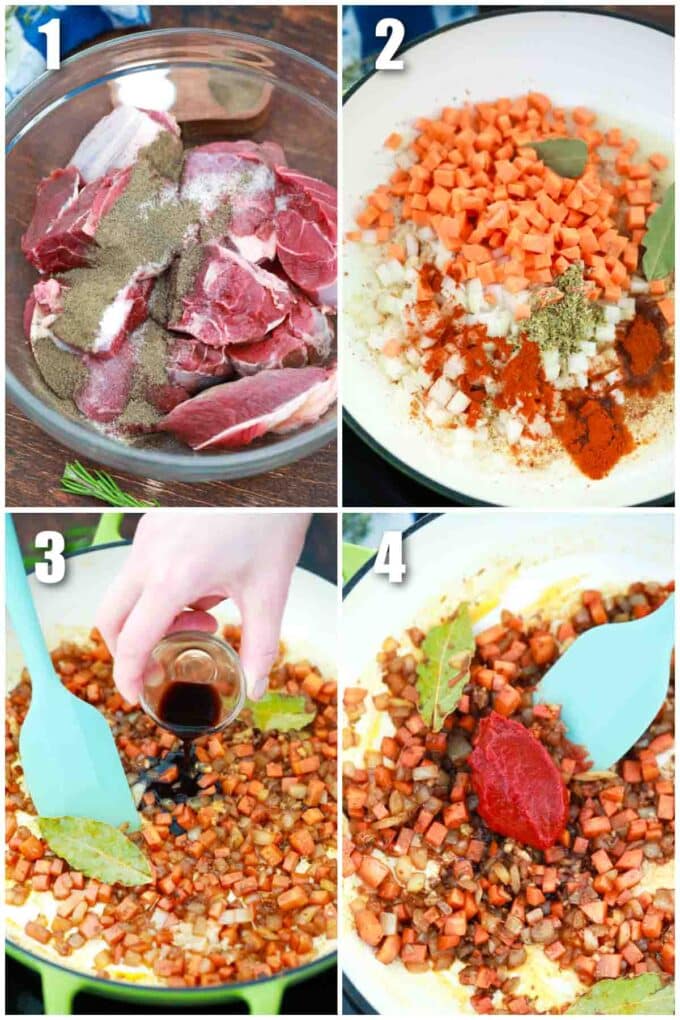 How to make beef and mushrooms from scratch?
Preheat: First, preheat the oven to 350 degrees F.
Dry and season beef: While you wait, pat the beef tips dry with a paper towel and season it on all sides with salt and pepper.
Brown the beef: Next, pour oil into a Dutch oven or another large pot. When it is simmering, braise beef chunks on all sides, approximately two minutes per side. Remove the beef tips and set them aside.
Saute the veggies: Now, reduce to medium heat and add carrots, onions, bay leaves, paprika, and oregano to the pan. Saute until the veggies are tender, about five minutes, before adding the garlic and cooking for another two minutes.
Add the sauce: After, add in the tomato paste, Worcestershire sauce, and flour, stirring constantly until the flour is absorbed. Stir in the mushrooms and wine.
Bake the beef: Then, put the meat back into the pan and fry the beef until it starts to boil, adding the thyme as it cooks. Cover the pot and put it in the preheated oven and cook for 2.5 to 3 hours.
Serve: Finally, serve immediately with mushroom gravy on top.
How to make crock pot beef and mushrooms from scratch?
Season your meat: To begin, pat beef dry and season with salt and pepper on all sides.
Braise the beef: Next, use a large skillet or pan with hot oil over high heat to braise the beef until it is brown all over and set the meat aside.
Heat up veggies: Using the same pan, cook carrots and onions with the seasonings for about five minutes.
Cook in the slow cooker: Then, transfer everything to a crock pot and stir together. Cover the pot and cook for eight hours on low or four hours on high.
Time to eat: Last, serve this slow-cooked hearty stew with creamy mashed potatoes or your other favorite veggies.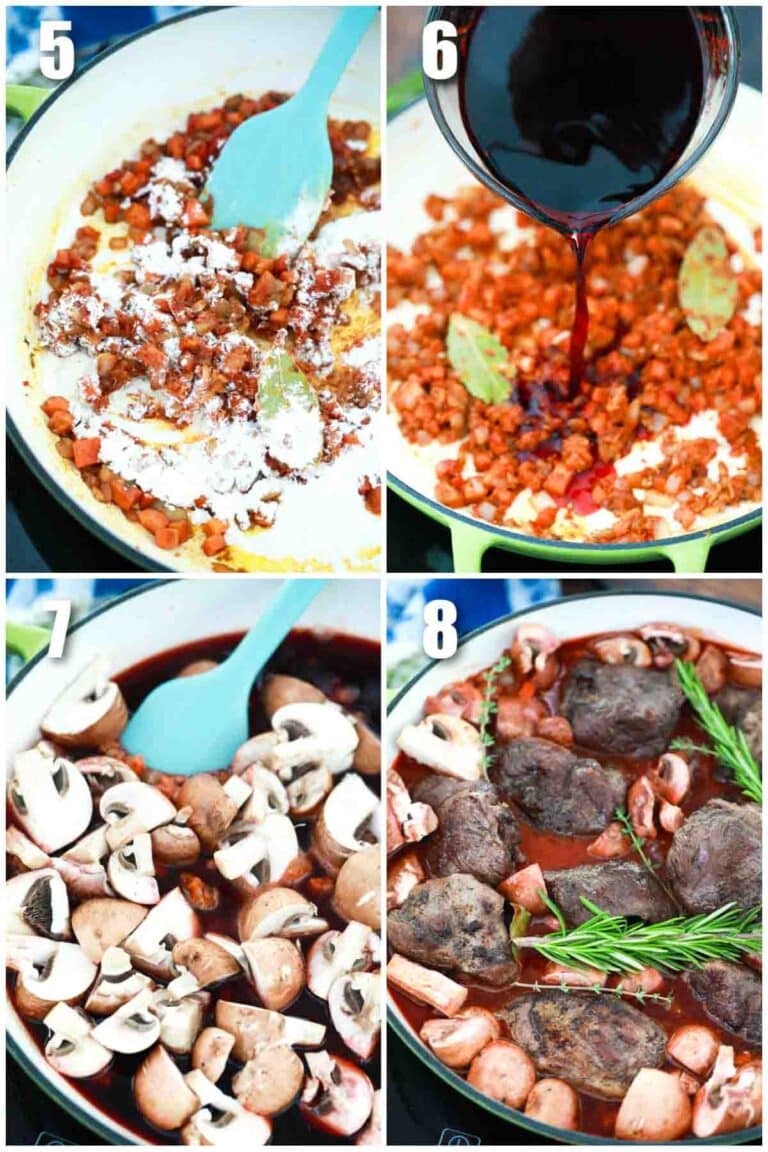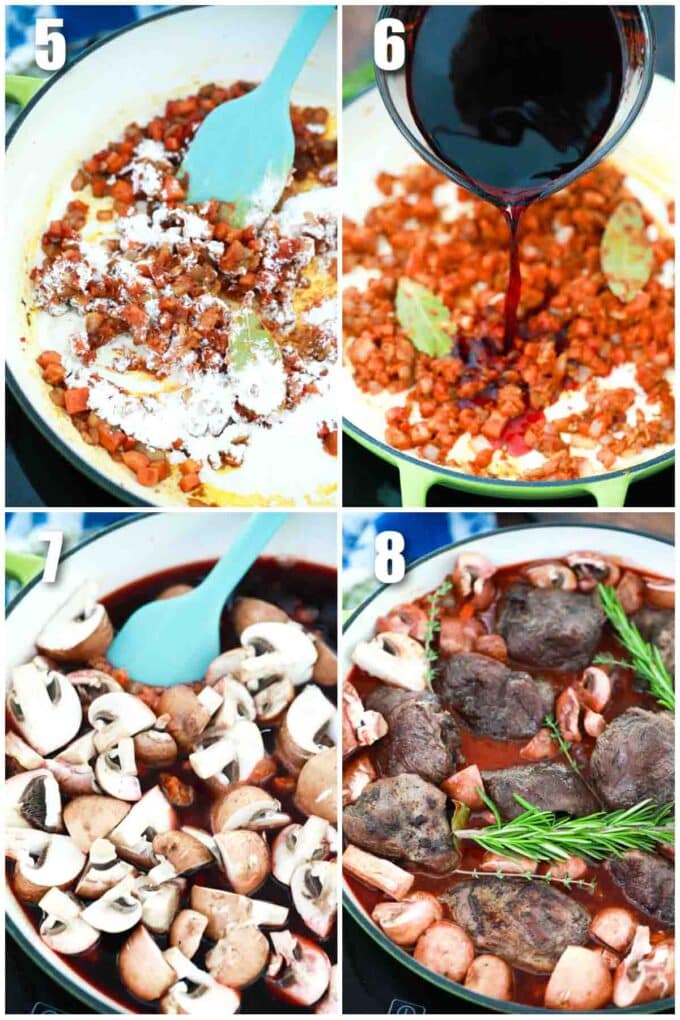 Recipe variations:
Different mushrooms: Feel free to use any kind of mushrooms you like such as cremini mushrooms, shiitake mushrooms, or some other button mushrooms.
Different wine: Try using other types of wine for your own unique version.
Another oil: You can use your own favorite cooking oil like sesame oil or avocado oil.
Chinese beef: For extra flavor, make this Chinese beef and mushrooms by adding soy sauce or oyster sauce. Those who are allergic to oysters can use vegetarian oyster sauce.
More herbs: To make this beef tips recipe your own, add your favorite herbs and spices like fresh ginger, basil, parsley, or fennel.
Sour cream: For an extra rich taste, add a tablespoon of sour cream to your creamy sauce.
More veggies: Try adding your own favorite veggies like green onions, shallots, or chopped broccoli.
Other meats: Feel free to use another kind of meat like chicken, pork, or turkey.
Add soup: Use a can of cream of mushroom soup in your gravy for a thick and rich flavor. You can use our cream of mushroom soup recipe for a homemade taste.
How to serve:
This hearty dish is easy to make and can be served alone as a whole meal. Try one of these serving ideas or share one of your own in the comments at the bottom of the page.
Give your beef with mushrooms a splash of teriyaki sauce before serving for even more flavor.
Beef and mushrooms go great on top of a bed of egg noodles. Or scoop some on top of our soba noodles.
Make this into a tasty soup by adding a cup of beef broth to the mixture.
Another way to serve this that sounds amazing is to add a large scoop to a bed of rice. Try it with our coconut rice recipe.
Instead of serving with mashed potatoes, use mashed sweet potatoes for a unique taste.
Serve with a hearty slice of crusty bread to soak up the gravy.
Sprinkle on some red pepper flakes or cayenne pepper for a spicier dish.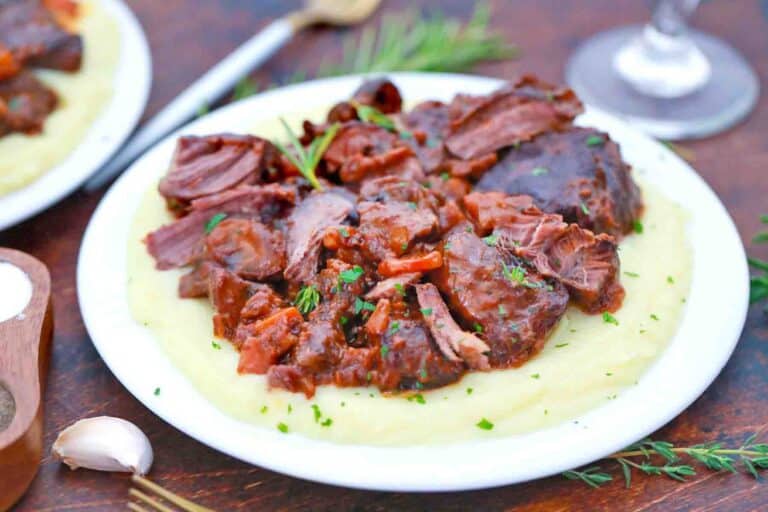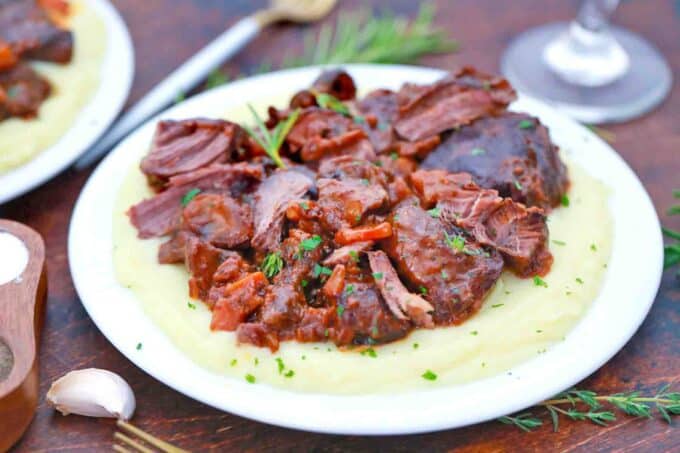 Frequently asked questions
What kind of meat is best for this recipe?
Although the recipe calls for a chuck roast, you can also use any tender meat like filet mignon, sirloin steak, or flank steak. Beef stew meat is perfect for this dish because it is already chopped into the perfect size for you. You could even use skirt steak, ribeye, or ground beef.
What can I use instead of mushrooms?
Not in the mood for mushrooms? That's okay. There are plenty of substitutes to try. Tofu is one of the most popular because the texture is similar and it picks up flavors from whatever sauce you are using. Tempeh is another great choice. You can also try zucchini, eggplant, dried tomatoes, or squash.
What is the difference between beef tips and beef stew meat?
Stew meat is typically a tougher cut of meat like a rump roast, which makes it perfect for braised beef recipes like this one. Beef tips are more often made from sirloin or another tender cut of beef. These are a more tender beef that is good for any kind of quick recipe.
What are the nutrition facts in this recipe?
Each serving of this delicious beef and mushroom stir fry has 345 calories, 4 grams of carbs, and 18 grams of fat with 9 grams of saturated fat. It also has 117 milligrams of cholesterol, 345 milligrams of sodium, and 1 gram of sugar. But you also get 33 grams of protein, 289 units of vitamin A, 2 milligrams of iron, 18 milligrams of calcium, and 2 milligrams of vitamin C.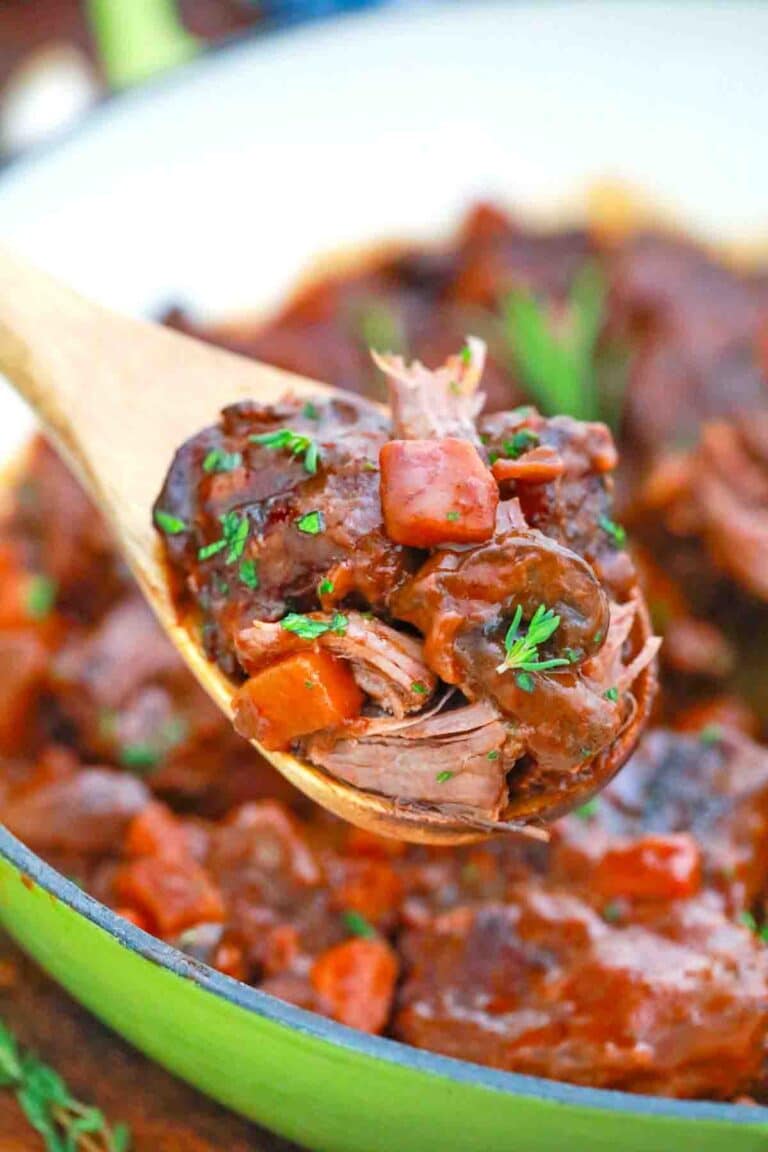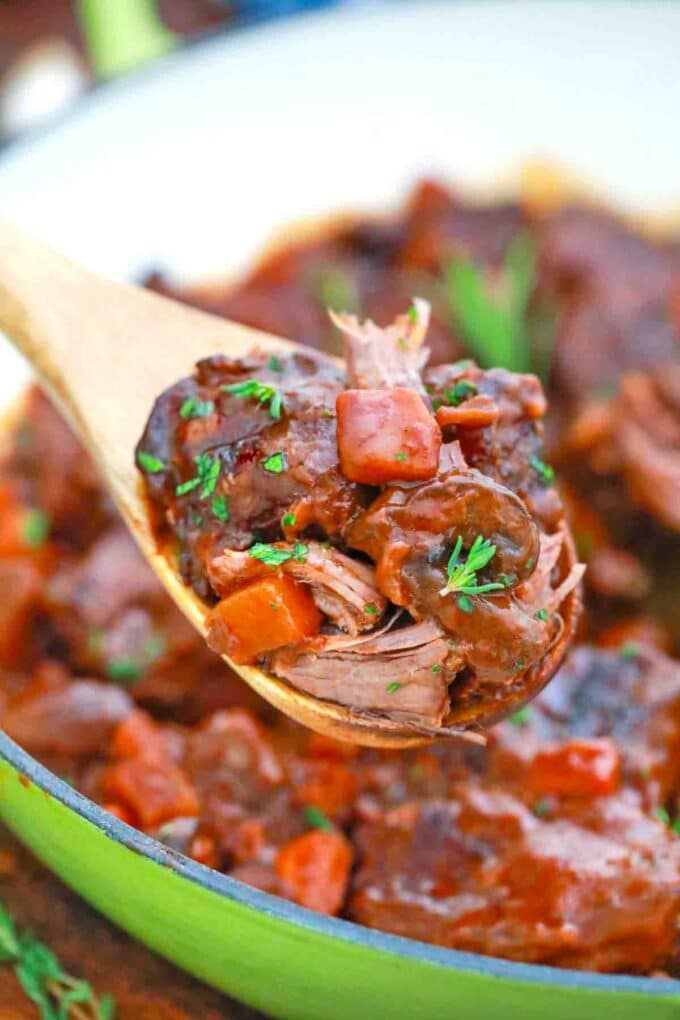 How to store leftovers:
Store: You can store your leftover mushrooms and beef in an airtight container in the fridge for up to three days.
Freeze: It is also safe to freeze your beef mushroom stir fry for up to three months.
Thaw: For the best flavor and texture, thaw overnight in the fridge before serving.
Reheat: To reheat, put it in a microwave-safe dish and heat it in the microwave for 60 to 120 seconds.
More recipes with beef you should try:
Cooking tips:
Try to cut all of the pieces roughly the same size for better uniformity and flavor in every bite.
The meat should be just above the liquid line for the best-braised beef. You do not want it to be fully immersed in the liquid.
Thicken your sauce by adding a bit of cornstarch and baking soda.
If you do not have any wine, you can use apple cider vinegar or rice wine vinegar instead.
You can make this as a stir fry with a thick sauce or loosen it up by adding more broth to make soup.
To make tougher cuts of beef more tender, cut them across the grain. Adding baking soda can also help tenderize meat.
For easier cutting, freeze the beef for about 25 to 30 minutes.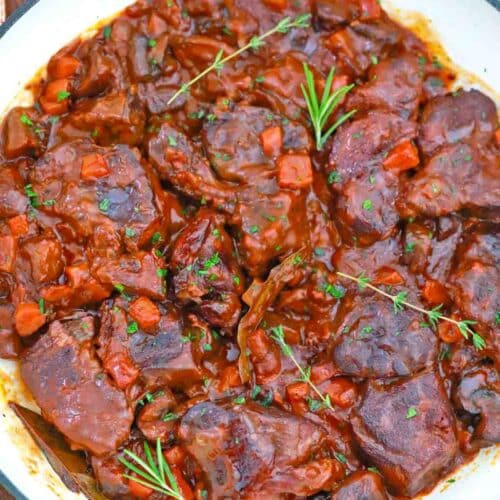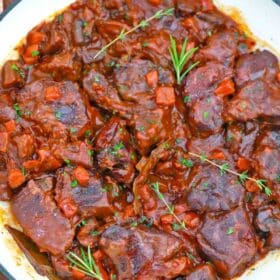 Beef and Mushrooms
Beef and Mushrooms is a one-pan meal made with tender beef chuck roast and baby Bella mushrooms, in a herbed-infused red wine sauce.
Save
Share
Print
Pin
Rate
Ingredients
4-5

lbs

chuck roast

(trimmed of fat and cut into 3-4 inch pieces)

2

tablespoons

olive oil

1

tablespoon

kosher salt

1

medium yellow onion

(finely diced)

2

medium carrots

(peeled and chopped)

2

bay leaves

4

cloves

garlic

(minced)

1

teaspoon

dried oregano

1

teaspoon

dried paprika

1

tablespoon

Worcestershire sauce

2

tablespoons

tomato paste

3

tablespoons

all-purpose flour

3

cups

light red wine

(a Pinot Noir will work)

1

lb

baby Bella mushrooms

(cleaned and quartered)

3

sprigs of fresh thyme

3

sprigs of fresh rosemary

salt and pepper

(to taste)
Instructions
Preheat oven to 350 degrees F.

Pat dry the meat and generously season it with salt and pepper on all sides.

Place a large Dutch oven over medium heat, add the oil and heat it until shimmering. In small batches, brown the beef pieces on all sides. About 2 minutes per side. Set meat aside.

Reduce heat to medium-low and add the diced onion, carrots, oregano, paprika, and bay leaves. Stir and saute until the veggies are just tender, about 5 minutes.

Add garlic and cook for 2 more minutes. Stir in Worcestershire sauce and tomato paste.

Sprinkle the mixture with flour and stir until well combined.

Slowly pour in the wine and stir to combine, after that add the mushrooms and stir.

Arrange the meat on top in a single layer, it should not be submerged in the liquid.

Add the thyme and rosemary between the pieces of meat and bring the mixture to a boil.

Cover and place in the. preheated oven for 2 ½ -3 hours. Meat should be tender and fall apart with a fork when done.

Serve over creamy mashed potatoes.
Nutrition
Calories:
652
kcal
|
Carbohydrates:
16
g
|
Protein:
61
g
|
Fat:
40
g
|
Saturated Fat:
16
g
|
Polyunsaturated Fat:
4
g
|
Monounsaturated Fat:
22
g
|
Trans Fat:
2
g
|
Cholesterol:
209
mg
|
Sodium:
1511
mg
|
Potassium:
1681
mg
|
Fiber:
2
g
|
Sugar:
5
g
|
Vitamin A:
3541
IU
|
Vitamin C:
4
mg
|
Calcium:
104
mg
|
Iron:
8
mg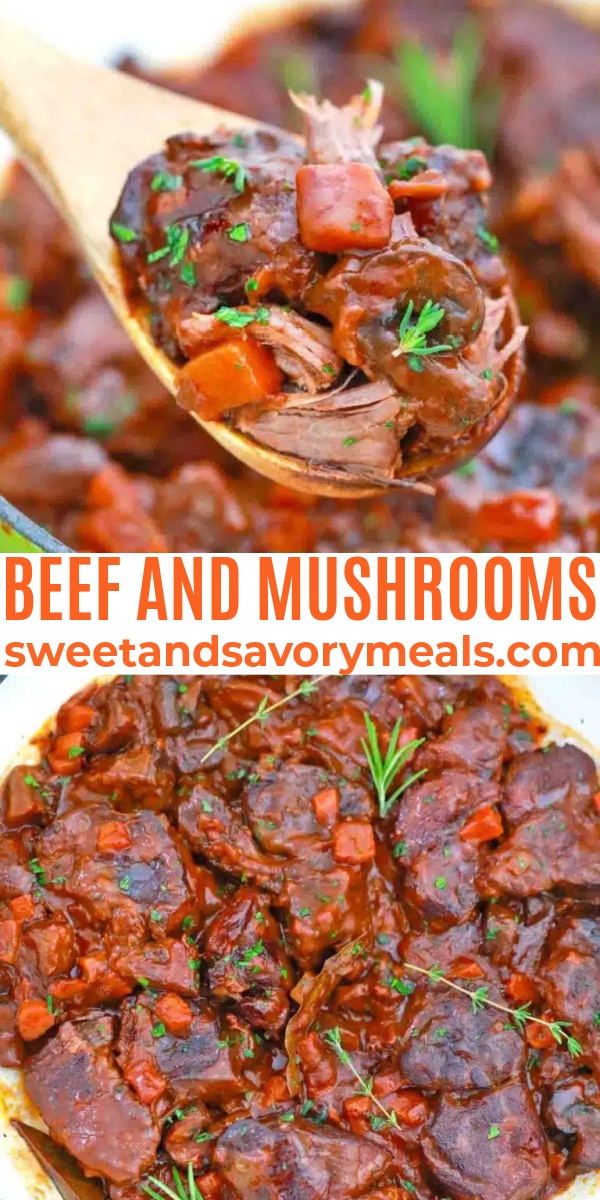 More recipes you might love