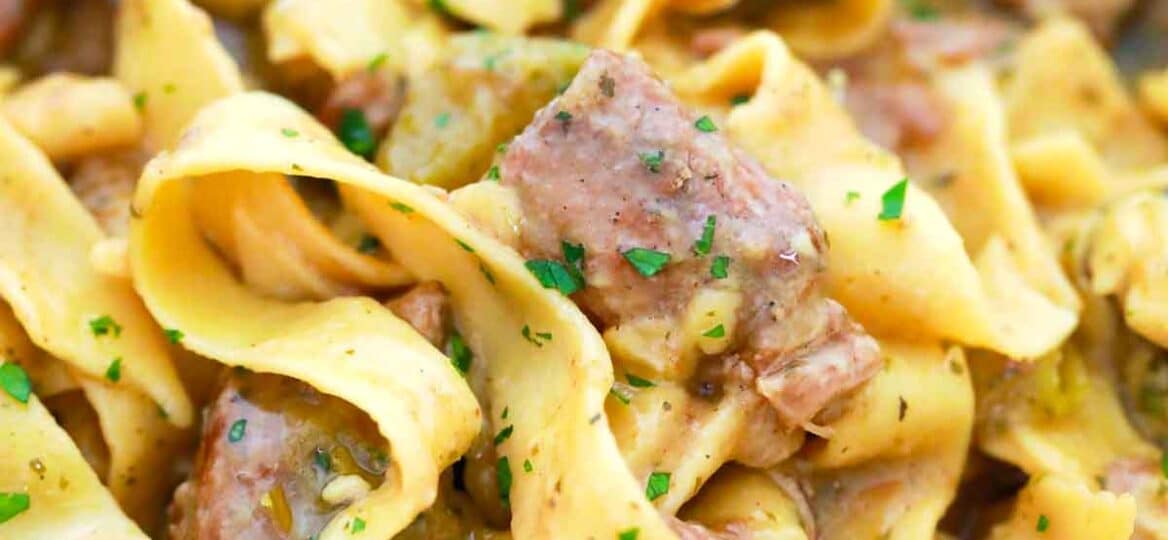 Slow Cooker Beef and Noodles Recipe [Video]
Slow Cooker Beef and Noodles is a delicious recipe made with stew meat, egg noodles, cream of mushroom soup, and pepperoncini peppers. All you have to do is toss it all in your crock pot and let it cook. The slow-cooked meat is fork tender and tasty, ready for you when you get home from work and the noodles are flavored with beef juice for a scrumptious dinner the whole family will love.
Looking for other recipes for dinner? Try this similar recipe of Creamy Beef and Shells made with ground beef, pasta shells, and marinara sauce. This Slow Cooker Beef Teriyaki seasoned with brown sugar, garlic cloves, and soy sauce is amazing.
Whether you call it a crock pot or slow cooker, it cooks low and slow to make any dish tender and delicious. But the first slow cooker was born in the 1800s in the Jewish neighborhood of Vilnius.
On the Friday before Sabbath, they would prepare a stew and let it cook in the town's bakeries after they had been turned off for the night. In the morning, they would enjoy this delicious meal. But the actual slow cooker was developed by Irving Nachumsohn in the 1950s.
This crock pot beef and noodles recipe is one of the most delicious and easy recipes you can make. You only need a handful of ingredients you probably already have at home, and it cooks itself while you work or play. If you think this sounds delicious, you should try one of our other slow cooker recipes.
Try this juicy and sweet slow cooker pineapple ham seasoned with brown sugar, maple syrup, cinnamon, and nutmeg. If you need a good side dish, our slow cooker glazed carrots will go perfectly with this ham. It is made with balsamic reduction, soy sauce, and maple syrup for an intense flavor.
Ingredients needed:
To make this tasty comfort food, all you need are these basic beef and noodles ingredients. When you are ready to start cooking, scroll down to the bottom of the page to our recipe card where you can find the instructions and exact measurements.
Stew beef
Uncooked egg noodles
Pepperoncini peppers
Minced garlic cloves
Cream of mushroom soup
Onion powder
Brown gravy mix
Chicken broth or chicken stock
Dry ranch seasoning
How to make slow cooker beef and noodles recipe?
Brown the meat: First, season your stew beef and brown it in a skillet over high heat.
Add to the slow cooker: Then, add the meat to your slow cooker. We used a six-quart slow cooker. If yours is a different size, you may have to adjust the cooking time.
Add the seasonings: Now, pour in the gravy and ranch packets on top of the beef, and add the onion powder and garlic.
Add the soups: Pour in the can of soup and mix it well until it is all combined before stirring in the broth.
Set it and forget it: Next, cover the pot and slow cook on high for four to six hours or on low for six to eight hours.
Cook the noodles: Last, an hour before cooking time is up, add in the egg noodles and stir to make sure they are all covered in the juice. Then cover it back up and cook for another hour.
Serve immediately: Finally, serve hot with a garnish of fresh parsley.
How to make instant pot beef and noodles?
Sautee the beef: To begin, set your instant pot to sautee and add a few drops of your favorite cooking oil. Then, season the meat and brown it on all sides.
Deglaze and add the sauce mix: After, deglaze the pot before you pour in the ranch and gravy packets, onion powder, garlic, soup, and broth. Stir until it is completely combined.
Cook the meat: Next, add the stew meat and close the lid. Set it to high pressure and cook for 25 minutes.
Release the pressure: After the time is up, let it naturally release pressure for 10 minutes before doing a quick release.
Cook the noodles: When the pin drops, open the pot and give it a good stir before turning it back to sautee. Add the noodles and cover the top with a glass lid, letting the noodles cook for about five minutes.
Serve your beef and noodles: As soon as the noodles are soft enough for you, serve immediately with sprigs of fresh parsley.
Recipe variations:
Different broth: It is totally fine to use vegetable or beef broth if you like.
Frozen noodles: If you do not have dry egg noodles, you can use frozen egg noodles if you have them.
Other egg noodles: You can also use Amish egg noodles instead of regular egg noodles.
Homemade noodles: Why not make your own egg noodles?
Add veggies: Go ahead and add your favorite vegetables like frozen peas, corn, carrots, broccoli, asparagus, or chopped bell peppers.
More flavor: Add one teaspoon of Worcestershire sauce to the juice for an even more rich flavor.
Yellow onion: For a more robust onion flavor, toss in a 1/4 cup of chopped yellow onion.
How to serve:
Let your dinner cook all day while you are at work or busy doing other things. Then, when you get home, all you have to do is add the noodles and continue to cook for another hour. Here are some great serving suggestions. Leave your own tips in the comments section below.
This dish goes great on top of mashed potatoes. Try our delicious recipe for chunky mashed potatoes.
Add a dollop of sour cream for even creamier beef and noodles.
Turn your leftover meat into shredded beef for sandwiches and serve the noodles on the side. Try it with this tasty Amish white bread.
Our beef and noodles recipe is a perfect hot meal for cold weather. Serve with a side salad or soup for a complete hearty meal.
You could also serve this dish with a side of your favorite veggies. Our rainbow-roasted vegetables are the perfect accompaniment.
Another way to use your leftovers is to add them to your favorite casserole.
Frequently asked questions
What kind of beef is best for this recipe?
We used chuck roast to make ours because we feel that is the best beef, but you can use your favorite. You can even use leftover beef from last night's dinner. You could also try the beef brisket, loin, flank steak, or round steak chopped into one-inch cubes. Sirloin, petite, and rib meat will also work in this easy recipe.
What is beef braising?
To braise your meat, you start cooking it dry and end up cooking it moist. This beef and noodles recipe is the perfect example. You will first sear the beef at a high temperature before adding it to the sauce in the crock pot to cook slowly.
Searing, browning, or sauteeing it before adding it to the juices gives it a rich flavor and holds the juices inside where they belong.
Why is my meat tough?
One of the most essential steps in the cooking process is searing or browning the meat. But you should not cook it all the way through, or it will end up overcooked and tough. Another reason it may be tough is if you did not cook it long enough. It is best to cook it low and slow for at least a few hours.
What is the nutrition information in this recipe?
Each serving contains 550 calories, 113 milligrams of sodium, and 55 grams of carbohydrates as well as 25 grams of fat with 14 grams of saturated fat. You also will get 27 grams of protein, 379 units of vitamin A, 501 milligrams of potassium, and 4 milligrams of iron.
In addition, each serving of your beef and noodles has 70 milligrams of calcium, 5 grams of fiber, and 3 milligrams of vitamin C.
How to store leftovers:
Store: If you have any leftovers, put them in an airtight container or zipper baggie in the fridge. They will be good for three to four days.
Freeze: To keep your leftover beef and noodles longer, put them in a freezer-safe container and they will stay fresh in the freezer for up to three months.
Thaw: For the best results, put your frozen leftovers in the fridge overnight to thaw before serving.
Reheat: Reheating your beef and noodles is easy. Just put them in the microwave for 45 to 90 seconds.
More slow cooker recipes to try:
Cooking tips:
To shorten prep time, use frozen egg noodles. You can find them in the freezer case or freezer section at your local grocery store.
It is best to use low-sodium broth because the soup mixture is salty. If you do not have it, you can use water.
You could also use beef bouillon mixed with an extra cup of water.
If you plan to have this dinner as soon as you get home from work, cook the noodles on the stove top using the package directions. Then you can just add them to the crockpot and stir them in when you are ready to eat.
This is a great meal to make ahead and freeze as individual servings. Then you can have it any time you want it. Just heat it in the microwave in a small bowl and you are ready to eat.
Using slow cookers for any dish is easy and gives your food a homestyle flavor no matter what you are making.
The nutrition information is an estimate and can vary depending on the type of meat and other ingredients you use. For example, if you use a thick type of egg noodles, slow cooker beef and noodles will have more calories and fat. Also, our numbers are based on a beef and noodles yield of six servings.
Slow Cooker Beef and Noodles
Ingredients
2

pounds

stew beef

1

1oz

packet ranch seasoning

1

0.87oz

envelope brown gravy mix

1

10.5oz

can cream of mushroom soup

3

cups

chicken broth

low-sodium

4

cloves

garlic

minced

1

teaspoon

onion powder

6

pepperoncini peppers

optional

1

pound

egg noodles

uncooked
Instructions
Place a non-stick skillet over medium-high heat and add 1 tablespoon of oil.

Season the beef with salt and pepper and brown it on the stove for a few minutes, just until nicely seared.

Transfer the stew beef and pan juices to a 6-quart slow cooker.

Sprinkle the ranch packet and gravy packet on top. Next, add the garlic, and onion powder.

Add the can of cream of mushroom soup, the peppers if using, and the chicken broth, and stir to combine.

Cover and cook on low for 6 to 8 hours OR 4 to 6 hours on high.

An hour before the end of the cooking time, add the egg noodles and stir, making sure to cover the egg noodles in the sauce. Cover and continue to cook for the remaining hour.

Garnish with parsley and serve.
Deliciousness to your inbox
Enjoy weekly hand picked recipes and recommendations