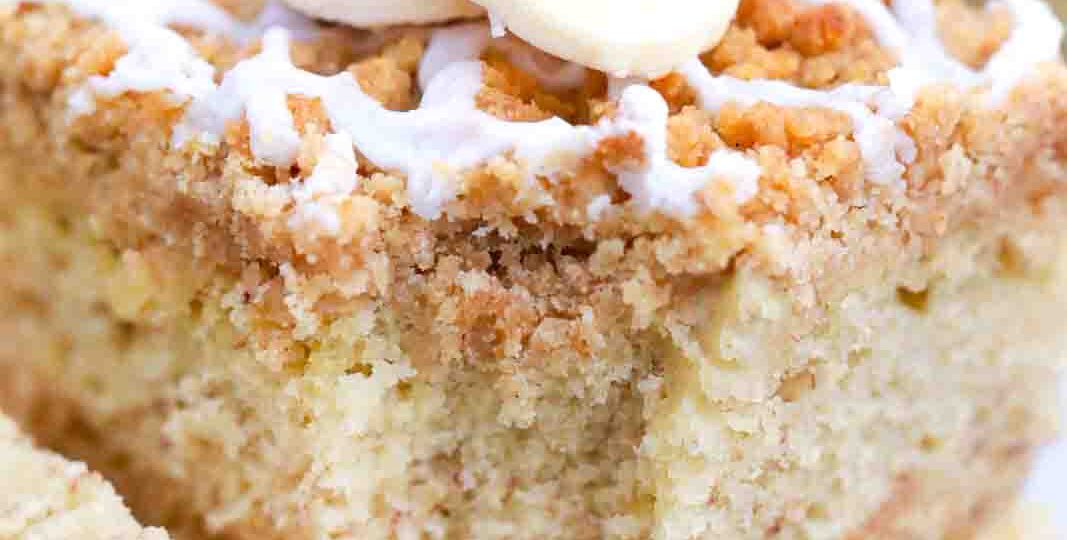 Banana Crumb Cake Recipe [Video]
Banana Crumb Cake is fluffy and delicious, made with sweet ripe bananas, a cinnamon crumb layer, a buttery crumb topping, and a creamy glaze. This easy banana cake recipe has loads of banana flavor with a crumb topping and simple powdered sugar glaze. It is the best banana cake recipe I have tried, and my family will agree with that.
How about some coffee cake? Our Best Ever Coffee Cake recipe is amazingly creamy with a cheesecake layer, cinnamon filling, and streusel topping. Another delicious banana dessert you will love is this Banana Cream Cheesecake with Bavarian cream and a vanilla cookie crust.
You may be wondering when the banana cake was invented. It started with banana bread. Since bananas are not native to America, they were not often used in recipes until the 1900s when bananas were able to be shipped faster. In the 1930s when baking powder and baking soda were popular, banana bread was born.
This is such a great recipe, even people who say they do not as bananas love it! It has just the right amount of each flavor mixed into a creamy and crunchy dessert like no other. The double layer of topping makes it unique and totally perfect.
This cake is absolutely perfect for dessert, or as a treat in the morning with a cup of coffee. It has a tender texture, filled with banana flavor, that goes perfectly hand in hand with the crumb layer and topping!
Are you looking for other recipes like this one? Our instant pot banana bread recipe is perfectly moist and creamy with just the right amount of banana flavor. Or you could try our banana nut cake made with fresh bananas, cream cheese, and dark brown sugar.
Ingredients needed:
Here are the ingredients you need for this tasty banana crumb cake recipe. When you are ready to start, scroll down to the bottom of the page and look for our recipe card. That is where you will find the exact measurements and step-by-step ingredients.
Crumb topping ingredients:
Cold unsalted butter: Cut into cubes.
All-purpose flour
Nutmeg
Cinnamon
Brown sugar
Banana cake ingredients:
Medium ripe bananas
Milk: At room temperature.
All-purpose flour
Large eggs: At room temperature.
Unsalted butter: Melted but cooled to room temperature.
Granulated white sugar
Vegetable oil
Vanilla extract
Baking powder: Not baking soda.
Kosher salt
Glaze ingredients:
Cinnamon
Vanilla extract
Milk: At room temperature.
Powdered sugar: Or confectioners' sugar.
How to make banana crumb cake from scratch?
Make the banana crumb cake topping:
Mix all the topping ingredients: First, to make the crumb topping, mix the cold butter cubes with the cinnamon, nutmeg, brown sugar, and flour in a large bowl.
Cut in the butter: Then, use a pastry cutter to help cut the butter into the dry ingredients until you have a crumbly topping. Set it aside.
Make the banana cake:
Preheat oven: To begin, preheat your oven to 350 degrees F.
Prep a 9×13-inch pan: In the meantime, coat a large baking dish with cooking oil or non-stick baking spray, and set it aside.
Mix the wet ingredients: Next, mash the bananas in a large mixing bowl until they are smooth. Then add the vanilla, eggs, sugar, oil, and melted butter. Whisk them together until it is totally combined.
Mix the dry ingredients: Now, in a separate bowl, whisk the salt, baking powder, and flour. Then add half the flour mixture to the mashed bananas and whisk until incorporated. Pour in half the milk and whisk again before stirring in the rest of the dry ingredients and milk.
Fill the pan: Then, pour half of the cake batter into the prepared pan and sprinkle with 1/3 of the crumb topping. Pour in the rest of the cake batter and the rest of the crumb topping.
Bake the cake: Last, bake the cake for 45 to 55 minutes or until it passes the toothpick test.
Let it cool: Finally, let the cake cool slightly before adding the glaze.
To make the glaze:
Mix it up: To make the glaze, mix the vanilla, cinnamon, milk, and sugar in a small bowl. Whisk it until it is smooth.
Drizzle and serve: Then, drizzle the glaze over the warm cake and serve.
How to make instant pot banana crumb cake from scratch?
Keep in mind that if using this recipe, you will have to divide the batter in half and make at least two cakes in the pressure cooker.
Make the crumb topping:
Make the crumble mixture: To begin, mix the butter, spices, brown sugar, and flour in a large bowl, using a pastry cutter or large tined fork to incorporate the cold butter and set it aside.
Make the banana cake:
Prep the pan: First, coat your cake pan with non-stick spray and parchment paper.
Make streusel topping: Next, mash bananas with the melted butter, eggs, oil, sugar, and vanilla in a large bowl until thoroughly mixed.
Mix it all together: After, whisk all the dry ingredients in a different bowl. Add half of this mixture to the banana mixture and whisk. Add half a cup of milk and whisk again. Then, mix in the rest of the dry ingredients before adding in the rest of the milk. Mix well.
Pour it all in: Then, spoon half the mixture into the cake pan and add 1/3 of the crumb mixture on top. Spoon on the rest of the batter and top with the rest of the crumb mixture.
Place the cake: Now, place a trivet in the instant pot and add one cup of water. Cover the cake pan with aluminum foil and place it on the trivet using a sling.
Cook the cake: Next, close the lid and set it for 15 minutes under high pressure. When the time is up, let it release naturally for 10 minutes before releasing the rest of the pressure.
Let it cool: Remove the pan and let it cool in the pan for 15 minutes before removing it and letting it cool on a wire rack.
To make the glaze:
Mix the topping: After, combine the milk, sugar, vanilla, and cinnamon in a small bowl and whisk until it is smooth.
Serve warm: Finally, drizzle the glaze on top of the slightly warm cake and serve.
Recipe variations:
Make it a bundt: Feel free to use a bundt cake pan to make a bundt cake.
Make it a loaf: You could also use a loaf pan for this cake.
Or make it square: Of course, you could also use a square pan to make this super moist cake.
Add nuts: Chopped pecans or toasted walnuts would make a great cake batter add-in or topping.
Creamier: Make this cake even creamier by adding sour cream to your cake batter.
More flavor: Even though this cake has a lot of delicious flavors, you can add a unique twist by using some of your favorite extracts like lemon, cherry, almond, or even chocolate.
How to serve:
This amazing recipe makes a super yummy banana crumb cake in minutes. Serve a slice of banana crumb cake on its own or try one of our great serving suggestions. Feel free to share some of your ideas in the comments section at the bottom of the page.
Add a dollop of whipped cream on top for a light and fluffy treat. Try our easy homemade whipped cream recipe.
Make this cake festive for a party by adding a few handfuls of rainbow sprinkles on top before the glaze sets.
Instead of the glaze, you could use your own favorite frosting or our great recipe for cream cheese frosting.
To make the topping even crunchier, sprinkle on some toasted almonds or chopped pecans.
Another awesome way to top this banana crumb cake is with our gooey caramel sauce.
Every piece of cake goes great with a glass of ice-cold milk.
We also have a keto caramel sauce that is perfect for this cake.
Serve warm with a scoop of ice cream on top.
A scoop of preserves or jam would also make a delicious topping.
Frequently asked questions
What is the difference between regular flour and cake flour?
Cake flour is made from wheat that is soft. It has a lower protein content and less gluten than the regular kind, making the results much lighter and more delicate. All-purpose flour is made from a combination of hard and soft wheat, with a 10% protein content, which works best for baked goods with denser textures.
Why is my cake so dense?
If your cake turned out dense and heavy, you may have too much flour in your recipe. If you scoop your flour instead of using a spoon to add it to the measuring cup, you will end up with a dense cake because you have too much flour. Always use a spoon and then level it off with a knife.
What is the difference between coffee cake and crumb cake?
The traditional coffee cake has a topping of crumbly streusel on top, but a crumb cake has crumbles inside and out. There is a thick layer of crunchy sweet crumbs hidden between the two light and moist layers of cake with another hearty topping of crumb mixture. They are both delicious, but a crumb cake has twice the crumbs, making it much better in our book.
What are the nutrition facts in this recipe?
Each serving of this delicious banana crumb cake has 498 calories, 85 carbs, and 18 grams of fat with 10 grams of saturated fat, 1 gram of polyunsaturated fat, 3 grams of monounsaturated fat, and 1 gram of trans fat. It also has 68 milligrams of cholesterol, 344 milligrams of sodium, and 55 grams of sugar.
On the other hand, there are some good things in this cake. Each serving has 5 grams of protein, 181 milligrams of potassium, and 2 grams of fiber as well as 534 units of vitamin A, 4 milligrams of vitamin C, 120 milligrams of calcium, and 2 milligrams of iron. These are estimates that vary depending on the size of the serving and the ingredients.
How to store leftovers:
Store: You can save your leftover banana crumb cake in the fridge for up to five days in an airtight container.
Freeze: Your leftovers can also be frozen if you have too much. Wrap them in plastic wrap and then place them in a freezer bag or freezer-safe container before placing them in the freezer. They will be good for up to six months.
Thaw: Remove your frozen cake and place it in the fridge overnight before serving for the best results.
More cake recipes to try:
Recipe tips:
Using overripe bananas will make your banana crumb cake even sweeter.
To pass the toothpick test, a toothpick inserted in the center of the cake should come out clean.
You can use softened butter instead of melted butter if you like.
Forget to thaw out your frozen bananas? That's okay. Use a blender or food processor to mix them up and add them to your banana recipe.
The top of the cake should be golden brown when it is done.
Not all ovens are the same. Check your oven temperature with an oven thermometer to adjust the cooking time for more accurate results.
To make this recipe easier, you can use a stand mixer.
If your bananas are not ripe enough, put them in an oven heated to 325 degrees F for 15 minutes.
Banana Crumb Cake
Ingredients
For the crumb topping:
12

tablespoons

COLD unsalted butter

cubed

1 1/2

cup

all-purpose flour

1 1/2

cup

brown sugar

packed

2

tablespoons

ground cinnamon

1/2

teaspoon

ground nutmeg
For the banana cake:
4

medium-ripe bananas

8

tablespoons

unsalted butter

melted

1/4

cup

canola oil

or vegetable

1 3/4

cups

granulated sugar

2

eggs

room temperature

1

tsp

vanilla extract

2

cups

all-purpose flour

1

tablespoon

baking powder

1

teaspoon

salt

1

cup

milk
For the glaze:
1 1/2

cup

powdered sugar

1-2

tablespoons

milk

1

teaspoon

vanilla extract

1/2

teaspoon

cinnamon
Instructions
For the crumb topping:
Combine the ingredients in a large bowl and using a pastry cutter or fork mix the butter into the dry ingredients, creating a crumbly mixture. Set aside.
For the banana cake:
Preheat the oven to 350 degrees F.

Coat a 9x13" baking dish with non-stick spray and set aside.

Add the bananas to a large bowl and mash them.

Add the melted butter, oil, granulated sugar, eggs, and vanilla extract and whisk until combined. You can use an electric mixer for this.

In a separate bowl, whisk together the flour, baking powder, and salt.

Next, add half of the dry ingredients to the banana mixture, and whisk to combine. Add in half of the milk, and stir well to incorporate. Whisk in the remaining dry ingredients followed by the remaining milk.

Pour half of the cake batter into the prepared baking dish. Sprinkle the top with 1/3 of the crumb mixture and add the remaining cake batter over the top, followed by the remaining crumb mixture.

Bake for 45 to 55 minutes, or until a toothpick inserted into the center of the cake comes out clean or with just a few crumbs, no raw batter.

Let the cake cool a bit before adding the glaze.
For the Glaze:
Combine the ingredients in a small dish and whisk until smooth. Drizzle over warm cake. Serve and enjoy!
Deliciousness to your inbox
Enjoy weekly hand picked recipes and recommendations