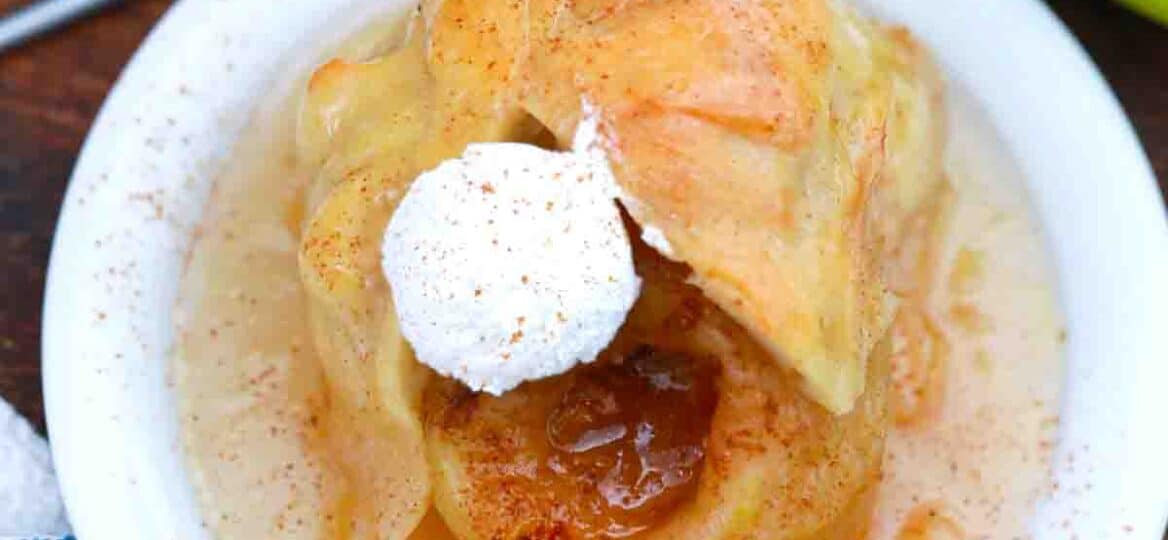 Apple Dumplings are made from fresh apples wrapped in pastry with a sweet and buttery sauce flavored with warm spices. These old-fashioned apple dumplings are easy to make with just a handful of ingredients that you probably already have in your kitchen. Besides apples, all you will need are some apple pie spice, sugar, and butter.
Just about anything goes with these delicious apple dumplings. Try our Instant Pot Mongolian Chicken made from skinless chicken breasts, soy sauce, and basmati rice. If your family really loves dumplings, this recipe for Crack Chicken and Dumplings with bacon, ranch seasoning, and cheddar cheese is perfect.
In case you did not know, National Apple Dumpling Day is September 17th. The first recorded apple dumplings were recorded in a 1747 cookbook by Hannah Glasse. It was the best-selling book of the century.
Apple dumplings were the favorite food of many including Thomas Edison. In addition, Pehr Kalm, the Finnish explorer reported having apple dumplings at every meal.
This apple dumpling recipe is one of the easiest apple recipes I have made and tastes so delicious, your family will want to eat them every day. This easy recipe calls for store-bought pie dough, a few apples, butter, sugar, vanilla, and spices. You and your family will be in love after one bite!
The apples get soft and incredibly delicious from the brown sugar and cinnamon sauce, wrapped in a blanket of tender crust, they taste like individual apple pies. Make sure you serve this dessert warm, with some fresh whipped cream, or a nice dollop of vanilla ice cream and some caramel.
Looking for more apple recipes? Try our apple butter pancakes for breakfast made from apple butter and topped with warm caramel sauce. For something more savory, this apple cinnamon pork chop recipe is made with fresh apples and served with mashed sweet potatoes.
Ingredients needed:
To make this delicious apple dumpling recipe, you will need the ingredients below. Then scroll down to our recipe card when you are ready to begin for complete instructions and exact measurements.
Pastry for double-crust pie
Large granny smith apples: Peeled and cored.
Butter: Softened to room temperature.
Brown sugar: Light or dark brown sugar will both work for this recipe.
Ground cinnamon
Ground nutmeg
White sugar: Granulated sugar.
Vanilla extract
Water
How to make apple dumplings from scratch?
Preheat: First, preheat the oven to 400 degrees F and grease a large baking dish.
Roll out dough thinner: In the meantime, roll out the pie crust on a floured surface to make a 16×24-inch rectangle. Cut the dough into eight pieces and place an apple on each with the core facing up.
Butter the apples: Then, cut butter into eight pieces and place one piece in the cored opening. Keep the rest of the butter for the sauce ingredients.
Add the spices: Next, divide the brown sugar into six even amounts and push some into each core with the butter letting the excess cover the outside of the apple. Sprinkle each one with nutmeg and cinnamon.
Wrap the apples: Now, wet your fingertips and bring one corner of the pastry dough up on top of the apple and another corner from the opposite side. Pinch them together before doing this with the other two sides. Pinch together the dough on the sides to seal it inside. Place them on the prepared pan.
Make the sauce: After doing all the apples, mix the rest of the butter with the vanilla, white sugar, and water in a small saucepan over medium heat. Once it is boiling, reduce the heat to low and let it simmer until the sugar dissolves. This should take about five minutes.
Bake the dumplings: Lastly, carefully pour the sugar mixture on top of the apples and bake them for 50 to 60 minutes or until golden brown.
Serve warm: Finally, place each warm apple in a dessert dish and pour some of the sauce on top before serving.
How to make air fryer apple dumplings from scratch?
Grease the pan: To begin, prep a pan that fits into your air fryer by coating it with non-stick cooking spray.
Prep the dough: Then, roll the pastry dough out to a 16 by 24-inch rectangle and cut it into six squares. Put an apple on each with the opening facing upwards.
Add butter and brown sugar: After, cut cold butter into eight pieces and put one piece each into the six cores, saving the other two pieces for the sauce. Then, add an even amount of brown sugar to each apple and rub the rest onto the base. before sprinkling them with cinnamon and nutmeg.
Wrap: Next, wrap pastry dough around the whole thing and pinch the corners and sides to seal them inside. Place it in the prepared pan and do the same with the remaining apples.
Make the vanilla sauce: Then, mix the butter, vanilla, sugar, and cold water in a large saucepan and bring it to a boil over medium heat. Once it is boiling, lower the heat to simmer for five minutes, until the sugar is dissolved, stirring occasionally.
Air fry your apple dumplings: Finally, place your apple dumplings in the air fryer and cook them at 400 degrees F for 35 to 40 minutes.
Serve with sauce on top: When they are done, put each apple dumpling in a serving dish and spoon some of the sauce on top before serving.
Recipe variations:
Apple slices: Instead of whole apples, you could use half an apple or apple slices.
Other dough: You could also use crescent roll dough instead of pie dough. Just cut them into fourths and roll an apple slice in each triangle.
Extra sparkly: Just a little bit of granulated sugar on top before baking will give your apple dumplings extra sweetness and a nice sparkle.
Apple cider: Instead of water, use apple cider for a more intense apple flavor.
More flavor: Use other extracts for more flavor. For example, you could try almond, coconut, or cinnamon roll extract.
Go nuts: Add crushed walnuts or pecans on top of the sauce or inside the core of the apples with the butter and sugar.
Syrup: Use maple syrup or corn syrup on top instead of the sauce if you like.
Spices: Feel free to use your own favorite spices like allspice, ginger, and cloves.
How to serve:
Serve these baked dumplings for a delicious warm dessert or even for breakfast. Or try one of your own serving ideas.
Just like apple pie, these apple dumplings taste great with a scoop of vanilla ice cream.
Alternatively, try a different flavor of ice cream, pistachio, caramel, or butter pecan would pair great with this recipe.
For a more festive dessert, add some rainbow sprinkles or other fun candy topping.
You could also enjoy these dumplings with a glass of apple cider. Try this delicious recipe for homemade apple cider.
Chocolate syrup and semi-sweet chocolate chips would also be a great topping.
Use leftover apple dumplings to make other apple recipes, like a baked apple french toast casserole.
Another way to use leftovers is to chop them up and use them on top of ice cream, pudding, or yogurt.
Apple dumplings are a wonderful dessert for this slow cooker pineapple pork loin dinner.
Frequently asked questions
What is the easiest way to peel and core my apples?
The fastest and easiest way is to use a corer. Turn the apples upside down on a cutting board and push the corer all the way through to the other end. Then, use a paring knife or vegetable peeler to peel away the skin. If you do not have an apple corer, peel the apple first and cut it into quarters. After, you can cut away the core from each piece.
How can I make my own crust?
In a large bowl, combine flour with 1/2 tsp salt, 1/4 tsp baking powder, and 2.5 cups flour with 1 cup shortening. Cut it with a pastry blender until it is crumbly. Then begin adding cold water or milk a little at a time, tossing with a fork until it forms a ball of dough. Divide the dough into six balls and chill them for at least 30 minutes.
What kind of apples are best for apple dumplings?
This recipe asks for Granny Smith apples because they are tart and crisp so they will stand up to baking. These apples are great for any kind of baking or cooking recipe. Other apples you can use are Jonathan, Fuji, Cortland, Gala, Honeycrisp, and McIntosh. Pink Lady and Empire apples are also good choices.
What are the nutrition facts in this recipe?
Each of these delicious apple dumplings has 898 calories, 40 milligrams of cholesterol, and 35 grams of fat with 15 grams of saturated fat. You will also get 432 milligrams of sodium, 150 carbs, and 112 grams of sugar. On the other hand, each one also gives you 5 grams of protein, 7 grams of fiber, 11 milligrams of vitamin C, and 52 milligrams of calcium.
How to store leftovers:
Store: You can store your leftover dumplings in an airtight container for up to three days in the refrigerator.
Freeze: If you still have some after a few days, it is best to freeze your dumplings. They will stay fresh in the freezer for about three months.
Thaw: Be sure to put your frozen leftovers in the fridge to thaw overnight before serving for the best flavor.
Reheat: To reheat, put one apple dumpling in a microwave-safe dish and heat in the microwave for one minute.
More recipes with apples you must try:
Baking tips:
The cooking time will vary depending on the size of the apples and whether you are leaving them whole, cutting them into half an apple, or making apple slices.
If you do not have an apple corer, a melon baller will also work.
Shorten prep time by using pre-cut apples soaked in lemon juice. You can use store-bought apples or cut your own a day ahead.
You could also speed up the prep time by using the microwave instead of the stovetop to make the sauce. Simply place the sauce ingredients into a small bowl and heat it in the oven for one minute. Stir and heat for another minute, stopping to stir every 15 seconds.
Baked apples should be soft to the touch but not mushy and the dough should be golden brown.
If your dumplings are browning too fast, cover them with foil for the last 30 minutes or so.
You do not have to peel your apples if you like the peeling on them.
Apple Dumplings
Ingredients
1

store-bought double pie crust

6

large Granny Smith apples

peeled and cored

1/2

cup

unsalted butter

1

cup

brown sugar

packed

2

teaspoons

ground cinnamon

1/2

teaspoon

ground nutmeg

3

cups

water

1 3/4

cups

white sugar

1

teaspoon

vanilla extract
Instructions
Preheat the oven to 400 degrees F.

Butter a 9x13-inch pan or spray it with baking spray.

Cut the pie crusts to get into six 8-inch squares.

Place a peeled and cored apple onto each pastry square with the cored opening facing up.

Slice the butter into 10 pieces, and add 1 piece into the opening of each apple. Reserve the other two pieces.

Divide brown sugar between each cored opening and the rest around the base of each apple.

Sprinkle the spices: cinnamon and nutmeg over the apples as well.

Slightly wet your fingertips and then bring one by each, each corner of the pastry square up to the top of the apple, and press together to seal.

Slightly pinch the dough at the sides if needed, to completely seal the apple inside the dough. Repeat with the remaining apples and arrange them in the prepared baking dish.

Combine water, white sugar, vanilla extract, and reserved butter in a large saucepan over medium heat, and bring to a boil. Reduce the heat to low and simmer until the sugar is dissolved, about 5-7 minutes.

After that, carefully pour the sauce over the dumplings.

Bake in the preheated oven for 50 to 60 minutes, until golden brown and the apples are tender.

Serve warm, with some sauce from the pan, and topped with ice cream or whipped cream.
Deliciousness to your inbox
Enjoy weekly hand picked recipes and recommendations