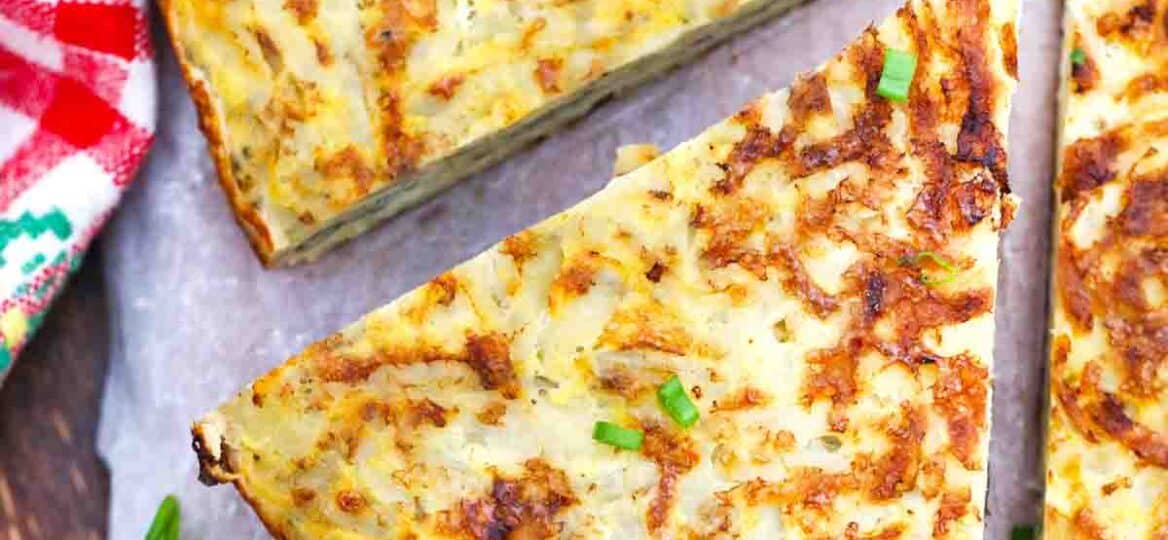 3 Potatoes 3 Eggs Recipe
3 Potatoes 3 Eggs recipe is extremely easy, fast, and totally inexpensive, this hearty and filling potato pancake can be served for any meal. If you have some potatoes, eggs, cheese, and a few seasonings, you can serve this for dinner tonight. With a tender filling, melted cheese, and tasty herbs, your whole family will love it and so will you! It also makes a delicious breakfast casserole.
The casserole originated in Europe thousands of years ago. In fact, experts claim that even the cavemen (and cavewomen) were making casseroles, after they discovered fire, that is. But the casserole more like the ones we make today was first served in the 1870s when rice was pounded and pressed before being filled with meat and vegetables.
For this yummy potato and egg casserole dish, all you need are a few ingredients including potatoes, eggs, parsley, butter, cheese, and oil. Add in some of your favorite seasonings and you have a scrumptious one-pan meal that is done in minutes. Whether you are looking for something for breakfast, lunch, or dinner, this is the perfect recipe.
Ingredients needed:
To make this delicious recipe, you need to gather these ingredients. Then, find our recipe card at the bottom of the page to get the exact measurements and step-by-step instructions.
Potatoes
Large eggs
Butter
Sliced cheese: We used mozzarella.
Vegetable oil
Chopped parsley
Marjoram
Kosher salt
Black pepper
How to make 3 potatoes 3 eggs from scratch?
Peel, rinse, and grate: First, peel and rinse potatoes before shredding them with a vegetable grater. Then, put them in a large bowl and cover with water to soak.
Whisk the eggs: In the meantime, crack the eggs into a medium bowl and stir in chopped parsley, marjoram, and black pepper. Whisk until thoroughly combined.
Drain: Next, drain potatoes in a large strainer.
Add potatoes: After, add vegetable oil to a deep skillet and then melt the butter. Spoon half of the potatoes with a pinch of salt and spread evenly.
Add eggs and cook: Now, pour the egg mixture on top. Add another pinch of salt and cover. Let it cook for seven minutes.
Top with cheese: After seven minutes, place five slices of cheese on top of the potato and egg mixture. Then, add the rest of the potatoes and fry for another five minutes, covered.
Flip it and cook more: Use a plate to flip the egg pancake over and slide it back into the pan to cook the other side until it is golden brown. Use another stick of butter to butter the edges as it cooks for another two or three minutes.
Slice and eat: Finally, remove it from the heat and slide it onto a serving platter. Slice and serve while still warm.
How to make baked 3 potatoes 3 eggs from scratch?
Preheat oven and prep dish: To begin, preheat your oven to 350 degrees F and spray a casserole dish with olive oil or nonstick spray.
Shred and mix: Then, shred potatoes and soak them in water while you mix the eggs, parsley, and seasonings.
Fill the dish: After, add half the potatoes to the casserole dish and pour egg mixture on top. Place cheese on top and then cover with the rest of the potatoes.
Bake and serve: Last, bake for 30 to 35 minutes or until the top is golden brown. Serve warm.
Recipe variations:
Another oil: Instead of vegetable oil, you can use olive oil, avocado oil, or whatever you like to cook with.
Bacon and eggs: Bacon goes great with everything. Especially eggs. Chop some cooked bacon or use bacon bits and add them to the egg mixture.
Spicy casserole: If you love spicy food, add some chopped jalapenos, cayenne pepper, or red pepper flakes.
Sweeter casserole: Try this with sweet potatoes instead of regular for a different taste.
Spinach: Instead of parsley, use spinach or some other greens for extra flavor and more vitamins.
Add meat: To make this a hearty meal, add some sausage, beef, turkey, or chicken.
Other veggies: Make it your own way. Add whatever veggies you like such as broccoli florets, chopped bell peppers, shredded carrots, chopped onions, or minced garlic. You could even try zucchini, asparagus, mushrooms, or tomatoes.
How to serve:
Also known as three eggs casserole, this is one of those recipes you can serve for breakfast, lunch, or dinner. Try one of these great serving ideas or leave us a note in the comment section with other preparation ideas or thoughts.
Serve with whole wheat toast or whatever type of bread you like.
Use leftovers to make a different kind of casserole. Try mixing it with our potato and meatloaf casserole for a new taste.
Sprinkle a little bit of romano or parmesan cheese on top before serving for a richer flavor.
You could also use your leftovers to make potato salad. It would be perfect to mix with our deviled egg potato salad.
This goes great with a dollop of sour cream on top.
There are many kinds of sauces that would work with this delicious casserole. Try our buffalo sauce for a bit of spiciness.
Top your dish with your favorite shredded cheese such as mozzarella or cheddar.
Frequently asked questions
What is the best kind of potato for this?
There are two basic kinds of potatoes: waxy and starchy. You can use any kind you want but we prefer russet or Yukon gold because they are starchier than the others. A waxy potato is not as good at sticking together. The best size to use is medium because they are easier to hold when shredding.
What is the difference between a frittata and casserole?
A frittata is an Italian omelet or a crustless quiche. A quiche is typically cooked in the oven though while a frittata is usually made on the stove. The same goes for a casserole. Unlike this egg and potato casserole, which is cooked in a pan, most traditional casseroles are made in the oven instead of on the stovetop.
Why is my casserole runny?
You may not have drained the potatoes enough. To make sure you get rid of all the excess moisture, put them in a strainer and press down with a spatula or a paper towel until it stops draining. Then, shake it and repeat until no more water comes out when you press on them.
How do I thicken my casserole?
If your casserole is runny, you can add some cornstarch slurry to thicken it up. First whisk cornstarch with cold water until it dissolves using one tablespoon per cup of water. Then, add the slurry a little at a time, stirring well in between until it is as thick as you want it.
Why does a casserole taste better the next day?
Everyone always says leftovers taste better and studies may have proved it is true. A study by BBC Science found that when you put your leftovers in the fridge, they continue to marinate, absorb the seasonings, and break down to become softer and more flavorful. Similar to slow cooking, when food is allowed to soak, it tastes better.
What are the nutrition facts?
Each serving of this delicious casserole has 453 calories, 33 grams fat, and 11 grams saturated fat as well as 171 mg cholesterol, 399 mg sodium, 26 grams carbs, and 4 grams sugar. But you also get 670 mg potassium, 3 mg iron, 101 mg calcium, 600 units of vitamin A, 27 mg vitamin C, 10 mg protein, and 3 grams fiber.
How to store leftovers:
Store: You can save your leftover potato and egg casserole in an airtight container in the fridge for two to three days.
Freeze: If you have too much to finish in a few days, place leftovers in a freezer bag or a freezer-safe container and freeze for up to 90 days.
Thaw: Put your leftovers in the fridge the night before serving for best results.
Reheat: To reheat, place casserole in a microwave-safe dish and heat for 45 to 90 seconds.
More easy recipes to try:
Cooking tips:
For less sodium, use salt substitute and unsalted butter.
Instead of sliced cheese, feel free to use shredded.
To shorten preparation time, use storebought hash browns instead of shredding your own.
Make sure to drain your potatoes well so the casserole does not end up runny or falling apart.
Did your casserole fall apart when you flipped it? That is okay. Just continue to cook it, stirring occasionally, and you do not have to worry about slicing.
Feel free to use egg substitute for less cholesterol and fewer calories.
Check our website for other casseroles and other delicious dishes.
3 Potatoes 3 Eggs Recipe
Ingredients
3

large Russet potatoes

shredded

3

large eggs

2

tablespoons

salted butter

6-8

slices

mozzarella cheese

any cheese will work

1

tablespoon

Vegetable oil

1

tablespoon

chopped parsley

1

tablespoon

chopped marjoram

optional

Kosher salt and ground black pepper

to taste
Instructions
Start by peeling and rinsing the potatoes, after that using a vegetable grater shred them in a large bowl.

Cover them with cold water to soak for about 10-30 minutes.

In the meantime, add the eggs to a medium bowl and whisk in chopped parsley, marjoram, salt, and black pepper.

Next, using a large strainer drain the potatoes

After, add some vegetable oil to a deep skillet and melt the butter.

Spread half of the shredded potatoes on the bottom of the pan, in one even layer. Sprinkle salt and pepper on top.

Now, pour the egg mixture on top. Let it cook for 5-7 minutes.

Arrange the sliced cheese on top of the potato and egg mixture. Then, add the rest of the shredded potatoes in an even layer. Fry for another 5 minutes, covered.

Use a large plate to place it on top of the pan to flip the egg pancake over and slide it back into the pan.

Cook the other side until it is golden brown. If needed add more butter.

Lastly, remove it from the heat and slide it onto a serving platter. Slice and serve it warm with a dipping sauce.
Deliciousness to your inbox
Enjoy weekly hand picked recipes and recommendations