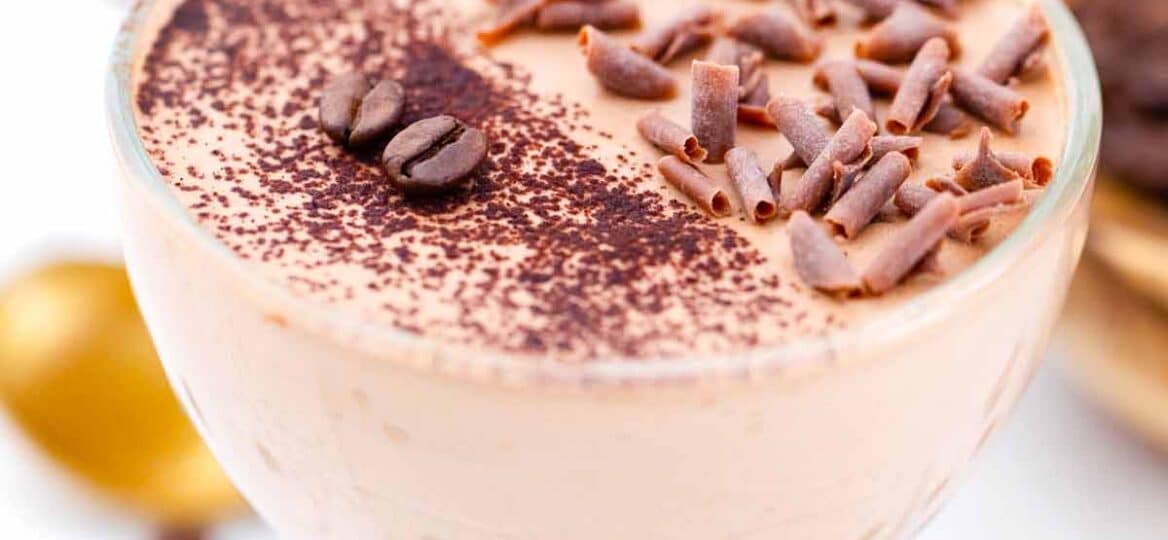 Protein Coffee Mousse Recipe
Protein Coffee Mousse is a fast and easy way to satisfy your chocolate craving while getting the protein and caffeine you need for a boost. It makes a delicious breakfast or tasty snack anytime and you can even eat it on the go! It is just like your favorite fluffy chocolate pudding with a rich taste of coffee. You cannot even taste the protein powder, but it keeps you going.
The chocolate mousse was invented in the 1800s by Henry Toulouse-Lautrec, a famous French artist. It was described as mayonnaise de chocolat. He would experiment with different recipes to create his own signature dishes, but this is the only one that became popular. However, there was a similar recipe in a pastry book back in 1750 by an unknown author.
Making homemade chocolate coffee protein mousse is so easy and only needs five ingredients. If you have some coffee, cocoa, cream milk, sugar, and protein powder, you can make this now!
Use your own favorite ideas like nuts, vanilla, or berries to make it uniquely yours, or eat it the way we make it for a sweet and creamy treat. Also, you can use decaffeinated coffee if you are trying to cut back on caffeine.
Ingredients needed:
To make this delicious coffee protein mousse, gather the ingredients listed here. Then, when you are ready, find our handy recipe card for the exact measurements and step-by-step instructions.
Espresso or strong coffee: Cooled.
Heavy cream
Dark chocolate: Melted and cooled.
Protein powder
Milk
Confectioners' sugar
How to make protein chocolate coffee mousse from scratch?
Whip it up: First, whip the heavy cream with a stand mixer until you have stiff peaks.
Make chocolate coffee mixture: Then, stir milk, protein powder, cooled coffee, sugar, and melted chocolate in a separate bowl until fully incorporated and smooth.
Mix it all together: Next, fold the whipped cream gently into the coffee mixture.
Chill, garnish, and serve: Last, divide it into serving bowls or glasses and chill for at least two hours before you garnish and serve.
Recipe variations:
Greek yogurt: You could substitute heavy cream with Greek yogurt for less fat and fewer calories.
Cream cheese: If you are not worried about fat and calories, try using softened cream cheese instead of heavy cream.
Other chocolate: Feel free to use chocolate chips or cocoa powder with some sweetener instead of baking chocolate.
Vanilla extract: Add a teaspoon of vanilla extract to your coffee for an extra flavor to make it unique.
Other extracts: Feel free to try other flavors of extract like strawberry, peppermint, almond, or whatever you like.
Add spices: You could also add your own favorite spices like cinnamon, rosemary, ginger, and cloves.
Spicy coffee: If you love spicy foods, add a pinch of red pepper flakes for a kick.
How to serve:
If you love chocolate desserts and coffee, you should try this easy and fun recipe for a decadent protein dessert. Here are some great ways to serve your coffee mousse or you can share some of your own ideas in the comments section.
Make your mousse festive with some rainbow sprinkles.
This is perfect with a spoonful of our homemade whipped cream on top.
Sprinkle some nuts on your mousse for added crunch and more protein.
Like a cup of coffee, this mousse goes with any food from burgers to steaks and everything in between. Try it with our healthy and yummy turkey burgers.
Add a scoop of granola on top of each dish for a crunchy and more hearty dessert.
Garnish with fresh berries like raspberries or strawberries. Or you can add a dollop of our strawberry sauce on top.
With such rich flavors and healthy protein, you can also serve this to the kids but use decaffeinated coffee.
Frequently asked questions
Does this mousse taste like coffee?
It depends on how strong the coffee is. If you use a really strong coffee or espresso, you can taste the coffee flavor. But it tastes more like mocha than coffee. If you do not like the coffee flavor, decrease the amount of coffee and increase the amount of chocolate.
Can I make this dairy-free, gluten-free, or vegan?
You can change this recipe to fit your diet. If you want coffee mousse without dairy, you can use soy milk, oat milk, or some other type of plant-based milk like coconut milk, dairy-free cream, and no-dairy chocolate. For no gluten, just make sure you use gluten-free protein powder. There are also vegan versions of milk, chocolate, and heavy cream you can use, or you can try using silken tofu.
Can I use instant coffee?
Yes, you can use any kind of coffee you want. We chose espresso for its deep, rich coffee flavor. But you can use your own favorite brand of coffee whether it is instant coffee or regular. Make it as you usually do but add a bit extra to make it strong.
What other kind of sweetener can I use?
Instead of confectioners or powdered sugar, you can use agave syrup, honey, or maple syrup. Or try using a different type of alternative sugar like Splenda or Stevia. For something different, you could also use minced dates, monk fruit, or mashed bananas for extra sweetness.
What is the nutritional information in this recipe?
Each serving (this recipe makes four servings) has 278 calories, 16 grams of carbs, 24 grams fat, 83 mg sodium, and 14 grams sugar. But on the good side, it also has 2 mg iron, 73 mg calcium, 2 mg vitamin C, 597 units of vitamin A, 3 grams fiber, 193 mg potassium, and 44 grams of protein.
Healthier recipes to try:
How to store leftovers:
Store: If you have any leftover coffee mousse, cover it with plastic wrap and refrigerate it for up to 10 days.
Freeze: To freeze, put leftovers in a freezer-safe container. They will stay fresh for up to six months.
Thaw: Thaw out your mousse in the fridge overnight for the best results. Or, you can eat it frozen like ice cream.
Reheat: To reheat, add mousse in a coffee mug and microwave for 30 to 45 seconds, or just leave it in the fridge to thaw overnight.
Recipe tips:
To shorten prep time, use leftover coffee from breakfast to make your coffee mousse.
Another way to save time is to just blend all the ingredients in a food processor or blender until it is smooth.
Add some whiskey to your mousse to make chocolate coffee protein shots.
Feel free to use soy milk or some other non-dairy milk, chocolate, and cream for those who cannot have dairy.
Mix in some gelatin for a fluffier texture. Or you could use agar agar.
Use baking chips for faster melting chocolate.
Add a pinch of salt to your mousse for an enhanced flavor.
Try using flavored protein powder like chocolate, vanilla, or peanut butter.
Looking for other dessert recipes? Check out our blog!
Protein Coffee Mousse
Ingredients
1 1/2

cup

heavy cream

cold

1/2

cup

milk

1/4

cup

brewed espresso

cold

1/4

cup

confectioners sugar

or sugar substitute of your choice

2

tablespoons

vanilla protein powder

or chocolate protein powder

4

ounces

dark chocolate

melted and cooled - or sugar-free chocolate
Instructions
Add the heavy cream to a chilled bowl and whip until stiff peaks form.

In a separate bowl, combine milk, cooled coffee, powdered sugar or sugar substitute, protein powder, and cooled melted chocolate. Stir until the mixture is homogeneous.

Gently, using a rubber spatula fold the whipped cream into the coffee mixture, until fully combined.

Divide the mousse mixture into serving bowls and refrigerate for at least 2-3 hours, or until set.
Deliciousness to your inbox
Enjoy weekly hand picked recipes and recommendations