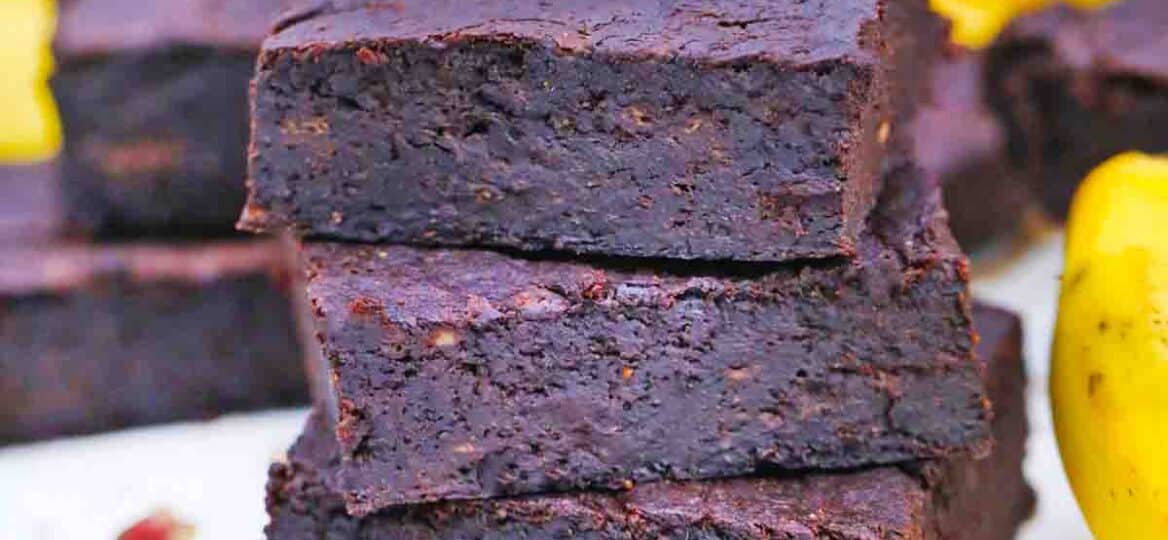 No Added Sugar Brownie Recipe
No Added Sugar Brownies have no refined sugar but plenty of fudgy chocolaty flavor, they are rich and decadent, made with just a few ingredients. This is one of those sugar-free treats that will not raise your blood sugar but it will taste like you are. These keto brownies are also gluten-free, so you do not have to worry about that either. It is a low-carb dessert low in saturated fat that will satisfy any sweet tooth.
The first brownie was made in 1893 for a Chicago woman named Bertha Palmer whose husband was the owner of the Palmer House Hotel. She asked the chef to make her a cake-like dessert that is smaller and can be put in boxed lunches. The Palmer House Brownie was made with apricot glaze and walnuts.
For this delicious brownie recipe, you do not need all-purpose flour (or coconut flour) or eggs like you would in other brownie recipes. It is grain-free, dairy-free, and vegan as long as you use chocolate with no added milk. You just need bananas, peanut butter, cocoa powder, oil, cinnamon, baking powder, and sugar-free chocolate.
Ingredients needed:
These are the simple ingredients for this sugar-free brownie recipe. You may already have these in your kitchen. And you can change the original recipe to your liking. When you are ready to begin, find our recipe at the bottom of the page for the complete instructions and precise measurements.
Mashed bananas
Sugar-free peanut butter
Cocoa powder
Coconut oil
Cinnamon
Baking powder: Not baking soda.
Chopped sugar-free chocolate bar
How to make no-sugar added brownies from scratch?
Preheat and prepare: First, preheat your oven to 350 degrees F and line a loaf pan with parchment paper.

Mix wet ingredients: While you wait for the oven to heat, peel and mash bananas in a large bowl. Add sugar-free peanut butter and oil and stir well.

Add dry ingredients: Then, pour in the cocoa powder, baking powder, and cinnamon. Stir until thoroughly mixed.

Add the chocolate: Add chopped chocolate and fold it with a rubber spatula.

Bake the brownies: Pour batter into the prepared pan and bake for 20 minutes.

Serve warm: Finally, let them cool on a wire rack for five minutes before serving.
Recipe variations:
A different oil: Feel free to use whatever oil you like such as vegetable, sunflower, or grapeseed oil.

Sugar-free chocolate chips: Instead of a chocolate bar, you could use sugar-free chocolate chips.

Other butter: Any nut butter can be used for this including cashew or almond butter.

Dark chocolate: Using a dark chocolate bark will also work for these sugar-free chocolate brownies.
Melted chocolate: Add melted sugar-free chocolate on top for extra fudgy chocolate brownies.

Fudgy brownies: Another way to make these brownies fudgier is to bake them for a few minutes less than the recipe calls for.

Vanilla extract: You could also add a teaspoon of vanilla extract for an even sweeter flavor.
How to serve:
These are the best brownies I have made without sugar, and they were a huge hit in our house. You can serve them for dessert, an after-school snack, or breakfast. Try one of these great ideas or share some of your own in the comments section at the bottom of the page.
Sprinkle some chopped walnuts or another kind of nuts on top for a crunchy texture.

Another great way to top these is with our keto caramel sauce. It is ooey-gooey and delicious.

Drizzle some sugar-free chocolate syrup on top for a more chocolatey flavor.

A dollop of our homemade whipped cream will not add many calories or carbs to your brownies.

For a party or other celebration, add some rainbow sprinkles on top while your brownies are still hot.

Any kind of ice cream would be great with these brownies. Try our easy 3 ingredient Oreo ice cream for an extra indulgent dessert.
Frequently asked questions
What is the difference between baking soda and powder?
The powder is made by mixing baking soda with cornstarch and cream of tartar. You can substitute baking soda by tripling the amount of powder you use. For the opposite, divide the amount of powder a recipe calls for by four and add two times that amount of cream of tartar.
Can I use other sugar alternatives?
Yes, there are many kinds of sugar alternatives you can use like Splenda (sucralose), Stevia (stevia leaves), or monk fruit. They even make monk fruit brown sugar for other baked goods and dessert cuisine. There are also numerous sugar alcohols that do not raise blood sugar like xylitol, sorbitol, mannitol, and erythritol.
What are some healthy flours I can use?
One of the most commonly used in dessert recipes and baked goods is whole wheat flour. But if you are trying to stick with vegan or grain-free flour, try coconut, chickpea, or almond flour. You could also use quinoa or buckwheat flour, which is gluten-free and vegan as well as healthy.
Why are my brownies dry?
The most common cause of dry baked goodies is cooking them for too long. Start checking your brownies five minutes before they are supposed to be done. Remove them when there is still a little bit of moist batter on a toothpick inserted into the middle of the pan. Another cause is too much dry ingredients and not enough wet ingredients.
How can I make these brownies more cake-like?
It has always been said that adding an extra egg to your batter will make your brownies more like cake and less fudgy. But if you want them to be chewier, just add an extra egg yolk instead of the whole egg. This recipe does not call for any eggs, but you could add one if you want to try it. Leave me a note in the comments to let me know how it turns out!
What is the nutrition information in this recipe?
Each one of these delicious brownies has 90 calories, 7 grams fat, and 1 gram saturated fat. It also has 4 grams carbohydrates, 1 gram trans fat, 22 mg cholesterol, 2 grams sugar, and 49 mg sodium. On the other hand, you also get 2 mg iron, 8 mg calcium, 2 mg vitamin C, 40 units vitamin A, 1 gram polyunsaturated fat, 3 grams fiber, 35 mg potassium, and 1 gram protein.
More sugar-free recipes to try:
How to store leftovers:
Store: Keep leftover sugar-free brownies in the refrigerator in an airtight container or a gallon-size ziplock baggie. They will stay fresh for about four or five days.

Freeze: To freeze, wrap leftovers in plastic wrap and place them in a freezer bag. You can keep them frozen for about three months.

Thaw: For the best flavor and texture, thaw your brownies overnight in the fridge.

Reheat: These are delicious cold, but you could heat them in the microwave for 15 to 30 seconds if you want them warm.
Recipe tips:
The nutrition, calories, and fat information is only an estimate. The precise nutrition info can vary depending on the ingredients and size of the servings.
For faster prep time, use an electric hand mixer to mix your ingredients. Be sure not to over-mix.

Instead of a loaf pan, you could use an 8×8-inch baking pan but the baking time should be shorter. Try cooking it for 15 minutes instead of 20.
You could also use melted butter instead of oil for an even richer flavor.

For extra protein, add some protein powder to your batter.

To get clean cuts every time, dip your knife in hot water and wipe it off before every slice.

You should use extra-ripe bananas for this recipe. If your bananas are not ripe, you can put them in the oven at 300 degrees F for 15 minutes. Let them cool completely before mashing.
No Added Sugar Brownies
Ingredients
5

ripe bananas

mashed

2

tablespoons

sugar-free peanut butter

2

tablespoons

unsweetened cocoa powder

2

tablespoons

coconut oil

1

teaspoon

ground cinnamon powder

1

teaspoon

baking powder

1

sugar-free chocolate bar

chopped, or sugar-free chocolate chips
Instructions
First, preheat the oven to 350 degrees F and line a loaf pan or 9x9 inches square pan with parchment paper.

Peel the bananas, add them to a large bowl, and mash. Add sugar-free peanut butter and coconut oil, and stir well to combine.

Then, mix in the cocoa powder, baking powder, and cinnamon. Stir until thoroughly mixed.

Using a rubber spatula stir in the chopped chocolate.

Last, pour the batter into the prepared pan and bake for 20-25 minutes.

Finally, let them cool on a wire rack for five minutes before serving. Serve with sugar-free whipped cream or sugar-free chocolate ice cream.
Deliciousness to your inbox
Enjoy weekly hand picked recipes and recommendations