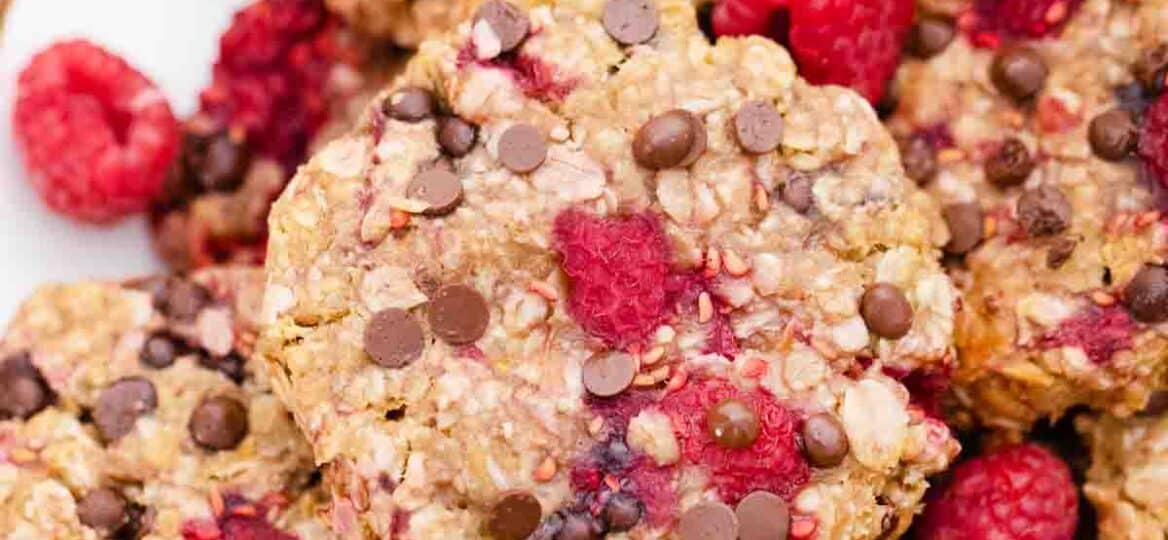 Healthy Raspberry Cookies Recipe
Healthy Raspberry Cookies are a delicious treat with the sweet flavors of raspberry, chewy oatmeal, and melty chocolate chips. And with the protein powder, you get all sorts of yummy benefits from these cookies. They can be served as a snack, dessert, or even for breakfast.
Ever wonder who invented cookies? Experts believe that the first cookies were made in the 7th century in Persia after sugar became a common product. Persia was one of the first countries to cultivate sugar and it is thought that the first cookies may have been used to test the oven temperature back then.
These are naturally gluten-free using gluten-free oats, and healthy nut butter, and do not have any refined sugars. They also have the added benefit of protein powder to give you and your family the extra protein everyone needs daily. You do not have to chill these first either. Just pop them in the oven for a few minutes and they are ready to eat.
Ingredients needed:
These are the basic ingredients for this delicious healthy raspberry cookie recipe. When you are ready to start, scroll down to our printable recipe card for the exact instructions and precise measurements.
Raspberries
Almond butter
Large bananas: Mashed.
Protein powder
Gluten-free rolled oats
Chocolate chips: Mini chocolate chips would be great.
How to make raspberry cookies from scratch?
Preheat the oven: Preheat oven to 350 degrees F and line two baking sheets or one large baking sheet with parchment. Set aside.
Mix dry ingredients: Next, mix the protein powder and oats in a large mixing bowl.
Combine wet ingredients: Then, mix bananas and almond butter in a separate medium bowl.
Mix it all together: After, add wet ingredients (except the chips and raspberries) to the dry ingredients.
Be gentle: Next, gently fold in the chocolate chips and raspberries.
Form the cookies: Now, form 12 balls using a cookie scoop or your hands and place each one on your prepared baking sheets. Slightly flatten with a spatula or your hand.
Let cookies cool completely: Last, bake cookies for 12 minutes or until the edges are golden brown. Remove them from the cookie sheet and let them cool completely on a wire rack before serving.
Recipe variations:
Other nut butter: You can use any kind of nut butter you like including peanut butter, cashew butter, or sunflower butter.
Different chips: For a different flavor, use white chocolate chips instead of semisweet or dark chocolate.
Use chunks: For more chocolate flavor, use chocolate chunks instead of chips.
Sweeter cookies: You can make these sweeter without refined sugar by adding pure maple syrup or honey to your cookie dough.
Other fruits: Use whatever kind of fruit you like. If you do not want raspberry, try dried cranberries, strawberries, or blueberries.
Lemon zest: Add a teaspoon of lemon zest or lemon juice to your dough and you can make chocolate chip, raspberry lemon cookies.
Add butter: You can add a tablespoon of salted butter to this recipe to make your cookies extra gooey and delicious.
How to serve:
These soft and chewy oatmeal cookies are easy to make in minutes so you can serve them for a snack now or after dinner for dessert. You could also try one of these serving ideas or one of your own. Share what you think in the comments below.
These raspberry oatmeal cookies are great for breakfast since they have fruit and oatmeal in them.
Try serving these with icing on top. We have a wonderful recipe for cream cheese frosting that would taste great.
Sprinkle some coconut sugar, white granulated sugar, or light brown sugar on top for a sweeter flavor.
Another way to serve these delicious treats is with a bowl of ice cream. Try our easy recipe for Oreo ice cream which only has three ingredients.
When serving, place a separate bowl of raspberry sauce or preserves for guests to use.
Eat these for breakfast or a power snack with a raspberry coffee smoothie.
Spread some Nutella or another nut butter on the bottom of one cookie and top it with another and serve these as oatmeal cookie sandwiches.
Frequently asked questions
What are the differences in oats?
This recipe calls for rolled oats, also known as old-fashioned oats. They make your cookies thick and chewy. The old-fashioned oats have flattened grains with a firm texture. Steel-cut oats are very chewy chopped grains. Quick and instant oats are thin and finely chopped so they are soft and cook quickly. You can turn rolled oats into instant oats by pulsing them in a food processor.
Do raspberries detox you?
Yes, nutritionists believe that raspberries and other berries can help detoxify the body. Raspberries, blueberries, blackberries, and strawberries all have these awesome antioxidants they call anthocyanins. They are what give the berries their color and help fight cell damage. They also increase the body's blood flow, which helps your kidneys filter out toxins.
What do raspberries do to your brain?
Another thing that these berries have is the power to reduce oxidative stress, which is a risk factor for Parkinson's and Alzheimer's diseases. Actually, it is the same anthocyanins that do this, making it one of the best brain-healthy foods there are. One study in Scientific Reports found that the flavinoids have also helped improve mood, memory, and coordination.
Is protein powder good for you?
Those who have trouble getting enough protein due to their diet or an illness can benefit from protein powder. For example, vegans and older adults need the extra boost as well as those who work out a lot. However, if you have kidney disease or some other chronic illness, you should talk to your doctor before adding it to your diet.
What are the nutrition facts in this recipe?
Each cookie has 101 calories, 6 grams fat, 2 grams saturated fat, 73 mg sodium, 19 grams of carbohydrates, and 13 grams sugar. But you also get 3 grams protein, 160 mg of potassium, 3 grams fiber, 34 units of vitamin A, 40 mg of calcium, and 1 mg of iron.
How to store leftovers:
Store: You can refrigerate your leftover cookies in an airtight container or gallon-size zip baggie for up to a week.
Freeze: You can also freeze your raspberry cookies in a freezer-safe container or freezer bag for up to six months.
Thaw: Do not forget to thaw your frozen leftovers in the fridge before serving for the best flavor and texture.
More heathy recipes to try:
Baking tips:
Whether you use frozen raspberries or fresh raspberries, these cookies are delicious. You can also use freeze-dried raspberries. Use whatever you have. However, if you do use frozen berries, let them thaw and pat dry to remove excess moisture.
If you do not have any or do not want to use protein powder, make a flour mixture of whatever type of flour you like mixed with baking soda and baking powder. Some great choices are white whole wheat flour, coconut flour, and almond flour.
Looking for other baking cuisine or cookie recipes? We have lots of them in our dessert method section.
Instead of using parchment paper, you can grease your baking pan with coconut oil or whatever oil you prefer. You can even use unsalted butter.
If you do not want to make the entire batch right away, you can store it for up to a week in the fridge or several months in the freezer.
The nutrition facts are estimates generated automatically for this exact recipe. Your numbers will likely be a little different.
Turn your phone or computer to cook mode to keep it from going dark.

Measuring your oats with the spoon and level method is important so take your time and get the right amount.
Healthy Raspberry Cookies
Ingredients
2

cups

rolled oats

2

tablespoons

protein powder

of your choice

2

large bananas

mashed

1/2

cup

almond butter

or any other nut butter

1/3

cup

raspberries

fresh

1/4

cup

chocolate chips

optional or you can use sugar-free
Instructions
Preheat the oven to 180C/350F.

Line a large baking sheet with parchment paper. Set aside. You may have to use two baking sheets or bake the cookies in batches.

In a large mixing bowl, combine all the ingredients, except for the raspberries and chocolate chips. Use a rubber spatula to fold them at the end.

Form 12 small balls of dough and arrange them on the prepared baking sheet/s, 6 cookies or 8 per baking sheet. Press each ball into a cookie shape.

Bake for 12 minutes, or until golden on the edges.

Remove from the oven and allow them to cool on the tray completely before serving.
Deliciousness to your inbox
Enjoy weekly hand picked recipes and recommendations