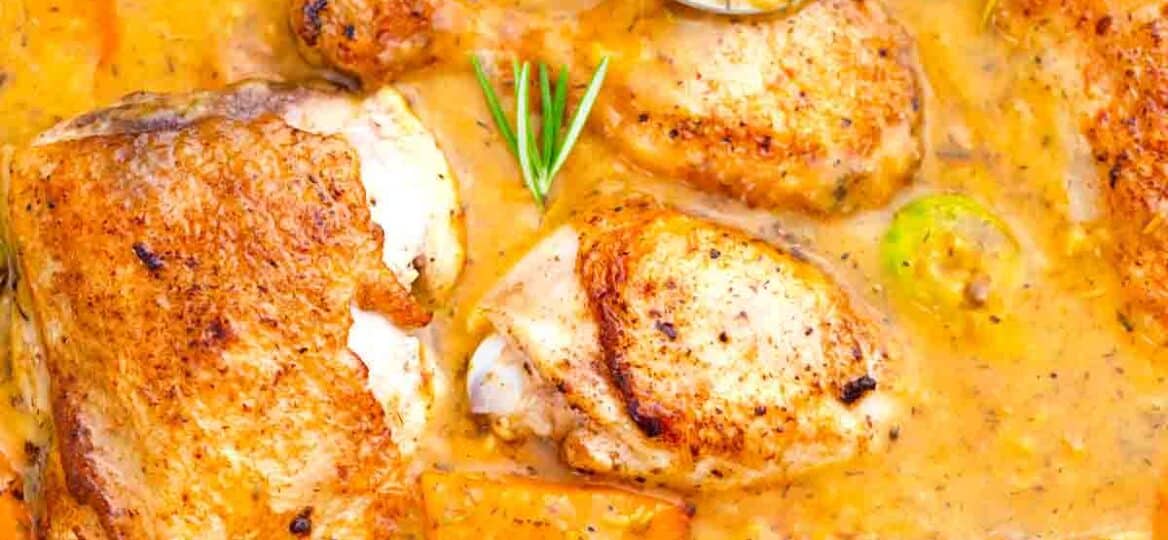 One Pot Roasted Chicken Recipe
One Pot Roasted Chicken is a delicious and budget-friendly chicken dinner, made with lots of veggies, in a comforty and hearty sauce. A favorite recipe that you can make with just a handful of ingredients you can get at your local grocery store and some fresh herbs.
Have you ever heard the phrase "winner winner, chicken dinner" and wondered where it came from? Well, according to casino owners and gamblers, it started in the late 1920s when gamblers would bet their last few coins to try and win $2. They did this because a three-piece chicken dinner at all the Vegas casinos was just $1.79. So, you could get a full meal with your last few cents if you won.
To make this one-pot roasted chicken recipe, all you need are a few ingredients including chicken, veggies, wine, chicken stock, and some herbs and spices. What's more, you make it all in one pot, so you do not have as many dishes to clean. The white wine in this recipe makes a big difference in the flavor too so make sure you have some ready.
You can add or remove whatever you like to make it your own or make it exactly as it is. No matter how you serve it, this is a winner-winner chicken dinner.
Ingredients needed:
All you need to make this roasted chicken recipe is these simple ingredients. After you gather them, scroll down to our printable recipe card for complete instructions and exact measurements.
Bone-in skin-on chicken thighs
Carrots: Peeled and chopped.
Brussels sprouts
Sweet potatoes: Washed and chopped.
Chicken broth
All-purpose flour
White wine
Minced garlic
Paprika
Thyme
Rosemary
Kosher salt

Black pepper
Olive oil
Garnish:
How to make one pot of roasted chicken from scratch?
Preheat oven and prepare chicken: First, preheat your oven to 325 degrees F and pat the chicken dry with paper towels.
Heat the oil: In the meantime, add oil to a large roasting pan over medium-high heat on the stovetop. Then, add the chicken and cook for about one or two minutes on each side until it is all golden brown. Remove the chicken and set it in a large bowl for later.
Brown the veggies: Now, add the carrots, brussels sprouts, and sweet potatoes to the pan, keeping the pan drippings. Let the veggies brown slightly on all sides, cooking for about five to seven minutes. Place them in the bowl with the chicken.
Add herbs: Immediately, turn the heat to medium, and add the flour to the liquid left in the pan. Add the garlic, herbs, paprika, salt, and pepper, and continue cooking the flour, whisking constantly, for one minute.

Simmer: Slowly, add the wine while whisking to prevent lumps. Continue whisking as you add the chicken broth gradually, breaking up any lumps. Let it simmer for about four minutes, whisking frequently.
Roast chicken and veggies: After, put the chicken and veggies back in the pan. Cover and put the pot in the oven. Bake for 35 to 40 minutes. The sweet potatoes should be just fork-tender. Do not cook for too long or they will get mushy.
Let the chicken rest: Finally, remove the pan and let it rest for about five minutes before serving.
Recipe variations:
Chicken broth: It is OK to use chicken broth instead of stock. You could also use beef or vegetable broth if that is all you have.
Chicken breasts: You can use chicken breasts or legs if you like. However, bone-in, skin-on is best to keep it from drying out. It is especially important to leave the chicken breast skin on and cook the chicken breast side up to keep it from drying out.

Other potatoes: If you would rather, this chicken dish would also be great with red or russet potatoes.

No chicken: Actually, this recipe would even work with turkey, beef, or pork.
Entire chicken: If you have a large Dutch oven or another extra-large pot, you can cook an entire chicken.

Aromatic vegetables: Toss in some more aromatic vegetables like onions, tarragon, and garlic for extra flavor.

Melted butter: Feel free to use unsalted butter instead of oil for browning your chicken. Better yet, add the herbs and use the seasoned butter mixture to cook in all the flavors. With all the butter and herbs, this delicious meal is even more flavorful.

Spicy chicken: Add red pepper flakes or cayenne pepper if you like spicy food.
How to serve:
This easy one-pot roast chicken is ready in minutes so you can serve it for dinner tonight. A one-pot meal is so much better because you do not have as many dishes to wash. This delicious recipe can be served in many different ways too. Check out some of these ideas and share some of your own in the comments section under the recipe notes.
No need for anything else. You already have your meat and veggies. But you could serve it with a nice green salad.
This amazing recipe goes great with some crusty bread to dip in the sauce. Try our recipe for Irish soda bread.

Serve with other veggies of your choice like green beans, rice, peas, or whatever else you like.

Chicken goes with everything. You can even pair this delicious chicken dish with a side of fruit salad. We have a great recipe for fruit salad with honey lime dressing that would be perfect.

Use leftovers to make chicken soup or casserole or shred the chicken to make a delicious chicken salad.

The leftover chicken would also be yummy in tacos. Try it in our chicken tinga tacos.

Sprinkle some shredded cheese on top right before serving for an ooey-gooey melted cheese topping.
Frequently asked questions
What kind of potatoes are best for this recipe?
This recipe calls for sweet potato, but you can use anything from fingerling potatoes to russet potatoes. Red potatoes would be fine too. The most important thing when roasting is to place all the vegetables separately at the bottom of the pan before placing the chicken on top. Count each person getting a few potatoes, one or two pieces of chicken, and several carrots.
What herbs and spices should I use?
This recipe calls for fresh rosemary sprigs and chopped fresh thyme, but you can use minced rosemary or dried thyme. You can use any of your favorites, fresh or dried, including oregano, smoked paprika, dill, tarragon, celery seed, mustard powder, and lemon zest (from half a lemon).
Why should I use a Dutch oven?
Cooking it in a Dutch oven ensures a juicy chicken that is delicious, but still gets a golden-brown, crispy chicken skin. A large Dutch oven is perfect for this roast chicken recipe, and you could even cook a whole chicken in it if you have a large family. A three-pound chicken will feed a family of six easily. If you use a whole chicken, wrap the legs with kitchen twine and tuck the wing tips under so they do not burn.
How does chicken roasted in a covered vessel get crispy?
While searing your chicken in a hot pan first will make the skin brown, it does not stay crispy if the chicken roasts while covered. There are several ways to get the crispy skin you want. You could roast uncovered for 15 to 20 minutes after keeping it covered through the rest of the cooking process. Or place the pot uncovered under the broiler for a few minutes before serving.
What are the nutrition facts in this recipe?
Each serving has 540 calories, 23 grams of fat, 7 grams of saturated fat, 112 mg of cholesterol, 52 mg of carbs, 298 mg of sodium, and 7 grams of sugar. But it also has 3 mg of iron, 65 mg of calcium, 18 mg of vitamin C, 9,296 units of vitamin A, 28 grams of protein, and 1,502 mg of potassium.
More chicken dinner recipes to try:
How to store leftovers:
Store: In the fridge, you can store your leftover pot roasted chicken and veggies in an airtight container for up to three days.
Freeze: Double bag your leftovers in freezer bags if you want to freeze them. You can keep them frozen for three months.

Thaw: Remember to put your frozen leftovers in the fridge to thaw overnight before serving.
Reheat: To reheat, put the chicken and veggies in a microwave-safe dish and heat in the microwave for one to two minutes. Add chicken stock to keep it from getting dried out.
Cooking tips:
The internal temperature of the chicken should be 165 degrees F on a meat thermometer when it is done.
Shorten prep time. Instead of preparing chicken, you can use a rotisserie chicken for your chicken dinner.

You can use a Dutch oven or a deep cast iron skillet for this chicken recipe too.
If you use dried herbs instead of fresh herbs, only use half the amount because they are more concentrated.
For the juiciest chicken, leave the bones in and the skin. It helps the chicken cook evenly without drying out.
Browning before roasting chicken helps create tons of flavor both in the chicken and the delicious juices. Do not skip this step!
Your cooking time may vary depending on the size of the chicken pieces and the temperature of your oven.

For extra crispy skin, place the pot under the broiler for three or four minutes before serving.
One Pot Roasted Chicken
Ingredients
2

tablespoons

extra virgin olive oil

6-8

large bone-in skin-on chicken thighs

or chicken drumsticks - or a combo of these

1/2

teaspoon

kosher salt

1/4

teaspoon

ground black pepper

3

tablespoons

all purpose-flour

or gluten-free flour

1

tablespoon

chopped fresh thyme

or 1 teaspoon dried

1

tablespoon

chopped fresh rosemary

1 teaspoon dried

1

teaspoon

paprika

4

cloves

garlic

minced

2/3

cup

dry white wine

2 1/2

cups

chicken broth

low-sodium

6

small sweet potatoes

peeled, washed, and chopped into 4-8 pieces

4

medium carrots

peeled and roughly chopped

1-2

cups

Brussels sprouts

cleaned and cut into halves

Salt and pepper to taste

Fresh rosemary for garnish

if desired
Instructions
Preheat oven to 325 degrees Fahrenheit.

Place a very large oven-safe Dutch oven or large oven-safe pan, over medium-high heat on the stove and add the olive oil.

Season the chicken pieces with salt and pepper.

Once the oil is hot, sear the chicken pieces on all sides, until golden brown. Remove and set aside on a plate.

Next, add the potatoes, carrots, and Brussels sprouts to the pan, stir, and brown them slightly on all sides, for about 5-7 minutes. Remove them to a plate and set aside.

Lower the heat to medium, and add the flour to the pan, to the liquid left in there, immediately whisk it until the flour is absorbed.

Have the herbs on hand, and add the garlic, thyme, rosemary, paprika, and salt and pepper to taste, and continue to stir constantly for one more minute.

Next, while still whisking, very slowly pour the wine little by little.

After that, add the chicken broth slowly, also constantly whisking to avoid any lumps that form.

Let the sauce simmer for 4-5 minutes, whisking gently, taste, and adjust for salt and pepper.

Next, add the veggies back into the pan, and give them a gentle stir, to submerge them in the gravy.

After that, add the chicken pieces to the sauce as well.

Cover the pan with the lid and transfer into the oven to roast for about 35-40 minutes or until the chicken is cooked through to an internal temperature of 165 degrees Fahrenheit and the potatoes are tender.

Remove the pan from the oven, and allow it to rest, covered, for about 5-10 minutes before serving.