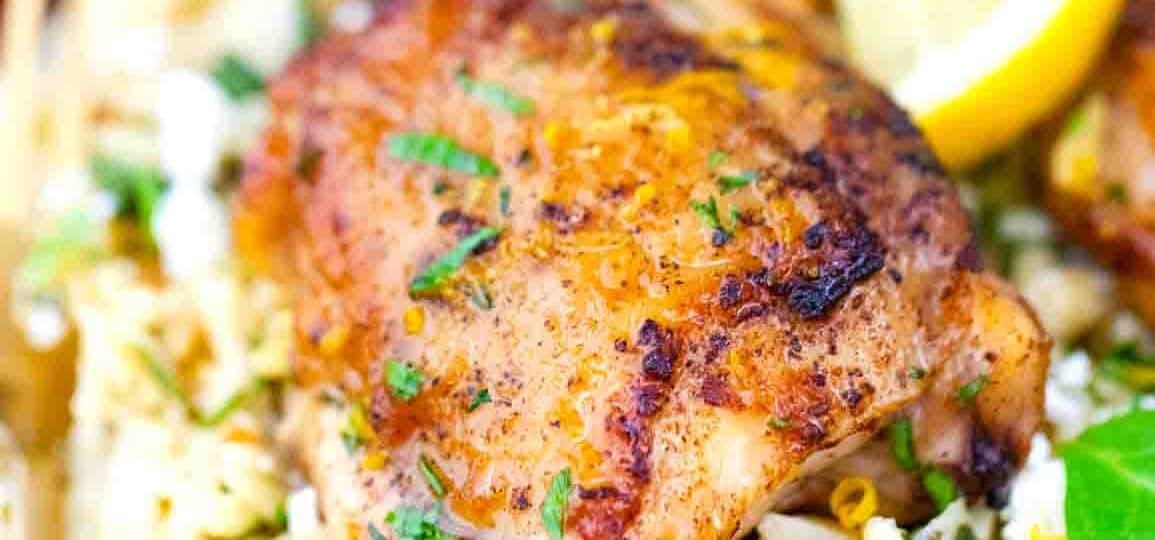 One-Pan Chicken and Orzo Recipe
One-Pan Chicken Orzo is the perfect easy and filling weeknight meal, full of flavor and texture, you can make it all in the same skillet. This great recipe with tender chicken pieces and buttery orzo pasta is seasoned with garlic, Italian seasoning, lemon, and capers with a crumble of creamy feta cheese. The whole family will love it and you can serve it with chunks of crusty bread and vegetables or alone for a delicious chicken dinner.
Although orzo is Italian for barley, it was the Greeks who used this pasta first, according to historians. Actually, that area used to be all one region but is now separated to be Greece, Italy, and the Middle East. Some people say that it originated in Israel and is sometimes called David Ben-Gurion's rice for the first Prime Minister of Israel.
For this one-pan chicken orzo recipe, all you need are a handful of ingredients including chicken, shallots, orzo, heavy cream, spinach, white wine, and capers as well as basic ingredients like butter, broth, and fresh herbs. You can also substitute the chicken for other meats like beef, pork, or turkey and use different cheese, wine, or broth.
Ingredients needed:
One-pan dinners are so easy and perfect for any day of the week. To make this one-pan chicken orzo recipe, gather these ingredients and then scroll to the bottom of the page to find our recipe card. That is where you will find the exact measurements and instructions.
Bone-in chicken thighs
Finely chopped medium shallots
Unsalted butter
Baby spinach
Dry orzo pasta
Low-sodium chicken broth
Dry white wine
Heavy cream
Crumbled feta cheese
Capers
Minced garlic cloves
Lemon zest
Lemon juice
Italian herbs: Italian seasoning.
Dried fresh basil
Kosher salt: Divided.
Ground black pepper
Extra-virgin olive oil
For garnish:
Chopped fresh dill
Parsley, for serving
How to make chicken and orzo from scratch?
Preheat and prepare: First, preheat oven to 400 degrees F and pat chicken dry with a paper towel before seasoning with salt and pepper.
Heat up your skillet: While you wait for the oven to heat, pour oil into a large skillet with high sides and cook on medium-high heat until it is shimmering. Make sure you use an oven-safe skillet or pan like a cast iron skillet.
Brown your chicken: Now, add chicken skin side down in the skillet and cook for about eight to 10 minutes or until the skin is golden brown. Flip and cook for another couple of minutes until the other side is brown.
Cook the orzo: Next, move the chicken to a plate and turn the stove to medium heat. Cook butter and shallots for three to four minutes, stirring constantly, until the shallots are soft. Add capers, orzo, and garlic, and season with salt. Cook while stirring until the orzo is toasted and fragrant. This should take several minutes.
Let it simmer: After, add the wine and scrape the browned bits from the bottom of the pan before pouring in the broth. Bring it to a simmer and cook, stirring often, for about five minutes until it is slightly reduced.
Bake until cooked: Last, add spinach and cream and cook until the spinach is wilted. Put the chicken back in the pan along with all the liquid and transfer it to the oven. Bake uncovered for about 15 minutes or until the chicken is cooked through.
Serve immediately: Finally top with crumbled feta, parsley, dill, lemon juice, and lemon zest, and serve immediately.
Recipe variations:
No wine: If you do not have any white wine, you can use red or try apple cider vinegar or balsamic vinegar.
No feta: Similarly, you can use goat cheese, ricotta, or cottage cheese instead of feta.
Boneless chicken: You can also use boneless chicken thighs or boneless chicken breasts. Chicken tenderloins would also be a delicious choice.
Different meat: Instead of chicken, why not try beef, turkey, or pork? You could even use seafood instead for a different dish.
Add fresh herbs and spices: Feel free to add your own favorite herbs and spices such as fresh parsley, thyme, rosemary, smoked paprika, garlic powder, or onion powder.
Other onions: Instead of chopped shallots, you can use any kind of diced onion.
Brown orzo: Before using, brown your orzo pasta to give it a nutty flavor.
Add veggies: You could also add veggies like cherry tomatoes, butternut squash, bell peppers, mushrooms, or whatever else you like.
How to serve:
This easy weeknight dinner can be made in the same pan, so you only have one pot to wash. Use a large oven-safe skillet for the best results. Try one of these delicious serving ideas or share some of your own in the comments section at the bottom of the page.
Top with grated parmesan cheese for a richer flavor. Or you can use shredded Romano cheese.
For a different flavor, add a packet of powdered ranch dressing. Or you can use our homemade ranch seasoning mix.
Those who like spicy food would appreciate a dash of crushed red pepper flakes added to their chicken and orzo.
If you have leftover grilled chicken breast, use that instead to make this even easier. We have an easy recipe for grilled chicken you can try.
In fact, you could top it with tomato sauce and sun-dried tomatoes to give it extra tomato flavor.
Leftover orzo and chicken can be used in salads, casseroles, or delicious chicken soup. Try it in our instant pot cream cheese chicken soup.
Give your chicken and orzo some crunch. Sprinkle some chopped almonds, walnuts, or pecans on top.
Frequently asked questions
Can I make this dairy-free?
To make this dish dairy free, try using almond milk or coconut cream instead of heavy cream. They also have cream made with cashews or soy milk. You can also find dairy-free feta cheese or just substitute it with olives, sun-dried tomatoes, roasted almonds, or avocado. Sea salt flakes, hummus, and capers are also good for this.
Does orzo have gluten?
Yes, but there are other options. You can find gluten-free orzo just like any other pasta. For example, there is rice or corn pasta, which are two of the most popular as well as almond or chickpea. Shirataki and soba noodles are also great choices, and they soak up flavor like orzo. Quinoa is a healthy substitute with a nutty flavor. But multigrain pasta is my favorite because it has a blend of many of these with a wonderful taste.
Is orzo pasta or rice?
Although it looks like rice, orzo is actually a pasta also known as risoni. The name is the Italian word for barley although it is typically made with semolina, which is made with durum wheat. Orzo is actually classified as pastini, which is a small pasta shape often used in soup. You can also eat it with butter, or pasta sauce, or add it to other dishes like salads.
Is orzo healthy?
Yes, it is a nice source of iron, folate, niacin, thiamin, and zinc with fewer calories and carbs than most pastas. It also has a good amount of fiber in it. You can get orzo in different varieties like multi-grain, which makes it even healthier. It can even be made gluten-free using corn or rice.
What are the nutrition facts in this recipe?
One serving of chicken orzo has about 342 calories, 19 grams of fat, and 9 grams saturated fat as well as 28 grams of carbohydrates, 76 mg cholesterol, 632 mg sodium, and 5 mg sugar. But you also get 35 grams of protein, 4 mg iron, 55 mg calcium, 830 mg potassium, 7 mg vitamin C, and 1,298 units of vitamin A.
More one-pan recipes to try:
How to store leftovers:
Store: Leftover chicken and orzo can be refrigerated in an airtight container for up to three days.
Freeze: If you cannot finish it in a few days, pack it into a freezer bag and you can freeze it for three to four months.
Thaw: Remember, for the best results, put your frozen leftovers in the refrigerator to thaw overnight before serving.
Reheat: You can reheat chicken and orzo in the microwave for 30 to 90 seconds.
Cooking tips:
You can use frozen spinach if you do not have any fresh spinach.
For easier and faster prep time, rotisserie chicken would be absolutely delicious.
If you use boneless chicken breast, you can cut the cooking time by a few minutes.
The nutrition amounts are only an estimate and are based on the exact ingredients in this recipe.
Add extra broth if it needs more liquid while cooking. The juices will be cooked away while reducing the sauce.
Make extra orzo for future uses in soups, salads, and side dishes. It freezes well for up to three months.
For even more flavor, use chicken stock instead of chicken broth.
Make sure your chicken is 160 degrees F with a meat thermometer before taking it out of the oven.
One-Pan Chicken Orzo
Ingredients
4-6

chicken thighs

bone-in, skin-on

1/2

teaspoon

ground black pepper

1

tablespoon

kosher salt

divided

2

tablespoons

extra-virgin olive oil

1

medium shallot

finely chopped

3

tablespoons

unsalted butter

1 1/2

cups

orzo

dry

4

cloves

garlic

minced

1

tablespoon

capers

1

teaspoon

dried Italian herbs

1

teaspoon

dried basil

3/4

cup

dry white wine

3

cups

chicken broth

low-sodium

5

oz

fresh baby spinach

1/2

cup

heavy cream

4

oz.

feta

crumbled - optional

1

lemon

zested and juiced

Chopped parsley

for serving
Instructions
Pat chicken dry with paper towels, and season it with ground black pepper and 1 teaspoon salt.

In a large, high-sided, cast-iron skillet (or any ovenproof skillet) over medium-high heat, heat oil until shimmering.

Next, add the chicken skin side down in a single layer. Cook, undisturbed, until the skin is golden brown, 8 to 10 minutes. Flip and cook until golden brown on the other side, about 2 minutes. Transfer to a plate.

Reduce heat to medium and add the shallots and butter, cook stirring, until softened, about 4 minutes.

After that, add orzo, garlic, Italian herbs, dried basil, the remaining salt, and capers. Cook, stirring often, until the orzo is lightly toasted, 2 to 3 minutes.

Add the wine and using a wooden spoon scrape the browned bits from the bottom of the pan. Add the broth and bring to a simmer. Cook, stirring frequently, until liquid is slightly reduced, about 5 minutes.

Fold in the spinach and add the cream, stir until the spinach is wilted.

Return the chicken to the pan skin side up, and transfer the uncovered skillet into the oven. Bake, until chicken is cooked through and orzo is tender, about 15-20 minutes.

Top with crumbled feta, lemon zest, lemon juice, and fresh parsley.
Deliciousness to your inbox
Enjoy weekly hand picked recipes and recommendations