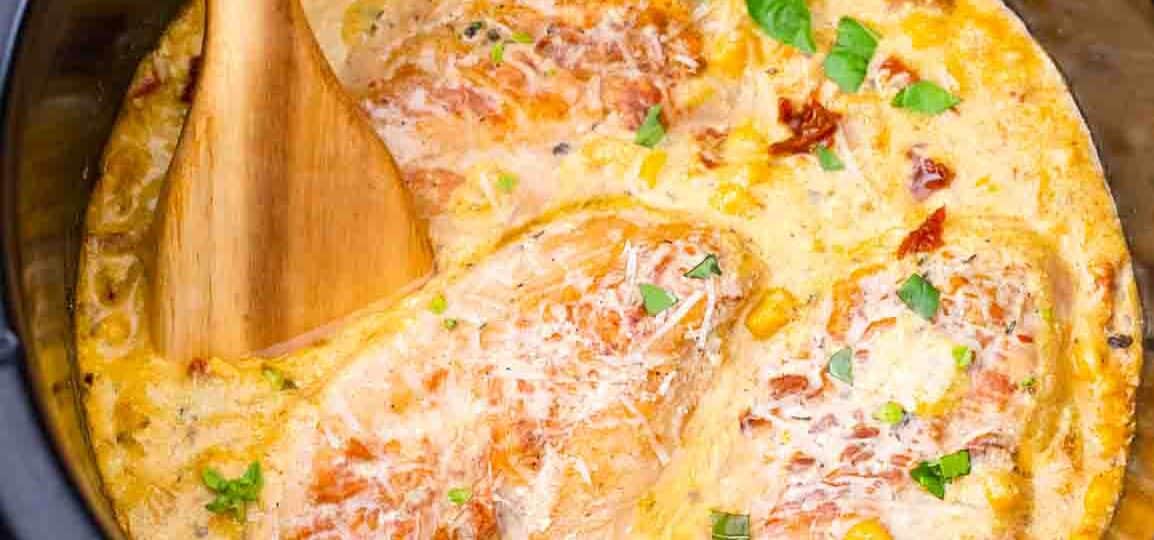 Marry Me Chicken Recipe – Crockpot & Stove versions!
Marry me chicken is an easy chicken dinner you can prep in minutes, and it is so delicious that it will make everyone ask for seconds! The absolutely delicious creamy sauce and tender moist chicken are made with an array of seasonings to make it restaurant quality with a homemade flavor. You may even get a marriage proposal out of it!
Also known as wedding chicken, this recipe has been seen all over social media lately, and for good reason. It is so delicious; people often make marriage references when they taste it. Some may say "I would marry you if you made this chicken every night" and other silly comments like that. But you never know. If you are looking, you may find your significant other this way.
If you like other recipes with creamy sauces, you should try this chicken recipe. It has all the delicious flavors of tomatoes, chicken, and Italian seasonings so you get a burst of flavor in every bite. In fact, this creamy sauce is so good, you will want to use it in all your recipes.
Ingredients needed:
These are the simple ingredients you will need to make this marry me chicken recipe. After gathering what you need, scroll down to our handy recipe card for the complete instructions and measurements.
Chicken ingredients:
Boneless, skinless chicken breasts
Butter
Olive oil
Paprika
Onion powder
Garlic powder
Kosher salt
Black pepper
Cream sauce ingredients:
Sweet corn
Chopped sundried tomatoes: Drained.
Freshly grated parmesan cheese
Minced garlic cloves
Heavy cream
Chicken broth
Fresh basil leaves: Chopped.
Cornstarch
Italian seasoning
Crushed red pepper flakes
Paprika
Kosher salt
Black pepper
How to make marry me chicken from scratch?
Beat the chicken: First, tenderize your chicken by beating it with a meat mallet. Then, season both sides with onion powder, garlic powder, salt, and pepper.
Sear the chicken: Next, heat olive oil in a large skillet over medium-high heat until it is hot. Add butter and let it melt. Sear the chicken on each side until lightly golden brown before moving the chicken to a plate with the juices.
Start the sauce: While you wait, whisk the chicken broth and cornstarch until all the lumps are gone. Then, add it to your slow cooker.
Heat it all up: Then, add the chicken broth to the same skillet on medium heat and whisk in the paprika, red pepper flakes, Italian seasoning, and heavy cream. Add garlic and heat, stirring occasionally for one minute.
Transfer chicken: After, place the seared chicken into the slow cooker and pour the butter sauce on top. Add sun-dried tomatoes and sweet corn and cook on low for six to seven hours.
Mix in the cheese: Last, remove the chicken and whisk in the parmesan cheese.
Top and serve: Finally, you can return chicken to the pot, top it with sauce, and add the fresh basil before serving.
How to make marry my chicken in the oven?
Preheat: To begin, preheat your oven to 350 degrees F.
Tenderize and season: In the meantime, tenderize chicken with a meat mallet and season both sides with onion powder, garlic powder, salt, and pepper.
Brown the chicken: Now, melt butter and heat oil in a large oven-safe skillet on medium-high heat. Swirl pan to coat the pan evenly. Then, brown the chicken on both sides until it has a nice golden crust.
Mix the sauce: Next, remove the chicken and whisk together chicken broth and cornstarch in the pan on medium-low heat until all the lumps are gone. Add the heavy cream, Italian seasoning, red pepper flakes, paprika, and garlic to the pan and stir well. Mix in the corn and tomatoes.
Bake your chicken: Afterward, put the chicken back in the skillet and place it in the preheated oven. Bake for 30 minutes and add the parmesan cheese before baking for another five minutes.
Serve: Lastly, serve chicken with sauce and fresh basil on top.
Recipe variations:
Tomato paste: Add a cup of fresh tomato paste with dried oregano to your sauce for an extra Italian flavor.
No tomatoes: If sun-dried tomatoes are not your favorite, try using fresh tomatoes or roasted red peppers instead.
Other veggies: You can also add other veggies to this dish like fresh spinach, cherry tomatoes, roasted asparagus, and bell peppers.
Thicker sauce: Use cream cheese instead of heavy cream for a thicker sauce.
Chicken thighs: Instead of breasts, you can also use chicken thighs.
Spice it up: Add some hot sauce to your sauce for a spicy meal.
Other meat: You do not have to stick to chicken. Try this with pork or turkey too.
How to serve:
This easy chicken recipe is perfect for busy weeknights and goes with anything from potatoes to pasta. Try one of these tasty serving ideas or one of your own. If you tried this recipe, comment below and let us know what you think.
Sprinkle a little bit of romano cheese on top before serving for a richer flavor.
This yummy meal goes perfectly with some crusty bread like French bread or brioche.
Serve this tasty chicken dish on a bed of penne pasta for a hearty meal.
This would also be delicious on a bed of rice. Try our recipe for the perfect rice.
Use leftovers to add to a casserole or stew. We have lots of different recipes you can choose from on our blog.
Another wonderful side dish for this dinner is mashed potatoes. Try our creamy mashed potatoes recipe.
Toss in some sesame seeds or croutons to add some crunch.
Frequently asked questions
Can I use bone-in chicken?
Although I have only tried it with boneless and skinless chicken breasts, you can try bone-in chicken. If you like dark meat, use chicken thighs. In fact, you can mix it up and use breasts, thighs, drumsticks, and wings. No matter what you use, it will be falling apart from being cooked so long and low.
Do I have to sear the chicken?
Although it is not a must-do, you will get the best flavor if you sear your meat after seasoning it. This locks the flavors in the meat and keeps the seasoning from just being washed away by the sauce. If you do not have time, you could always sear them the night before and then keep them in the fridge until you are ready to start the crockpot.
Why is my chicken tough?
It could be that you cooked it too long or at too high of a temperature. This can happen if you cook it too long when searing too. Make sure you only sear it until it is golden brown and then remove it from the heat. Also, make sure you set your slow cooker to low instead of high for the best results.
Can I use frozen chicken for this recipe?
I have not tried it with frozen chicken, and I do not recommend it. You would not be able to sear the chicken if it is frozen. Also, the seasonings will not stick to frozen chicken. Having fresh chicken allows the meat to soak up the flavors and juiciness from the sauce.
What are the nutrition facts in this recipe?
If you are concerned with nutrition, calories, and fat content, here are the estimates. Each serving has 680 calories, 22 grams fat, 12 grams saturated fat, 1 gram trans fat, 160 mg cholesterol, 955 mg sodium, 23 carbs, and 6 grams of sugar. On the other hand, you also get 3 grams fiber, 49 grams protein, 25 mg vitamin C, 102 mg calcium, 3 mg iron, 989 mg potassium, 2 grams polyunsaturated fat, 10 grams monounsaturated fat, and 129 units of vitamin A.
More delicious chicken dinners to try:
How to store leftovers:
Store: Refrigerate leftover marry me chicken in an airtight container right away and it will stay fresh for up to four days.
Freeze: It is also safe to freeze your leftovers in a freezer-safe container for up to four months.
Thaw: To thaw, put your chicken in the fridge overnight for the best results.
Reheat: Put leftovers in a baking dish and reheat in a 350-degree oven for about 10 minutes.
Cooking tips:
Looking for other easy chicken recipes? We have lots of free delicious recipes on our food blog.
You can use half and half instead of heavy cream for a lighter dish with all the flavor.
Do not cook this on high. The sauce tends to scorch at a higher heat. If you need it faster than six hours, try our oven recipe.
If you are in a hurry, you can skip the searing. However, browning your chicken gives it a more intense flavor.
No cornstarch? No worries! Mix a tablespoon of flour with a tablespoon of water until it dissolves. Then add it to the chicken broth.
If you are not a fan of spicy food, you can leave out the red pepper flakes.
Use freshly grated cheese for the best flavor.
Marry me Chicken
Ingredients
For the chicken:
4

chicken breasts

boneless and skinless

1/2

teaspoon

salt

1

teaspoon

garlic powder

1/2

teaspoon

onion powder

1/2

teaspoon

paprika

1/4

teaspoon

black pepper

2

tablespoons

olive oil

2

tablespoons

butter
For the sauce:
1 1/2

cups

chicken broth

3

tablespoons

cornstarch

1

cup

heavy cream

4

cloves

garlic

minced

1

teaspoon

Italian seasoning

1/2

teaspoon

salt

or to taste

1/4

teaspoon

black pepper

1/4

teaspoon

red pepper flakes

1/2

teaspoon

paprika

1/2

cup

sundried tomatoes

drained and chopped

1

cup

sweet corn

1/2

cup

parmesan cheese

freshly grated

a few basil leaves

chopped
Instructions
First, in a small bowl mix salt, garlic powder, onion powder, paprika, and black pepper.

Pat dry the chicken with paper towels and season it on both sides with the above dry rub mixture.

Place a large skillet over medium-high heat. Add the olive oil and melt the butter.

Once, the butter has melted, cook the chicken breasts until golden brown on both sides. Remove from heat, and set aside.

In a medium bowl whisk together chicken broth and cornstarch until there are no lumps.

Next, add the slurry to the bottom of an 8-quart slow cooker, and whisk in heavy cream, garlic, Italian seasoning, salt, black pepper, red pepper flakes, and paprika.

After that, add the seared chicken into the slow cooker and pour the juices from the pan in which you cooked the chicken.

Add the chopped-up sundried tomatoes and corn on top and cook on low for 6-7 hours or on high for 3-4 hours.

Transfer the chicken breasts to a plate and add the parmesan cheese to the sauce, stir to combine.

Add the chicken back to the slow cooker, cover with sauce and add chopped fresh basil, turn off the heat and serve immediately.
Deliciousness to your inbox
Enjoy weekly hand picked recipes and recommendations