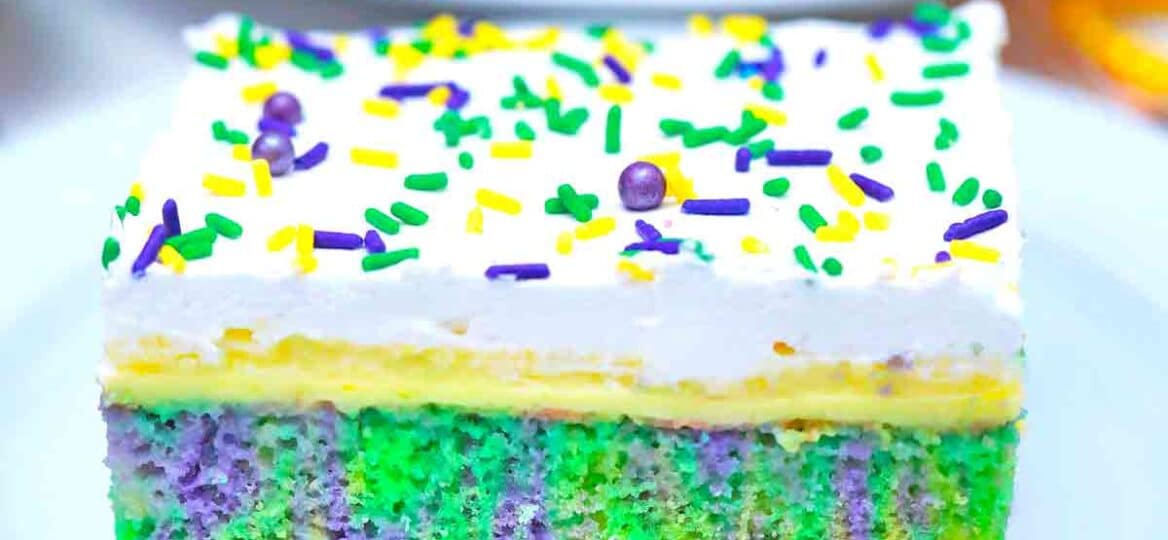 King Cake Poke Cake Recipe [Video]
King Cake Poke Cake is a colorful dessert soaked in white chocolate sauce and pudding, then covered with creamy whipped frosting. The sweetest way to celebrate Mardi Gras!
New Orleans is home to some of the boldest, most delicious flavors to every grace our plates! Experience a taste of the South at home with my Shrimp Creole, Jambalaya, and Blackened Chicken.
King's Cake Recipe
King Cake Poke Cake is a yummy twist to the Mardi Gras classic. This version is easier too because you don't need to make the dough or the filling from scratch. We're using clever shortcuts like white cake mix and pudding mixes to make this colorful dessert.
Don't worry, the delicious flavor profile doesn't stray far from the original. The base itself has the most tender crumb. It's soaked with a vanilla-banana white chocolate pudding sauce, topped with decadent whipped topping. Finally, we're using sprinkles to color the surface green, yellow, and purple. It looks beautiful and tastes even better!
What is Mardi Gras?
Aka Fat Tuesday, it's a lavish celebration that signals the end of Carnival season and marks the beginning of Lent. This religious holiday is celebrated all over the world, but New Orleans is its undisputed heart.
Mardi Gras revelries in the Big Easy last for about 2 weeks, filled with massive parades, loud music, colorful masks, street parties, huge crowds, and of course, amazing feasts.
What is the meaning of the King Cake?
The pastry's traditional oval shape is a symbol of unity between faiths. It's decorated in Mardi Gras colors, and one of its most unique elements is a small, plastic baby figure hidden inside.
When should you eat it?
Conventionally, it's only eaten from January 6 until the final day of Mardi Gras.
What does it mean to get the baby inside it?
The hidden baby is said to symbolize Baby Jesus, but other sources say it actually represents prosperity and good luck.
No matter what you believe, one thing's for sure: it's so exciting to see which person would get the baby in their slice! If you do get it, be prepared— it means you're the next one to throw a party.
What are the colors used in King's Cake Recipe?
The colors green, purple, and gold adorn this pastry in the form of sprinkles or colored icing. Green stands for faith, purple stands for justice, and gold for power.
How do you make King Cake Poke Cake from scratch?
Bake. Follow the directions on the box, and add a splash of vanilla extract. Divide the batter into three. Color one green, the next yellow, the last purple. Drop spoonfuls of the batter randomly into your baking pan, alternating the three colors. Bake until done.
Poke. Create large holes by jabbing a wooden spoon (the end part) into the cake.
Fill. Melt the white chocolate and condensed milk together. Pour all over the cake. Next, make the vanilla pudding and pour it on top of the white chocolate layer. Finish with a layer of banana pudding. Cool the dish completely, at least 6 hours.
Frost. Finally, decorate the surface with whipped topping, then garnish with sprinkles.
Recipe Variations:
Traditional Version: Try the classic oval-shaped version using my Mardi Gras King Cake recipe.
Try different fillings: Enjoy it with cream cheese frosting, chocolate pudding, cinnamon roll flavor, lemon curd, berry, pralines, and cream, or any other flavor you'd like!
Use other box mixes: Instead of white, use a yellow cake mix, French vanilla, strawberry, or chocolate.
How to store leftovers:
Cover the cooled dish tightly with plastic wrap, then foil. Consume within two days after storing in the fridge.
How to freeze:
Once the dish is completely cool and the filling has set, wrap in plastic tightly, then in foil. Freeze up to 3 months.
I suggest you portion it out first so everyone can just get a single serving instead of the entire thing. To thaw, leave in the fridge overnight, or defrost on the counter.
More Poke Cake Recipes:
Recipe Tips:
Hide the plastic baby in the dessert before you pour the filling over it.
Don't be afraid to jab deep holes, because it will help the filling get absorbed quicker and deeper.
Refrigerate the dish for about an hour after you frost it with whipped cream so that the topping doesn't melt.
Deliciousness to your inbox
Enjoy weekly hand picked recipes and recommendations