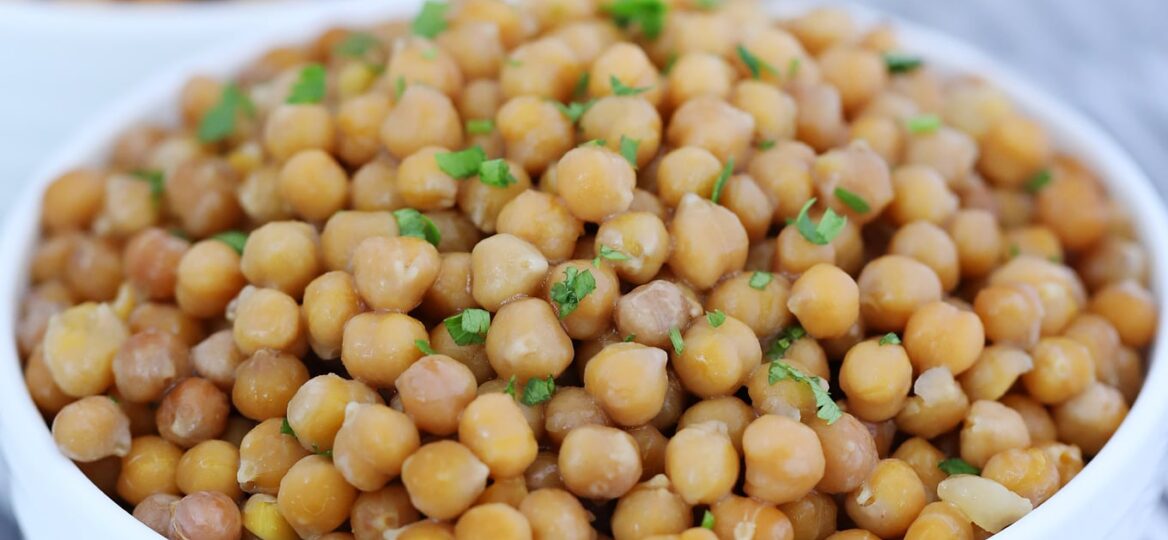 How to cook Chickpeas in the Instant Pot [video]
Instant Pot Chickpeas are healthy, nutritious, and super easy to make. This is a cheap and the best alternative to canned chickpeas.
You can enjoy these perfectly cooked chickpeas as a side dish or incorporate them in hummus, chickpeas salad, or soup. Whichever way you prefer this dish, we firmly believe that cooking it in the pressure cooker yields the best results.
Instant Pot Chickpeas Recipe
When it comes to perfectly cooked garbanzo beans, the Instant Pot does this job best. We have tried many different ways to cook the chickpeas, and without question, this is our favorite way. Firstly, it is super easy to make it. You simply dump the ingredients in the pressure cooker and let it do its magic.
Also, you do not have to watch the stove or adjust the water as it cooks. Because they cook under pressure, you add the water once and let it cook. It is always evenly cooked, and super flavorful. Similarly, the cooking time is reduced by about half. So it is a win-win situation.
In this post, we will show you how to cook chickpeas in the Instant Pot using two different methods. The first method is by soaking the beans, and the second method is by not soaking them. Both methods are super easy to follow.
However, if you plan on soaking the beans, you will have to adjust for some extra time ahead. Give this recipe a try, and we guarantee that you will love it, and will never go to the canned chickpeas again!
What are chickpeas?
They are also known as garbanzo beans and make part of the Fabaceae family legume. The beans are high in protein and are considered a super healthy legume. Also, they are mostly used in hummus, salads, and falafel, and are pretty popular throughout the world.
How many calories Chickpeas have?
A single serving of about 1/2 cup cooked garbanzo beans contains about 120-140 calories, and about 2 grams of fat, 7 grams of lean protein, and 6 grams of dietary fiber. In addition, they do not have any cholesterol and have plenty of vitamins, magnesium, zinc, and calcium.
Do You Need to Soak Chickpeas Before Cooking in the Instant Pot?
This really depends on your preference. However, we have cooked them many times soaked, and un-soaked, and we cannot feel the difference between the two. Because they are cooked under pressure, the soaking is not that important here.
From our experience, soaking them is more relevant when cooking on the stove, and less important when cooked under pressure.
How to make Instant Pot Chickpeas?
This is probably one of the easiest recipes to make. Depending on whether you want to use soaked or dried beans, the steps are the same. Just remember, if you prefer to soak the beans, then cover them fully with water in a bowl. Let them soak for about 8 hours, or even overnight prior to cooking. Then, drain the water, and they are ready to go.
For 1 pound of chickpeas, we recommend using 6 cups of water.
Place the garbanzo beans in the pressure cooker, and add 6 cups of water to them.
Next, secure the lid, and let them cook at high pressure, then allow the pressure to release naturally.
Once the pressure is released, they are ready! It is that simple!
How long does it take to cook chickpeas in the Instant Pot?
Remember, you can cook them in any pressure cooker, not just an Instant Pot. Just ensure that the pot comes to pressure before starting the timer.
Also, the cooking time will be different if you are using soaked or dry beans. For soaked beans, the cooking time should be 25-30 minutes. While for unsoaked chickpeas, the cooking time will be about 50-60 minutes under pressure.
In addition, please note, that the pot will need some time for "preheating", and then additional time for pressure release, which is about 30 minutes. So in total, you will need about 1 1/2 hours to cook them under pressure if they are unsoaked, or about 1 hour if they are soaked.
How to store Instant Pot Chickpeas?
If you have any leftovers, it can easily be stored. Also, sometimes we cook a larger batch and then refrigerate to use in the days to come. In either case, prior to storing in the refrigerator, ensure the dish is completely cooled.
Then, transfer it to an airtight container, and store it in the fridge for up to 6 days.
More pressure cooker recipes:
Recipe Tips:
Though the time suggested worked great for us in most cases, sometimes we had to adjust it. Because there are many variations of chickpea brands, and pressure cookers, you might have to adjust the time a bit. Go with the recommended time, and if you think they are not completely cooked, cover the lid and cook them for an additional few minutes on high pressure to get the right texture.
Also, old beans take longer to cook in general. Therefore, you might need to adjust the cooking time by adding a few extra minutes. To be safe, cook them first based on the recipe time, and then adjust if needed. It is better to have them a bit under-cooked, then overcooked.
In the past, we have added a little bit of baking soda because it helps to break down the skins. But this is totally up to you.
We recommend adding the salt after the cooking is done, as sometimes it interferes with the texture of the beans. If using salt when cooking, the beans might turn out al dente, and crunchy, so we try to avoid this.
Deliciousness to your inbox
Enjoy weekly hand picked recipes and recommendations