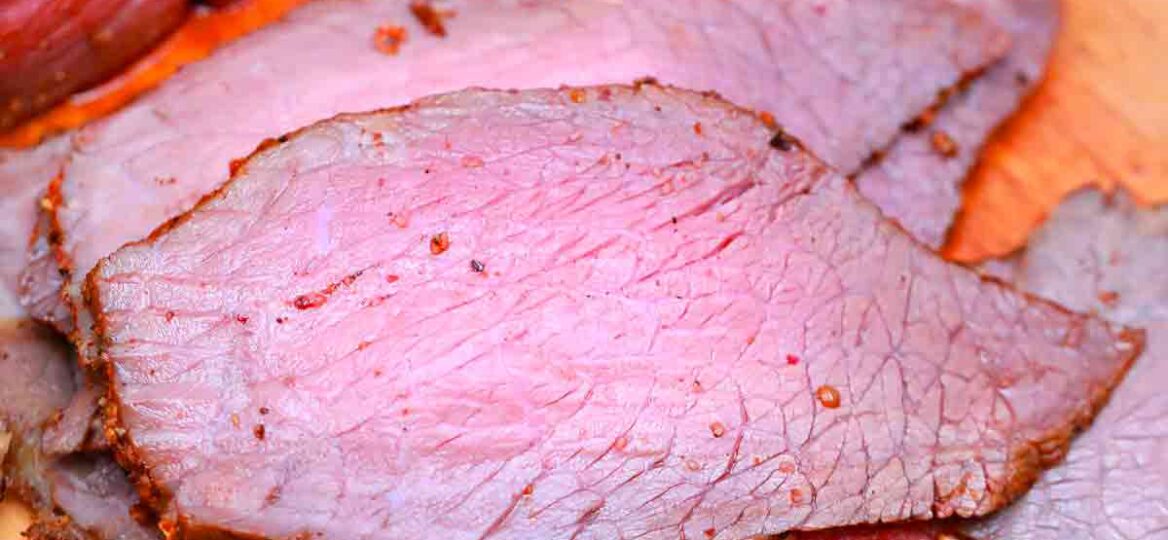 Homemade Pastrami Recipe [Video]
Homemade Pastrami boasts a signature spice crust with the juiciest, most tender corned brisket underneath. This deli classic is astonishingly easy to make!
This homemade deli meat is phenomenal in sandwiches! It's easily one of my favorites, along with a hearty Roast Beef Sandwich, Homemade Corned Beef Sandwiches, and Slow Cooker French Dip Sandwiches.
Oven Baked Pastrami Recipe
Homemade Pastrami is glorious piled high on fresh-baked rye, with sauerkraut and a squirt of spicy mustard or Russian dressing. Add Swiss cheese and some dill pickle relish, and you're in absolute deli heaven.
Before, the only way I could enjoy an authentic pastrami sandwich was to trek all the way to the nearest Jewish deli. But once I learned how to make my own, I could finally have it anytime I want. On top of that, making it from scratch is relatively cheaper than buying them in slices, and you'll have tons left to share!
My love for this Homemade Pastrami isn't just because it's so delicious. It's also outrageously easy. You just have to try it and see for yourself!
What is pastrami?
It begins with brined meat, usually a corned brisket. Then, it's rubbed all over with a dark-colored blend of crushed spices and smoked for hours or days.
This popular deli meat is typically served sliced thin for use as a sandwich filling, added to pasta dishes, or shaved over salads.
Is pastrami healthy to eat?
Yes, it's a low-calorie item similar to deli ham and turkey, both considered light and lean options. Because it's beef, it's also loaded with protein.
What kind of meat is used to make pastrami?
Beef, and to be more precise – corned beef. In the US you can find pre-packaged in most supermarkets, but you can easily make your own corned beef using this recipe. Traditional cuts used for this dish are the navel (the part just below the ribs) or deckle (lean and wide-cut taken from the shoulder). But nowadays, brisket has also become a popular choice.
What is corned beef and how do you make your own?
Corned beef is basically the first step to mouthwatering pastrami— a brisket submerged in a pickling brine for at least 5 days. It's even easier than this recipe!
First, you make the brine by boiling pickling spices and salt together, then chilling it down. You place the meat in there and refrigerate for about 5 days to a week.
After the brining period, wash it off, simmer with more pickling spices until tender and done. Your corned beef is now ready to be made into sandwiches, cooked with cabbage, hash, and more.
How do you make Homemade Pastrami from scratch?
Make the spice crust. Coarsely grind the peppercorns together with the coriander. Mix this with the rest of the spices.
Coat the corned beef in the spice mix. Dry it as well as you can, then roll firmly over the spice mixture. Make sure it gets into every nook and cranny.
Bake. Cook in a 300F oven for 3 hrs. After that, pour ½ cup water, cover the brisket with foil, and continue cooking for another ½ hour.
Cool. Take it from the oven and chill completely in the fridge.
Enjoy. Slice and enjoy!
Recipe Variations:
Use other meat: Lamb or turkey is delicious subs for beef!
Make it New England-style: Add paprika to the pepper-coriander spice mix for flavor and color.
Smoke it: Our oven-baked pastrami is delicious, but if you have a smoker, DEFINITELY try it for this recipe instead of baking it. The smoky, woody flavors are magnificent with the spice crust and beef!
How to know when pastrami is done cooking?
This is a tricky one, as you want it a nice pink color in the center. Overcooked pastrami is not fun. The best way to tell if it's ready is by measuring its internal temp, which should be 200 degrees. Visually, it will shrink from its original size by up to 20%, and the outside should be almost completely black.
What's the best way to cook pastrami?
Grilling gives it such nice caramelization, similar to griddling the slices. You can also bake it, or pan fry it if you want a little crispiness in your meat. But for that trademark soft and luscious New York texture, steam it before serving. That's my favorite way of doing it!
Can you make it on the grill?
Yes, and I can't recommend it enough! It gives the meat an unbelievably smoky, salty, and spicy flavor.
How do you make Homemade Pastrami in the smoker?
Once your corned beef is coated with the spice rub, cook it in your smoker at 225F for around 6 hours. I love the flavor that cherry wood chips give, but feel free to use your preferred wood. Take it off the smoker after 6 hrs. once the internal temp reaches 220F. Cool completely for a few hours before slicing.
Can you cook it in the slow cooker?
Yes. Set the spiced corned brisket in a rack inside your crockpot. Cook it on low for 10 hrs.
After this, seal the crust by baking at 350F for about 30 mins. Cool, slice, and enjoy!
Keep in mind that it is really easy to overcook it, so from time to time, don't forget to check its internal temperature.
How to store Homemade Pastrami:
Tightly wrap in foil or cling plastic, then keep in the fridge for up to 7 days. You can also freeze them for 6 months. I like portioning out into single servings for easier storage. This way, everyone can pull out a serving without getting into the rest.
Thaw, then reheat by steaming, grilling, baking, or pan-frying.
More Holiday Main Dishes:
Recipe Tips:
Choose a well-marbled cut for juicy results.
Don't grind your peppercorns too finely. You want a nice texture in the crust, so go for a coarse grind.

Use a deli slicer for beautifully thin cuts.