Healthy Honey Lemon Chicken
Healthy Honey Lemon Chicken is one of the fastest, most delicious and flavorful dinners you can make in 30 minutes! Not fried and with no processed sugar!
I love easy Asian inspired dishes that can feed a large family. My other favorite quick, yet delicious Asian recipes are Kung Pao Chicken, General Tso, and Slow Cooker Asian Short Ribs.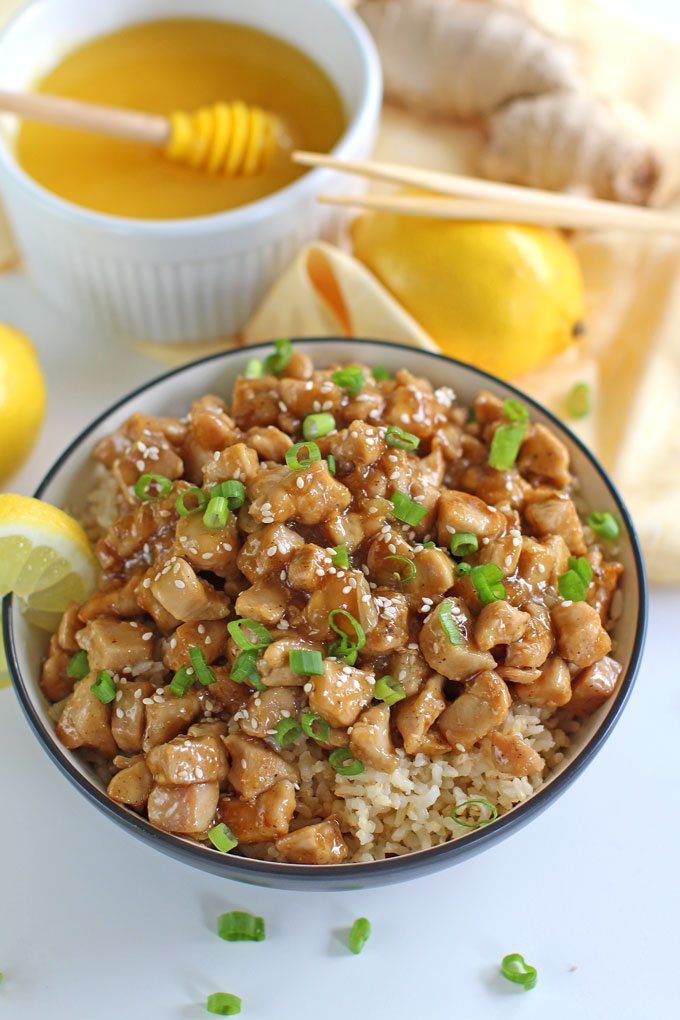 Healthy Honey Lemon Chicken
Healthy Honey Lemon Chicken is so much better than takeout! This recipe is super easy and quick to make, and also doesn't involve any deep-fried chicken or processed sugar. I love my fair share of indulgent recipes, but I also like to balance it and eat healthily. This healthy dish is best served over brown rice. It is definitely one of those crowd-pleasing meals that I always refer to on a busy weeknight.
Also, you can adjust the recipe as you want. Feel free to add some spiciness to it, or garnish with some chopped green onions, or sesame seeds. In addition, feel free to make a large batch and store it for the days to come. Leftover is delicious, and it tastes even better in the next days!
Why You'll Love This Healthy Honey Lemon Chicken Recipe:
Firstly, it's very easy to make, perfect for busy weeknights
Also, creates delicious leftovers that can be easily packed for next day lunches
Can be made with kids as the steps are not complicated
Fresh and beautiful flavors
In addition, it's packed with lots of lean protein
Healthy – the chicken hasn't been deep-fried and the meal doesn't contain any processed sugar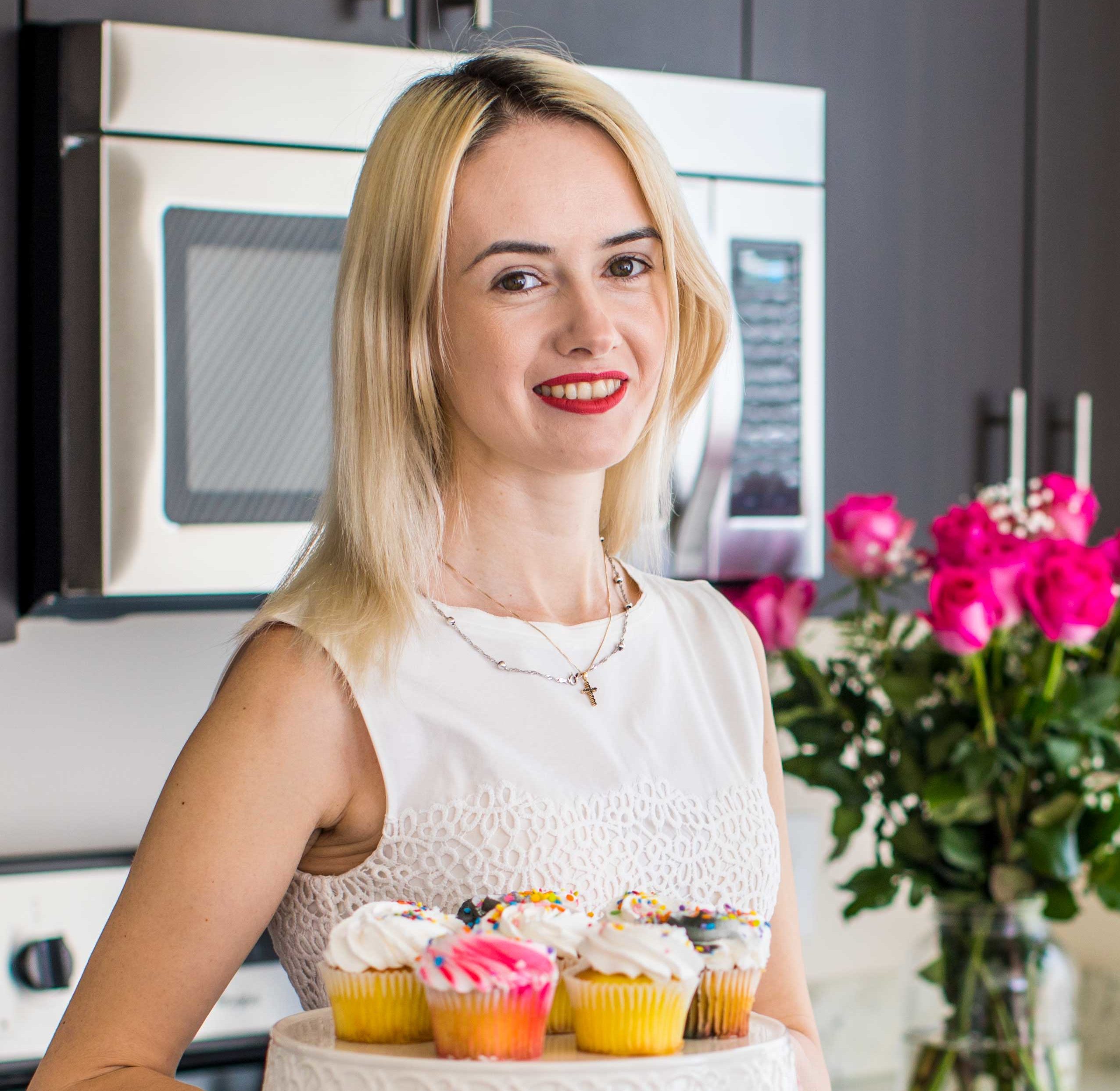 Follow us on Pinterest for more delicious recipes!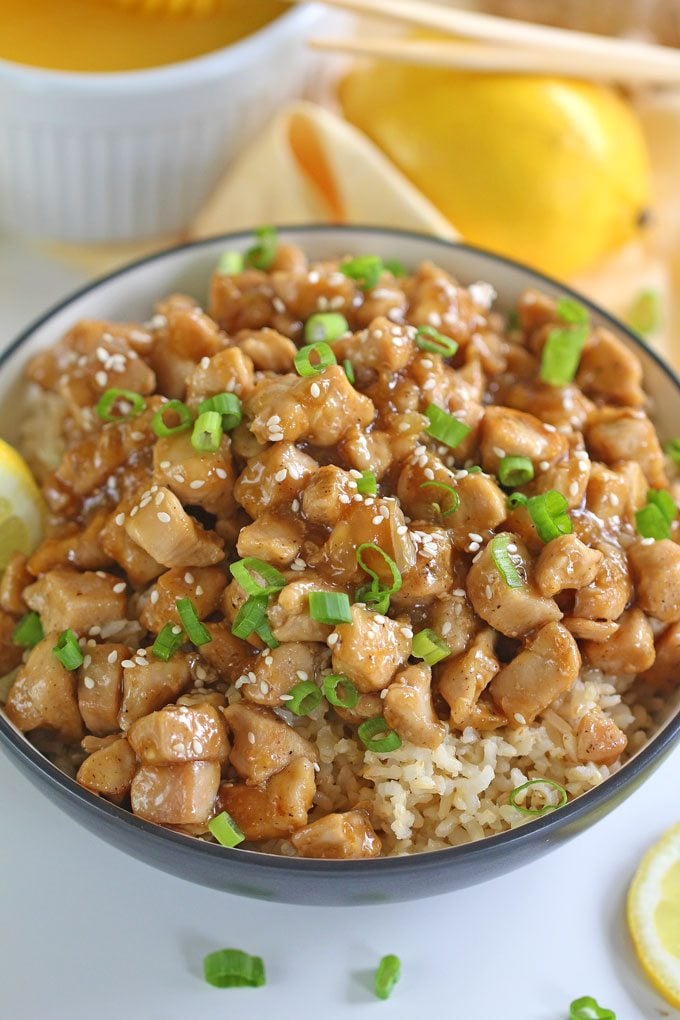 Tips & Tricks on how to make the perfect Healthy Honey Lemon Chicken at home:
I always say this, but a good meat centered meal starts with quality meat, so use organic chicken breasts.
Also, cornstarch is a key ingredient in here, do not try to replace it with flour, the results will not be the same.
Using fresh ginger and garlic will add amazing flavor and taste to the sauce.
I am a huge garlic lover, you can add more or less as you please, but in my case, more garlic is always better.
In addition, fresh lemon zest will add a punch of flavor so definitely add some and please don't skip it.
You can serve this meal with white or brown rice.
Garnishing the dish with sesame seeds and green onions will add a pop of color and interesting texture.
Love easy Chicken Recipes? Check these out: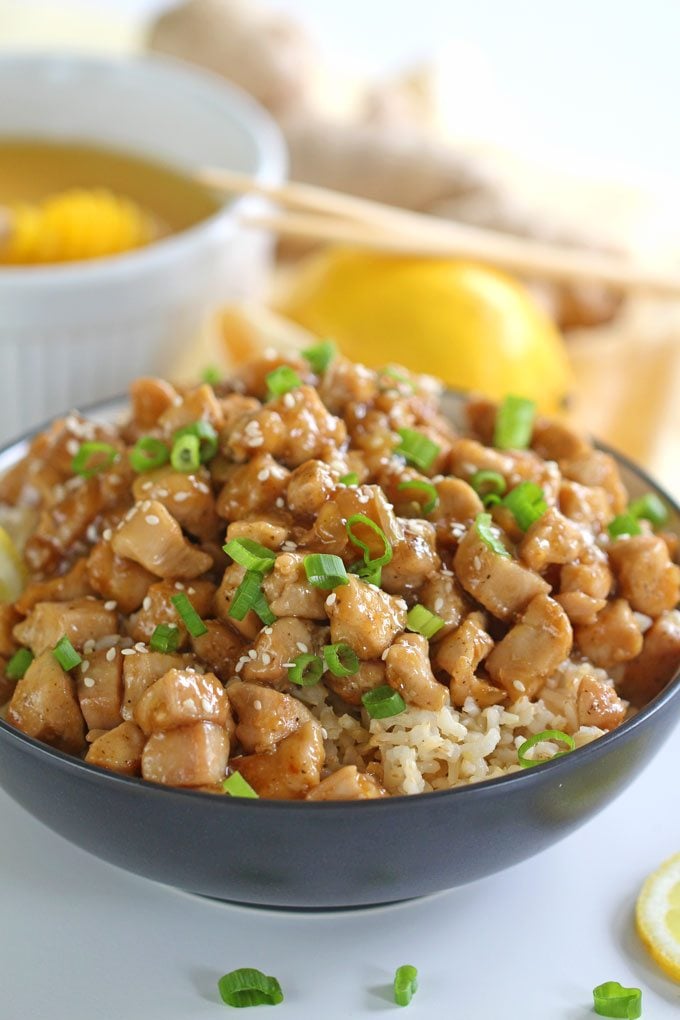 Tools/Ingredients I used to make the Honey Lemon Chicken Lettuce Wraps Recipe:
Soy Sauce – I like using lite soy sauce in my recipes, as it has less sodium and its easier from me to control the saltiness of the dish, I always buy a large bottle like this one and keep it in my pantry
Sesame Seeds – these little guys are perfect in Asian recipes, also sprinkled on salads and fish, a jar will last you a long time
Cornstarch – I prefer using cornstarch instead of flour to thicken sauces, and this organic brand is my favorite
Save Recipe
Healthy Honey Lemon Chicken
Author: Catalina Castravet
Serves: 4
Prep time:

15

minutes
Cook time:

15

minutes
Total time:

30

mins
Ingredients
Honey Lemon Glaze:
Garnish:
Instructions
Honey Lemon Glaze:
Notes:
If you want the recipe to taste sweeter, you can add an extra 1/4 cup of honey.
Nutrition information
0
Calories: 626
Carbohydrates: 113
Protein: 21
Fat: 10
Saturated Fat: 1
Cholesterol: 36
Sodium: 683
Potassium: 787
Fiber: 4
Sugar: 34
Vitamin A: 295
Vitamin C: 74.4
Calcium: 51
Iron: 2.6
Save Recipe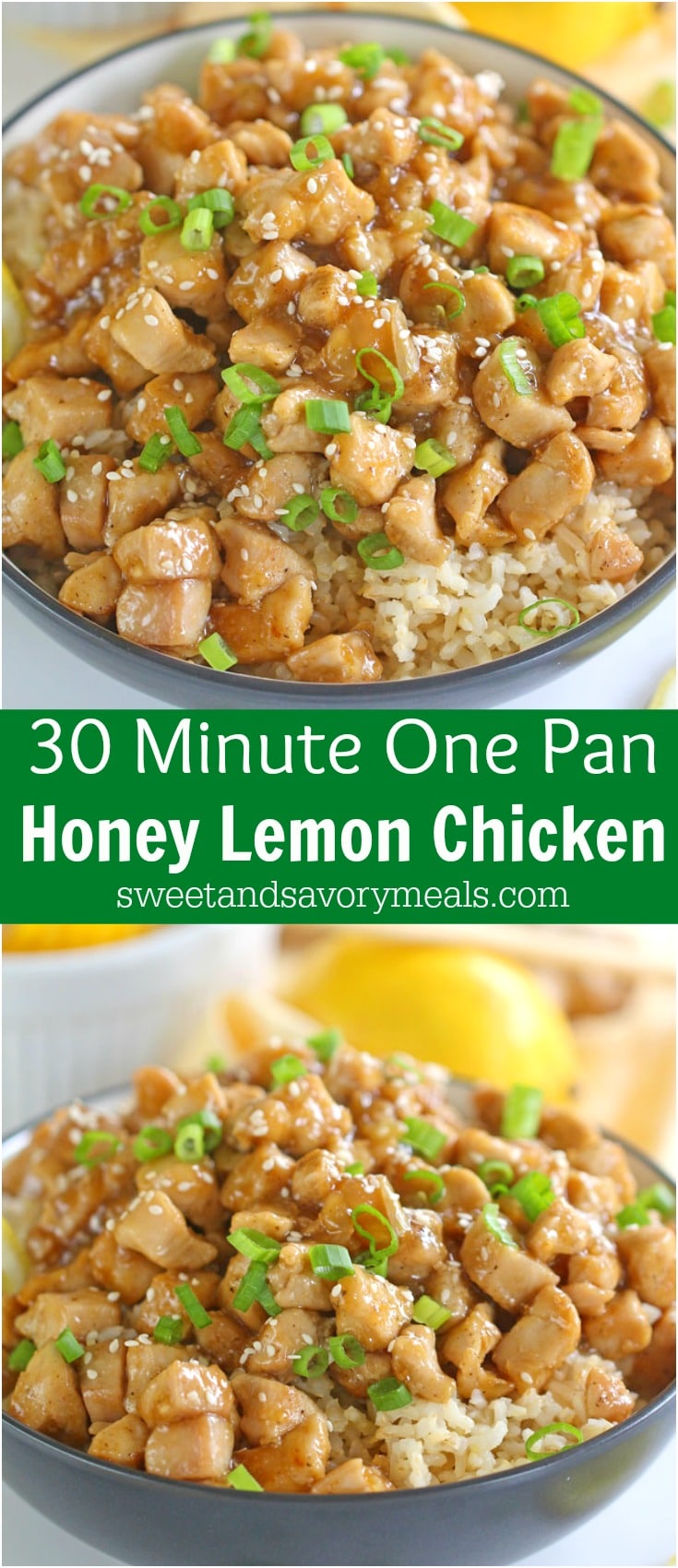 More recipes you might love