Honey Lemon Chicken Lettuce Wraps
Honey Lemon Chicken Lettuce Wraps are such a great appetizer, snack or the perfect healthier dinner. Full of flavor and light, ready in 30 minutes.
These are perfect appetizers to serve during game-day or parties. Also, feel free to serve them along Pork Loin for a full and complete meal!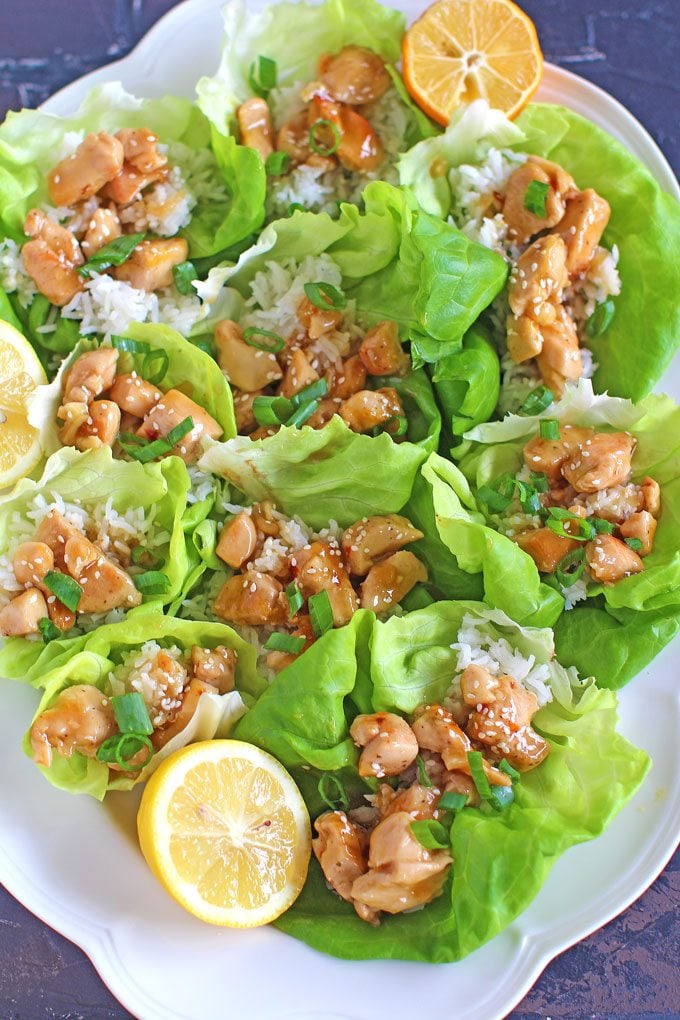 Easy Chicken Lettuce Wraps
Honey Lemon Chicken Lettuce Wraps are my new obsession! These little guys are so full of flavor, sweet from the natural honey, with a gorgeous lemon aroma from the freshly squeezed lemon juice and lemon zest. Served over white or brown rice on top of butter lettuce leaves taco-style, these can be passed as a delicious appetizer or light and protein-packed snack.
Also, these delicious Chicken Lettuce Wraps have a very refreshing taste. They will easily brighten a dinner table and also can be made in advance and assembled in minutes right before serving. Make a large plate and serve them for dinner, as it will take you only 30 minutes to make these!
Why You'll Love These Honey Lemon Chicken Lettuce Wraps:
Bursting with flavor and coated in the most delicious, sweet honey lemon sauce
Also, they are incredibly easy to make in no more than 30 minutes.
In addition, the wraps can be made in advance and assembled right before serving
Packed with protein and fiber if you opt for brown rice
Can be enjoyed as a snack, appetizer or light dinner
Gluten-Free and refreshing, definitely a crowd-pleaser
Can be served warm or cold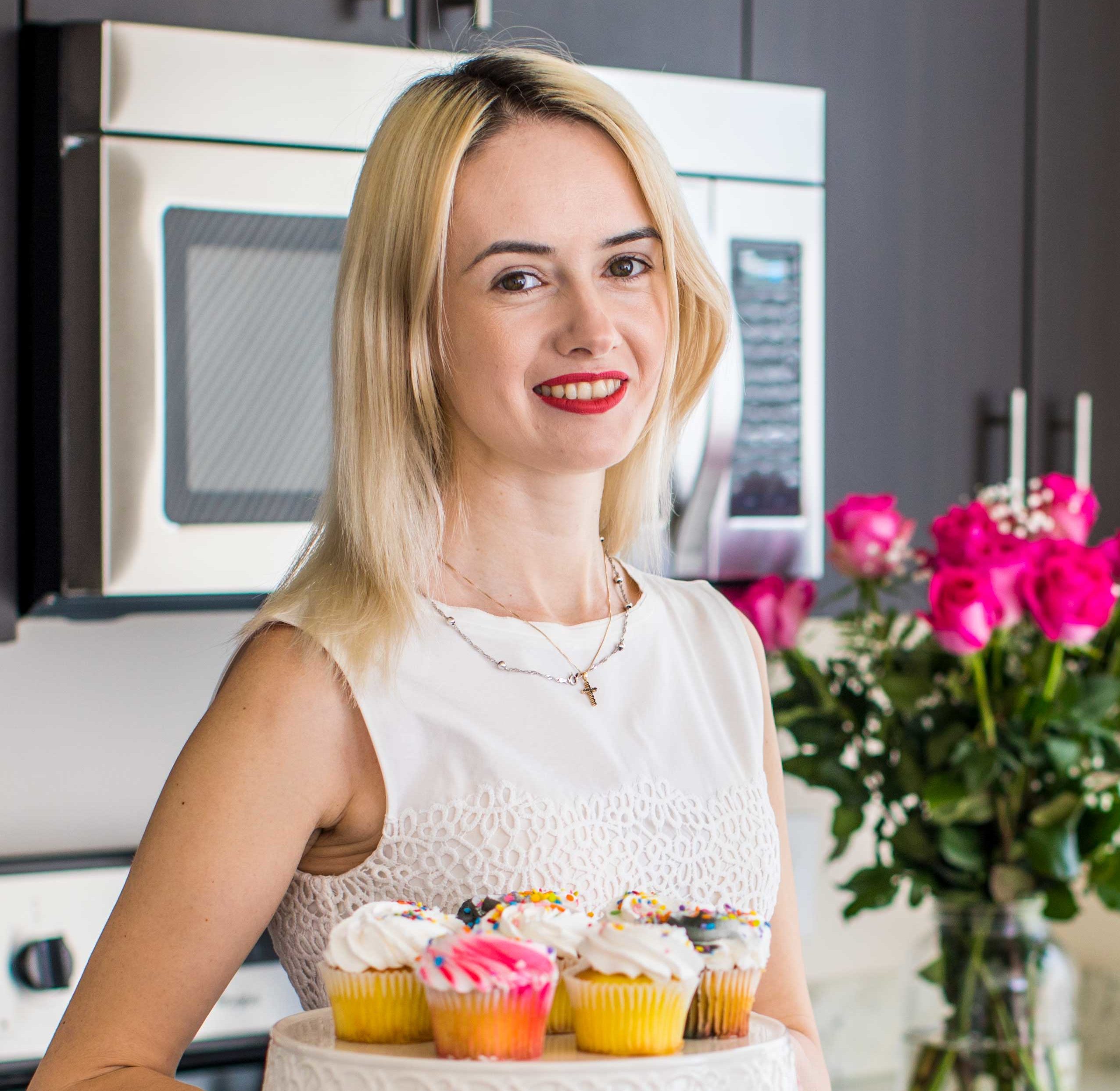 Follow us on Pinterest for more delicious recipes!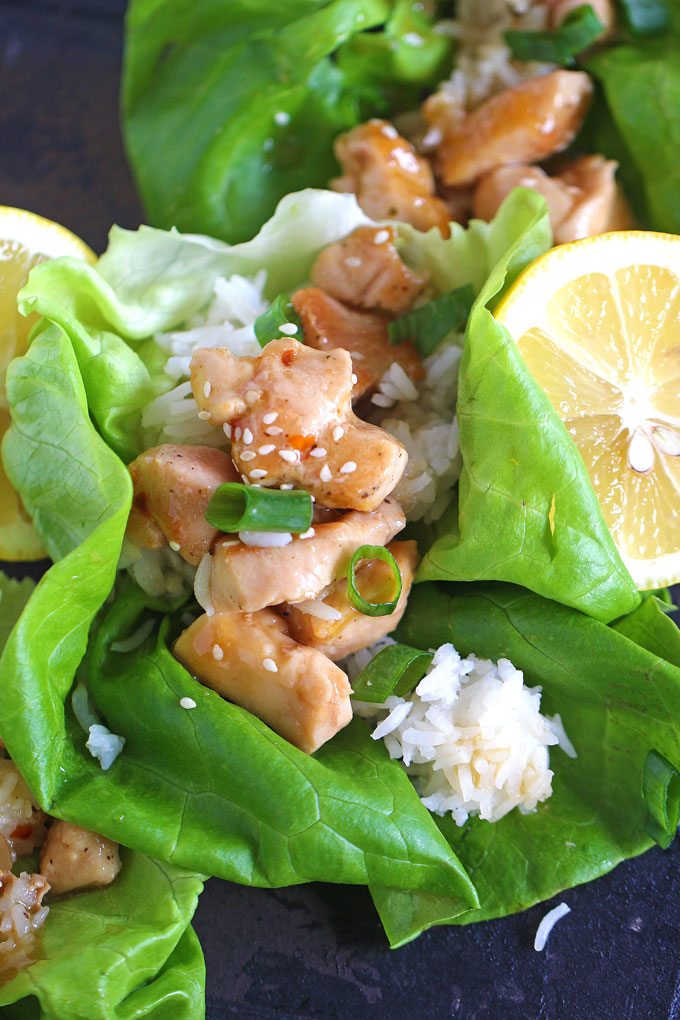 How to make Chicken Lettuce Wraps?
Cook the rice: Cook the rice according to package instruction. Also, you can use white or brown rice based on your preference.
Saute the chicken: In a skillet over medium-high heat, add some olive oil and saute the poultry for about 5 minutes until golden brown.
Make the lemon glaze: Combine the glaze ingredients into a saucepan over medium heat, and whisk together. Whisk together till the sauce simmer and thickens, for about 4-5 minutes.
Serve: Assemble this delicious appetizer by topping a lettuce leaf with cooked rice, chicken and lemon glaze.
Recipe Tips:
I always say this, but a good meat centered meal starts with quality meat, so use organic chicken breasts
Cornstarch is a key ingredient in here, do not try to replace it with flour, the results will not be the same
Using fresh ginger and garlic will add amazing flavor and taste to the sauce
The fresh lemon zest will add a punch of flavor so definitely add some
You can use white or brown rice
Using fresh, crips butter lettuce leaves will add a nice crunch
Love easy Chicken Recipes? Check these out: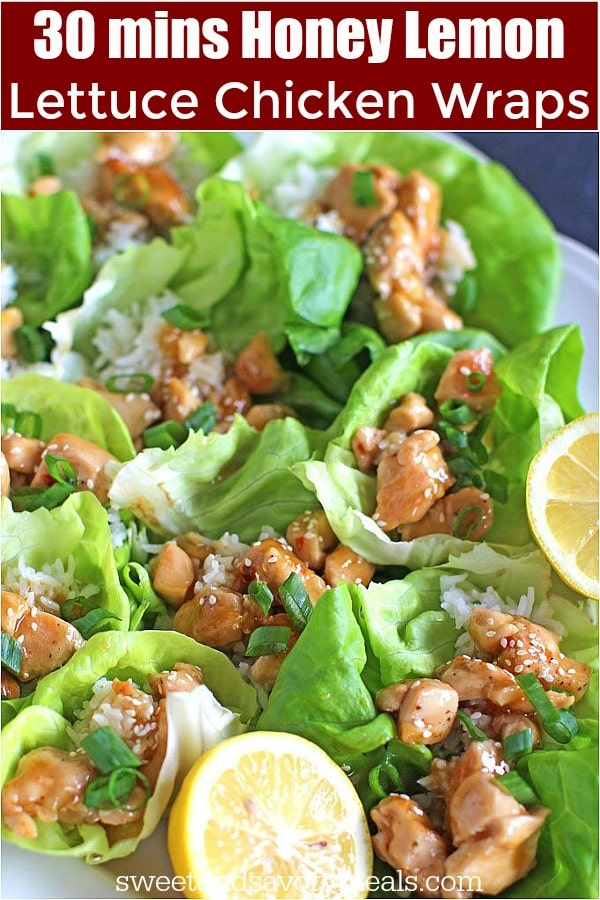 Tools/Ingredients I used to make the Honey Lemon Chicken Lettuce Wraps Recipe:
Soy Sauce – I like using lite say sauce in my recipes, as it has less sodium and its easier from me to control the saltiness of the dish, I always buy a large bottle like this one and keep it in my pantry
Sesame Seeds – these little guys are perfect in Asian recipes, also sprinkled on salads and fish, a jar will last you a long time
Cornstarch – I prefer using cornstarch instead of flour to thicken sauces, and this organic brand is my favorite
Save Recipe
Honey Lemon Chicken Lettuce Wraps
Author: Catalina Castravet
Serves: 10 wraps
Prep time:

15

minutes
Cook time:

15

minutes
Total time:

30

mins
Ingredients
1 cup white rice
1 tablespoon olive oil
2 skinless chicken breasts (, cut into 1-inch chunks)
Kosher salt and freshly ground black pepper (, to taste)
2 heads butter lettuce
Honey Lemon Glaze:
½ cup chicken broth
¼ cup orange juice
Juice of 1 lemon
⅓ cup honey
1 tablespoon lite soy sauce
1 tablespoon apple cider vinegar
1 teaspoon lemon zest
1 tablespoon freshly grated ginger
5 cloves garlic (, minced)
1 tablespoon cornstarch
Garnish:
1 green onion (, thinly sliced)
½ teaspoon sesame seeds
Instructions
In a medium saucepan add rice and 1½ cups water, cook rice according to package instructions; set aside when ready.

In the meantime, heat olive oil in a large skillet over medium-high heat.

Season chicken with salt and pepper add it to the skillet, cook until golden, stirring and tossing occasionally, about 3-4 minutes. Remove skillet from heat and set aside.
Honey Lemon Glaze:
Add chicken broth, orange juice, lemon juice, lemon zest, honey, soy sauce, vinegar, ginger, garlic, and cornstarch to a medium sauce pan over medium heat, stir to combine. Bring to a boil, reduce heat and simmer until slightly thickened, stirring from time to time, about 4-5 minutes.

Once the sauce has thickened, pour it over the chicken. Cook on medium-low heat for 1-2 minutes, stirring and gently tossing to combine. Remove from heat and set aside until ready to serve.

To serve, spoon 2 tablespoons of rice into the center of a cleaned lettuce leaf, top with honey lemon chicken, drizzle with a little more honey lemon glaze. If desired, garnish with sesame seeds and chopped green onion.
Enjoy!
Calories: 158 Carbohydrates: 26 Protein: 6 Fat: 2 Saturated Fat: 0 Cholesterol: 14 Sodium: 173 Potassium: 213 Fiber: 0 Sugar: 10 Vitamin A: 1110 Vitamin C: 5.9 Calcium: 18 Iron: 0.8 g
Save Recipe

More recipes you might love