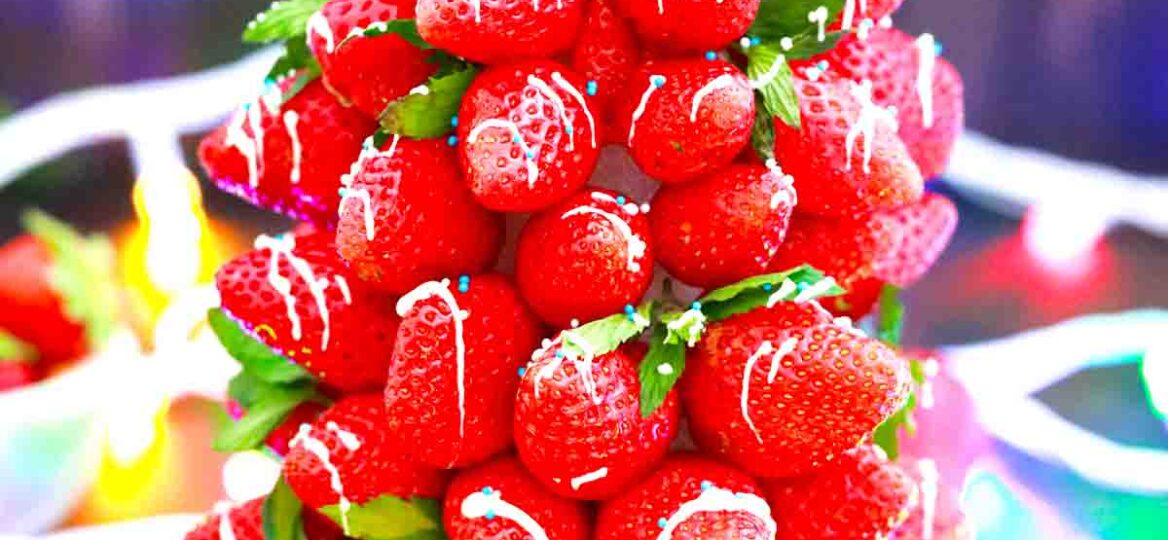 Christmas Tree Shaped Food Recipes [Video]
Christmas Tree Shaped Food is festive and makes your holiday table so much more inviting. Anyone who loves Christmas cooking will love these incredibly easy and delicious Christmas tree shaped food ideas. There are so many super cute ideas, it is going to be hard to choose just a few.
Some other great recipes include these yummy Christmas Light Cupcakes with M&M's and red velvet cake mix, and our easy Christmas Sugar Cookies made from pure vanilla extract, sugar, and butter. Pull Apart Christmas tree recipe made from pizza dough bread, marinara sauce, and yummy mozzarella cheese that you brush with butter.
Whether you are planning big meals for lots of guests at several family gatherings this year or just making a small dinner for the kids, when you decorate with tasty Christmas tree shaped food, it just seems to make holidays happier.
And who does not want happy holidays? So, without further ado, keep reading to find some of our family favorites. We only listed four recipes here but there are so many super easy tree-shaped foods for your holiday party. Your family will be glad you tried them.
All the recipes below are no-bake, very easy to make, and they all need just a few ingredients. You can add some festivity to your holiday table without too much hassle.
Are you looking for more holiday desserts? How about the traditional fruit cake. We make ours with sour cream, maraschino cherries, and dried cranberries. Speaking of traditional, our gingerbread recipe is just like mom used to make using fresh ginger, molasses, and dark brown sugar.
Ingredients needed for cucumber Christmas trees:
You only need these two simple ingredients for this super easy Christmas tree shaped cucumber recipe. When you are ready to start preparing them, scroll down for the step-by-step instructions on our recipe card.
Large carrot
Whole cucumber
How to make cucumber Christmas trees from scratch?
Peel the carrot: First, peel your carrot and discard the top and bottom.

Cut circles: Then, cut eight circles out of the thick end of the carrot. They should be about a half centimeter thick.
Make stars: Next, use a mini-star-shaped cookie cutter to cut a star from each of the carrot circles.

Make the trunks: After, cut the rest of the carrot into eight pieces for the cucumber tree bases.

Shave the cucumber: Now, shave long strips of cucumber from one end to the other.

Make the tree: Then, fold the cucumber back and forth until you have a tree shape. Push them together and then push a cocktail stick through each one before inserting the end with the big fold into the carrot bases.

Top the tree: Lastly, put a carrot star onto the top to hold your cucumber in the right shape and spread out the folds.

Stand and eat: Finally, stand trees on carrot base and serve immediately.
Ingredients needed for holiday Oreo cookie tree:
Here are the handful of ingredients you need for this yummy Christmas cookie tree. Then you can scroll down to our recipe card for more details.
Green candy coating wafers
Coconut oil
Oreo cookies: Divided.
Holiday nonpareils: White, red, and green.

Semi-sweet baking chocolate
Miniature M&M's
How to make an Oreo cookie tree from scratch?
Melt: To begin, put wafers and coconut oil in a microwave-safe bowl and cook on high for 60 seconds or until they melt, stirring every 30 seconds.

Prep the pan: Next, cover a baking sheet with parchment or wax paper and insert a popsicle stick or craft stick into the middle of one cookie.

Make the tree: Now, dip each cookie into the melted green wafers to coat both sides. Shake to remove any excess. As you go, arrange them into a tree with five on bottom, four on the next row, three on the next, then two and one on top.

Decorate the tree: While the cookies are still wet, sprinkle decorations on them so they stick.

Make the wires: Next, put chocolate into a plastic baggie and cut a corner off. Use it to pipe lines onto the tree that look like wires for the Christmas lights.

Add the lights: Then, add M&M's as Christmas lights.
Chill and eat: Lastly, chill for at least 30 minutes before serving.
Ingredients needed for Christmas tree pretzels:
These are the items you will need for this Christmas tree pretzel recipe. Scroll down to our recipe card for complete instructions and exact measurements.
Mini pretzel sticks
Green candy melts
Coconut oil
Christmas sprinkles
How to make Christmas tree pretzels from scratch?
Prep the sheet: First, line a cookie sheet with parchment.

Melt the candy: Then, use a double boiler to melt the coconut oil and candy and pour it into a decorating bottle.

Make the trees: Next, put 10 to 12 pretzel sticks on the parchment and pipe layers of candy on top to make a tree.

Decorate and harden: After, sprinkle holiday sprinkles on top before you let it harden for two hours.

Place on a tray: Finally, remove the decorated pretzels from the paper and place them on a serving tray for guests to eat.
Ingredients needed for a strawberry Christmas tree:
To make this impressive strawberry Christmas tree, all you need are a few ingredients mentioned below. After you gather what you need, scroll down to get the rest of the details from our recipe card.
Tree ingredients:
Room-temperature strawberries

Dark Ghirardelli melting wafers

Powdered sugar
Fresh mint
How to make a strawberry Christmas tree from scratch?
Make the cone: To start, make a cone from posterboard using a piece of twine and a pencil to draw the shape before cutting it out. We used a 15-inch cone, but you can use whatever size you want.

Add paper: Next, use the posterboard template to draw a cone onto freezer or parchment paper. Tape it to the cone and glue the seams together with a hot glue gun.

Prep the strawberries: Afterward, make sure your strawberries are clean, dry, and at room temperature. Cut the tops from each one and separate them by size for easier assembly.

Melt: Now, follow the package directions for melting and use one pack at a time in a double boiler.

Dip and stick: Then, beginning with the largest strawberries, pat the flat-cut top on a paper towel before dipping in the chocolate. Then stick it to the bottom of the cone. Continue this until you have filled the whole tree, saving a large one for the top.
Cover the holes: If you have too many bare spots, cover them with fresh mint sprigs.

Coat with snow: When you are ready to eat, sprinkle powdered sugar on the tree like snow.
How to serve:
You can make any of these Christmas tree shape food ideas for your appetizer or dessert table. It always makes the holiday season more fun with Christmas tree appetizers. Whether you make them on Christmas Eve or Christmas morning, each of these Christmas tree shaped food snacks will thrill your whole family.
Another great way to decorate your Oreo Christmas tree is with caramel. Try our recipe for caramel sauce.

Have cucumber Christmas trees with our pull-apart Christmas tree for an adorable Christmas dinner appetizer. You can actually stick them in the top of each baked roll. They are tender, flaky, golden brown, and topped with butter.

Bake cupcakes for your pretzel trees. Try one of our cupcake recipes like these yummy German chocolate cupcakes. Just stick a pretzel tree in the frosting on top.

Keeping with the theme of the baked good, you can also use cupcakes dipped in green melts instead of Oreo cookies.

Another cute idea for your Christmas dinner table is to make a large sheet cake and frost it with white frosting. Then insert the pretzel trees in the top so it looks like a snowy forest of Christmas trees.
With so many food ideas during the holiday season, it is hard to choose just a few. We suggest having some for Christmas Eve, others for Christmas morning, and more for your Christmas dinner. You can always freeze the leftovers.

If you would rather not bake anything, try our no-bake chocolate pie with Oreo pie crust to show off your pretzel Christmas trees.

Leftover cucumber trees can also be added to a salad.

Your friends will love getting a pretzel Christmas tree wrapped in parchment paper in a Christmas card.

Another way to use leftover strawberries is to use them on top of ice cream or pudding.
Need something to wash down all this yummy Christmas tree shaped food? Try our Christmas punch recipe.
Frequently asked questions
Can I use different veggies for the cucumber Christmas trees?
Absolutely. You could try using zucchini or squash instead of cucumbers. They will slice just as easily and can spread the same way to form a tree. Similarly, using pickles would work too. Instead of the carrot, you could try parsnips, beets, or turnips. In fact, yams or sweet potatoes would also work.
Why won't my strawberries stick to the tree?
If you are using melting wafers, they will set almost immediately but if you are using chips and coconut oil, you will have to wait for about 15 to 30 seconds to get them to stick. You should also make sure your strawberries are clean and dry. Pat the bottom on a paper towel just before dipping it.
What is the best way to keep chocolate from hardening while I am using it?
First, the best way to melt it is using a double boiler. It may be easier and faster to melt it in the microwave, but it will stay melted while you use it. You may also need to use a candy thermometer. Dark chocolate should not exceed 115 degrees F and white and milk chocolates should not go over 110 degrees F. Then, you will want to keep the double boiler warm at about 90 degrees F.
Why do you add coconut oil to chocolate when melting it?
One of the benefits of using coconut oil is that it makes your chocolate shinier. Nobody likes dull chocolate. But it also hardens faster. In fact, it is like those magic shell chocolates that get hard almost immediately. This helps when you are making something that needs to be set quickly like the strawberry tree or pretzel tree. But don't worry, it does not ruin the flavor.
How to store leftovers:
Store: If you made too many yummy Christmas tree treats, you can store them in an airtight container. The only one that will be difficult to save is the strawberry Christmas tree. You can just take it apart and store the strawberries in a container in the fridge.
Freeze: The Oreo Christmas tree and pretzel Christmas trees can be frozen by wrapping them carefully in plastic wrap and placing them in a freezer-safe container. They will be good for up to three months. The strawberries and cucumber trees should be eaten within a few days, or you could use the leftovers for other recipes.

Thaw: Anything frozen should be thawed overnight for the best results.
More Christmas-themed recipes: