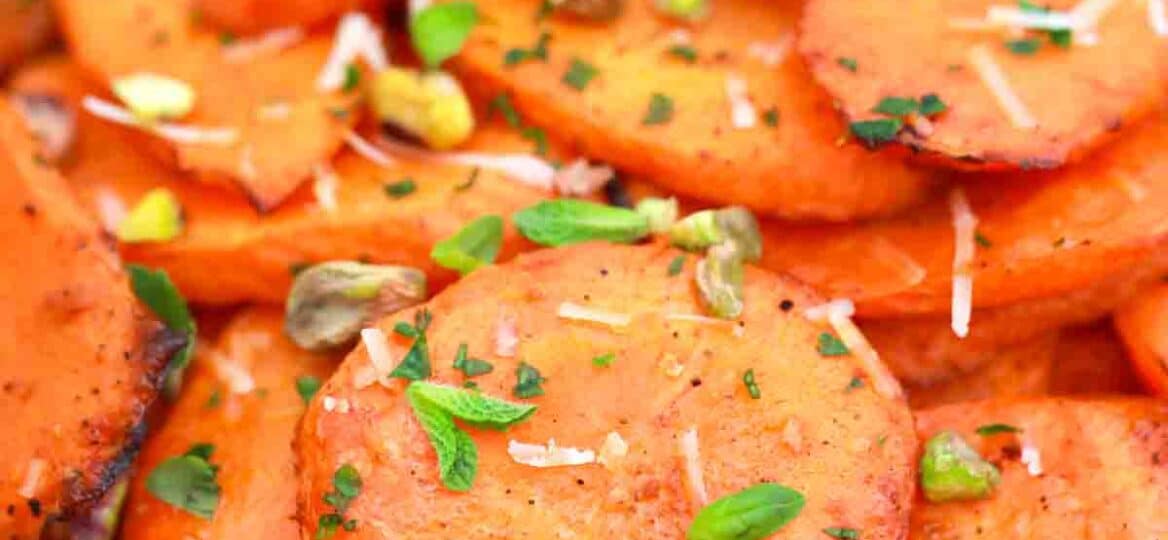 Air Fryer Carrots Recipe [Video]
Air Fryer Carrots are roasted and caramelized with savory soy sauce and garlic powder and topped with fresh basil, parsley, and pistachios. The whole family will absolutely love this perfectly seasoned dish and will not even realize how healthy it is. And since it is so fast and easy, you can make it often.
Are you looking for more air fryer recipes? Try our Air Fryer Carrot Chips made with coconut oil, brown sugar, and smoked paprika. Another way to enjoy carrots in the air fryer is with this Air Fryer Carrot Fries recipe seasoned with cinnamon, brown sugar, and garlic.
Humans started eating carrots in the first century. The Romans describe eating a root vegetable they called pastinaca, thought to be a wild carrot or parsnip.
However, there is no record of any kind of farming for carrots until the 11th century when scholar Simeon Seth talked about yellow and red carrots. Another agriculturist recorded the same thing around the 11oos. They are believed to have originated in Afghanistan or Iran.
Air fryer roasted carrots are a delicious way to cook carrots fast and easily. Our recipe can be easily made gluten-free if you use coconut aminos. Also, it is low in carbs, cholesterol, and sugar.
These air-fried carrots make the perfect side dish for any meal, they are also easy to make and perfect for holidays like Thanksgiving and Christmas. In addition, cooking them in the air fryer is easy, hassle-free and it saves you some oven space.
Since air fryers do not use oil to fry things, you do not have to worry about too much fat or calories either. Here are some more recipes if you are looking for side dish cuisine recipes.
Our delicious creamed corn recipe only uses a few ingredients including frozen corn, butter, sugar, and cream. Or you can try this crispy bacon-wrapped asparagus dish with just three ingredients; fresh asparagus, bacon, and salt.
Ingredients needed:
Here are the ingredients you will need to make this roasted air fryer carrots easy recipe. When you are ready to begin, scroll down to our recipe card at the bottom of the page for instructions and exact measurements.
Large carrots: Peeled and sliced into 1.5-inch pieces and cut at an angle.
Avocado oil
Soy sauce or Coconut aminos
Salt and black pepper: To taste.
Garlic powder
Paprika
Parmesan cheese
For garnish:
Chopped fresh parsley
Basil leaves
Toasted shelled pistachios: A few should be whole while others are chopped.
How to make air fryer carrots from scratch?
Preheat: First, if your air fryer requires preheating, preheat it to 350 degrees F.
Toss the carrots: In the meantime, put the carrot pieces in a large bowl and add oil and soy sauce. Then add the parmesan cheese, paprika, garlic powder, salt, and pepper. Give it a good stir.
Work in batches: After the air fryer is heated to 350 degrees F, place carrots in the air fryer in a single layer to make sure they cook evenly. You will probably have to work in batches if you do not have a large fryer.
Air fry carrots: Now, cook carrots in the air fryer for 18 to 25 minutes, until they are fork tender. The cooking times vary depending on the thickness of the carrots and your air fryer, shaking halfway.
Garnish and eat: After the roasted carrots are done, season again with salt and pepper to taste. Then garnish with more yeast, chopped pistachios, some basil leaves, and freshly chopped parsley before serving.
How to make oven baked carrots from scratch?
Preheat: To begin, preheat the oven to 350 degrees and prep a cookie sheet with non-stick baking spray.
Mix the ingredients: While you wait, toss carrots with the rest of the ingredients in a large bowl.
Bake carrots: Next, place on the cookie sheet and roast carrots for 20 to 25 minutes, depending on how thick you cut your carrots. Stir carrots halfway through the cooking time so they cook evenly. You want them to be a light golden brown when they are done.
Time to eat: When they are done, add more salt and pepper and your favorite garnishes like parsley, basil, chopped nuts, and nutritional yeast. Serve with air fryer beef, pork, turkey, or chicken for a whole meal.
Recipe variations:
Another oil: Feel free to use other oils such as vegetable or olive oil.
No aminos: Instead of coconut aminos, you could use tamari or low-sodium soy sauce.
Parmesan cheese: You can also use parmesan cheese instead of nutritional yeast.
Carrot sticks: Cut carrots into carrot sticks instead of chunks if you want. They are easier for dipping that way.
Baby carrots: Also, you can use baby carrots instead of cutting up whole carrots.
Sweet carrots: Add a 1/4 cup of brown sugar to the mix for sweeter carrots.
Maple syrup: You could also use maple syrup instead of aminos in this recipe for more sweetness.
Fresh herbs: Feel free to add your own favorite herbs like fresh thyme, oregano, or rosemary.
How to serve:
These air-fried carrots are great as a side dish, or you can combine them with your favorite meat for a hearty meal. Try some of our great serving suggestions or share some of your own in the comments section below.
Sprinkle some parmesan or romano cheese on top for more cheesy goodness.
Carrots go great with any meat. Try it with our meatloaf glazed with ketchup, tomato paste, and sweet chili sauce.
You can also add a spritz of fresh lemon juice to your carrots just before serving.
These roasted air fryer carrots are a perfect accompaniment to this air fryer turkey breast seasoned with sage, rosemary, thyme, paprika, garlic, and onion.
Melted butter and brown sugar mixed together would also be a delicious topping for these air fryer carrots.
Serve these carrots with your favorite dip.
Add some heat to your carrots by sprinkling some red pepper flakes on top.
Frequently asked questions
What is the difference between liquid aminos, tamari, and soy sauce?
Soy sauce and tamari contain alcohol because they are fermented but liquid aminos are not. They all have sodium, but soy sauce has a lot more than aminos and tamari. But soy sauce also has low-sodium and light varieties. As far as taste goes, they are all very similar. Liquid amino is sweeter, milder, and not as salty as the others.
Should I put oil on my air fryer basket?
It is not typically a good idea to add oil to the basket or spray the basket with non-stick cooking spray. It is better to add olive oil to whatever you are cooking before you put it in the basket. However, if your air fryer guide calls for oiling the basket, please do.
Is air frying healthier?
Yes, air fryer carrots are a healthy alternative to other fried dishes and side dishes like potatoes or rice that have lots of carbs. Because an air fryer cooks with very little or no oil, it is healthier than deep frying anything in oil. You get fewer carbs and less fat in your side dish with all of the flavor.
What is the nutritional information in this recipe?
Each serving of air fryer carrots contains 175 calories, 11 grams of carbs, and 14 grams of fat with 2 grams of saturated fat as well as 115 milligrams of sodium, 6 grams of sugar, and 2 milligrams of cholesterol. You also get 10 milligrams of vitamin C, 75 milligrams of calcium, 3 grams of fiber, 360 milligrams of potassium, and 1,800 units of vitamin A.
How to store leftovers:
Store: Refrigerate leftover air fryer carrots in an airtight container for up to four days.
Freeze: If you cannot eat your carrots within a few days, you can freeze them for up to 90 days.
Thaw: You need to thaw frozen carrots in the fridge overnight before serving them for the perfect texture.
Reheat: To reheat roasted carrots, put them in a microwave-safe dish and heat them for 60 to 90 seconds in the microwave. You can also reheat carrots in the air fryer for one minute.
More recipes with carrots:
Cooking tips:
Try to chop all the carrots roughly the same size so they will cook more evenly.
Never overcrowd the air fryer basket. Your food will not cook properly.
Serve these right away because they will get softer as they cool.
Don't skip cutting carrots at an angle. It exposes more surface area so they can take in more flavor.
If you cannot find or do not like pistachios, you can use other types of nuts like pecans or walnuts.
Frozen carrots will work well for this dish but add a few minutes of extra cooking time.
Air Fryer Carrots
Ingredients
2

large carrots

peeled and sliced on an angle into 1 1/2-2" long slices

2

tablespoons

olive oil

1/2

tablespoon

low-sodium soy sauce

or coconut aminos

1/3

teaspoon

garlic powder

1/4

teaspoon

smoked paprika

Salt and black pepper

to taste

1-2

tablespoons

grated parmesan cheese

or vegan parmesan cheese
Garnish
2-3

fresh basil leaves

chopped pistachios
Instructions
Preheat the air fryer to 350F.

Place the sliced carrots in a large bowl. Add oil, soy sauce, salt, black pepper, garlic powder, smoked paprika, and parmesan cheese. Toss to combine.

Arrange the carrots in the air fryer basket in a single layer, working in batches as needed. Cook for 20-25 minutes, depending on the thickness of the carrots, and cook until tender, shaking halfway through.

Once done, arrange them on a serving platter and garnish them with fresh basil and chopped pistachios.
Deliciousness to your inbox
Enjoy weekly hand picked recipes and recommendations