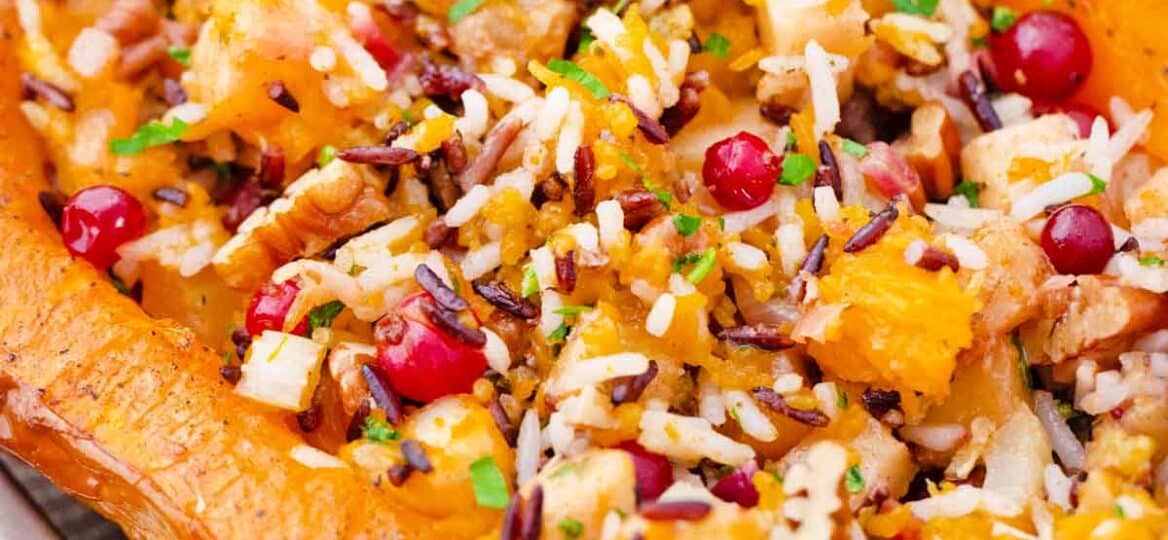 Loaded Stuffed Butternut Squash Recipe
Stuffed Butternut Squash is packed full of flavor for an absolutely delicious fall dish, combining rice with fruits, veggies, and warm spices. It has fruits like cranberries, apples, and pineapples mixed with veggies like celery, shallots, and squash so you get a blend of flavors in every bite. In fact, this is one of the best butternut squash recipes I have ever made according to my family. They gave it 5 stars!
Stuffed squash has been enjoyed for centuries, starting in the Ottoman Empire from Egypt to the Balkans. The first ones were made with acorn squash and filled with meat, rice, and herbs. If served meatless, it was considered to be a vegetarian dish. Today, you can use any kind of squash and stuff it with veggies, fruits, meat, and nuts.
Low in saturated fat and high in vitamins and minerals, this is a meal that you can feel good about serving to your family. Not only is it good for you but it is also a very flavorful recipe you can serve for a main entree or side dish. You can use just about any kind of fruit and veggies to stuff your squash along with rice or pasta.
Ingredients needed:
Here is what you need for this roasted stuffed butternut squash recipe. Make sure you read the details of each ingredient. Then, scroll down to our recipe card for complete instructions and exact measurements.
Large butternut squash: You can use one large or two medium squash halves.
Olive oil: Or any kind of oil you like.
Salt
Black pepper
Filling:
Wild rice mix: It should be six ounces, with a seasoning packet and water or broth for cooking.
Brown sugar: For just a touch of sweetness.
Melted butter: Unsalted butter is best for this recipe. If you use salted butter, cut the salt in half.
Chopped celery: The celery ribs chopped finely will give your stuffing a crunchy and moist flavor.
Fresh cranberries: Dried cranberries would be fine for this too. Or you can use raisins or prunes too.
Chopped small shallot: Instead of regular onions, the shallots are milder and softer.
Small granny smith apple: Peel and chop any small apple.
Chopped pecans: For a crunchy topping.
Cubed pineapple: Mixed with the other fruit and veggies to make a sweet and savory flavor.
Cinnamon: Optional but it gives your filling another level of sweetness.
Fresh thyme leaves: With a woodsy taste, this Mediterranean herb blends well with anything.
Dried rosemary: An aromatic shrub that will add a touch of sweetness and help relieve stress, anxiety, and pain.
Fresh chopped parsley: Rich in vitamins C, K, and A as well as antioxidants, chopped parsley is an excellent garnish.
Kosher salt: Any kind of salt brings out the other flavors.
How to make stuffed butternut squash from scratch?
Preheat oven: Preheat the oven to 375 degrees F.
Scoop out the seeds: While you wait, cut the squash in half lengthwise and remove the seeds. Rub with oil and season with salt and pepper.
Bake squash: Now, put the butternut squash halves on a parchment paper lined or foil-lined baking sheet, cut side down, and bake for 30 to 35 minutes or until fork tender.
Make the rice: While the squash is roasting, prepare the rice according to package directions.
Saute the veggies: Then, in a large skillet over medium heat, cook shallot, pineapple, celery, rosemary, thyme, and cinnamon in butter until sizzling. Turn down to medium-low heat and cook until soft.
Add fruit: Add the diced apple and cook on medium-high heat for another two to three minutes or until slightly tender. Then, stir in the cranberries and remove from the heat.
Combine: Next, combine the warm cooked rice with the shallot mixture. Then, stir in the melted butter, parsley, and half of the pecans.
Scoop and chop: After, turn the cooked squash over and scoop out the flesh leaving a quarter-inch shell. Chop the squash and add it to the rice.
Fill the shells: Last, spoon the filling into the shells and cook for another 15 minutes on your baking pan or until cooked through.
Serve immediately: Finally, top squash with remaining pecans and parsley as garnish…
Recipe variations:
Different squash: You can try using a different squash for this recipe like delicata, acorn, or spaghetti squash.
Add herbs and spices: Feel free to add your favorite savory herbs and spices like fresh sage, marjoram, oregano, onion powder, or garlic powder.
Citrus flavor: Add a bit of citrus flavor to your stuffed butternut squash with a teaspoon of lemon, lime, or orange zest.
Sausage stuffed butternut squash: Make it a hearty meal by adding ground meat or a sausage mixture with turkey sausage, pork sausage, chicken sausage, and Italian sausage.
More veggies: In fact, you can also add other veggies like baby bella mushrooms, baby spinach, and chopped red bell pepper.
No rice: Instead of rice, you can use cooked quinoa for a healthier stuffed butternut squash.
How to serve:
This easy recipe is ready in less than an hour and can be served alone as a whole meal. Here are some great serving suggestions you can try.
Sprinkle some romano or parmesan cheese on top of each serving for extra flavor.
Use the remaining squash to make a tasty casserole. Try our awesome recipe for apple butternut squash casserole.
Roasted butternut squash goes great with anything from beef to turkey. This would even be good with a ham sandwich.
Serve this alongside some kind of stuffed squash recipes like this absolutely delicious pizza stuffed zucchini.
For even more flavor, add some kind of sauce like teriyaki, honey mustard, or chipotle.
You could also turn leftovers into a soup. It would add some texture to our easy creamy butternut squash soup.
With the chopped pecans, you could add some dried cranberries or even some raisins.
Frequently asked questions
Is butternut a winter squash?
Yes, this recipe called for butternut squash, which is a winter squash. Other types of winter squashes are buttercup, white acorn, spaghetti, pumpkin, honeynut, banana, red kuri, turban, sweet dumpling, and acorn squash. But then there is delicata, green kabocha, red kabocha, hubbard, and carnival as well.
How do I choose the best butternut squash?
You want to look for a pear-shaped beige or cream-colored squash that is firm and heavy. The size really does not matter but it should feel heavy for its size. Do not choose one that has dark spots, gouges, or soft areas. The skin should be hard and uniform in color.
How do you peel a squash?
If you need a peeled squash, the easiest way is to poke a few holes in it and then heat it for one to two minutes in the microwave. You want the skin softened slightly. Then, cut off the bottom and stems to make each end flat. Since butternut squashes come in many different shapes, it may be easier to cut your squash in half lengthwise to get a good solid base. Then, just use a sharp paring knife to peel away the skin.
Can I eat the seeds from butternut squash?
Yes. Like roasted pumpkin seeds, roasted squash seeds are delicious. Remember, butternut squash and pumpkin are both from the same family. Similarly, you will need to remove all the strings and flesh, rinse them in water, and lay them out to dry on a paper towel. After, roast for 15 minutes in a preheated oven set at 400 degrees F.
More holiday-themed side dishes:
How to store leftovers:
Store: You can store your leftover stuffed butternut squash in an airtight container for up to four days.
Freeze: To freeze, wrap in plastic wrap and place in a freezer-safe container. You can keep them for up to three months.
Thaw: For the best results, put your frozen leftovers in the fridge to thaw overnight before serving.
Reheat: To reheat, put in a covered dish and bake at 350 degrees F for about 20 minutes.
Recipe tips:
Cooking time varies depending on the size of the butternut squash.
Instead of covering your baking sheet with parchment paper, you can use aluminum foil.
You can use dried cranberries instead of fresh ones if you like.
Use maple syrup or honey instead of sugar if you are trying to cut back on carbs.
If you do not have a large skillet, you can use a medium skillet or a small saucepan.
Make sure your squash is halved lengthwise or they cannot be stuffed.
If you think this recipe sounds delicious and you are looking for more side dish cuisine, we have hundreds of recipes on our food blog.
Stuffed Butternut Squash
Ingredients
1

large butternut squash

3 pounds

2

tablespoons

olive oil

salt and pepper
Filling:
6

ounces

package wild rice

2

tablespoons

unsalted butter

1

tablespoon

brown sugar

1

small shallot

chopped

2

ribs celery chopped

1/4

teaspoon

dried rosemary

1/4

teaspoon

dried thyme

1/4

teaspoon

cinnamon

1

cup

cubed pineapple

fresh or canned

1

small granny smith apple

peeled and chopped

1

cup

fresh cranberries

if using frozen thaw them first

1/3

cup

pecans

chopped and divided

2

tablespoons

fresh parsley

chopped

1/4

cup

butter melted

salt

to taste
Instructions
Cut the squash in half and scoop out the seeds. You can discard the seeds or clean and bake them.

Brush the inside with olive oil and season with a pinch of salt and pepper.

Place the squash on a baking pan, cut side down, and bake in the preheated oven for 30-35 minutes or until tender. It can take up to 50 minutes for a larger squash

In the meantime, cook the rice according to package directions.
Filling:
In a large skillet over medium-low heat, add two tablespoons of butter, and cook shallot, pineapple, celery, rosemary, and thyme, cinnamon, until softened.

Next, add the diced apple and cook an additional 2-3 minutes or until just tender. After that, stir in the cranberries and remove from the heat.

In a large bowl, combine the cooked rice with the mixture from the skillet and the remaining 1/2 cup of melted butter, plus half of the chopped pecans and parsley.

Remove the squash from the oven, flip it, and scoop the flesh leaving a ¼" shell.

Chop the flesh and add it to the bowl with the filling mixture. Mix well to combine.

Scoop the filling into the squash shells and bake an additional 15 minutes or until heated through.

Top with remaining chopped pecans and parsley before serving.