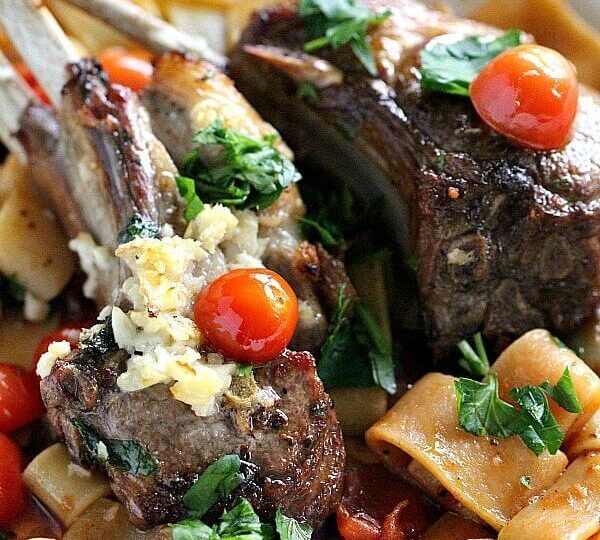 Garlic Lamb Chops in the Oven
Garlic Lamb Chops are topped with juicy Roma cherry tomatoes and parsley, then cooked in the oven. Served over pasta, this is an easy and elegant meal.
Like my other Chop dishes Instant Pot Apple Cider Pork Chops, and Cherry Sauce Pork Chops, this one is easy to make, full of flavor, and ready in under 55 minutes.
Easy Garlic Lamb Chops
These Garlic Lamb Chops are such an easy meal to cook. Also, they look so elegant and are perfect for when you have guests to impress. You can have a delicious restaurant quality meal in a very short time. This homemade recipe is easy to make, and is very flavorful, with a prominent garlic flavor.
The meat is tender and juicy, served over some pasta with a light tomato olive oil sauce. Also, the chops first get marinated in lots of garlic, a sprinkle of olive oil, salt, black pepper, and red pepper flakes. Topped with freshly chopped parsley for extra flavor.
The chops are then browned on the stove for a few minutes. After that topped with cherry Roma tomatoes and popped in the oven for a few more minutes for the ultimate fabulous finish.
Why You Will Love this Garlic Lamb Chops Recipe
Firstly, it's very easy to make, with minimum ingredients and dishes to clean.
Also, a hearty and delicious meal, that looks good to be served on weekends, or for a special dinner occasion.
In addition, the meal is packed with protein.
Leftovers are delicious.
What are lamb chops?
Lamb chops are typically bone-in meat chops, cut from the shoulder, loin, sirloin, or rib of the animal. They are usually more affordable than the rack of lamb and can be found pretty much in any food markets.
Can I substitute pork for lamb?
Absolutely. Pork is a great alternative for lamb in many recipes including this one. If you are going to use pork, I would recommend using pork chops. The cooking time for pork might also vary a bit. Make sure the internal temperature of the pork is 145 degrees Fahrenheit. That means the pork is cooked and safe to consume.
WHAT TEMPERATURE do LAMB CHOPS NEED TO BE COOKED TO?
Lamb needs to be cooked to a minimum internal temperature of 145 degrees Fahrenheit. Usually, the chops are best eaten at this temperature which is medium-rare. It is not recommended that you cook them above medium (160 degrees F) as the meat will become chewy. Avoid lamb chops were well done, even though they are still delicious that way, too.
What herbs go well with garlic lamb chops?
Most fresh herbs pair really well with lamb. A common herb that is regularly used is thyme and mint. However, you can use your preferred herbs, such as rosemary, oregano, and parsley work just as well.
What goes well with lamb chops?
We serve them with pasta. However, something creamy and savory always goes really well with lamb, such as these creamy scalloped potatoes or risotto. Also, for a healthier option, you will also want to serve something fresh and green, such as simple roasted asparagus.
WHAT WINES PAIR WELL WITH Lamb Chops?
A nice, fruity red wine such as Zinfandel or Syrah will pair nicely with the flavors in this lamb dish.
If you're looking for a white option, Riesling or Pinot Grigio are always great matches for bold, somewhat spicy dishes.
More Easter Recipes:
Deliciousness to your inbox
Enjoy weekly hand picked recipes and recommendations