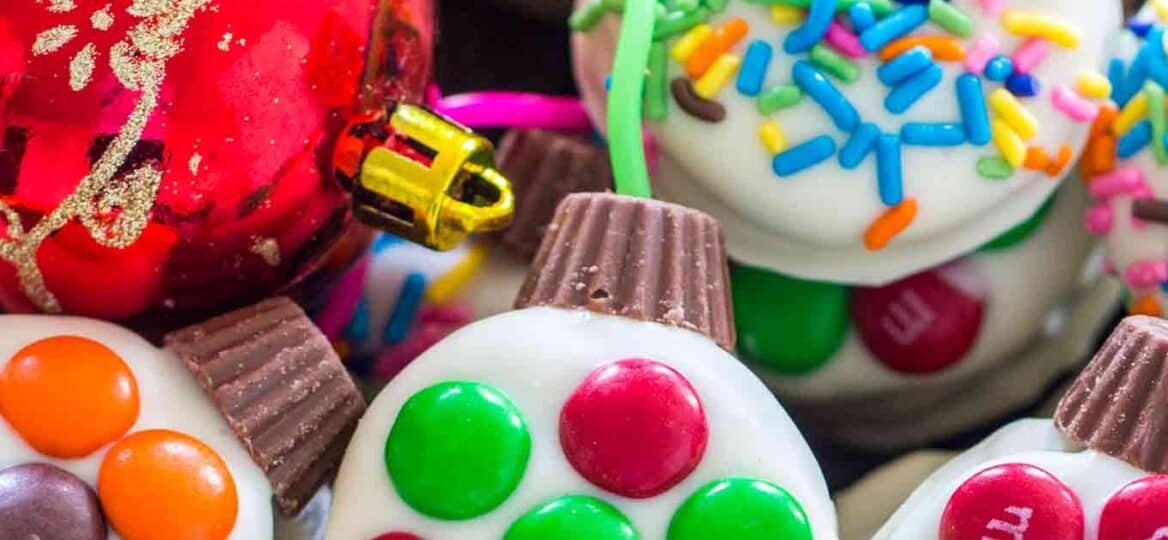 Christmas Oreo Ornaments are very festive, made with white chocolate and decorated with mini peanut butter cups, M&M's and sprinkles. They are fun and easy to make, and kids would enjoy decorating them.
These Oreo Ornaments are the perfect dessert during Christmas holiday season. We try to make fun and decorative treats during this time of the year. A large collection of Christmas themed desserts can be found on our blog, such as Christmas Sugar Cookies, M&M Cookie Bars and Christmas Drunken Cherries.
Christmas Oreo Ornaments
Christmas Oreo Ornaments should be on everyone's table during this time of the year. They are a great way to entertain your guests and loved ones. Additionally, if you love Oreo Cookies, you will enjoy every bite of them. At the same time, the treats are super simple and easy to make. Simply dip your Oreos into melted white chocolate, then attach a mini peanut butter cup on top of them, and decorate with sprinkles or your favorite mini candies.
We decorated them with a mixture of miniature M&M's and holiday sprinkles. Similarly, you could use your favorite candies to decorate them. Even marshmallow or pretzels can be added. If you have smaller kids, it would be a fun project to have with them. Get them involved in adding the sprinkles and M&M's, they will love it!
What ingredients are needed to make Christmas Oreo Ornaments?
About 20 Oreo Cookies
1 package Vanilla CandiQuik or white chocolate baking bars
20 Mini Reese's Peanut Butter Cups
M&M's, holiday sprinkles, skittles, Reese's pieces for decoration
Follow Sweet and Savory Meals on Pinterest for more great recipes!
How to make Christmas Oreo Ornaments?
First, line a cookie sheet with waxed paper and set aside.
In a medium bowl, melt the white chocolate according to package directions.
Once melted, dip each Oreo cookie into the melted chocolate using a fork, allowing excess chocolate to drip off.
Next, place the coated Oreo onto the prepared baking sheet.
Immediately, attach one mini Peanut Butter Cup on the top of each Oreo, as an ornament topper.
Then, immediately decorate the Oreos with the assorted candies or sprinkles.
Refrigerate for at least 10-20 minutes before serving or packaging, or until the white chocolate hardens.
How to best coat the Oreos?
It's best to dip each Oreo cookie into the melted white chocolate using two forks. Make sure when you dip the Oreos, you allow excess chocolate to drip. This way the Oreos have a nice, uniform and thick chocolate coating. Another alternative would be to use Candy Melts Dipping Tools. They are inexpensive, and are very handy for dipping.
What else can you use instead of CandiQuik?
If you don't have CandiQuik, you can use candy coating, known as Candy Melts. They have a nice fluid consistency when melted, and are perfect for dipping. We would not recommend using white chocolate chips, as they won't have the right texture or color.
What else can you decorate the Christmas Oreo Ornaments with?
You can decorate with any of your favorite sweets, candies, chocolates, some great alternative would be:
Skittles
Marshmallows
Chocolate chips
Dragees
Rolos
Peanuts
Almonds
Mini pretzels
Chopped dried fruit
Follow Sweet and Savory Meals on Pinterest for more great recipes!
CAN I MAKE CHRISTMAS OREO ORNAMENTS IN ADVANCE?
Yes. Making them in advance is a great way to manage some time during the busy holiday season. If you already coated the Oreos with CandiQuick or white chocolate, it's best to store them in the fridge for up to 5-7 days.
How to freeze Christmas Oreo Ornaments?
First, cool the cookies completely and fully wrap them in plastic wrap, tightly.
After that, wrap in aluminum foil or add to freezer bags.
Freeze for up to 2-3 months.
Defrost before serving. Best to put them in the refrigerator the night before serving.
Pin This No Bake Christmas Oreo Ornaments Recipe to your Favorite Board
Deliciousness to your inbox
Enjoy weekly hand picked recipes and recommendations