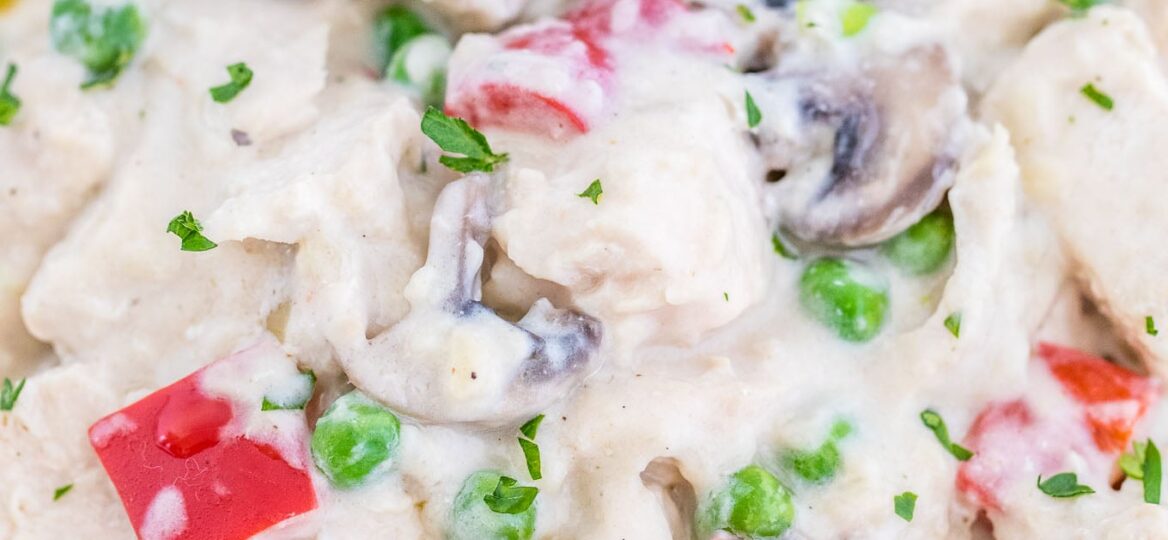 Chicken a la King Recipe
Chicken a la King is a quick and creamy dish made with tender chicken, mushrooms, bell peppers, carrots, and peas. This is a great dinner solution to use leftover chicken or turkey! Serve it over rice, pasta, egg noodles, or toast.
This is another one of those easy chicken dinner recipes that can be served during busy weeknights. For more great ways to incorporate leftover rotisserie chicken, try my chicken enchiladas, quesadillas, or chicken parmesan casserole.
The name Chicken à la King might sound fancy, but in reality, it is one of the easiest dinners to make. This is the ultimate comfort food that is ready in 30 minutes from start to finish! Just perfect for a busy weeknight!
The poultry and veggies are cooked in a rich creamy sauce that is perfect to serve over rice, pasta, or egg noodles. This recipe calls for chicken breasts. However, it is a great way to utilize leftover poultry or to use chicken thighs or turkey. Anything will work here!
The meat is super tender cooked with veggies in a delicious creamy sauce. Also, I use plenty of extra veggies such as fresh mushrooms, red peppers, or green bell peppers. The veggies are low in cholesterol, high in protein, high in vitamins and minerals like potassium, selenium, vitamin C, vitamin D, and calcium. Not to mention, they are quite tasty, too!
This creamy chicken dish is delicious and super easy to make. In addition, it can be made ahead and reheated.
What is Chicken ala King?
It is a classic dish made with diced meat, chicken stock, fresh veggies, cooked in a super creamy sauce. This is a great dish to serve over rice, pasta, and toast.
Its history is uncertain as there are many versions. Early records show that this recipe was created in the early 1900s. It has stood the test of time and it is definitely a comfort food worth cooking and eating over and over again.
How to make Chicken a la King?
Prepare the ingredients: First, prepare the cooked meat, chicken broth, butter, garlic, onion, mushroom, bell pepper, all-purpose flour, whole milk or cream, green peas, jarred pimientos, salt, and pepper.
Saute the vegetables: Next, in a large skillet over medium heat, sauté the diced onions, garlic, mushrooms, and bell pepper in melted butter. This will take about five minutes until the ingredients are all tender. Set aside.
Make the creamy sauce: Using the same pan, lower the heat to medium-low and melt butter. Then, add some flour, salt, and pepper and stir in the melted butter completely. This will take about a minute. Next, add in the milk and broth, stir, and let it simmer for about 5 minutes. The mixture will thicken but if it gets too thick, dilute it with broth.
Add the veggies: Next, add the cooked mushrooms and bell peppers and then, the frozen peas, pimientos, and diced meat. Cook some more until everything is hot, and then, season with more salt and black pepper to taste.
Serve: Garnish it with some chopped green onions, and enjoy it warm.
Classic chicken a la king variations:
Extra veggies: Feel free to add your favorite veggies to it. Some great additions would be cauliflower, broccoli, potatoes, sweet corn, spinach, green beans, etc.
Seasoning: Garlic powder, dried rosemary, ranch seasoning, onion powder, sweet paprika, cayenne pepper are great options for a flavor twist.
Cream Sauce: For a thicker and richer sauce, substitute the whole milk with heavy cream. Also, you could add 2 tablespoons of white wine for extra flavor and aromas.
Instant Pot: For another quick dinner option, make this Instant Pot Chicken Pot Pie Pasta.
Make it with Tuna: I have tried this recipe with tuna and it was quite delicious! Also, this makes for a great-tasting tuna dish and a perfect rotational meal. To make tuna a la king, simply replace the poultry with 4 cups of tuna.
How to cook the chicken for this recipe?
This recipe calls for pre-cooked chicken. However, you have a few options for this.
Leftover chicken: First, you can use leftover meat on hand, but make sure that that is not overly seasoned to affect the taste of it.
Rotisserie chicken: Or, have a trip to the grocery store and find some shredded rotisserie chicken. They are perfect for this dish.
Bake your own: Learn how to make this oven-baked chicken breast recipe and use it that way.
Pressure cooker: Another great option, would be to make this Instant Pot Whole Chicken. That way, you can use the meat and broth at the same time!
Boiled chicken: Follow these steps to perfectly boil the bird. Then, shred or chop it.
Crockpot Chicken a la king:
If you are going to use the slow cooker for this, use cream of mushroom soup or cream of chicken soup instead of the broth plus cream.
Simply add in all the ingredients except for the frozen peas. Slow cook for about 5 hours, or until the vegetables are tender. In the last 30 minutes of cooking, add in the peas.
Where to buy Swanson Chicken a la King?
This canned version is a childhood favorite. You might be having a difficult time looking for it in physical stores, but the good news is that it is available online! Just make a quick search and you will be able to find the sources.
How to store leftovers:
To store: This dish makes for a great leftover meal. First, let the leftovers cool down at room temperature. Then, transfer them to an airtight container and refrigerate them for up to 4 days.
To freeze: Use freezer-friendly containers, and freeze leftovers for up to 3 months.
Reheat: To reheat leftovers, simply thaw them overnight in the fridge. Then, simply heat them up in a small skillet on the stove. In addition, for a faster thawing process, use the microwave.
More comfort dinner recipes:
Recipe Tips
For a more colorful dish, you can add in differently colored bell peppers, green peppers, and instead of frozen peas, add mixed vegetables.
Serve it over some pasta or white rice.
Also, this homemade recipe can be made with tuna. If you love seafood or tuna in general, it would be a great alternative to poultry. Simply replace the poultry with about 4 cups of tuna.
For best results, we recommend freezing the leftovers in freezer bags with the air squeezed out. Also, on the outside of the bag, label with the date of cooking. This way you will know exactly when it was frozen. Put the bag of leftovers in the freezer laying flat.
In addition, to spice this up, add a dash of cayenne, or red chili pepper flakes.
To save time, buy pre-sliced mushrooms from your local grocery store.