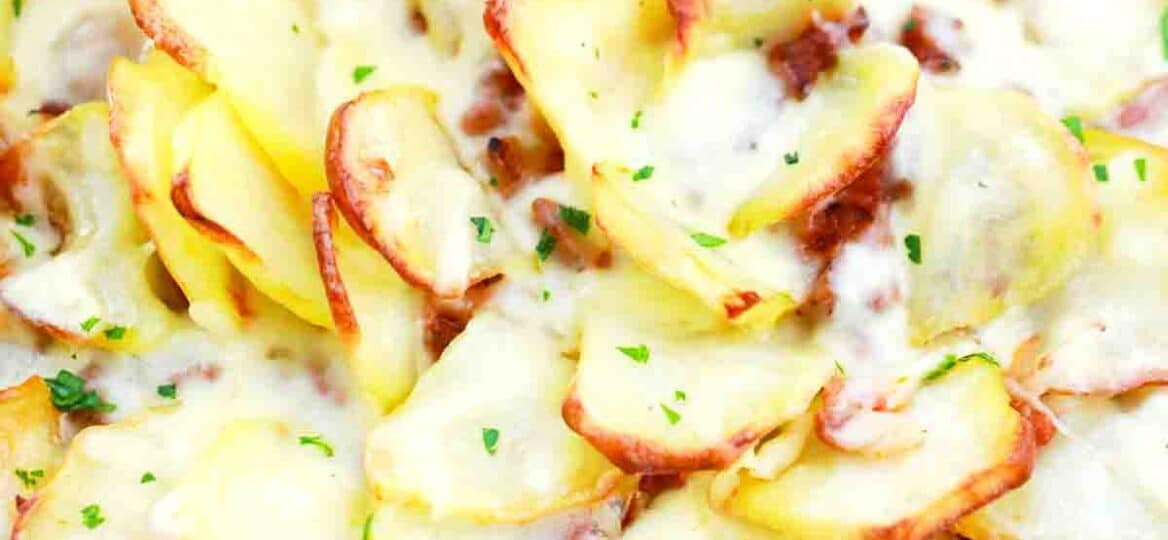 Cheesy Potato Flower Recipe
Cheesy Potato Flower is a crispy potato rose made with ground beef and cheese, perfect for an appetizer during a party or game day. You and your family will be amazed at how stunning it looks when finished.
If you enjoyed this recipe, you should try our great recipe for Crispy Air Fryer Potatoes made with just a handful of ingredients such as parmesan cheese, smoked paprika, and Italian seasoning. For something a little sweeter, make this tasty Loaded Sweet Potato Casserole. All you need are a few sweet taters, brown sugar, pecans, eggs, and a few seasonings. This is always a huge hit at Thanksgiving.
Did you know that potatoes have been consumed by humans for about 10,000 years? According to experts, the earliest wild ones were found in Bolivia and Peru between seven and 10 thousand years ago. Also, there are approximately 5,000 different varieties including 200 wild species and cultivated types.
This recipe is perfect for brunch with friends, as an appetizer for a family dinner party, or it can even be served as a meal. With the hamburger casserole as a base, these cheese potato flowers are like individual entrees for each person if you make them smaller.
For this unique recipe, all you need are a couple of potatoes, some ground beef, onions, eggplant, tomato sauce, and a few seasonings. Then add some rice wine and soy sauce for extra flavor. And the ooey-gooey melted cheese is a scrumptious topping to the ground beef casserole underneath.
Are you looking for other unique recipes to try? Our crispy air fryer blooming onion is just as stunning and delicious as this recipe. All you will need is a couple of large sweet onions, panko, seasonings, milk, egg, and butter. This meatball stuffed cabbage is another unusual dish that will have your guests begging for the recipe. And it is easy to make too!
Ingredients needed:
If you are looking for something different to serve, this is it! For this cheesy potato flower recipe, all you need is a handful of simple ingredients listed here. Then, scroll to our recipe card at the bottom of this page to get the precise measurements and directions.
Potatoes
Ground beef
Onion
Eggplant
Tomato Sauce
Mozzarella Cheese
Minced garlic
Rice cooking wine
Soy sauce
Black pepper
Kosher salt
How to make cheesy potato flower from scratch?
Slice the potatoes: To begin, peel and slice potatoes with a sharp knife or mandoline and place them in a bowl of water to soak.
Soften potato slices: Then, heat water in a medium saucepan with 1/4 teaspoon of salt on medium-high until it is boiling. Put the sliced potatoes in boiling water and let it simmer for three to five minutes.

Chill and drain: Next, place potato slices in a bowl of cold water for a few minutes until they are cool enough to handle. Then, place them on paper towels to drain.

Mix the casserole: Meanwhile, add the ground beef, garlic, cooking wine, soy sauce, and black pepper in a large bowl, mixing thoroughly.

Add veggies: After, dice onions and eggplant before browning the ground beef in a skillet on medium-high. Add the onions and eggplant, mixing as it cooks for two to three minutes, or until the veggies are tender.

Simmer until cooked: Then, add the tomato sauce to the pan and stir, reducing the temp to medium-low. Simmer for two or three minutes.

Preheat oven: Then, preheat the oven to 375 degrees F.

Make the flower: Meanwhile, pour the beef mixture into a round baking dish and add potatoes starting around the outside working in until it looks like a flower. Brush with cooking oil and bake for 20 to 30 minutes.

Bake and serve: Remove and add mozzarella cheese on and around the potatoes, making sure to get some underneath the petals. Bake for another 10 minutes, add parsley and serve.
How to make a vegetarian cheesy potato flower recipe?
Prep the potatoes: First, peel, chop, and boil half of your potatoes in a large pot. It should take about 15 to 20 minutes to soften them enough to make mashed potatoes.

Preheat and prepare: While you wait, preheat the oven to 350 degrees F and prepare a muffin pan by greasing each cup with olive oil thoroughly.

Mash the taters: Next, drain and mash the taters. Mix with egg yolk and add salt and pepper to taste. This will help them crisp on the outside while they stay soft on the inside.
Slice potatoes: Then, wash and slice the rest of the spuds so you have a whole bunch of thinly sliced spuds. Put all the potato slices in a bowl with olive oil, salt, and pepper and toss until completely coated.

Add the potatoes: Next, fill all 12 holes in the prepared muffin tin with about two tablespoons each of mashed taters.

Make the flowers: Now, lay about 10 to 12 taters on a cutting board and roll them up tightly to make a rosette. Push it into the mashed potato base, adding more slices around the edges. Brush each one with melted butter.

Bake crispy potato roses: After, bake your potato roses for 35 minutes until they are lightly golden. Remove from oven and add cheese in and around the petals before putting it back in the oven for another 10 minutes.

Eat potatoes: Finally, serve your fancy baked potato puffs as a gorgeous centerpiece on a bed of spinach so it looks like a bouquet of roses.
Recipe variations:
Different oil: You can use vegetable, canola, or whichever oil you like to cook with.
Bacon: If you are making the second recipe, wrap slices in raw bacon before placing them in the muffin pan.

Eggs: Using eggs for your mashed potatoes is optional. You could use sour cream instead.
Fresh herbs: Feel free to add your favorite fresh herbs like rosemary, thyme, oregano, chives, and basil.
Different meat: These can also be cooked with ground pork, turkey, or chicken.

Other cheese: Alternatively, try your favorite shredded cheese such as cheddar, Monterey jack, or swiss.

Spicy spuds: If you like spicy food, add a pinch of red pepper flakes to your ground beef mixture.

Sweet spuds: Use sweet spuds instead of regular ones for a sweeter flower.
How to serve:
This easy and yummy dinner idea is ready in less than an hour and can be served alone as a whole meal. Give one of these serving ideas a try or share one of your own in the comments section:
Sprinkle some grated parmesan cheese on top for even more cheesiness.
This tasty dish can also work as a side to change the whole concept of steak and potato.

For an amazing addition, try dipping slices in your favorite sauce. Try our copycat recipe for Chick-Fil-A sauce.

Add a dollop of sour cream to the top of your potato roses for extra creaminess.
Try these potato roses with our beet salad on the side.

This dish also goes well with a side dish of your favorite veggies like green beans, baked carrots, or broccoli.

Mash up leftovers and use them as a thickener for soup or stew.
Frequently asked questions
What are the best potatoes for cheesy potato flower recipe?
It would help if you used a starchy potato like russet potatoes, so the slices are easy to handle without cracking or breaking. You could also use red potatoes to get a red color similar to a rose if you do not peel them. Idaho or Yukon gold potatoes are also a good choice for this delicious recipe.
Why do you soak potatoes before using them?
Not only does it help remove the excess starch, but it also makes them more pliable and easy to work with. If you have ever tried to bend or shape a raw potato slice, you will understand. It is important to use cold water to keep them from sticking together.
Can I store my peeled potatoes in water overnight?
Yes, you can store your peeled spuds in water for up to 24 hours as long as they are refrigerated. Left out at room temperature, they will turn brown if they are not covered in water and kept cool. However, do not let them soak for longer than 24 hours or they will absorb too much water.
What are the nutrition facts in this recipe?
Each serving has 155 calories, 19 mg cholesterol, and 8 grams fat with 4 grams saturated fat. It also has 499 mg sodium, 22 grams carbs, and 1 gram sugar. However, you also get 3 grams fiber, 2 mg iron, 12 grams protein, 62 mg calcium, and 16 mg potassium.
How to store leftovers:
Store: Your leftover cheesy potato flower can be stored in an airtight container in the fridge for three to four days.

Freeze: If you cannot finish your leftovers in four days, go ahead and put them in a freezer-safe container or freezer bag. Wrap with aluminum foil first to keep it from getting freezer burn. It will last for 90 days in the freezer.

Thaw: Remember to thaw out your leftovers in the refrigerator overnight for the best taste and texture.

Reheat: To reheat, put your rose in the microwave for one to two minutes. For crispy potato roses, reheat them in the air fryer for two minutes.
More party food recipes:
Cooking tips:
The cook time can vary depending on the type and size of your spuds.

If you are worried about your potato flower staying together, use a cake ring and remove it just before serving.

Shorten prep time by slicing your veggies in advance so all you have to do is put them together and cook them when you are ready to serve.

These are typically crispy on the outside and soft in the middle. That is how they are supposed to be when they are finished cooking.

Be sure to use low-fat ground beef so your flowers are not greasy. 90/10 is what we used.

If you make the second recipe, be careful when removing the roses from the muffin pan. Use a slotted spoon or a small rubber spatula.
You could also use parchment paper or muffin holders to keep them together.
Cheesy Potato Flower
Ingredients
2

pounds

Russet potatoes

1/2

pound

ground beef

1

small onion

diced

1/2

cup

eggplant

diced

1

cup

tomato sauce

3

cloves

garlic

minced

1

teaspoon

rice cooking wine

1

teaspoon

soy sauce

1

teaspoon

Worcestershire sauce

optional

Salt and pepper

to taste

1

cup

Mozzarella cheese

shredded
Instructions
First, clean and peel the potatoes. After that, using a very sharp knife or mandoline, slice them thinly and place the slices in a bowl of cold water to soak for a few minutes.

In the meantime, place a medium or large saucepan with water and a bit of salt over medium-high heat. Once the water is boiling, add the sliced potatoes and simmer for 3-5 minutes.

Have a bowl with ice-cold water on hand, drain the potatoes from the boiling water and transfer them to the bowl with cold water for 3-4 minutes.

Once the potatoes are cool enough to handle, arrange them on a clean kitchen cloth towel or on paper towels to drain.

Place a large cast iron skillet or nonstick skillet over medium-high heat, start browning the beef and also add the onion and the eggplant. Cook until the beef is browned and the veggies are tender. Drain grease.

Next, add the tomato sauce, reduce the heat to medium-low and simmer for 2-3 minutes. Taste and adjust for salt and pepper.

Preheat the oven to 375 degrees F.

Next, pour the beef mixture into a round baking dish and arrange the potato slices on top starting around the outside and working your way in until it looks like a flower. Brush with cooking oil and bake for 20 to 30 minutes.

Sprinkle the mozzarella cheese on, around, and underneath the potato petals. Bake for another 10 minutes, or until the cheese is melted.

Garnish with chopped parsley and serve.
Deliciousness to your inbox
Enjoy weekly hand picked recipes and recommendations