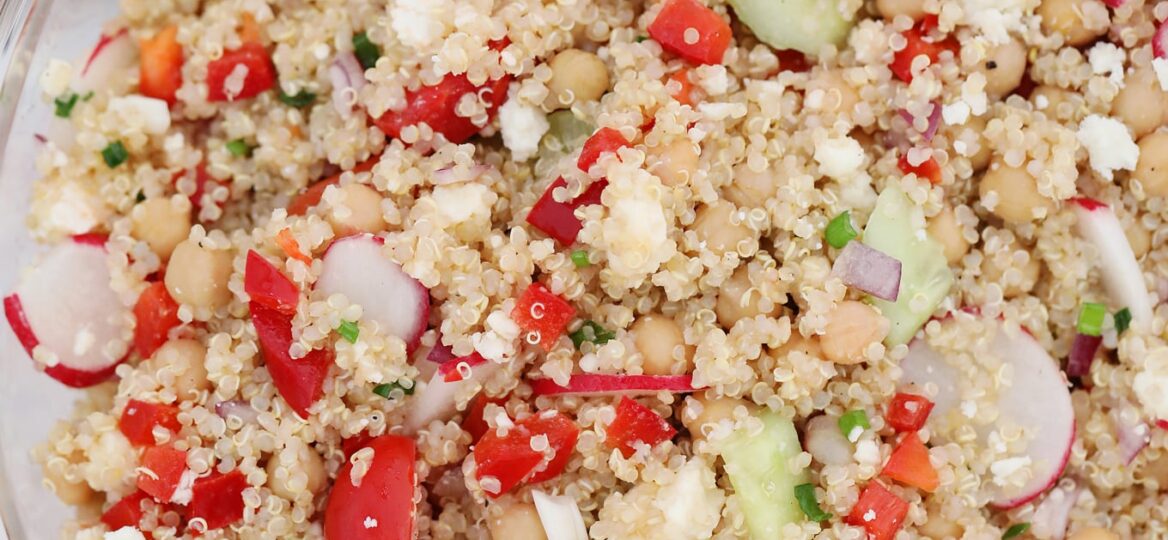 Quinoa Salad Recipe [video]
Quinoa Salad is a complete meal! It has the superfood quinoa that is rich in protein complemented by a bunch of veggies, fruits, and a light dressing!
We enjoy the cucumbers in our creamy cucumber salad, chickpeas in the chickpea salad, and lemon juice in the dressing of farro salad. In this easy recipe, we will use them again to turn the simple seed into an amazing dish!
Easy Quinoa Salad Recipe
Quinoa Salad is a quick dish to make that is both healthy and enjoyable to eat at the same time. It has all the textures and flavors that you could ever think of! Something that you can make in advance, this dish makes for a quick dinner and is quite filling, too.
It is easy to prepare as long as you've got all the ingredients ready, especially the star of the dish – the quinoa. For some, it is troublesome to prepare it. But if you have read our post on how to cook it perfectly, then, it should not be a problem.
This easy recipe is versatile. There are many variations of this salad but this one is our favorite. Feel free to add or omit ingredients in this recipe as you deem fit.
Is quinoa healthy? What are the health benefits?
It has a lot of health benefits that made this type of seed quite popular among people trying to live a healthy lifestyle. It is vegan, gluten-free, fiber- and protein-rich. A great replacement for rice, diabetics will benefit from it having a low glycemic index.
What more if we add it into a bowl of veggies and fruits that are also healthy? You get triple (or more) of the health benefits in just one cool dish!
Is quinoa supposed to be crunchy?
It becomes fluffy as it absorbs a significant amount of water as you cook it. Just like pasta, you may want to make it al dente, not crunchy.
What is quinoa salad made of?
This hearty side dish is a combination of cooked quinoa, vegetables, fruits, spices, and a light dressing. Also, we used chickpeas, English cucumber, cherry tomatoes, red bell pepper, radishes, red onion, green onions, and parsley.
For the dressing, prepare olive oil, lemon juice, red wine vinegar, garlic, fine sea salt, and some freshly ground black pepper.
How to cook quinoa on the stove?
To cook this al dente, the amount of water must be double the amount of the rinsed seeds.
First, rinse the seeds to remove the bitter taste. For the first half of the time, let it boil in water covered until it has absorbed the water and then, simmer uncovered for the rest of the time. Allow about 5 more minutes after cooking for it to fully absorb the water.
Note that a detailed post on how to cook this has been posted separately.
How to make a quinoa salad?
Cook the seeds and let them cool. Combine all the ingredients of the dressing in one bowl and set aside.
Next, toss the rest of the ingredients in a large bowl together with the cooked quinoa. Drizzle with the dressing and add in the crumbled feta cheese. Top with parsley and with some more of the feta cheese.
Chill this in the refrigerator for about 10 minutes at most before serving.
How to store it? How long can you keep quinoa salad in the fridge?
Put it in a closed container then, refrigerate. This refreshing dish can be refrigerated for up to 4 days.
How long can quinoa salad sit out?
As in any other salad, it must be left out for no more than 2 hours.
More healthy salads:
Recipe Tips
To make this dish extra flavorful, add in vegetable or chicken stock while cooking in place of water.
Before cooking the seeds, you may want to toast them first in a pan with very little olive oil.
Also, you do not need to cook a new batch if you have leftovers from the day before or so. Or, since it keeps well in the freezer, why not prepare a huge batch, pack in single portions, and then, freeze. Get only what you will need the next day and thaw overnight.
Any color of the quinoa can be used but it is nice to note that the red ones hold their shape longer and are more often used for salads.