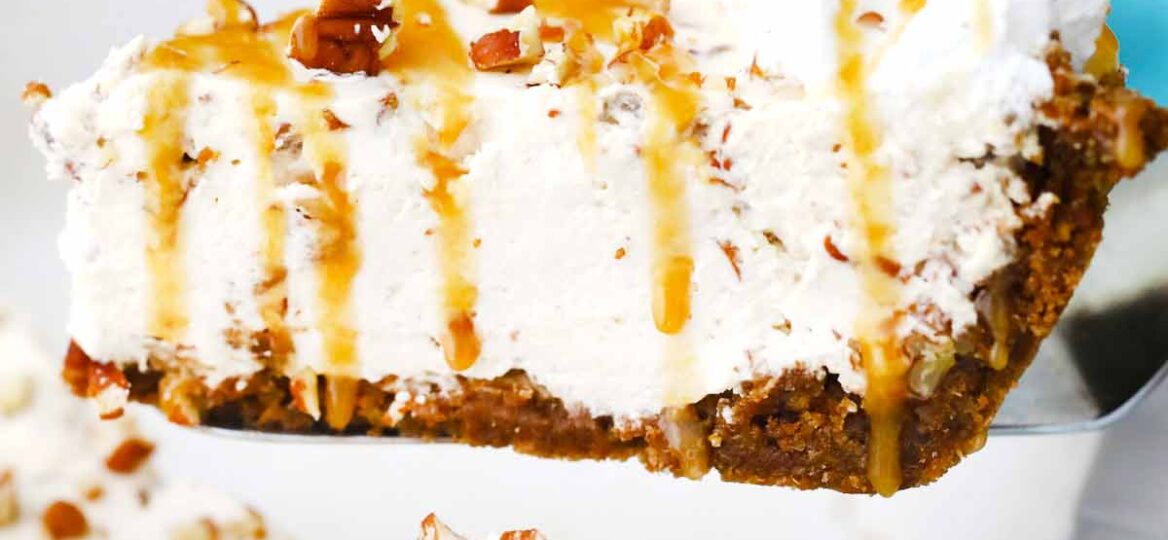 Pecan Cream Pie with Gingersnap Crust
Pecan Cream Pie is a light and fluffy, incredibly easy-to-make pie, sweetened with maple syrup, and with a delicious gingersnap crust. You may never want regular pecan pie again after making this easy and delicious recipe. It is a delicious dessert without being overly sweet since it is made with real maple syrup. With a homemade crust and a creamy filling, this may just be your new preferred homemade recipe for classic pecan pie.
According to food experts, pecan pie can be traced back to Native Americans who made it thousands of years ago. But the first pecan pie recipe was printed in a cookbook in Texas in 1870. The first cream pie was a Boston cream pie made at Boston's Parker House in 1856 by Chef Mossburg Sanzian.
For this yummy pecan cream pie recipe, all you need are six ingredients including pecans, cream cheese, brown sugar, and maple syrup. Then, you need heavy whipping cream and powdered sugar for the whipped topping. If you want to use the gingersnap crust, you will also need gingersnap cookies, butter, sugar, and cinnamon.
Ingredients needed:
To make this pecan cream cheese pie recipe, you will need the ingredients listed here. When you are ready to begin, find the recipe card at the bottom of the page for the exact measurements and instructions.
For the gingersnap crust:
Gingersnap cookies: Crushed into cookie crumbs.
Melted butter: Slightly cooled.
Granulated white sugar
Ground cinnamon
For the pecan cream pie ingredients:
Finely chopped pecans
Softened cream cheese
Pure maple syrup
Light brown sugar: Dark brown sugar is good too.

Powdered sugar: Confectioners' sugar or icing sugar.

Heavy whipping cream: Heavy cream.
How to make pecan cream pie from scratch?
Preheat the oven: Preheat your oven to 350 degrees F.
Mix the crust ingredients: While you wait, mix gingersnap cookies in a food processor until they turn into fine crumbs. Then, add the cinnamon and sugar, pulsing a few more times to combine. Pour in the melted butter and mix until well combined.

Bake the crust: Now, pour the crumb mixture into a nine-inch pie plate and use your fingers or a measuring cup to press it evenly onto the bottom and up the sides. Bake for five minutes and then cool on a wire rack. It has to cool completely before you can add the pecan cream pie filling.
Whip cream: Then, combine the powdered sugar and heavy cream in a small bowl. Using a hand mixer, beat for several minutes until stiff peaks form.

Make the cream cheese filling: In a large bowl, beat the brown sugar, cream cheese, and maple syrup until creamy. Fold the whipped cream into the cream cheese mixture and stir together until combined. Then, stir in a cup of the pecans.
Add the pecan cream pie filling: Next, spread the pecan cream pie mixture evenly into the cooled pie crust. Sprinkle the remaining chopped pecans on top. Then, cover and chill for at least eight hours or overnight before serving.

Make some extra whipped cream: If you make extra, you can use the remaining whipped topping to decorate the top of the pie.
Recipe variations:
Graham cracker crust: Instead of making your pie crust, you could just get a premade graham cracker crust. Or feel free to make your own graham cracker pie crust.
Vanilla extract: Give your whipped topping even more flavor with a teaspoon of vanilla extract.
Butter pecan cream pie: Add butter extract to make butter pecan cream pie. It is absurdly delicious and creamy.

Toasted finely chopped pecans: For even more flavor and crunch, use toasted pecans. Toast pecans at 360 degrees F for two minutes in the air fryer.

Pudding mix: To make a thicker beaten cream cheese mixture, add a small box of instant pudding mix. You can use vanilla or whatever flavor you like.

No maple syrup: Instead of maple syrup you can use corn syrup, but it will be sweeter.
How to serve:
Serve this Thanksgiving or Christmas dessert instead of the traditional pecan pie that you usually make, and you will have everyone asking for your recipe. Go ahead and give it to them. Our recipe card is printable. Try one of these serving ideas or share one of your own in the comments:
This cream cheese pecan pie is great with some butterscotch or white chocolate chips on top.

For even more flavor, add a dollop of Cool Whip topped with finely chopped toasted pecans. You could also use our easy candied pecans recipe for a sweeter pie.

You can even serve this pie frozen. It makes a delicious frozen dessert for summer!
This creamy pecan pie would be amazing with a scoop of butter pecan ice cream.
If you are serving this pecan cream pie for a fall dessert, it would be perfect with a glass of pumpkin spice latte.

Caramel is delicious with pecans. Why not drizzle some caramel sauce on top of this yummy pie?
Leave out the crust and make this a pecan cream pudding.
Frequently asked questions
How can I make my own pecan pie crust?
What is better than using a cookie crust? Pecan crust! All you need is 2 cups of pecans, 2 tablespoons of melted butter, 4 tablespoons of brown sugar, and 1 teaspoon of vanilla extract. Mix in a food processor or heavy-duty blender and then press it into a nine-inch pie pan. Bake for 20 minutes at 325 degrees and let it cool completely before filling.
Can I make this cream pie ahead of time?
Actually, it is best made the day before serving anyway because it has to chill for at least eight hours. You can make the pie crust two days ahead of time and leave it covered in the fridge until you need it. If you keep the crust and filling separate, you can even fluff the whipped cream back up before putting it all together.
What is a blind-baked pie shell?
Blind baking is when you bake a pie crust without a filling such as in this recipe. Others call it pre-baking, but it means the same thing. It is perfect for no-bake pies like this pecan cream pie. If you blind bake a chilled crust, line it with foil and use pie weights to keep it from bubbling up.
Can I use raw pecans?
You can use raw pecans for your pie, but the texture and flavor will be a little different. Since this is a no-bake pie, your pecans will not get cooked so if you use raw nuts, they will be chewier and have less crunch. Toasted pecans also have more flavor.
What are the nutrition facts in this recipe?
If you are worried about nutrition, calories, and fat, each slice of pecan cream pie has 635 calories, 40 grams of fat, 21 grams of saturated fat, and 1 gram of trans fat as well as 42 grams of carbs, 439 mg of sodium, 98 mg of cholesterol, and 28 grams of sugar. But you also get 8 grams of protein, 6 grams of unsaturated fats, 432 mg of potassium, 3 grams of fiber, 120 mg of calcium, 2 mg of vitamin C, and 1,382 units of vitamin A.
More recipes with pecans:
How to store leftovers:
Store: Your leftover pecan cream pie can be kept refrigerated for several days in an airtight container.

Freeze: To freeze, wrap it in plastic wrap and place it in a freezer bag. It can stay frozen for three months.

Thaw: Thaw frozen leftovers in the fridge overnight for best results.
Recipe tips:
It is best to use full-fat cream cheese for the creamiest filling, but you can use low-fat if you need to.

To shorten prep time, use Cool Whip instead of making your own whipped cream. You can also use a graham crust from the grocery store or even a ready-made pecan crust.

In fact, you can also use a refrigerated crust if you like that better.

Use pure maple syrup, not pancake syrup for the best maple flavor. They are not the same thing. You will find pure maple syrup by the other syrup but make sure it says pure.

For less fat and calories, use vanilla or unflavored Greek yogurt instead of cream cheese. However, it will not be as creamy.

Looking for other no-bake pie recipes? We have lots of dessert cuisine on our food blog.
Pecan Cream Pie
Ingredients
Gingersnap crust:
2

cups

gingersnap cookie crumbs

about 9oz of Gingersnap Cookies

2 1/2

tablespoons

granulated sugar

1/2

teaspoon

ground cinnamon

6

tablespoons

butter

melted and slightly cooled
Filling:
1

cup

heavy whipping cream

cold

1/4

cup

powdered sugar

16

oz

cream cheese

softened

1/2

cup

light brown sugar

1/4

cup

pure maple syrup

1 1/2

cups

finely chopped pecans
Instructions
Gingersnap crust:
Add the gingersnap cookies to a food processor and pulse until you have fine crumbs.

Next, add sugar and cinnamon and pulse a few times to combine everything.

After that, pour the melted butter and pulse until the mixture is combined.

Transfer the mixture to a 9-inch pie pan and use a cup to press it evenly onto the bottom and up the sides.

Bake for 5 minutes in the preheated oven. Transfer to a wire cooling rack to cool completely before adding the filling.
Filling:
In a chilled bowl, combine heavy whipping cream and powdered sugar, and using an electric hand mixer (or stand mixer), beat until stiff peaks form.

In a separate large bowl, beat the softened cream cheese, brown sugar, and pure maple syrup until combined and creamy. Stop to scrape the sides and bottom of the bowl a few times.

Next, fold the whipped cream into the cream cheese mixture, and stir until combined.

Also, stir in 1 cup of the finely chopped pecans.

Spread the filling into the cooled pie crust, level with an offset spatula. Sprinkle the remaining pecans on top.

Cover and refrigerate for 8 hours or overnight before serving.

For best results, decorate the pie with whipped cream roses before serving and drizzle with caramel sauce.