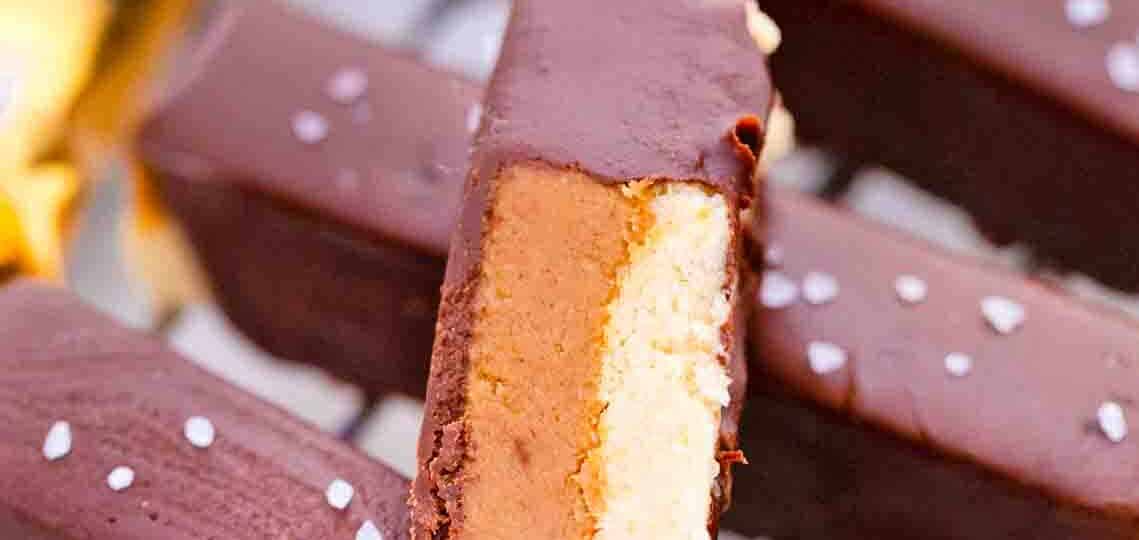 Peanut Butter Twix Bars – Healthier Version
Peanut Butter Twix Bars are gluten-free and have no processed sugar but taste absolutely delicious, and are incredibly easy to make. The peanut butter layer is made from peanuts and salt mixed with maple syrup to make a peanut butter caramel middle. Then it is poured onto a shortbread layer and coated in dark chocolate topping. You just cannot beat this recipe for a healthier version of the favorite candy bar you loved when you were a kid!
When you hear Twix bars, are vegan, gluten-free, and healthy, you may not expect them to taste good. But you would be wrong. Twix bars have been around for over 55 years, invented by Forrest Mars of the Mars Company in 1967. It was first sold in the UK but was brought to America in 1979. The first Twix bars were actually called Raider Bars, but they changed the name because they are twin biscuits in each package. Twin and Bix, Twix.
If you have never had peanut butter Twix candy bars, you do not even know what you are missing. This is like a peanut butter Twix bar and Reese's chocolate peanut butter cup together for the perfect flavors of salty and sweet.
Naturally sweetened with pure maple syrup or honey, these yummy and healthy peanut butter Twix bars are made with better-for-you ingredients.
Ingredients needed:
To make these vegan peanut butter Twix bars, you need just a few ingredients listed here. When you are ready to begin, scroll down to our handy printable recipe card for the complete instructions and measurements.
Chopped dark chocolate
Maple syrup
Almond butter
Creamy peanut butter

Coconut flour
Almond flour
Melted coconut oil
Vanilla extract
Flaky sea salt
How to make vegan peanut butter Twix bars from scratch?
Preheat oven and prepare pan: First, preheat the oven to 350 degrees F and line an 8-inch square baking pan with parchment paper.

Make the cookie crust: While you wait for the oven to heat up, mix the salt, one teaspoon of vanilla extract, two tablespoons of honey, 1/3 cup coconut oil, coconut flour, and almond flour in a medium bowl until it is thoroughly combined.

Bake the crust: Next, press the cookie layer into the bottom of the prepared baking pan and bake for 10 to 12 minutes. It should be lightly golden.

Make peanut butter caramel layer: Now, add the almond butter, peanut butter, 1/4 cup of maple syrup, 1/4 cup of coconut oil, and one teaspoon of vanilla extract to a small pot. Stirring constantly, bring it to a gentle boil over medium heat. Cook for two minutes before removing it from the heat.

Chill the filling: Pour the peanut butter filling over the cooled crust and freeze for one hour or until it is firm. Cut into 16 bars.

Melt the chocolate: Next, melt the dark chocolate and coconut oil in the microwave in a microwave-safe bowl for one minute or until melted. Let it cool for 10 minutes.

Make chocolate layer: Finally, dip each bar into the melted chocolate and sprinkle with sea salt flakes. Freeze for another 10 minutes to set before serving.
Recipe variations:
A different oil: Feel free to use other oils that firm when chilled such as palm oil.
Another flour: You could also use oat flour in place of almond flour or coconut flour.

Chocolate chips: You can use chocolate chips instead of chopped chocolate.

No dairy: Use dairy-free chocolate and you can have vegan peanut butter Twix bars that are also safe for those with dairy allergies.

Other nut butter: You can switch peanut butter to cashew butter or another kind of nut butter you like.

No syrup: If you do not have (or do not like) maple syrup, you can use honey or agave nectar (agave syrup).
PB&J bars: Add a layer of strawberry preserves for a PB&J taste.
How to serve:
These homemade Twix bars are perfectly sweet and made with a gluten-free shortbread base that tastes amazing. Try one of these neat serving ideas below or share some of your ideas in the comments section at the bottom of the page.
Add chocolate chips on top of your vegan Twix bars for an extra chocolatey flavor.

If you love these delicious homemade vegan Twix bars, try our recipe for homemade Snickers and other great candy bars. Our Snickers bars are simple to make and fast to set up.

Top these with nuts for crunchier Twix bars. Or you could use crunchy peanut butter instead of creamy.

These go great with ice cream. Try our easy recipe for Oreo ice cream with just three ingredients.

Add a bit of rainbow sprinkles on top before the chocolate layer hardens for a festive look.
Use vegan butter to make this caramel sauce and drizzle some on top before chilling.

These are great for lunchboxes but make sure you pack them with a cold pack, so they do not melt.
Frequently asked questions
What kind of nut butter is healthiest?
If you really love peanut butter, you can make your own natural peanut butter with peanuts and salt. But if you just want to use the healthiest nut butter, almond butter is the one with the most healthy fats. Walnut butter has lots of omega-3 fatty acids but is hard to find. And cashew butter has less sugar than regular peanut butter off the shelf.
Why won't my homemade vegan Twix bars set?
Did you use the right coconut oil? If you used liquid coconut oil instead of melted solid coconut oil, it can affect the outcome greatly. In fact, you should not try using vegetable oil or any of those other oils that do not turn into a solid at room temperature. You have to use melted oil rather than liquid oil.
What about vegan butter?
Vegan butter instead of coconut oil will work too. In fact, any butter will work because it turns into a solid at room temperature. However, it has to be butter and not margarine because margarine is too soft. It will set slightly but will never get firm enough to cover the chocolate layer properly.
Are these vegan peanut butter Twix bars healthy for kids?
Although some sugar-free and vegan recipes contain artificial sweeteners that can be hard on a child's digestive system, these are not. They are made with simple unrefined sugar in pure maple syrup and healthy nut butter and flour. If you need it to be sugar-free, you can use a natural sweetener like Stevia.
What are the nutrition facts in this recipe?
One bar has 315 calories, 20 grams of fat, and 9 grams of saturated fat as well as 13 grams of sugar, 28 grams carbs, and 340 mg sodium. On the other hand, it also has 2 mg iron, 82 mg calcium, 1 mg vitamin C, 3 grams fiber, 221 mg potassium, 8 grams monounsaturated fat, 3 grams polyunsaturated fat, and 10 grams protein.
More no-bake desserts:
How to store leftovers:
Store: You can store your leftover vegan peanut butter Twix bars in an airtight container or gallon-size zip baggie in the fridge for up to a week.

Freeze: It is also good to freeze your leftovers for up to 60 days in a freezer bag or freezer-safe container if you cannot finish them in a week.
Thaw: You can thaw these overnight in the fridge before serving.
Recipe tips:
Make sure the cookie bars are completely chilled before dipping them into the chocolate.

Be sure to store these in the fridge or they will melt.

If you do not care about them being vegan and gluten, feel free to use regular flour.

Use dark chocolate and pure maple syrup for refined sugar-free chocolate bars.

You could also use a loaf pan lined with parchment if that is all you have.

Make your own natural peanut butter layer. Just add peanuts and salt to a food processor and pulse until combined.

You can also make your own almond flour with ground almonds.
Peanut Butter Twix Bars
Ingredients
Crust:
1

cup

almond flour

1/3

cup

coconut flour

1/3

cup

melted coconut oil

2

tablespoons

maple syrup

1

teaspoon

vanilla extract
Filling:
1

cup

creamy peanut butter

1/4

cup

almond butter

1/4

cup

maple syrup

1/4

cup

melted coconut oil

1

teaspoon

vanilla extract
Coating:
12

ounces

dark chocolate

chopped

1

tablespoon

coconut oil

sea salt

optional
Instructions
Preheat the oven to 350 degrees F. Line an 8×8 inch baking dish with parchment paper and set aside.

In a bowl, mix the crust ingredients until combined. Press the mixture into the prepared baking dish.

Bake for 10-12 minutes, or until lightly golden.

Place a small saucepan over medium heat, and combine the filling ingredients. Stir constantly and bring to a gentle boil. Cook for 2-3 minutes, then remove from the heat.

Pour the peanut butter mixture over the crust and freeze for one hour, or until firm.

Transfer the contents from the baking dish onto a cutting board and using a sharp knife cut into 16 bars.

In a small bowl, melt the chocolate and 1 tablespoon coconut oil in the microwave. Stir and let it cool for 10 minutes.

Next, dip each bar in the melted chocolate, place it on a wire rack, and sprinkle it with salt.

Freeze for 10 minutes, to set the chocolate and transfer to the fridge. Serve.
Deliciousness to your inbox
Enjoy weekly hand picked recipes and recommendations