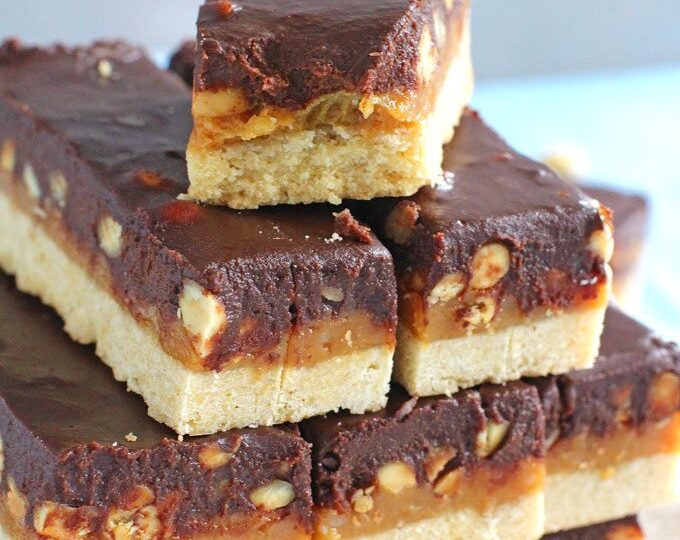 Homemade Snickers Bars [VIDEO]
Homemade Snickers Bars are very easy to make and melt in your mouth with deliciousness. Buttery shortbread, caramel with crunchy peanuts and chocolate!
Since we love caramel desserts, I try to mix different recipes on our blog. Among our favorite caramel desserts are Brown Butter Dulce de Leche Bars, Salted Caramel Apple Madelaines and Chocolate Caramel Cheesecake.
Homemade Snickers Bars
Homemade Snickers Bars are such a treat and so much fun to make! A thick and buttery shortbread layer is topped with homemade caramel sauce. Also, it has lots of crunchy peanuts and everything is finished with a layer of chocolate ganache.
Homemade Snickers Bars are addicting, be aware! We literally couldn't stay away from these and I ended up making three batches in one week. They are that good!
The combination of melt in your mouth shortbread with the caramel, chocolate and peanuts is nothing short from pure delight and taste buds happiness! Do yourself a favor and make these asap.
Homemade Snickers Bars Recipe Tips
First things first, the shortbread layer, the dough for this layer will be thick. Almost like play dough. Therefore, make sure you incorporate well the flour, until the dough is shiny and well combined. Also, don't forget to poke some holes into it with a fork.
Also, the caramel layer is made of condensed milk and dark corn syrup. Since you have to simmer it, stay close to it and stir often so you don't burn it and don't boil it.
Use dark corn syrup, don't substitute for light corn syrup. Because the caramel color will be pale if you do.
The chocolate ganache is pretty easy to make. However, make sure you use high quality chocolate, so it tastes good!
Don't forget to add parchment paper to the baking pan. Overhanging on the sides, to create "handles" for easy removal.
Tools/Ingredients I used to make these Homemade Snickers Bars:
Semi Sweet Chocolate – you can use dark, milk or semi-sweet chocolate in these bars, based on your own preference. I find the semi-sweet to balance the sweetness from the caramel nicely.
Dark Corn Syrup – it will add that deep golden brown color to your caramel
Parchment paper – a kitchen staple, it just makes life so much easier with its non-stick magical powers
Watch recipe step by step video: