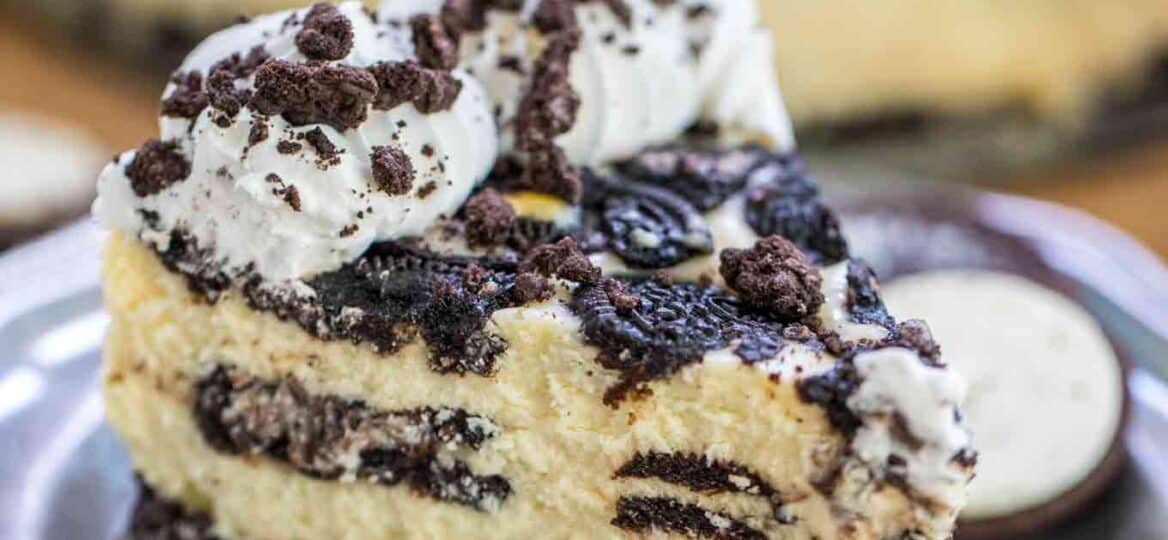 Best Oreo Cheesecake [Video]
Oreo Cheesecake is the perfect dessert for any time of the year. It is decadent, served on an amazing Oreo cookie crust, made with layers of cookies, and finished with chocolate ganache. This dessert is utterly delicious and irresistible!
We have a lot of cheesecake recipes to select from. They are our favorite sweets, and this Oreo Cheesecake recipe is probably one of the best we have. It is simple and easy to make, and no water bath required. Check out our other favorites ones such as Red Velvet Cake and Cheesecake Factory Original Cheesecake.
Homemade Oreo Cheesecake
Oreo Cheesecake is something we make quite often and can certainly say that it's the best cake on the planet. If you love Oreos then this is the recipe you need to follow, because when it comes to a dessert like this one, it is guaranteed to impress everyone. Just look at the slice of this beautiful cake, and see how rich and creamy it is! When you bite into it, you are guaranteed to have a cookie in every single bite. It does not get any better than this.
The base of this recipe starts with an Oreo crust, which is just a simple mixture of cookie crumbs and some melted butter. The rest is pretty much filled with amazing cheesecake mixture and chocolate ganache. We provide plenty of tips below on how to assemble the cake and to ensure it comes out crack-free and restaurant-quality proof.
How to Make an Oreo Cheesecake?
This dessert recipe is pretty easy to make, but it does require a little time and patience for the cake to bake and after that to chill. Also, watch the video tutorial attached and you'll see how to follow every step precisely.
The base of this recipe starts with the crust, which is just a simple mixture of crumbs and some melted butter. Simply, combine them together in a bowl, and then scoop it into the springform pan and bake it. It is important that the pan does not leak, as the cake batter is quite thin and will drip out otherwise.
The filling is made with cream cheese, sugar, some flour, sour cream, vanilla, and eggs. In a bowl, mix these ingredients together in a slow speed. Mixing at a slow speed will ensure that there is no air bubble that can cause cracks when backing.
While Oreos are added to create another delicious layer, and also crumbled cookies are added on top, to create another delicious dimension of flavor and textures.
HOW DO I KEEP MY CHEESECAKE FROM CRACKING?
No matter how hard you might try, sometimes cracks are just unavoidable. In this recipe, you can easily conceal them with a sweet dark chocolate ganache covering. But to avoid the cracks, try following the below steps:
First, always try using room-temperature ingredients. Set your cream cheese, sour cream, and eggs out to reach room temperature before mixing everything together.
Also, don't over-beat the filling. You want to mix the ingredients at a slow speed not to form bubbles, just mix slowly just until combined.
Once the cake is almost cooked, do not remove it right away from the oven. Instead, leave the oven door slightly open for it to cool down a bit.
Immediately after removing the cheesecake from the oven, run a sharp knife around the inside of the pan to separate the edge from the pan. This will help prevent cracks as it cools down.
HOW TO REMOVE IT FROM THE SPRINGFORM PAN?
Make sure it is completely cooled before removing it.
Then, carefully run a sharp knife around the edge of the pan, starting all the way up and working your way down.
Unbuckle the springform pan and remove the circular band once the cake has properly cooled.
Similarly, you could also place parchment paper to the bottom of the pan when cooking. This will help to easily remove the cake from the pan.
More cheesecake recipes:
Recipe Tips:
Plan ahead! Even though this oreo cheesecake recipe is easy to make it takes some time to assemble. I recommend allowing a minimum of 6-8 hours in the fridge to set properly.
I strongly suggest using a 9-inch springform pan for this recipe because it is the perfect size for this dessert.
Make sure that your cream cheese is at room temperature before getting started, this ensures a smoother filling with no lumps.
Don't leave out the sour cream! It gives this dessert a richer flavor.
You can buy the family size pack of regular Oreos since you will be using quite a few in this recipe.
Similarly, to make the crust, place the cookies in a large Ziploc bag and smack them a few times with a rolling pin.
Do not worry too much about cracks that may result in this recipe. Any cracking that occurs can easily be covered by the crushed cookies and by some chocolate ganache and whipped cream.