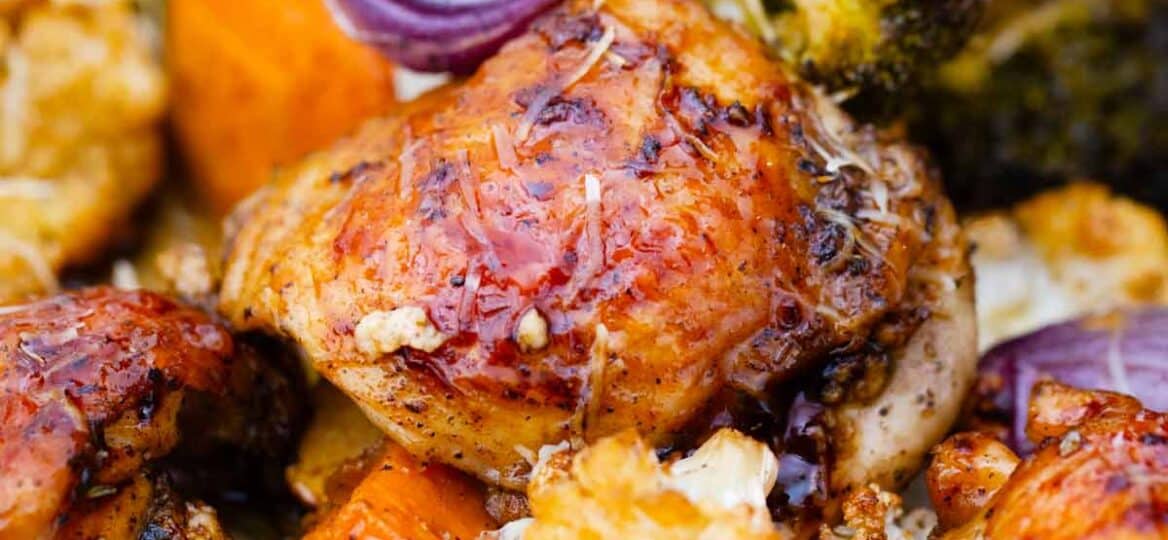 Balsamic Parmesan Chicken and Veggies Recipe
Balsamic Parmesan Chicken and Veggies is a flavorful sheet pan dish with chicken thighs, balsamic vinegar, lots of veggies, and various Italian herbs. It is a great weeknight meal since you can make this easy recipe all in one pan for easier cleanup. It is one of my favorite recipes and it is gluten-free with lots of healthy vitamins.
Although many people think that parmesan chicken was first made in Italy, it was made in the Italian section of the United States during the 1900s. It was based on the parmigiana di melanzane dish made with fried eggplant only made with chicken instead. This balsamic parmesan chicken recipe was adapted later in Italy.
This parmesan balsamic chicken and veggies recipe is one that you will want to save in your recipe box so you can make it again. With little prep time, great flavor, very little legwork, and a short cook time, it checks all the boxes. All you need are a handful of ingredients including chicken, vegetables, parmesan cheese, garlic, and some herbs and spices.
Ingredients needed:
For this sheet pan chicken and veggies recipe, each ingredient has its purpose so before you decide to leave anything out, check out why we used it. Scroll down to our recipe card for complete instructions and exact measurements.
Large bone-in chicken thighs: You can use chicken with or without the skin and the bones. However, we feel the bone and skin keep your chicken moist and give it extra flavor. But if you are looking to cut fat and calories, you can remove the skin.
Large sweet potato: Rather than using russet or red potatoes, sweet potatoes give this dish a unique mild sweetness that blends nicely with the other vegetables.
Broccoli florets: Instead of stems, broccoli florets have a sweeter taste and softer texture.
Cauliflower florets: Similar to broccoli, the florets of cauliflower are also more tender and have a better flavor.
Sliced shallots or red onion: Unlike green onions and scallions, shallots have a more garlicky flavor. They add extra garlic flavor blended with onion for a unique taste.
Extra-virgin olive oil: Extra virgin olive oil is cold pressed and does not have any chemicals, unlike regular olive oil. It also has a milder flavor, so it is great when you want the oil but not the flavor of olives.
Minced garlic cloves: Minced garlic has a much milder and fresher flavor. Garlic powder is better when you want a stronger garlic flavor without the texture.
Grated parmesan cheese: Parmesan cheese makes this dish rich and tangy with a sharp nutty taste. With just a little bit of parmesan cheese, you can give your chicken and veggies another level of flavor.
Balsamic vinegar: Balsamic vinegar is made from grape juice boiled and aged for years. Other vinegars are made from wine and have a stronger taste that makes any dish tangy. Being part of the name, balsamic vinegar is an important ingredient.
Dried Italian herbs: Instead of using all those spices individually, you can use dried Italian herbs to get all the flavors in one. It usually includes thyme, rosemary, oregano, basil, and marjoram.
Dried marjoram: Extra marjoram (including the Italian herbs) gives your food a distinct earthy aroma. If you do not have marjoram, you can use oregano since they both have that woodsy flavor.
Sweet paprika: This will add some sweetness with a fruity and tart flavoring.
Salt
Ground black pepper
How to make sheet pan balsamic chicken and veggies from scratch?
Preheat the oven and prep the pan: Preheat the oven to 450 degrees F and spray a large-rimmed baking sheet with non-stick cooking spray.
Coat the vegetables: Now, combine broccoli, sweet potatoes, cauliflower, shallots, 1/4 teaspoon pepper, 1/4 teaspoon salt, and two tablespoons of the oil in a large bowl. Mix well and pour it onto the prepared baking sheet.
Make the balsamic sauce: Next, combine garlic, vinegar, marjoram, Italian herbs, sweet paprika, and the rest of the oil, salt, and black pepper in a small bowl.
Coat with garlic mixture: Then, add chicken with half of the balsamic sauce onto the baking pan and cook for 15 minutes.

Toss and drizzle: Now, toss veggies and sprinkle the remaining balsamic sauce onto the chicken. Add parmesan and continue roasting for another 10-15 minutes or until the veggies are fork-tender and the chicken is 165 degrees F on a meat thermometer.
Season and serve: Finally, season with salt and pepper and enjoy.
Recipe variations:
Chicken breasts: If you like white meat better, instead of chicken thighs, you can use chicken breasts or chicken tenders. Chicken breast meat tends to be dryer than thighs though so keep that in mind.
Other vegetables: Feel free to add different veggies to this flavorful dish like bell peppers, green beans, carrots, cherry tomatoes, and Brussels sprouts (also known as Brussel sprouts).
More herbs: Similarly, you can add more herbs and spices from your spice arsenal like dried oregano, brown sugar, thyme, onion powder, and garlic powder.
Breading: This chicken dish would be even more delicious with a breading of panko added.
Honey: For a little bit more sweetness, add a tablespoon of honey or maple syrup to your glaze.
Different meat: Although the name suggests chicken, feel free to use your favorite meat like beef, pork, or turkey.
Marinade it: Your chicken will be even more tender and flavorful if you marinade it in the balsamic vinegar for 15 to 20 minutes before cooking.
How to serve:
This sheet pan balsamic parmesan chicken vegetables recipe is delicious and since you use only one pan, there is not as much cleanup afterward. It is the perfect meal for a busy weeknight or any time. Try one of these delicious serving ideas or share some of your own in the comments section at the bottom of the page.
Everything tastes better with cheese. Add some shredded mozzarella, cheddar, or Monterey jack on top while it is still hot for a melty topping.

Give the chicken and veggies a drizzle of your favorite barbecue sauce to make it even more unique. Or you can use our sweet and tangy homemade barbecue sauce recipe.
You can also make your dish citrusy by adding some orange, lemon, or lime zest on top.
For a heartier meal, serve your chicken and veggies over rice or pasta. We have a terrific recipe for brown rice risotto to try!
Are you a spicy food fan? Why not add a pinch of red pepper flakes or some cayenne pepper?
Another way to serve your balsamic parmesan chicken is with a salad. We have several salad recipes you can try including this sweet and fresh pear salad.
Use leftovers to make chicken parmesan balsamic casserole or some other casserole your family loves.
Frequently asked questions
Should I cook this with the skin removed?
You can make this delicious recipe with or without the skin. It is up to you. But if you cook it with the skin removed, it can become dry. The skin has a lot of fat to keep your meat moist and it also protects it from drying out. But if you are looking for less fat and calories, skip the skin.
What is the difference between chicken parmesan and chicken parmigiana?
This is chicken marinated in balsamic sauce and sprinkled with parmesan, while parmigiana is chicken coated in breadcrumbs or panko and parmesan cheese. Then, they are usually deep-fried before baking them with marinara sauce and melty mozzarella cheese. Some recipes call for a topping of bacon as well.
How do I get the best balsamic vinegar?
Choosing the best balsamic vinegar is easy if you know what to look for. The first thing is aging. To be a traditional balsamic vinegar, it has to be aged at least 12 years. The ingredients are also important. It should include grapes while the cheaper ones will have wine vinegar, flavorings, and other ingredients. Also, where it is made is another good indicator. It should be made in the Reggio or Modena areas.
What temperature should my chicken be?
Before eating any chicken, it should read 165 degrees F on a meat thermometer. It should also have no pinkness in the meat. One thing to note is that you can remove it from the heat when the temperature is 160 degrees F. The temperature will continue to rise as it rests and will be 165 degrees F within five or 10 minutes.
More easy chicken recipes to try:
How to store leftovers:
Store: You can store your leftover chicken and veggies in an airtight container or a zip-top bag for three or four days.
Freeze: To freeze, wrap it in plastic and then place it in a freezer-safe container like a freezer bag for 90 days.

Thaw: For the best flavor and texture, be sure to thaw your chicken and veggies overnight in the fridge.

Reheat: To reheat, put the chicken and veggies in the microwave for one to two minutes.
Cooking tips:
Try to chop all the veggies roughly the same size so they cook evenly. At the cooking time in the recipe, the broccoli and cauliflower florets will still have a slight crunch to them.
To be completely done, an instant-read thermometer inserted in the thickest part of the chicken without touching the bone registers 165 degrees F.

If you are looking for other sheet pan dinners, we have lots of them on our food blog.
You can cover your pan in parchment paper for even easier cleanup.
Check out the nutrition facts at the bottom of the page for an estimate of the vitamins, minerals, calories, and fat.
If you use a different cut of chicken or boneless chicken, you will need to adjust the cooking time.

Soak your chicken in balsamic vinegar for about 15 to 30 minutes for more flavor.
Balsamic Parmesan Chicken and Veggies
Ingredients
4

large bone-in chicken thighs

or chicken breasts

4

cups

broccoli florets

3

cups

cauliflower florets

1

cup

sliced shallots

or 1 large red onion

1

large sweet potato

peeled and cubed

3

tablespoons

extra-virgin olive oil

divided

1/2

teaspoon

salt

or to taste

1/2

teaspoon

ground pepper

divided

1/2

teaspoon

dried Italian herbs

1/2

teaspoon

sweet paprika

4

large cloves garlic

minced

1

teaspoon

dried marjoram

or oregano

4

tablespoons

balsamic vinegar

1/3

cup

grated Parmesan cheese
Instructions
Preheat oven to 450 degrees F.

Lightly grease a rimmed baking sheet with cooking spray and set it aside.

In a large bowl, combine broccoli florets, cauliflower florets, shallots or red onion, sweet potato cubes, 2 tablespoons olive oil, 1/4 teaspoon salt, 1/4 teaspoon pepper, dried Italian herbs, and paprika. Toss well to coat.

Transfer the veggies to the prepared baking sheet and spread them into an even layer.

In a small bowl, combine minced garlic, marjoram, or oregano, the remaining 2 tablespoons of oil, salt, and pepper. Coat the chicken with the garlic mixture, rubbing it well into the chicken.

Arrange the chicken on the baking sheet on top of the veggies.

Roast everything in the preheated oven for 15 minutes.

After that, toss the vegetables, and drizzle the chicken with the balsamic vinegar.

Sprinkle the veggies and the chicken with Parmesan and continue to roast until the vegetables are tender and the chicken nicely browned, about another 10-15 minutes. An instant-read thermometer inserted in the thickest part of the chicken should read 165 degrees F.

Remove from the oven, and let everything cool for 10 more minutes. If desired sprinkle more parmesan on top, and some chopped fresh parsley, and serve.