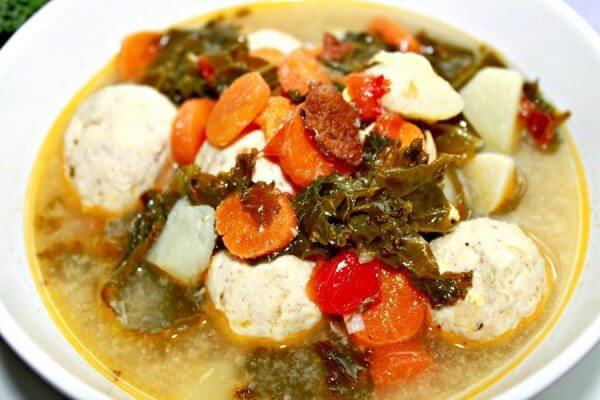 Homemade Bacon Chicken Kale Soup
Homemade Bacon Chicken Kale Soup is a hearty and healthy soup for the whole family to enjoy! It is loaded with kale, bacon, ground chicken, and a ton of vegetables.
I love making easy and delicious soups during the fall and winter months. For more delicious and comfortable soups, check out my Instant Pot Ham and Bean, Instant Pot Italian Meatball, and Instant Pot Tomato Soup.
Kale Soup with Chicken
This Homemade Bacon Chicken Kale Soup is loaded with vegetables, lean ground chicken meatballs that are soft, and soak all the great flavors from the broth. Also, the crispy smoked bacon bites and a healthy dose of kale add just the right amount of chewiness and a load of vitamins and nutrients.
I used only 3 slices of smoked bacon and that was enough to add depth and flavor to the broth. In addition, I prefer this hearty soup with poultry meatballs to keep it on the healthier side.
However, if you don't have time to make them you can cube 2 chicken breasts and you are good to go. In that case, you would have to sauté the meat with the veggies.
This healthy chicken and kale soup is delicious while still being healthy. In particular, I like all the different textures here. The moist and juicy meatballs, the chewy kale, the crispy bacon, and the variety of veggies make this dish special.
Also, you have here potatoes, peppers, and corn, all nice and soft, but not overcooked. Just the perfect family dinner to enjoy during a cold winter night!
Ingredients:
Oil: You can use canola oil or olive oil.
Ground chicken: I love using lean ground chicken breast here to keep the dish on the healthier side. Also, go with organic meat whenever possible.
Veggies: A combination of carrots, red bell peppers, and potatoes.
Bacon: This is optional, but I love incorporating some bacon bits into the soup to add some extra flavor to it.
Fresh kale
Broth: I highly recommend using homemade chicken broth. This way, you know exactly what goes into it. If not, then go with a store-bought chicken broth or vegetable broth.
Egg yolks
Seasoning: Salt, black pepper, and paprika.
Garlic
How to make chicken kale soup?
Cook the bacon: First, in a large pot over medium heat, add some oil, and cook the bacon until crispy.
Sautee the veggies: Then, add in the sliced carrots, potatoes, and bell pepper. Season to taste, and cook everything for about 10 minutes.
Add the broth and the chicken: Next, add the chicken stock, and stir together. Then, add the ground meat to the pot.
Cook on low: Continue to cook on low heat for another 20 minutes, until the meat is cooked.
Add the kale: Lastly, add in the chopped kale, and cook for a few more minutes until tender.
Serve: Enjoy it with crusty bread on the side!
Variations and substitutions:
Meat: Swap the ground chicken with lean ground beef, or ground turkey. Also, feel free to use Italian sausage.
Other veggies: You can also mix in your favorite veggies. Some great additions would be celery, diced tomatoes, cubbed zucchini, broccoli, etc.
Greens: Substitute kale with spinach or green beans.
Vegetarian kale soup: To make it vegetarian, simply omit the bacon and ground meat and use beans instead. Also, use vegetable stock.
Creamy: Turn it into a creamy chicken kale soup by adding half a cup of heavy cream during the last 5 minutes of cooking.
Is Kale good for you in soup?
Absolutely! Kale is a superfood, and according to bbcgoodfood, it has plenty of benefits. First, it is low in calories, high in fiber, and has zero fat. So, you can eat plenty of eating without feeling guilty.
Also, it supports healthy immunity and protects against heart disease.
Can I lose weight eating chicken kale soup?
Yes! This soup is super healthy especially if you make it with lean ground chicken or turkey. Also, I would skip the bacon if you are looking to lose some weight.
This is a low-fat soup option that is also low in calories. Therefore, enjoy it without worrying about the calorie load.
Storing instructions:
Refrigerate: First, let it completely cool at room temperature. Then, transfer leftover soup to an airtight container and refrigerate for up to 4 days.
Freeze: Use a freezer-safe bag, and freeze it for up to 3 months.
Reheat: You can easily reheat it in the microwave, or a soup pot over low heat until warm.
More healthy soup recipes to try:
Recipe tips:
For extra flavor, top it with some shredded parmesan cheese or chopped green onion.
Serve it with some homemade dinner rolls or crusty bread on the side.
Also, use your favorite dried herbs and seasonings here. Some great additions would be a bay leaf, red pepper flakes, garlic powder, onion powder, Italian seasoning, etc.
To make it denser, add some cannellini beans or pinto beans.