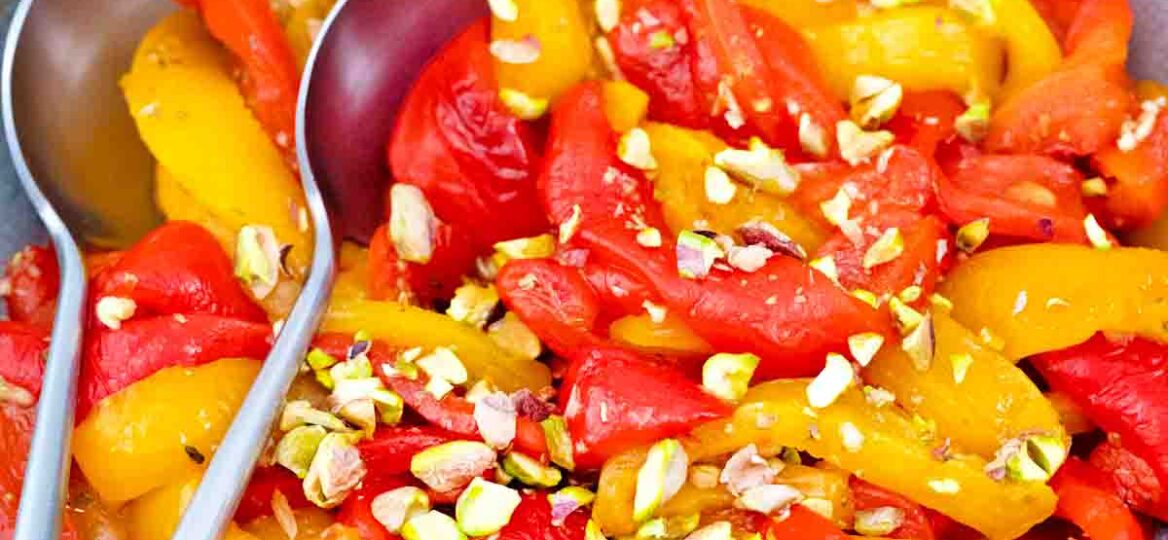 Roasted Bell Peppers – Always Perfect!
Roasted Bell Peppers are easy to make, tender, sweet, and juicy, they can be enjoyed in a salad, or to make a killer bruschetta. Why use jarred roasted red peppers when you can make your own from scratch? Store-bought peppers are made with citric acid that alters the flavor. Making your own is easy and saves you lots of money too. If you love roasted red peppers, this easy recipe for roasted bell peppers will become one of your favorites.
Bell peppers have been around since 1493 when they were imported to Spain, Asia, and Europe. They are often used in Mexican, Italian, and American dishes. Roasted bell peppers are also a staple in the Mediterranean diet and the French use them too but they call them poivron, which means pepper in French. It is also thought that they were a common food in China during the early years.
There are many recipes for roasted bell peppers out there but this one is by far my favorite. It is so easy and all you need are a few ingredients including garlic, vinegar, oil, oregano, sugar, and salt. And bell peppers of course. You probably already have these in your kitchen, so you do not even have to go shopping!
Ingredients needed:
To make our roasted peppers recipe, gather these ingredients. Then, scroll down to our recipe card for the instructions and measurements.
Fresh red bell peppers: Chopped lengthwise.
Minced garlic
Red wine vinegar
Extra virgin olive oil
Dried oregano
Granulated white sugar
Kosher salt
Chopped pistachios
How to make roasted bell peppers from scratch?
Preheat oven: First, preheat the oven to 400 degrees F.
Chop and deseed: In the meantime, chop the whole peppers in half lengthwise and remove the seeds.
Roast peppers: Then, place peppers in a single layer skin side up on a parchment-lined baking sheet. Bake in the preheated oven for 35 to 40 minutes.
Peel and slice: After they are cooked, let peppers cool enough to handle, and you can peel them easily. Then, simply slice them lengthwise and toss them in a medium bowl.
Toss to coat: Now, add the olive oil, vinegar, garlic, oregano, salt, and sugar. Toss to coat evenly.
Serve the bell peppers: Finally, marinate for at least 30 minutes before serving.
Recipe variations:
More herbs and spices: Feel free to use other herbs and spices like thyme, rosemary, garlic powder, or smoked paprika.

Other oils: You could also use a different oil like canola or vegetable oil.

Different vinegar: Instead of red wine vinegar, try using white wine vinegar, balsamic vinegar, or even champagne vinegar.
Heat it up: Make your roasted bell peppers spicy. Add a pinch of red pepper flakes or cayenne pepper.

More veggies: Why not add some sliced red onions, chopped green onions, celery hearts, and sliced carrots?

Add meat: Make it a hearty meal by adding some chopped steak, chicken, pork, or turkey.
How to serve:
You can serve roast red and yellow peppers on a sandwich, in a salad, or with a fork. Check out some of our great serving suggestions here and our recipe and storage tips below.
These homemade roasted red peppers would also taste great in roasted red pepper pesto. Then you can use it for our pasta dish, instant pot pizza pasta.
Peeled peppers are soft and juicy, easy to eat even for children. Chop them up and serve them on toast for an after-school snack.
Roasted bell peppers are great in tossed salads or pasta salads. Try them in our recipe for the best taco pasta salad.
Make your own roasted bell peppers in a jar. Pour some olive oil into an airtight jar, add the peppers, sliced garlic, and some salt. Seal and chill for 12 hours. They will stay fresh for up to two weeks.

Place a slice of goat cheese on a slice of crusty bread and top it with roasted bell peppers and top with honey mustard sauce. Put it in the broiler for two or three minutes for a yummy snack that is actually healthy food.

Use leftover peppers for pizza topping or in stew or soup.

Another way to use leftovers is by adding them to your next casserole.
Frequently asked questions
Can I just roast the whole red pepper?
Sure, there is no reason why you cannot cook whole red peppers in the oven. Then, take them out and steam them in a baggie or by covering them with plastic wrap. After, hold one pepper at a time by the stem and poke a hole in it to release the steam. Then, it is easy to remove the seeds and inner membranes by scraping them with a spoon. Peel the skin and they are ready to chop and marinate.
Can I save these in a jar for future use?
Yes, just put them in a jar with a tight-fitting lid and leave a couple of inches at the top. When freezing, the liquid will expand so you need the extra room or the glass could break. Use a mason jar if you have one. Then, add the peppers to the jar with whatever seasoning you like and pour in some olive oil. They can stay frozen for about four months.
Is it okay to roast peppers on a gas stove?
Roasting peppers on a gas burner is a preferred method by many people. You should use whole pepper for this method. Just turn on the gas stove burner and hold the pepper over it with tongs. Let the flame char the outside and it only takes a few minutes instead of 30. However, you have to be careful when cooking peppers on a gas flame because it is easy to burn them.
What are the differences in bell pepper colors?
Bell peppers come in several different colors, but they are all the same bell pepper. They change color depending on how ripe they are. The green ones are the least ripe and they are more bitter than the others. Yellow is the next stage, and it is slightly bitter. Orange and red are the sweetest with the least bitterness.
What is the nutrition information in this recipe?
Each serving of these roasted red peppers has 74 calories, 5 grams fat, and 1 gram saturated fat. A serving also has 8 carbohydrates, 5 mg sodium, and 6 grams of sugar. But on the other hand, you will also get 1 gram of protein, 3 grams monounsaturated fat, 1 gram polyunsaturated fat, and 270 mg potassium as well as 4 grams fiber, 1 mg iron, 20 mg calcium, 160 mg vitamin C, and a whopping 3,892 units of vitamin A.
More side dishes to try:
How to store leftovers:
Store: You can store your leftover roasted peppers in an airtight container or glass jar. Refrigerate for up to two weeks.
Freeze: It is also safe to freeze your roasted red peppers for up to three months.
Thaw: You should thaw these overnight in your fridge for the best results.

Reheat: These taste delicious cold but you can heat them in the microwave for 30 to 60 seconds depending on how much you are reheating.
Cooking tips:
Your roasted peppers are done when it has blackened skin and bubbles up. They will not all cook evenly but try to get them all as dark as you can without burning them for that smoky flavor.

To make the peppers easier to peel, carefully transfer them to a baggie with tongs. Seal the bag and let it sit for about 10 minutes. If you do not have a baggie, put them in a bowl with a lid or cover the top with plastic wrap.

You can use this awesome recipe for roasting bell peppers for any kind of bell pepper.

Out of parchment paper? No problem! Spray a grill pan with nonstick cooking spray and it will work just fine.

Make a large batch of these and put them in mason jars. You can freeze them for up to four months. But remember to leave room at the top of the jar for expansion.
Use a cutting board when chopping peppers in half to protect your countertop.
Do not use frozen peppers for this recipe. Get whole fresh peppers from a farmers' market or a healthy grocery store like Whole Foods.

Looking for other recipes? We have new ones every day on our food blog as a free bonus.
Roasted Bell Peppers
Ingredients
8

bell peppers

red or yellow - cut into halves

3

cloves

garlic

minced

2

teaspoons

red wine vinegar

1

tablespoon

extra virgin olive oil

1/2

teaspoon

dried oregano

1

teaspoon

granulated white sugar

Kosher salt

to taste

2

tablespoons

roasted pistachios

chopped
Instructions
First, preheat the oven to 400 degrees F. Next, slice the peppers in half lengthwise and remove the seeds.

Arrange them in a single layer skin side up on a parchment-lined baking sheet. Roast in the preheated oven for 35 to 40 minutes.

After that, add the pepper immediately to a bowl, cover with plastic wrap, and let them steam for 10-15 minutes. This will make peeling them very easy.

When the peppers cool enough to handle, peel them and discard the skin. Next, slice them lengthwise and add them to a medium bowl.

Now, add the olive oil, vinegar, garlic, oregano, salt, and sugar and gently toss to combine everything.

Finally, let the flavors meld for at least 30 minutes before serving, and refrigerate in the meantime.

Serve as a salad or as a bruschetta, also, you can use it in sandwiches. Top with chopped pistachios before serving.
Deliciousness to your inbox
Enjoy weekly hand picked recipes and recommendations