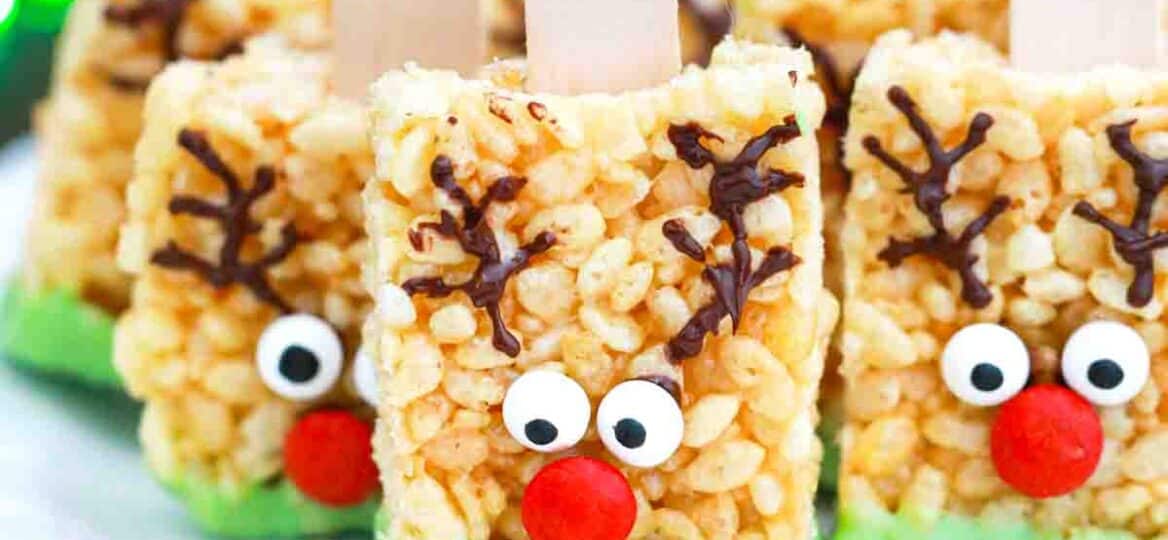 Reindeer Rice Krispies Recipe
Reindeer Rice Krispie Treats are a fun and delicious treat for a holiday party, made with just 7 ingredients, they make the perfect Christmas project with kids. All you need is some crispy rice cereal, marshmallows, M & M candies, and some colored chocolate discs. It is such an easy treat to make, you can let the kids do it!
Looking for other kinds of rice krispie treats? Try our Peanut Butter Rice Krispie Treats made with creamy peanut butter, chocolate chips, and rice cereal. Another delicious peanut butter treat is these Crispy Peanut Butter Balls made with rice krispie cereal and peanut butter dipped in melted chocolate.
Believe it or not, rice krispie treats have been around since 1939. It was invented by Mildred Day and Malitta Johnson who worked for the Kellogg Company's home economics department. It was a recipe they concocted for a fundraiser for the Camp Fire Girls of America, which is a type of girls' group like the Girl Scouts. They were so popular that Kellogg started selling them commercially in 1995.
Christmas rice krispie treats make wonderful snacks for the kids during the holidays. If you love rice krispies treats, these Christmas treats are for you! Start a new tradition for the kids this year. Gather them all in the kitchen on Christmas eve and let them create their own fun twist to these classic marshmallow treats.
These cute little reindeers are better than the regular marshmallow treats. In addition, they are incredibly buttery and chewy, with a nice amount of marshmallow goodness. The chocolate bottom is the perfect sweet finish!
Thinking of making other Christmas desserts? Try our gorgeous Christmas wreath cookies made with mini marshmallows, cornflakes, and green food coloring. For something really fast and easy that the kids can do, these reindeer noses treats only have three ingredients: Rolos, M & M's, and pretzels.
Ingredients needed:
To make these reindeer rice krispie treats, gather the ingredients shown below. After you are ready, scroll down to the bottom of the page to find our printable recipe card. It has all the measurements and the step-by-step directions.
Marshmallows: Mini marshmallows or regular ones are both fine.
Rice krispies cereal
Candy eyeballs
Red M & M candies
Butter: At room temperature.
Dark chocolate candy melts
Green candy melts
How to make reindeer rice krispies treats from scratch?
Prep the pan: To begin, first prep a 9×13-inch pan with cooking spray.
Make the rice krispie treats: first melt the butter in a large pot over medium heat before adding the marshmallows.
Melt the marshmallows: Then, add marshmallows and stir until they are completely melted.
Add the cereal: After they are all melted, take the pot off the heat and add the rice krispie cereal. Mix until it is thoroughly combined.
Pour it into the pan: Next, scrape the melted marshmallow mixture into the prepared cake pan and let it harden before cutting it into rectangles for the reindeer.
Add sticks: Once they are all cut, push a craft stick or spoon into the bottom of each one.
Make the antlers: After, melt the dark chocolate using the instructions on the package and then pour it into a plastic baggie. Cut a small hole in the corner of the bag and use the melted chocolate to make reindeer antlers.
Stick on the eyes and nose: Then, use a dot of chocolate to affix the candy eyes and M & M nose.
Add green chocolate: Lastly, melt the green chocolate discs and dip the bottom of each rice krispie treat reindeer in the melted green chocolate.
Cool and serve: Finally, let them cool completely before serving.
Recipe variations:
Chocolate: Use cocoa krispies cereal to make chocolate rice krispie treats for chocolate lovers.
White chocolate: You could also use melted white chocolate to make snow around the green grass.
Pretzel antlers: Another way to make antlers is to use chocolate-covered pretzels for the antlers. Just dip pretzels into the dark chocolate and stick them to the top of each reindeer rice krispie treat.
Chocolate chips: You can also use melted chocolate chips to make the antlers.
Rudolf nose: For an extra large Rudolf nose, use red peanut M & M's instead of regular ones.
Other characters: Be creative. Use other colors and make different characters like Santa Claus, the elf on the shelf, and frosty the snowman.
Pretzel antlers: Instead of using chocolate for the antlers, just stick regular pretzels on there with a dot of green chocolate. You can use mini-pretzels or pretzel sticks.
Chocolate eyes: If you do not have candy eyes, just use a chocolate chip for each eye.
How to serve:
All kids love rice krispie treats but they are really going to love seeing this yummy treat on the dessert table this year! They are easy to make and taste as delicious as they look. Try one of our serving suggestions or share some of your own in the comments section at the bottom of the page.
Sprinkle some Christmas sprinkles on the melted green chocolate before it melts to make them extra festive.
You can serve these cute little reindeer rice krispie treats right next to the original classic treat to give everyone their favorite dessert cuisine.
Set out a variety of decorations like different colored M & Ms, chocolate chips, and chocolate chips as well as icing in different colors to let them decorate their own cute little reindeer rice krispie treats.
Wrap each of these rice krispy treats in cellophane bags and give them out as Christmas gifts to friends and neighbors.
Cut your rice krispie treats into triangle-shaped pieces and make a Christmas tree instead. Coat it with melted green chocolate and add sprinkles or other Christmas decorations for the lights and ornaments. Use a pretzel rod for the tree trunk.
Use a large cookie sheet pan to make a thinner layer of the marshmallow mixture. Then let the kids use cookie cutters to make their own favorite shapes to decorate.
Frequently asked questions
How can I keep the marshmallow mixture from sticking to my hands?
The best way to do this is to get your hands wet and then shake them off. You want them to be just a little bit wet before pressing the cereal into the pan. If your hands are too wet, it will stick even worse. And make sure you use cold water instead of warm or hot.
What else can I use for the eyes?
Instead of candy eyes, use melted white chocolate and mini chocolate chips. You could also use white frosting. Just add a dot of white chocolate and press one mini-chocolate chip into each circle of chocolate to make the eye.
Can I use other kinds of cereal for this recipe?
Yes, you can use any kind of crispy cereal for these crispy treats. Some good cereals to try are Captain Crunch, Fruit Loops, Apple Jacks, or Cinnamon Toast Crunch as well as Frosted Flakes, Fruity Pebbles, or Trix. Now they have so many new cereals you can enjoy a variety like Reeses Puffs, Nutty Buddy, Wendy's Frosty, Hershey Kisses, Cookie Crunch, and Churros.
What are the nutrition facts in this recipe?
These treats have 399 calories per serving with 83 grams of carbs and 7 grams of fat with 2 grams of saturated fat. They also have 14 milligrams of cholesterol, 10 grams of sugar, and 455 milligrams of sodium. But you also get 5,348 units of vitamin A, 60 milligrams of vitamin C, 8 milligrams of calcium, and 24 milligrams of iron.
How to store leftovers:
Store: It is easy to store treats. Just wait until they are completely dry and wrap each one individually in plastic wrap. Then, place them in a zipper baggie and they will stay fresh for four days on the countertop or one week if they are refrigerated.
Freeze: Go ahead and freeze leftover rice krispie treats if you have too many to finish in a few days. Simply put the plastic bag into an airtight container before freezing. They will stay good for several months this way.
Thaw: Thaw overnight before serving for the best results.
More Christmas recipes to try:
Recipe tips:
To shorten prep time, use store-bought rice krispie treats instead of making your own.
Easily remove rice krispie treats from the pan by running a butter knife along the edge of the pan.
To make sure your rice krispie reindeer treats do not stick to the pan, use parchment paper or wax paper.
You can use a round cake pan for the cereal mixture if that is all you have. Just pour it into the prepared pan and then, cut it into triangle-shaped pieces instead of rectangles.
An easy way to melt the chocolate is to put them in a microwave-safe bowl and heat it for 30 seconds. Stir and heat for another 30 seconds.
No M & M's? Use different red candies for the red nose. A red Skittles candy or cinnamon red hot would work great.
You do not have to use a red nose for every one of them. There is only one Rudolph, after all. Use brown for the rest of the reindeer rice krispie treats.
Be sure to flatten the cereal mixture into an even layer before they harden.
Make sure your hands are slightly wet when you press the marshmallow mixture into the pan, so it does not stick to them.
You can use the generic brand of crispy rice cereal. They both work equally the same.
Reindeer Rice Krispie Treats
Ingredients
6

tablespoons

unsalted butter

10

oz

bag marshmallows

6

cups

Rice Krispies cereal

1

package candy eyeballs

1

package m&m's red candies

12

oz

dark chocolate candy melts

12

oz

green candy melts
Instructions
Place a large pot over medium heat and melt the butter.

Next, add the marshmallows and stir until completely melted.

Take the pot off of heat and add the Rice Krispies cereal. Stir well until fully coated and combined.

Transfer the mixture to a buttered 9x13 inches pan, press it, and level the top with a rubber spatula.

Let harden at room temperature for about one hour and after that cut into rectangles.

Carefully push a craft spoon into each rectangle.

Melt the dark chocolate following the instructions on the package and then spoon it into a plastic bag.

Cut a small hole in the corner of the bag and make the chocolate antlers.

Use a small dot of chocolate to make the eyes and press the candy eyes on top. Same for the and m&m nose.

Melt the green chocolate wafers following the instructions on the package and then dip the bottom of the rectangles a few inches into the melted green chocolate.

Lay the treats on a waxed paper-covered baking sheet until the chocolate hardens.
Deliciousness to your inbox
Enjoy weekly hand picked recipes and recommendations