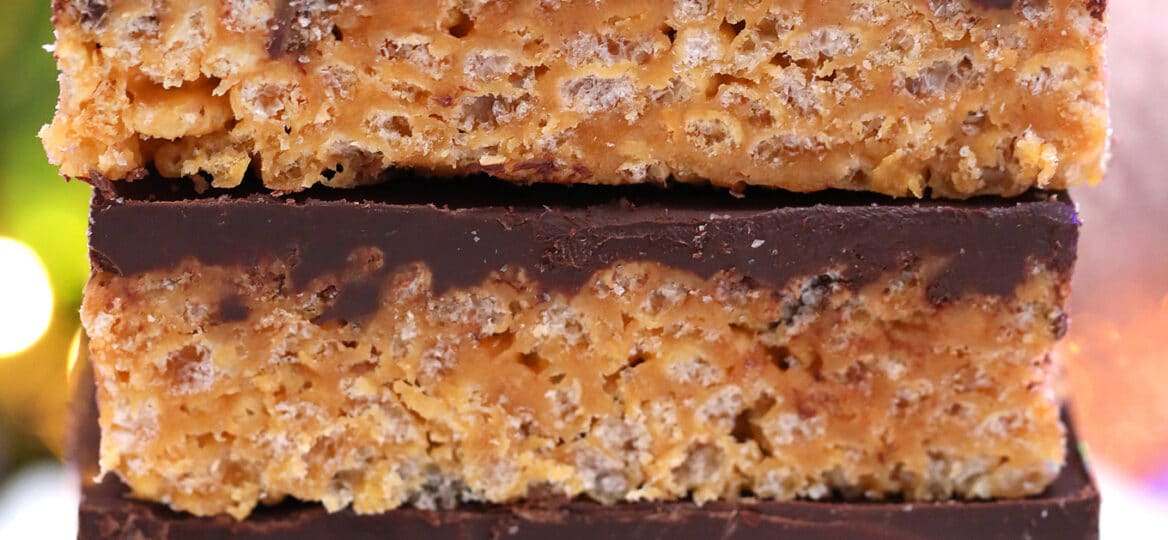 Peanut Butter Rice Krispie Treats [Video]
This post has been sponsored by New Jersey Lottery but all opinions are entirely my own.
Peanut Butter Rice Krispie Treats are made with marshmallows, peanut butter, rice Krispie cereal, and topped with a thick layer of chocolate. The perfect gooey and chewy dessert to enjoy during the holidays!
This is the ultimate holiday dessert that everyone has probably tried before. These bars are easy to make, deliciously addictive, and great for any occasion. We also love Strawberry Cheesecake Fat Bombs, Sugar Cookie Truffles, and Buckey Brownie Cookie.
Easy Peanut Butter Rice Krispie Treats
This holiday season I am looking forward to mainly a few things! Lots of good food, especially desserts and the New Jersey Lottery Holiday Scratch Off Tickets. In our family, it has been a tradition to add them to our holiday wishlists, as they are so much fun!
The New Jersey Lottery has four Holiday themed Scratch-Offs available for the holiday season, and they are perfect for Secret Santas, Stocking Stuffers or Office Holiday Party. Hands down one of the most stress-free gift ideas!
The tickets come in different themes and different price points:
$1 Holiday Luck

$2 Holiday Lucky Times 10

$5 Holiday Lucky Bonus

$10 Winter Wishes
Also, you can use them in the Million Dollar Replay! The Million Dollar Replay allows VIP Club members to enter eligible, non-winning Scratch-Offs into quarterly second-chance drawings for a chance to be selected as one (1) of four-hundred (400) semi-finalists who win a $250 prize and entry into the yearly Grand Prize Drawing for a chance to win one (1) of fifteen (15) prizes ranging from $10,000 up to $1,000,000.
The New Jersey Lottery Holiday-themed tickets are the perfect candidates for holiday games or cool party favors, for anyone and everyone on your list over the age of 18. You can buy the tickets at any brick and mortar Lottery retailer, or stores like 7-11, Quick Check, and Wawa.
Along with our fun stocking stuffer, I have made an easy and fun dessert to accompany the gift opening process. This Peanut Butter Rice Krispie recipe is super quick and easy to prepare. You only need six ingredients for it, and less than 15 minutes of your time. Also, you can make a large batch in advance and simply store them.
These are classic treats that bring back a lot of holiday memories. You can enjoy them for breakfast, or as a snack to satisfy your sweet tooth. We love making them during the Christmas holidays so that everyone can enjoy them.
The combination of peanut butter with rice Krispie is totally out of this world. If you haven't tried them before, we highly recommend doing it now! They are addictive, and probably one of the best desserts you can make in less than 15 minutes!
What do you need to make Peanut Butter Rice Krispie Treats?
You will need the following ingredients:
Unsalted butter

– Ensure to use unsalted butter since the PB already has some salt it in, so you do not want to have a salty dessert!

Mini marshmallows

– We prefer to use the mini version because they melt easier. You can easily find them in the local grocery stores. If not,

here is a link

where you can buy them online.

Peanut butter – Feel free to use any type you have available.

Rice Krispie cereal

– The central ingredient here. We love using the original version in this recipe.

Chocolate chips or chopped chocolate

– Both work well here for the topping.

Corn syrup –

If you are not a fan of it, substitute it with maple syrup, or honey.
How to make Peanut Butter Rice Krispie Treats?
Once you have all the ingredients handy, the rest is pretty simple. The recipe comes together in no time. Also, check out the recipe video tutorial attached above. But the general steps are as follows:
Melt butter, marshmallows, and peanut butter:

You can melt the ingredients in a saucepan over low-medium heat until they are melted. Alternatively, feel free to microwave them until smooth.

Add cereal:

Once the ingredients are melted, gradually add cereal and stir gently until well coated.

Spread and press the mixture:

grease a

13 by 9 pan, and evenly press the mixture onto the pan.
Top with chocolate:

Lastly, melt the chocolate in a microwave, and spread evenly over the top of the cereal mixture. Cover and freeze for 15-20 minutes.
Recipe Variation:
These treats are very versatile and can be made with various other ingredients. Some of our favorite ways to mix things up are:
Swap the peanut butter. If you are not a PB fan, feel free to substitute it with sunflower seed butter or almond butter in its place. It works pretty well in this recipe.

Instead of corn syrup, go with honey or maple syrup.

Go with the white chocolate top. Similarly, feel free to substitute the dark chocolate with white chocolate, or other types for topping. Also, you can top with caramel as well.
How long do Rice Krispie Treats last?
These treats last well, as long as you refrigerate them. Because they contain PB and chocolate, ensure not to keep them for too long at room temperature. Otherwise, they will become soft.
To store: We recommend to store them in an airtight container and refrigerate them for up to 7 days.
To freeze: Transfer the bars to a freezer-proof dish that is sealable. Then, store them for up to 3 months.
Recipe Tips:
For the best results, use fresh marshmallows. Also, as stated above, try using mini type, as they melt faster, and evenly. However, if you cannot find them, go with regular ones. Just ensure to stir more often when melting it.

Any PB brand will work here. So, go with what you like and have available.

For extra gooey Peanut Butter Rice Krispie Treats, use fewer cereals.

Cut the bars in any sizes you wish. Also, if you want to make them thicker use a thicker layer of the mixture when layering in the pan.

They are perfect to enjoy during the holiday season. For a more festive look, top them with sprinkles, sea salt, etc.
The New Jersey Lottery reminds players, it's only a game…remember to play responsibly. If you or someone you know has a gambling problem, call 1800-GAMBLER®.
For more information visit New Jersey Lottery.