Stovetop Beef Stew – Quick & Easy
This one pot only, quick and easy stovetop beef stew is loaded with chunks of tender beef, sweet carrots and juicy peppers. Healthy and delicious.
This quick and easy stovetop beef stew is a dinner staple in our family. I like how easy it is to make, even if it involves a few steps. The stew is flavorful, warming with chunks of soft and tender beef, carrots and juicy red peppers.

This is what I call comfort food and something that I love to eat on chilly nights under a blanket.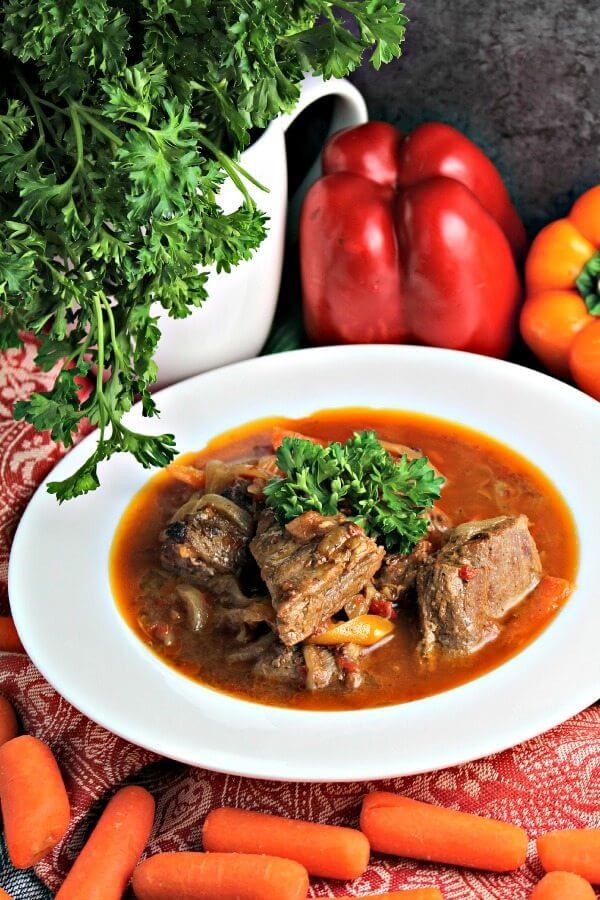 I usually cook my stew without potatoes, as they tend to get too tender when cooked into the broth, but I would totally recommend cooking some delicious mashed potatoes and serve them as a side dish. The buttery potatoes would absorb the delicious broth, and in my opinion that's pure comfort food, just give me a blanket plus a movie and I am good for the evening.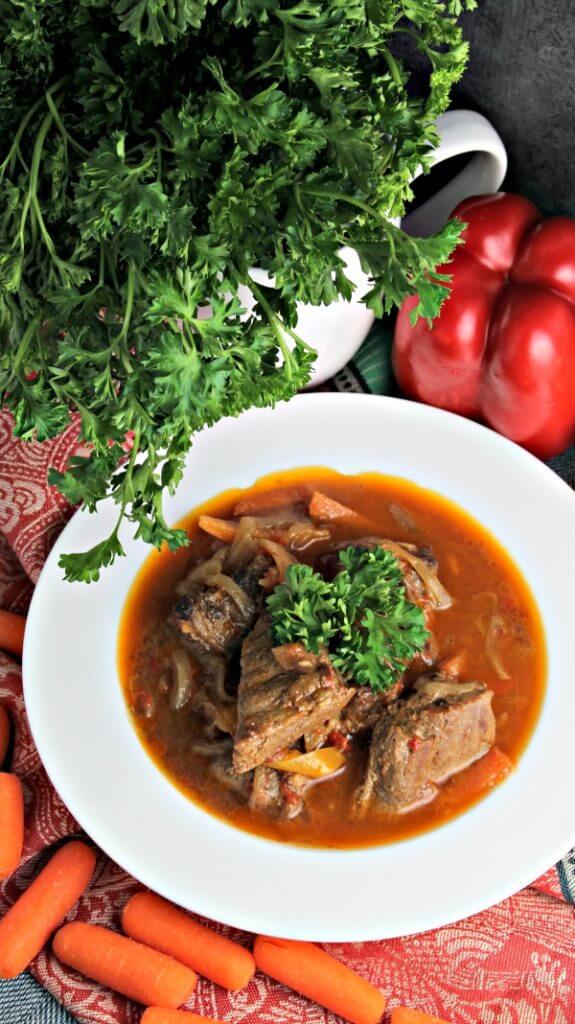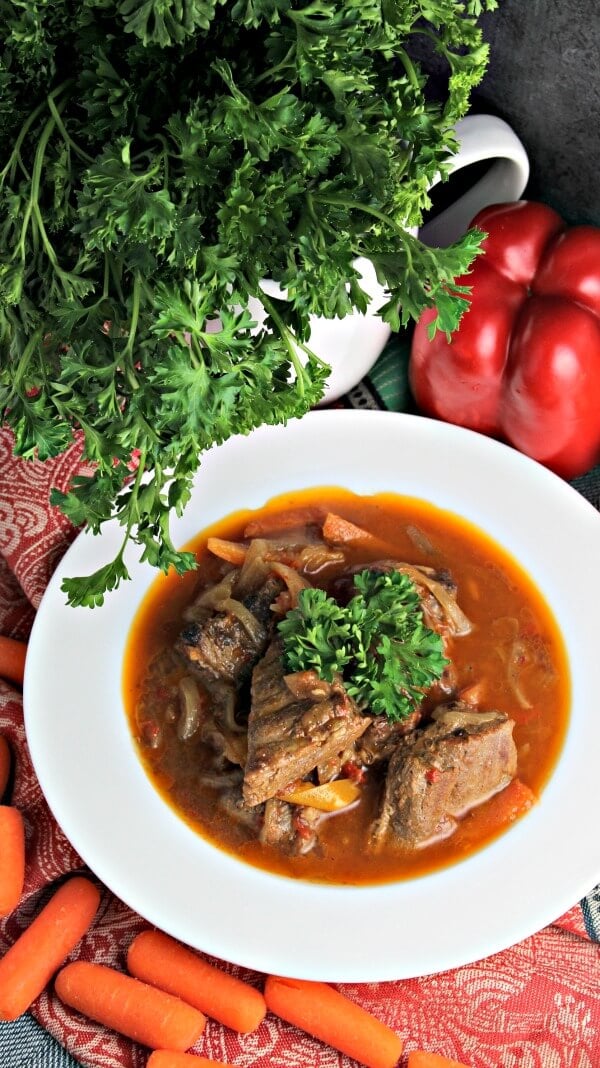 I stole this recipe from my mom's collection, and her secret to  a mouth watering beef stew is very simple: marinate the beef for a few hour before cooking. Also, did you know that adding just a little mustard to the beef marinade makes it more tender? Thats one of my tricks!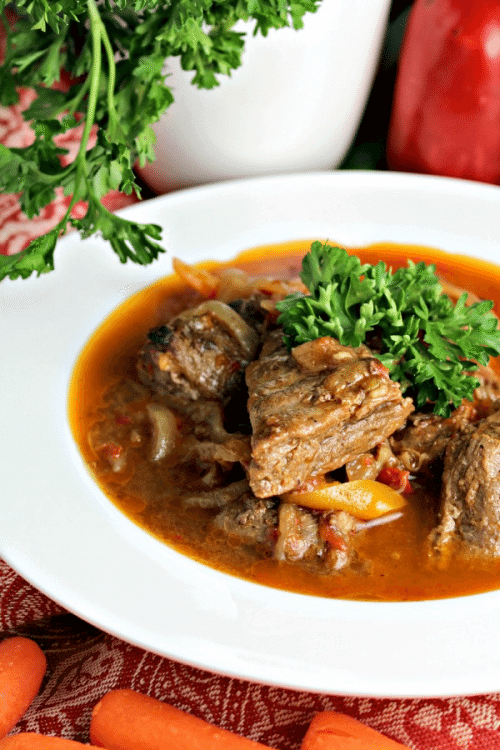 I like how clear and flavorful the broth turned, the veggies are not over cooked, the carrots brightened up the  dish with a subtle sweetness, and the peppers add some color and a nice texture. This is a healthy dish, and can be served on its own with some nice crispy banquette to use for dipping or with a side of mashed potatoes or rice.
Hope you enjoy it as much as we did!
Quick and Easy Stovetop Beef Stew
Quick, Easy, Healthy, OnePot Stovetop Beef Stew loaded with tender beef chucks, sweet carrots and juicy peppers.
Author:
Katalina Kastravet
Ingredients
2 pounds stew beef
½ cup soy sauce
½ cup red wine
1 tablespoon mustard
3 tablespoons vegetable oil
1 cup beef broth, sodium - free
1 cup water
1 tablespoon Worcestershire sauce
4 cloves garlic, peeled and minced
3 bay leaves
4 large onions, sliced
1 teaspoon salt
½ teaspoon pepper
½ teaspoon smoked paprika
3 large carrots, sliced
2 red peppers, sliced
2 tablespoons cornstarch
Instructions
In a large bowl, mix soy sauce, red wine and mustard. Add the beef and 3 sliced onion, mix with your hands making sure the beef is coated in the marinade. Cover with plastic and set in the fridge to marinade for 2-3 hours. Remove from the fridge 30 minutes before cooking, discard the onions and the liquid.
Brown meat in hot oil, until golden brown.
Add water, beef stew, Worcestershire sauce, garlic, bay leaves, the remaining onion, salt, pepper and paprika. Cover and simmer 1½ hours on low heat.
Add carrots and peppers. Cover and cook 30 to 40 minutes longer.
If you would like to thicken the gravy, remove 1-2 cups of liquid. In a separate bowl, combine ¼ cup water with cornstarch until smooth. Mix with a little hot gravy and return mixture to pot.
Stir and cook until mixture starts to boil (bubbly).
Garnish with fresh herbs and serve.