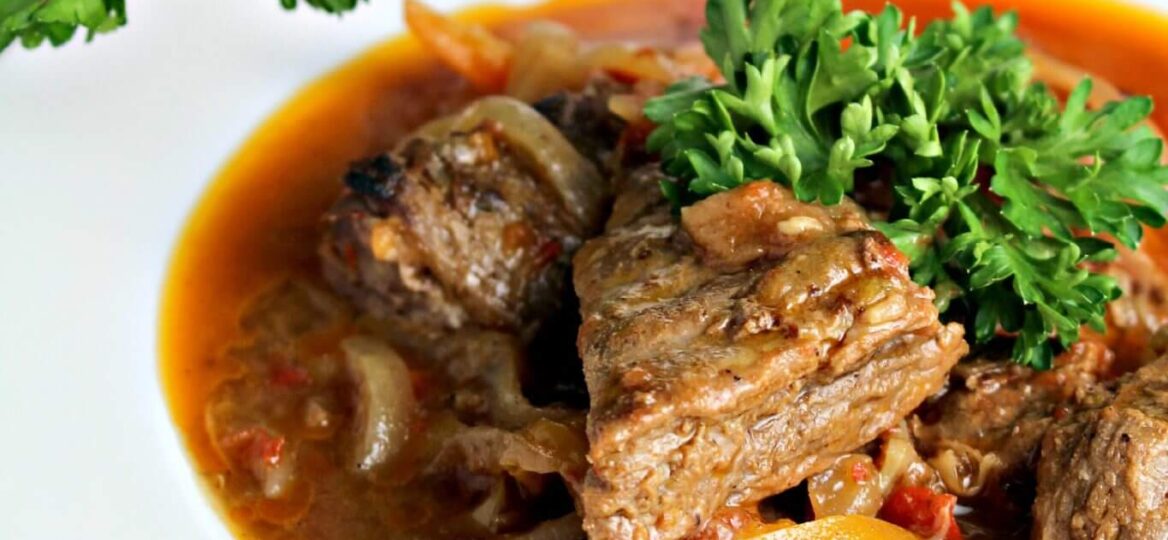 Easy Stove Top Beef Stew is loaded with chunks of tender beef, sweet carrots, and juicy peppers. It is a hearty, healthy and delicious meal that makes great leftovers.
We love making easy and delicious Beef Stews like our popular Instant Pot Beef Stew and Slow Cooker Beef Stew.
Easy Stovetop Beef Stew
This Easy Stovetop Beef Stew is a dinner staple in our family. It involves little preparation and only a few steps to make it. The stew is flavorful, warming with chunks of soft and tender beef, carrots and juicy red bell peppers. This is what I call comfort food and something that I love to eat on chilly nights under a blanket. Preferably someone else to do the dishes afterward.
The stew can be cooked without potatoes, to keep it lighter and lower in carbs. You could cook some delicious mashed potatoes and serve them as a side dish. The buttery potatoes would absorb the delicious broth, and in my opinion, that's pure comfort food. I stole this recipe from my mom's collection, and her secret to a mouth-watering beef stew is very simple: marinate the beef for a few hours before cooking rubbed with some mustard.
Beef Stew Recipe Tips:
Use grass-fed, organic stew meat if possible. Grass-fed meet tends to be extra tender.
For extra tender beef marinate it for a few hours.
You can also add mushrooms, celery or potatoes to the stew.
Don't shy away from using carrots, they add a sweet taste that balances the richness of the meal.
Brown your beef – this has a double purpose, first it locks the meat from the outside together, so during cooking, it doesn't fall apart when it becomes extra tender. Second, it will add extra flavor to the meat and the overall stew.
If possible don't skip the Worcestershire Sauce, a little goes a long way, and it definitely makes the beef flavor shine.
Use low sodium beef broth, you don't want to end up with a salty stew.
When stirring the stew, be gentle as at the end all the cooked ingredients become very tender.
What beef cut to use for Beef Stew?
You can use a chuck roast or round roast. The chuck roast has more fat, so it will be more tender and juicy. If you prefer less fat, I recommend using round roast beef. The round roast will be a little drier, so you will have to the meat in the slow cooker for another hour to absorb all the juices.
How Long Do You Cook the Beef Stew in the Slow Cooker?
It depends on what setting you are cooking. A 3-4 pounds beef brisket, chuck roast or round roast, needs to be cooked on low, for about 8 -10 hours, and on high you are looking at 4-5 hours. You can find the recipe for it here The Slow Cooker Beef Stew.
Can I store refrigerate the Beef Stew?
Yes. Store the stew in an airtight container in the fridge and make sure that the stew liquid covers all the ingredients so they don't dry out. Best if stored for 3-4 days.
Looking for more Easy Ways to Cook Beef? Check these Recipes: