Pumpkin Butter Cake With Rum Glaze
This post may contain affiliate links. Please read my disclosure policy.
Easy to make, luxurious, rich and moist, one bowl Pumpkin Butter Cake is absolutely divine covered in a boozy and sweet rum glaze.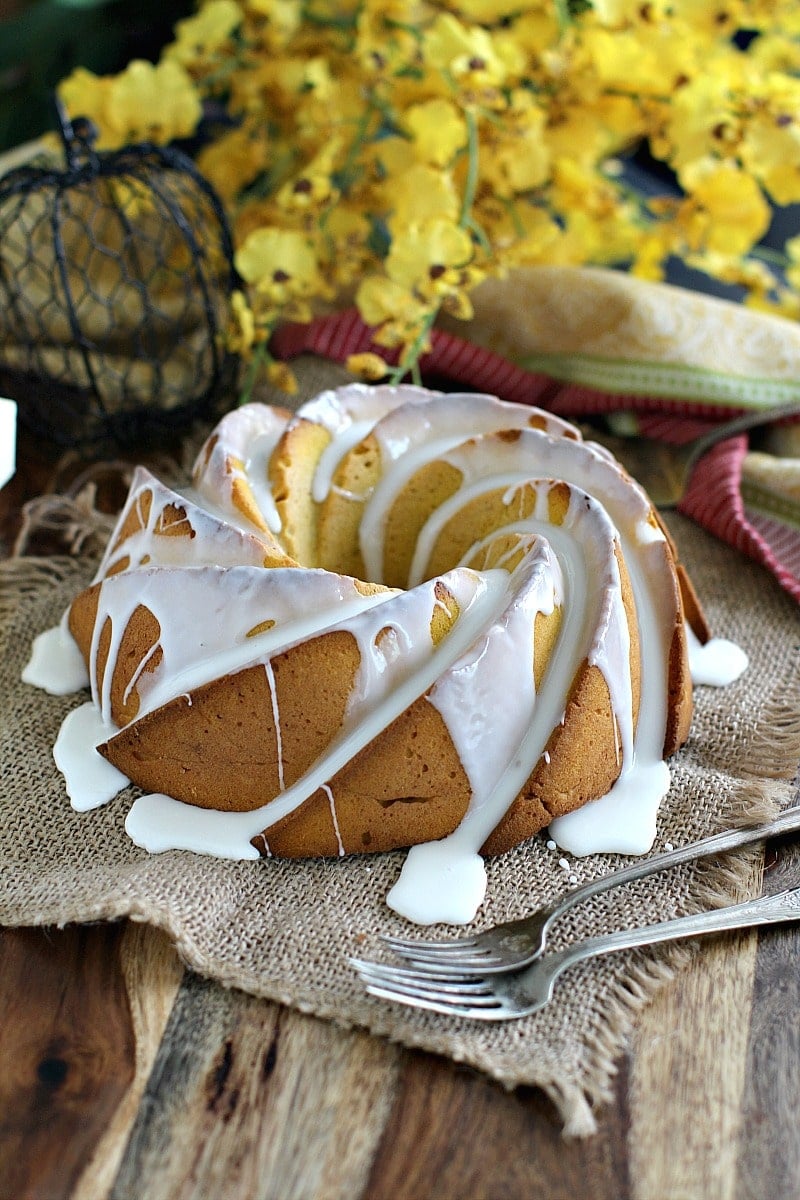 Is it already that time of the year when I can share a Pumpkin Butter Cake without people telling me that its too early for pumpkin recipes? Because, honestly speaking, its never too early for pumpkin recipes!

This Pumpkin Butter Cake with a sweet and delicious Rum Glaze happened over the weekend. I actually expected that I would have to work this weekend, but since that was cancelled, I found myself in the kitchen finally baking! I haven't baked anything in one week, and to me that equals a year! I probably went a little bit crazy and baked and cooked way too many things, but at least we have leftovers.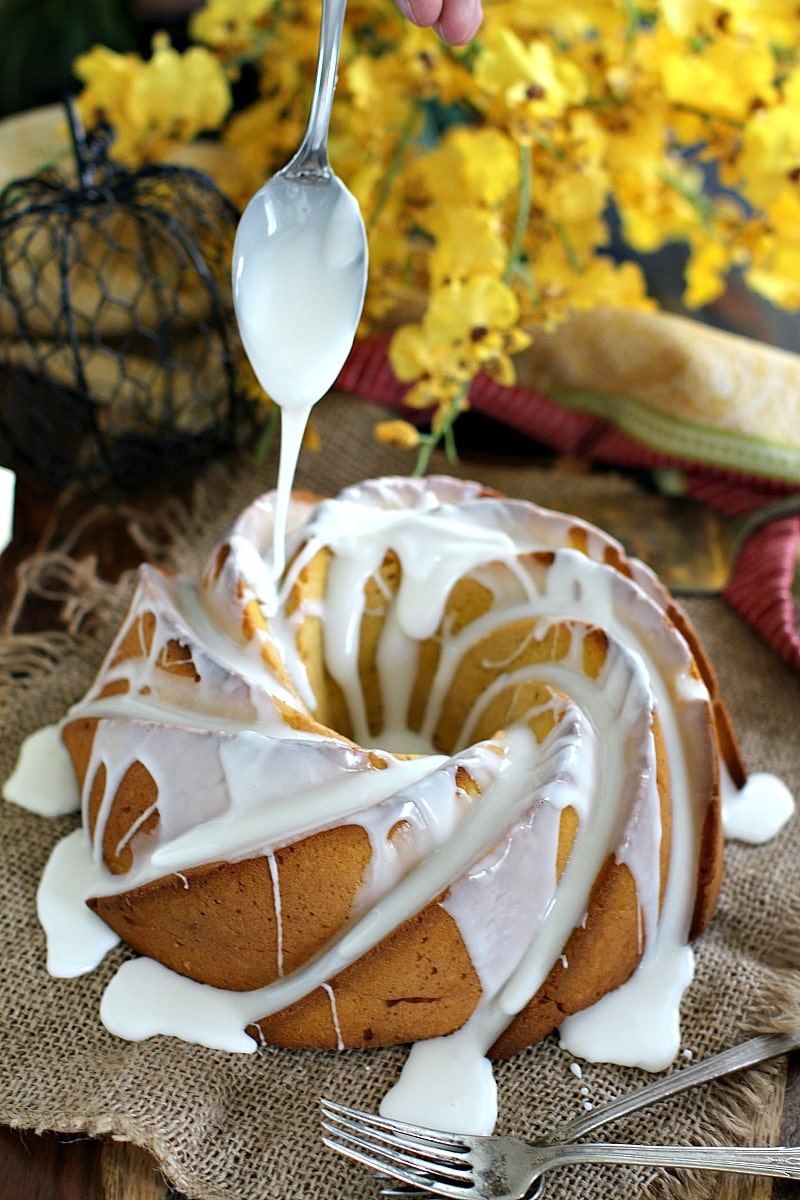 This Pumpkin Butter Cake is a luxurious, moist and buttery cake made with very simple ingredients. I added a hefty amount of canned pumpkin and also pumpkin spice to it, so the cake is dense, but OMG so moist, it will give you the impression that you are biting into pumpkin butter.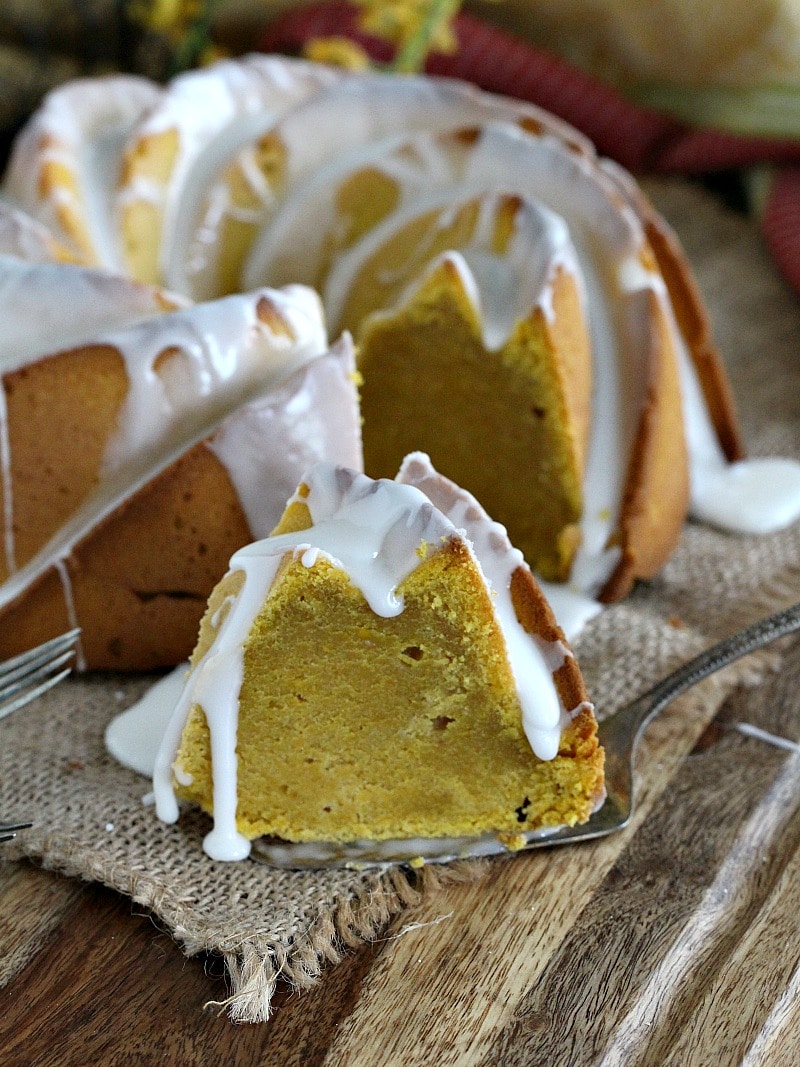 The cake is made in one bowl, with ingredients that you probably have on hand, the preparation time is minimal, after that you have to be patient and to keep an eye on it during the baking process. The cake is covered in the most aromatic Rum Glaze! There is nothing better than an incredibly rich and moist Pumpkin Butter Cake covered in a boozy Rum Glaze!

MY LATEST VIDEOS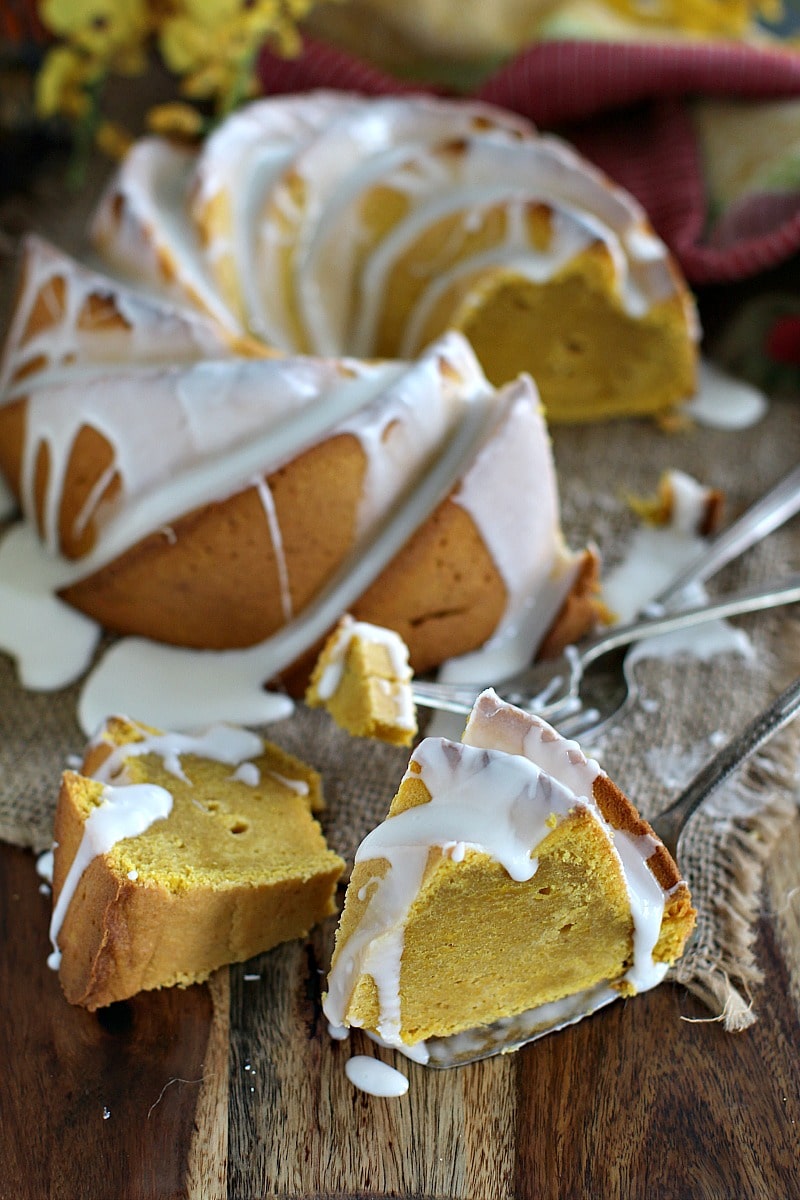 Pumpkin Butter Cake With Rum Glaze
Easy to make, luxurious, rich and moist, one bowl Pumpkin Butter Cake is absolutely divine covered in a boozy and sweet rum glaze.
Author:
Katalina Kastravet
Ingredients
3 cups all-purpose flour
2 cups white granulated sugar
4 eggs
1 sea salt teaspoon
1 teaspoon baking powder
1½ cups canned pumpkin
2 sticks / 226 grams butter
1 teaspoon vanilla extract
1½ teaspoons pumpkin spice*
Rum Glaze:
2 cups powdered sugar, sifted
3 - 4 tablespoons rum (use milk for alcohol free)
Instructions
Preheat oven to 325F.
Grease and flour a 10 inch Bundt pan or spray it with baking spray.
In the large bowl of a stand mixer fitted with the wire whisk attachment mix: flour, 2 cups sugar, salt, pumpkin spice and baking powder. Blend in eggs one at a time, butter followed by vanilla extract and canned pumpkin. Beat for 3 minutes at medium speed, stop and scrape the sides of the bowl ensuring the batter gets uniformly mixed. Pour batter into prepared pan.
Bake in preheated oven for 60 - 70 minutes, or until a wooden toothpick inserted into center of the cake comes out clean. If the top starts to look golden brown and the cake is still not done, cover it with aluminium foil to avoid burnt edges and continue baking, checking on the cake every 5-7 minutes. Once baked, place cake on a wire rack and let it cool before removing from pan.
To Make Rum Glaze: In a medium bowl combine powdered sugar and rum, mix with a whisk or spoon until fully blended and without lumps. Mixture should be a stiff glaze, but still pourable. If the glaze is too thick, thin with a bit of rum or milk. Using a spoon, drizzle the glaze all over the cooled cake. Let the cake sit until the glaze has hardened.
Serve and enjoy!
Notes
Adjust pumpkin spice amount based on our preference.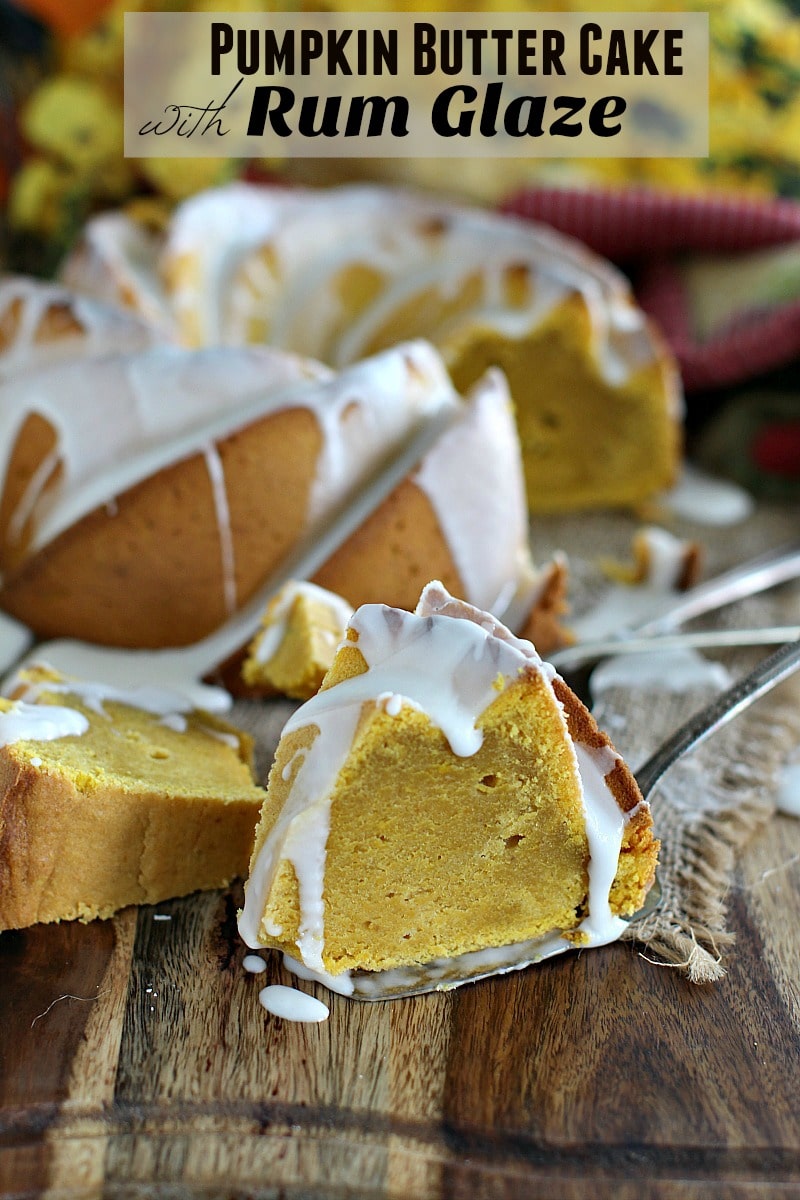 Pumpkin dreams!

Peas and Peonies, LLC. owns the copyright on all images and text and does not allow for its original recipes and pictures to be reproduced anywhere other than at this site unless authorization is given. If you enjoyed the recipe and would like to publish it on your own site, please re-write it in your own words, and link back to my site and recipe page. Copying and/or pasting full recipes to social media or personal blogs is strictly prohibited. Sharing this recipe is very much appreciated and encouraged. Read my disclosure and privacy policy. This post may contain affiliate links.