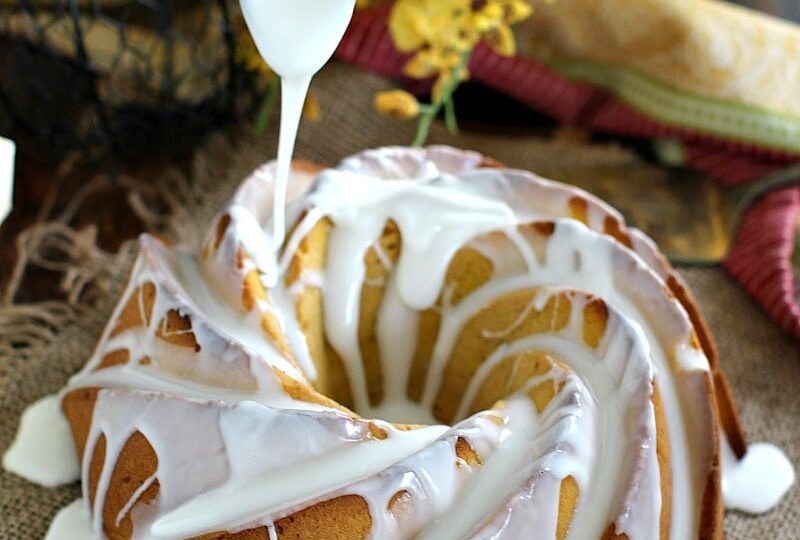 Pumpkin Butter Cake With Rum Glaze
Pumpkin Butter Cake is easy to make, luxurious, rich and perfectly moist. It is absolutely divine covered in a boozy and sweet rum glaze.
With pumpkin theme in full swing, I decided to dedicate extra time and produce some of the best pumpkin desserts possible. After making Pumpkin Poke Cake with Cream Cheese Frosting, Pumpkin White Chocolate Fudge and Pumpkin Pound Cake, was only logical to add this delicious Butter Cake to the list.
Pumpkin Butter Cake With Rum Glaze
Is it already that time of the year when I can share a Pumpkin Butter Cake without people telling me that its too early for pumpkin recipes? Because, honestly speaking, its never too early for pumpkin recipes. Like Pumpkin Cheesecake Bars, Pumpkin Pie Creme Brûlée, and Instant Pot Pumpkin Cheesecake, this cake is rich in pumpkin flavor and simply delicious!
Pin This Pumpkin Butter Cake Recipe to your Favorite Board
This Pumpkin Butter Cake is a luxurious, moist and buttery cake made with very simple ingredients. I added a hefty amount of canned pumpkin and also pumpkin spice to it. As a result the cake came out dense, moist, and it will give you the impression that you are biting into pumpkin butter.
The cake is made in one bowl, with ingredients that you probably have on hand, the preparation time is minimal, after that you have to be patient and to keep an eye on it during the baking process. The cake is covered in the most aromatic Rum Glaze! There is nothing better than an incredibly rich and moist Pumpkin Butter Cake covered in a boozy Rum Glaze!
What do you need to make Pumpkin Butter Cake?
Flour
Eggs
Sugar and Salt
Baking Powder
Canned Pumpkin
Unsalted Butter
Vanilla Extract
Pumpkin Spice
Rum
How do you make Pumpkin Spice?
You can make pumpkin spice blend at home pretty easily, here is what you will need:
3 tablespoons ground cinnamon
2 teaspoons ground ginger
2 teaspoons ground nutmeg
1 teaspoon ground allspice
1 teaspoon ground cloves
Directions: In a small bowl, mix all the spices together. Transfer to a small jar or spice container.
What is pumpkin puree vs canned pumpkin?
Canned pumpkin is just cooked, pureed pumpkin. Canned pumpkin or pumpkin pie filling is flavored with spices like cinnamon, clove, allspice and ginger, and is also sweetened.
Deliciousness to your inbox
Enjoy weekly hand picked recipes and recommendations