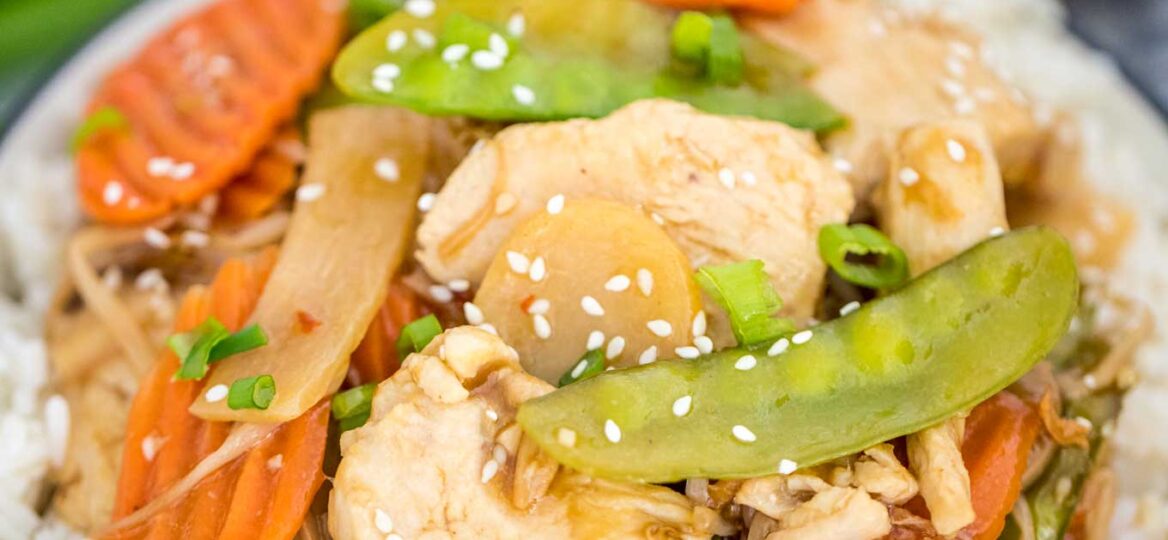 Moo Goo Gai Pan Recipe
Moo Goo Gai Pan is an easy recipe for your late-night Chinese food cravings! This chicken and mushroom stir-fry is healthy, savory, and better than takeout.
Craving for some Chinese food? Try our other stir-fry recipes like the Szechuan chicken, Hunan beef, and Hunan chicken.
Easy Moo Goo Gai Pan Recipe
Moo Goo Gai Pan is of Cantonese cuisine origin primarily made with chicken and mushroom and is a famous Chinese takeout. But unlike Hunan and Szechuan, Cantonese food is not spicy. In fact, it incorporates as little seasonings and spices as possible.
Cantonese cuisine is designed to bring out the natural flavors of meat and vegetables used in their dishes. Many will think that Cantonese food is rather bland because of this. What they don't realize is that this is what makes Cantonese food a lot healthier and natural.
It is famous for dim sum. But, little do people know that it also has its own chicken stir-fry version in the form of moo goo gai pan. When we crave some Chinese food, we resort to this easy recipe as it is not hot and spicy, but just perfect for the hot weather of summer!
What is moo goo gai pan?
This dish literally translates as mushroom and chicken which are the main ingredients for this special Chinese dish. It is stir-fried with little oil and lots of vegetables! You can tweak this recipe to suit your taste and according to what vegetables are in season.
How to make moo goo gai pan?
The first step is to prepare the chicken. Slice the chicken breast thinly against the grain. Then, put the meat in a bowl of whisked egg white and cornstarch. Coat the chicken in the mixture then, refrigerate for about 30 minutes. This will ensure that the meat remains tender when cooked.
Heat up the pan or wok over medium to high heat, and put a tablespoon of oil plus a tablespoon of water. Stir fry the vegetables, adding each vegetable two minutes apart.
Add in salt and pepper to taste and continue stirring. Transfer the vegetables to a plate and set them aside. Clean up the pan with a paper towel.
Heat up the remaining oil and then, stir fry the chicken and season it with salt and pepper. Once the meat is cooked, add in the ginger and garlic. Stir in the sauce until it becomes gooey and stir in the cooked vegetables.
Serve it with rice, and you're done!
How to make moo goo gai pan sauce?
To make the sauce, you have to mix the following in a small bowl: cornstarch, soy sauce, oyster sauce, rice vinegar, chicken stock, and brown sugar. I also like to add some garlic and ginger.
What veggies are used to make moo goo gai pan?
You can choose to add carrots, mushrooms, snow peas, water chestnuts, and bamboo shoots. You can add in broccoli and bok choy, too!
What meat can you use to make moo goo gai pan?
Gai Pan literally translates to sliced chicken in Cantonese (while Moo Goo means button mushroom). And so, you would need chicken to make this dish. You can either use breasts or thigh parts.
Is moo goo gai pan healthy?
Yes! It is one of the healthiest Chinese food around. Any dish packed with a lot of vegetables like this recipe is healthy with all the nutrients that the vegetables have.
It uses less oil than most stir-fries and you can make the sauce a "white" one, meaning no soy or oyster sauce. Also, we are using white meat in this dish which is healthy.
How many calories are in moo goo gai pan?
One cup of this dish yields about 272 to 310 calories.
How many carbs in it?
The amount of carbs in one serving is about 12 to 18 grams.
How to store this dish?
Let it cool completely before transferring it to an airtight container and placing it in the fridge. It can keep for about 3 days, and so, you can make this well in advance.
More Asia dishes:
Recipe Tips
Cut the vegetables such that they are about the same size. This is to ensure that they cook evenly.
To easily cut the chicken against the grain, put the meat in the freezer first. This will harden the meat which will make it easier to slice thinly.
Aside from rice, you can serve this with noodles.