Homemade Omelette Recipe [Video]
Last updated on June 29th, 2021 at 04:25 pm
Homemade omelette is an all-time favorite breakfast item made with creamy and fluffy eggs and stuffed with veggies, meat, and cheese! Learn how to make the perfect one by following this easy recipe!
If you want more egg recipes, then, you are welcome to try our Asparagus Frittata, Shakshuka, and Pickled Eggs!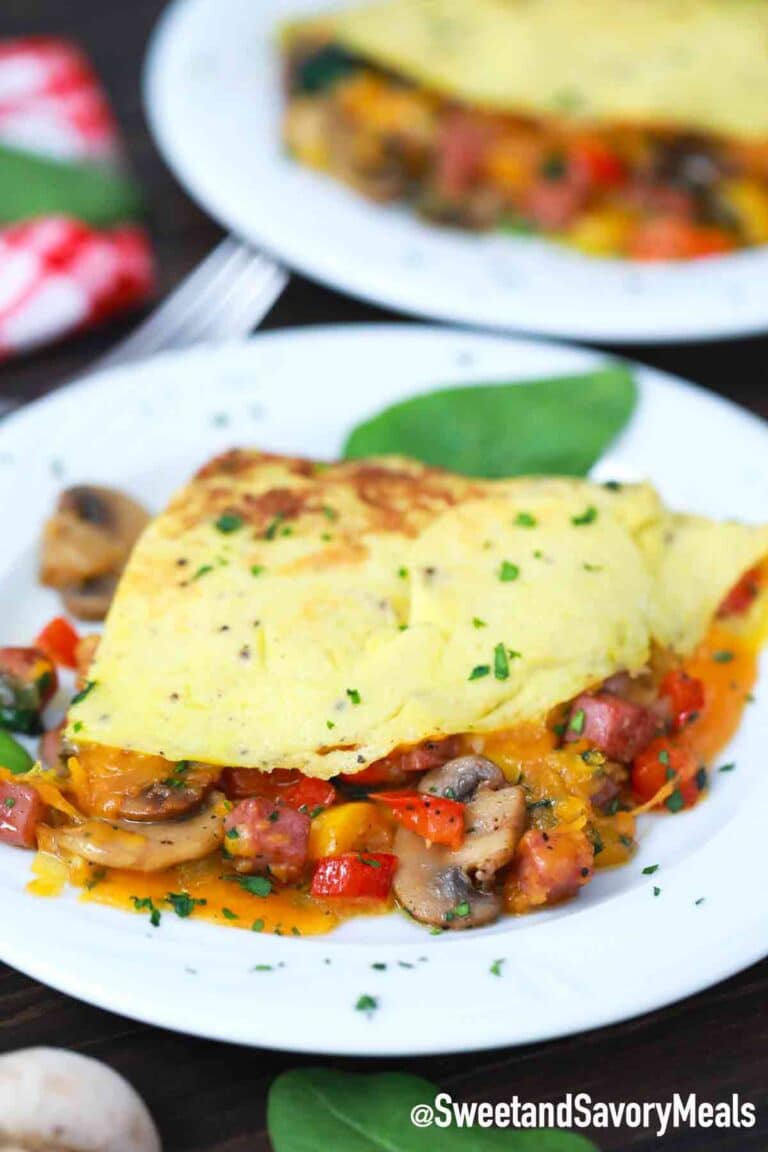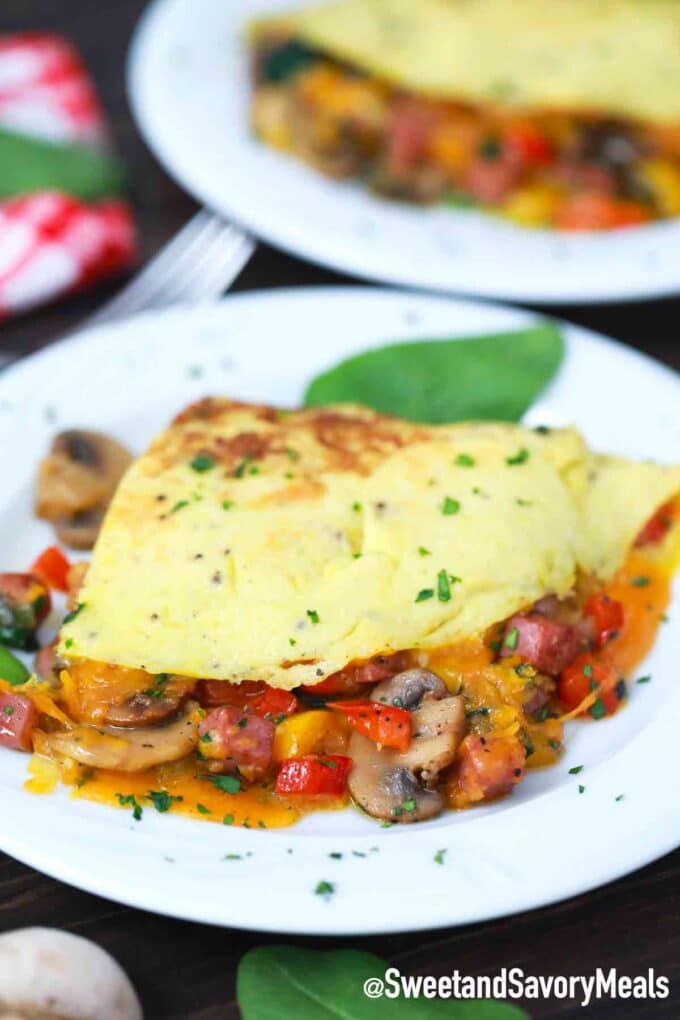 Creamy Omelette Recipe
Omelette is a staple in our breakfast table at home. It is fairly quick to make as you can have this done in under 10 minutes.
Hence, this makes for a great breakfast despite a busy morning. And you can have it any time of the day, too!
You can include a lot of other fillings. If you will open your fridge now, I am pretty sure that you will find something that can be added to the egg. It is versatile like that!
In this recipe, though, I will share how to cook this dish with ham. Can you leave the ham out? Absolutely!
Again, this dish is versatile and you can always change up the fillings if you want to, or, not include any at all. So, let's get started!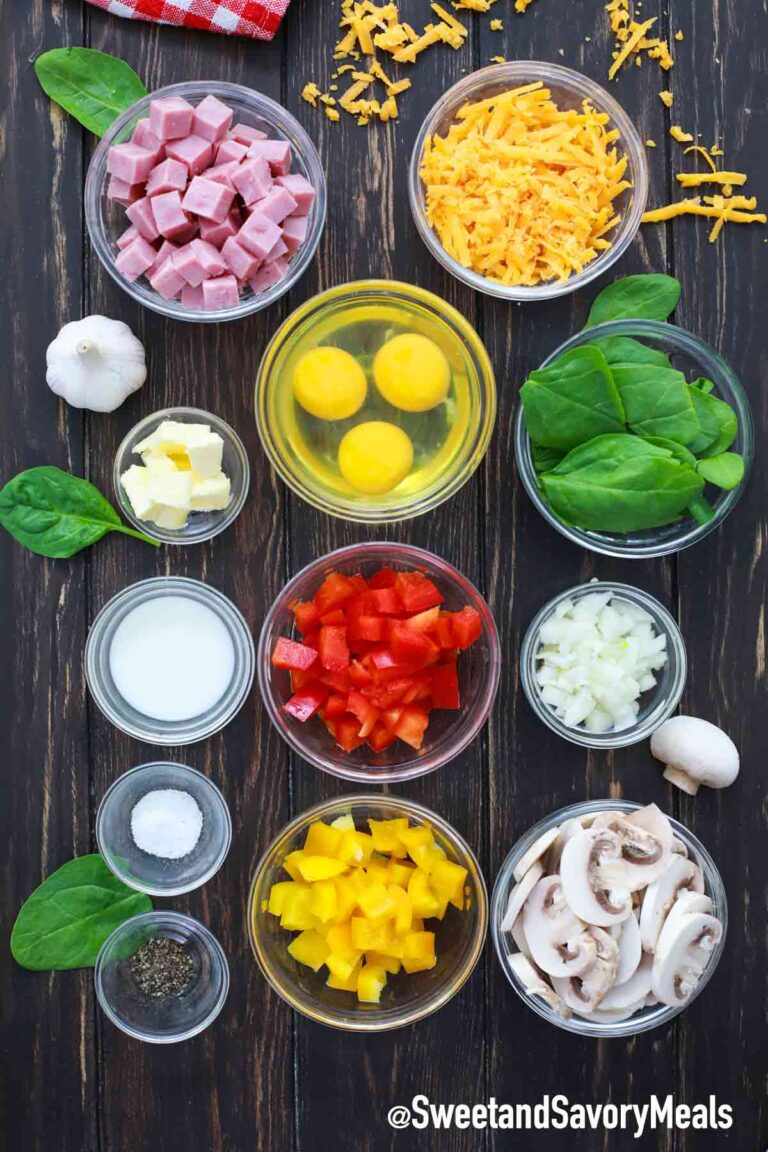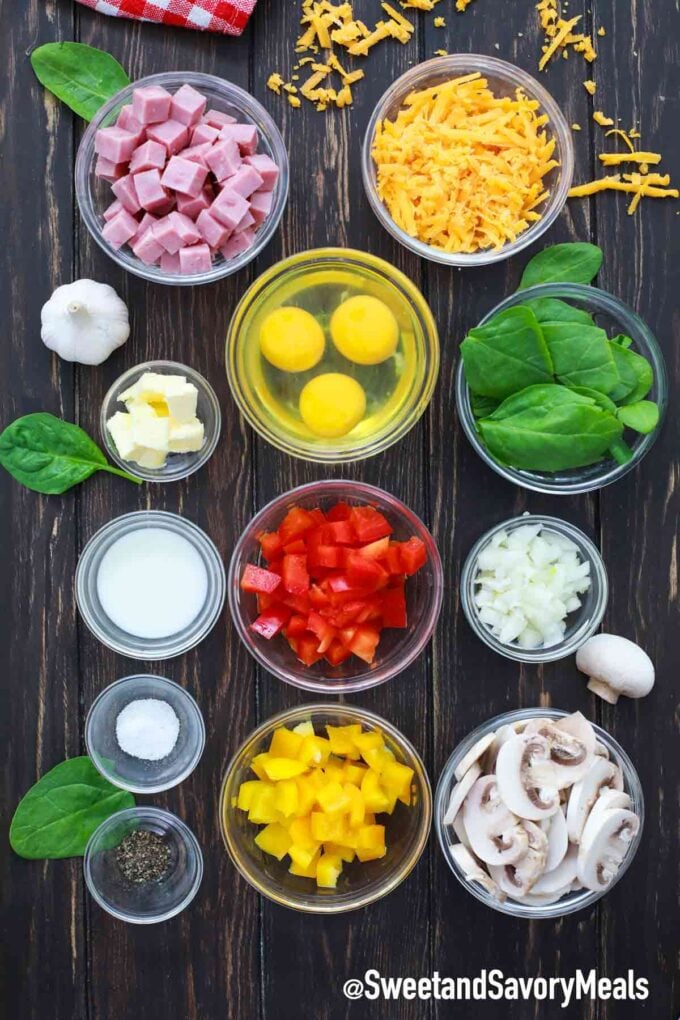 What is an Omelette
It is an egg dish that is similar to a scrambled egg such that the yolk is mixed with the white. Also, the same with a frittata, it can have other ingredients added to it.
But one thing that makes it different is that it is thin and is served folded. The filling is folded inside and the outermost surface is firmer than the inside.
The cooking method is quite different but it is still very easy to do! You can serve it with French toast, or any other kind of bread.
What do you need
Aside from the eggs, you will need:
butter
cream or milk
salt and pepper
cheddar cheese
In this recipe, the filling is ham. You will need the following:
cubed ham
butter or olive oil
diced onion
diced red bell pepper
mushroom
garlic
spinach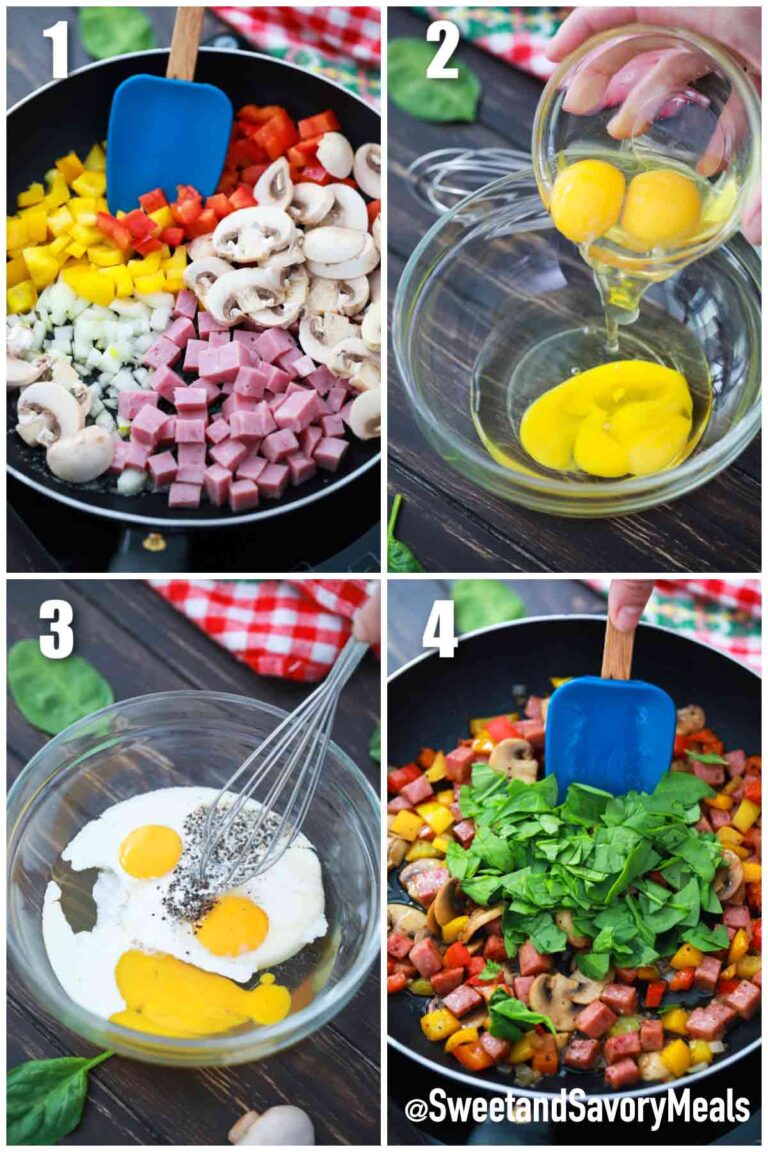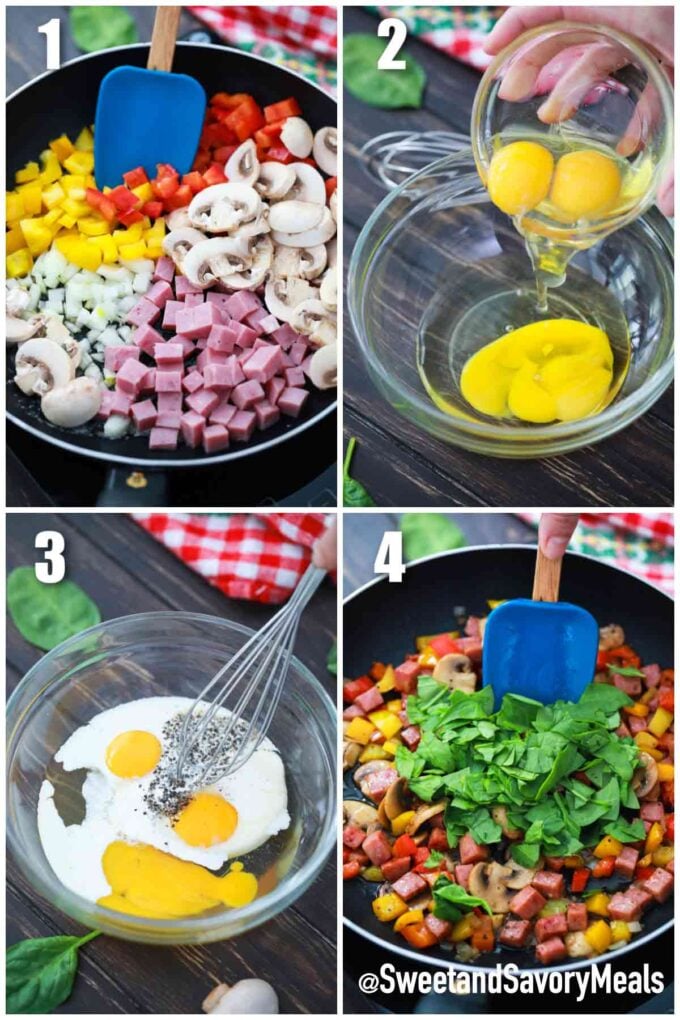 How do you make a homemade omelette
Prep the filling: First, in a skillet, sauté the ham and vegetables in butter or olive oil. Add in the spinach last. Remove from heat and set aside.
Whisk the egg: Secondly, make sure that the eggs are at room temperature. It may help by putting them in hot water for 5 minutes. Into a bowl, crack them then, whisk together with cream, salt, and pepper.
Cook: Next, in a skillet, put some butter. It is time to put the egg mixture once the butter starts to foam. Stir it a bit at first and then, let it set. After about 20 to 30 seconds, hold one side with a rubber spatula, and tilt the pan. Do this several times from different sides. This is to spread out the mixture.
Add the filling: Sprinkle ham filling and cheese on one half. Cover the skillet with the lid to cook further for about 30 seconds more.
Serve: Fold it to cover the filling, transfer to a plate then, serve.
Recipe Variations:
The filling: When it comes down to following an omelette recipe you have to keep in mind that you can adjust the filling as you please. Add more veggies or meat, make it as cheesy as you like, just play around with what you have on hand.
Make it vegetarian: Use as many veggies and leafy greens to make it vegetarian!
Spices: Let your omelette recipe stand out from the crowd by using different spices. We like to play with a taco or fajita blend and add salsa to it for a Mexican twist. Serve it topped with avocado and sour cream and some black beans on the side for a delicious Mexican-themed breakfast.
Add Bacon: Because hello, everything is better with bacon!!! Make it a BLT omelette, by adding bacon and tomatoes and serve it topped with a bit of mayo and chopped lettuce. This way you get a low-carb/keto breakfast that is also amazingly delicious and filling!
Sauces: Another way to put your own twist on this recipe is by adding your favorite sauces. Say you make it with chicken, top it with buffalo sauce! Make it with mushrooms and chicken and serve it topped with teriyaki sauce for an Asian twist!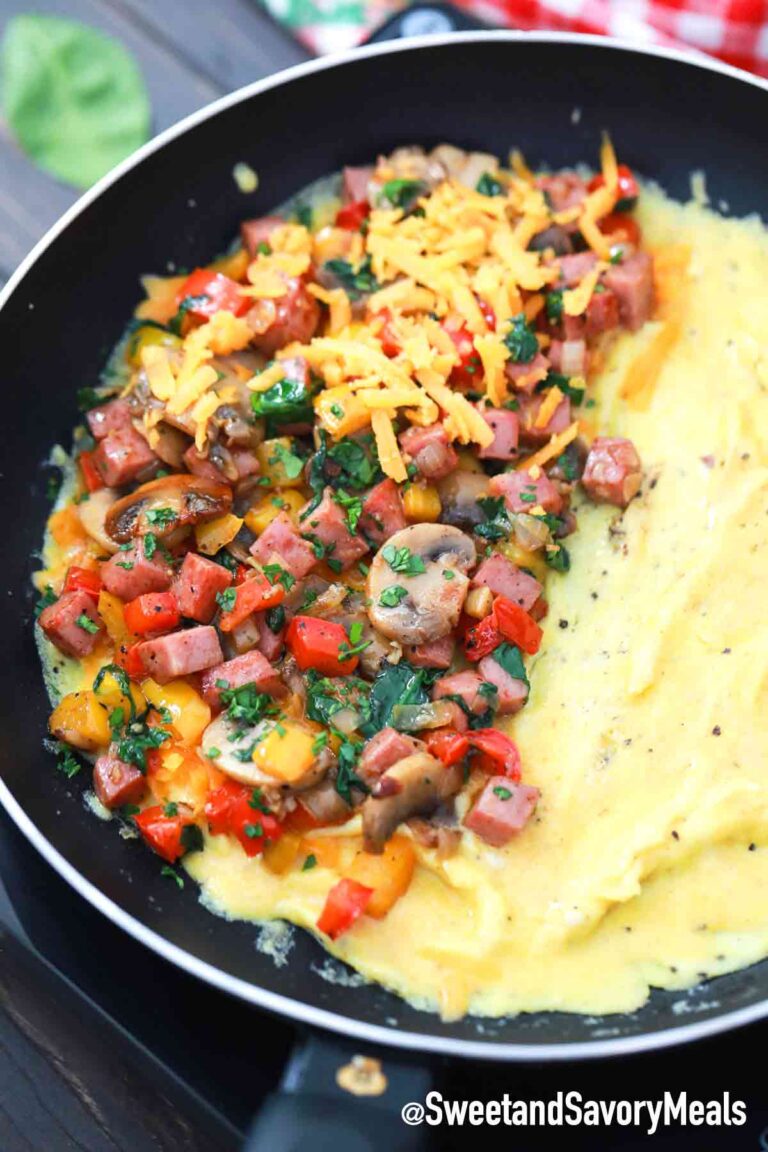 Frequently Asked Questions
Which is correct omelet or omelette?
This dish is believed to have originated in France and the modern spelling is omelette. However, the Americans spell it as omelet.
Either way, both words refer to the same dish and are correct. It is just a matter of who you ask, a British or an American.
What does adding milk to eggs do?
Some sources say that it will dilute the flavor and will make it more rubbery because of the thinned-out texture.
Adding milk will make the mixture creamier and richer and that outweighs the cons in my opinion.
What is the secret to a fluffy omelet?
The secret is to whip the egg whites together separately and carefully blending them in with the yolks. If you have time in the morning, I highly recommend trying this trick, it will give you super fluffy eggs.
Do you add milk or water to an omelet?
While I prefer adding milk as it makes it creamier, adding water will make the eggs more mobile and the omelet easier to handle.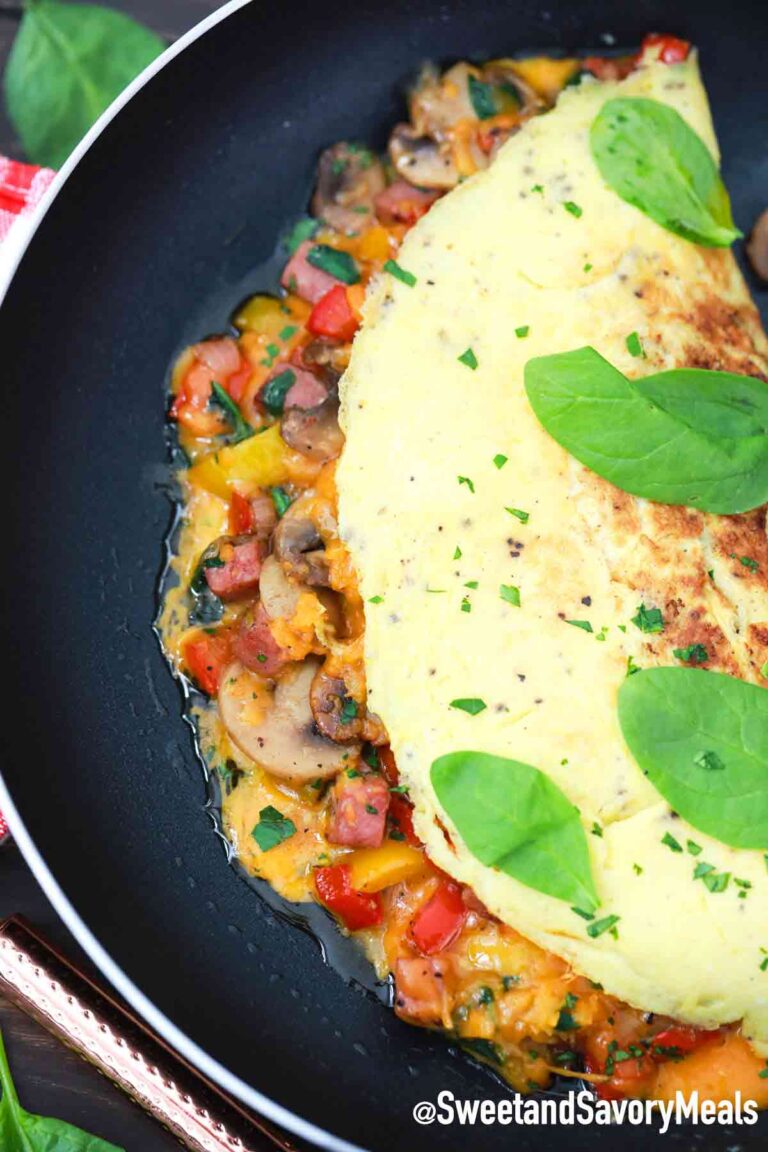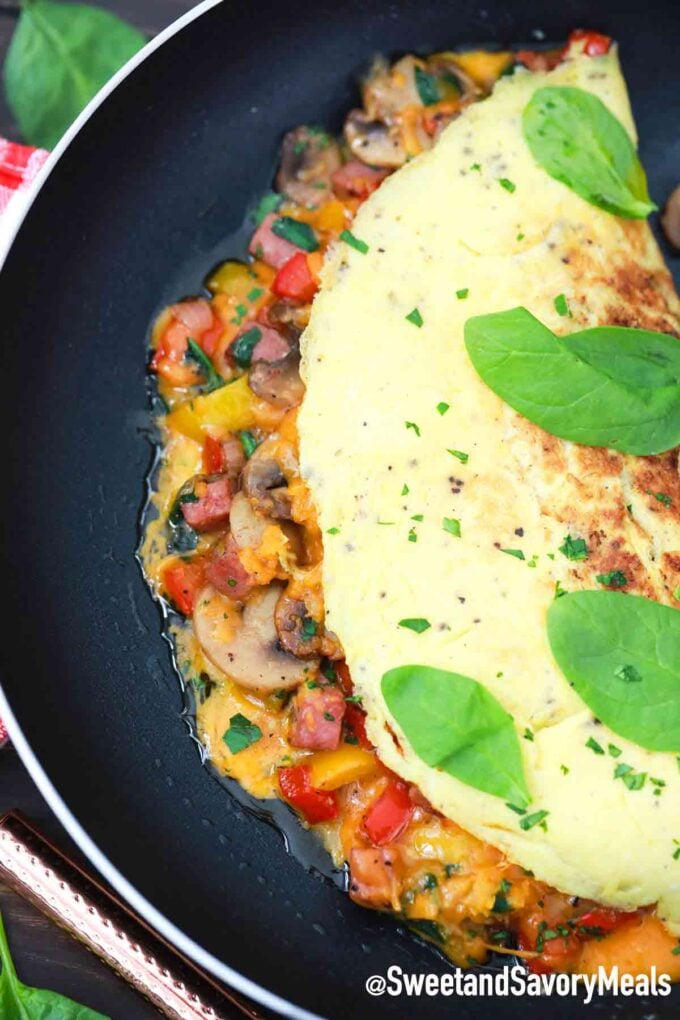 How do you flip an omelette without breaking it?
Carefully, using a spatula, release as much of the bottom of the egg mixture from the pan. Next, flip the omelet over onto the uncooked side. To make this easier, you can use a large spatula, but first, make sure that the bottom is well cooked, otherwise, you will break it.
How to store leftovers:
Place leftovers in an airtight container in the fridge, they will stay good for 3-4 days.
Reheat them in the microwave or on a skillet over medium-high heat.
More Recipes You Might Like: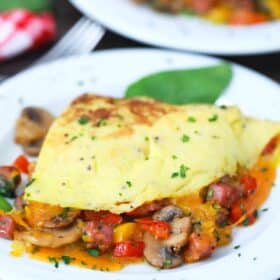 Homemade Omelette Recipe
Homemade omelette is an all-time favorite breakfast item made with eggs and stuffed with veggies, meat, and cheese!
Save
Share
Print
Pin
Rate
Ingredients
Omelette:
1

tablespoon

unsalted butter

3

large eggs

(room temperature)

2

tablespoons

cream

(or milk)

Salt and pepper

(to taste)

1/2

cup

cheddar cheese

(shredded)
Ham & Veggie Filling (optional):
1

tablespoon

unsalted butter or olive oil

2

tablespoons

diced onion

1/3

cup

cubed ham

1/4

cup

red bell pepper

(diced)

1/2

cup

mushrooms

(sliced)

1

clove

garlic

(minced)

1

cup

fresh spinach
Instructions
Ham Filling:
Melt butter in a medium non-stick skillet over medium-high heat.

Add onion, ham, bell pepper, and mushrooms, and cook until starting tender, but crisp – about 3-4 minutes.

Add garlic, salt, pepper, and cook for 2 more minutes.

Next, add spinach and cook just until wilted.

Remove from skillet and set aside.
Omelette:
Place eggs in a small bowl with hot water (not boiling) for 5 minutes.

After that, crack the eggs into another bowl and whisk with cream, salt and pepper.

If you have time and want a fluffier omelette, separate the egg whites and beat them separately, after that fold them into the egg yolk and cream mixture.

Place a skillet over low-medium heat and add butter.

When it foams, add egg mixture and immediately give it a few stirs, like you would make scrambled eggs. Next, when the base just starts to set, spread it all out to cover the bottom of the skillet and let it cook.

After 30 seconds, see if the edges are cooked and use a rubber spatula to lift up the edges, tilt the pan to make the egg mixture run off the surface under the omelette. Repeat 2 or 3 times for uniform cooking.

Sprinkle half the omelette with some of the cheese, top with the ham filling mixture, sprinkle with fresh parsley, and top with the remaining cheese.

Cover with the lid and cook for 30 seconds or until the underside is lightly golden and the top is just set.

Fold the omelette in half to cover the filling, and transfer to the serving plate immediately.
Notes
Aside from ham, you can have various filling options such as bacon, sausages, seafood such as fish and prawn, or ground pork or beef.
The best kind of eggs to use are free-range and organic ones for their taste.
Nutrition
Calories:
701
kcal
|
Carbohydrates:
10
g
|
Protein:
41
g
|
Fat:
56
g
|
Saturated Fat:
23
g
|
Trans Fat:
1
g
|
Cholesterol:
594
mg
|
Sodium:
1169
mg
|
Potassium:
673
mg
|
Fiber:
2
g
|
Sugar:
5
g
|
Vitamin A:
5600
IU
|
Vitamin C:
59
mg
|
Calcium:
370
mg
|
Iron:
4
mg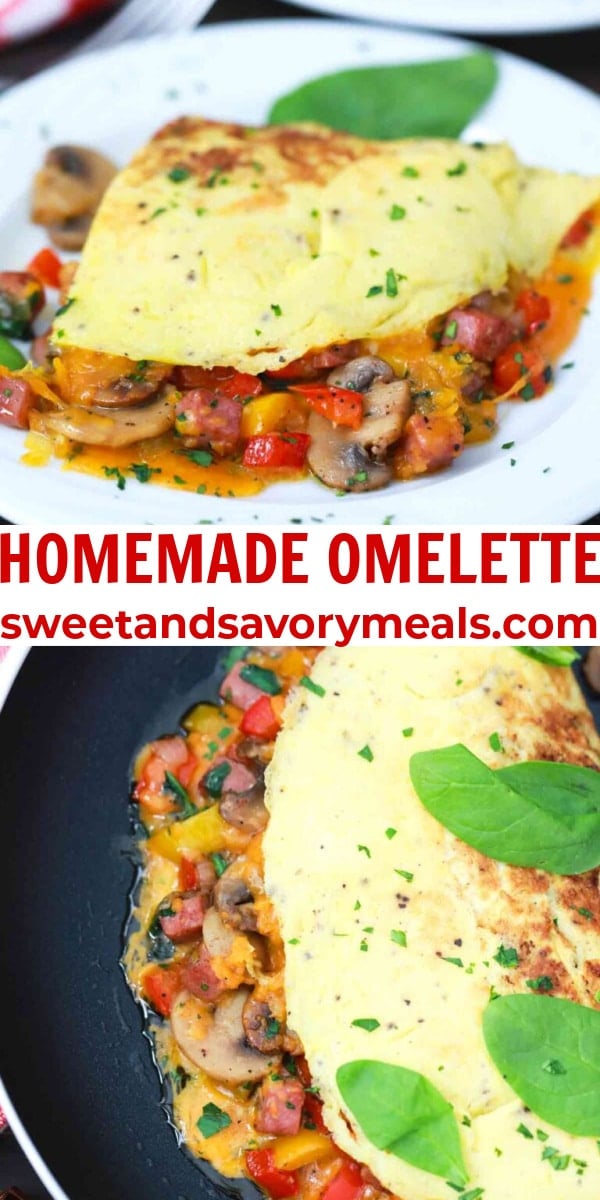 More recipes you might love