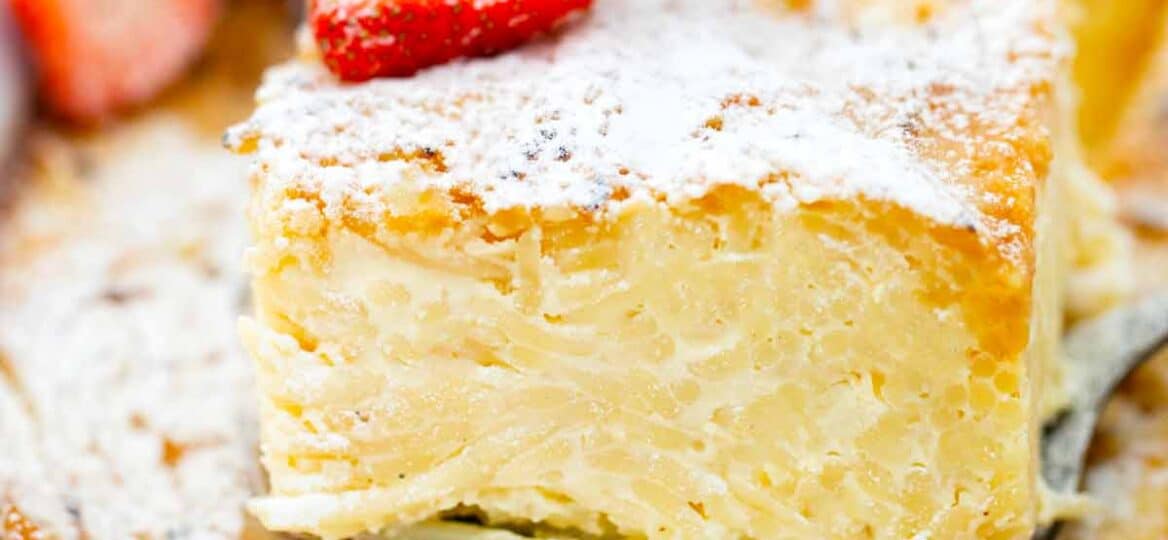 Creamy Macaroni Pudding Recipe
Creamy Macaroni Pudding is like a cross between rice pudding and macaroni salad with a sweet macaroni custard mixture baked to perfection. The thick and creamy sauce is easy to make with basic pantry items you may already have in your kitchen. All you need for this easy recipe is butter, milk, sugar, eggs, and macaroni. This is a favorite Breakfast recipe that is perfect for the holiday season! You should also try our hassle-free Overnight Pecan Pie French Toast Casserole.
Also sometimes referred to as macaroni milk pudding this is one of the British classics that my family loves. You may find it is one of those old recipes that you have never heard of and wonder why. It is possible that if you did not grow up in England, your mum did not know about this recipe either. Either way, now you have the recipe, and you can make it all the time.
Ingredients needed:
Macaroni pasta: Regular elbow macaroni pasta is good, but you could also use whole wheat macaroni or even a gluten-free type made of rice, chickpeas, or shirataki noodles.
Unsalted butter: For the best flavor, use full-fat butter. However, you can use margarine if you are on a low-fat diet. But remember that it may not be as creamy.
Cream: Again, the full-fat type is the best choice for a rich and creamy macaroni pudding.

Whole milk: Using whole milk is a good idea too for the best flavor and texture.

Brown sugar: Another layer of rich sweetness makes this macaroni pudding taste amazing.
White granulated sugar: To add the fresh sweetness that only white sugar can bring to any recipe.
Eggs: Use large eggs at room temperature for the easiest mixing.

Egg yolk: Save the egg whites to mix into a different recipe later.

Vanilla extract: Use 100% pure vanilla extract for the most vanilla flavor.

Cinnamon: A nice fall spice that adds a touch of sweetness to any dish.
Ground nutmeg: Mixed with cinnamon, ground nutmeg gives milk puddings a warm spice flavor.

Salt: Any kind of salt will work for boiling the pasta.
How to make macaroni pudding from scratch?
Preheat oven: First, preheat the oven to 350F.
Boil macaroni: Then bring a pot of water to a boil on high heat. Once it starts boiling, add salt and pasta, continuing to stir regularly. Cook for 10 to 14 minutes or what the packet instructions say. You want it to be soft but not soggy.
Drain pasta: After, drain the pasta and put it back into the pot.

Make the custard: Now, whisk eggs, milk, sugar, vanilla extract, and spices in a large bowl to make the custard mixture.

Mix: Pour the milk mixture into the pan with the cooked macaroni and stir well.

Bake pudding: Now, butter your baking dish and pour the macaroni mixture into the greased dish. Place the dish on a large cooking tray and cook in the preheated oven for 60 minutes or until the top layer is golden brown.

Serve warm: Finally, serve your tasty pudding while it is still warm.
Recipe variations:
Add fruit: To make your sweet pudding even sweeter, add some jam or preserves to the custard before baking.

Dry fruits: Instead of fresh fruit or jam, you could also add dried fruits like raisins, cranberries, or dates.
Cheesy pudding: Instead of cream, you can use cream cheese, mascarpone, or ricotta.
Make it a meal: If you want to make macaroni pudding as a meal, add some turkey or chicken chunks.
Bread pudding: Add some chopped dried bread to make bread pudding for a more filling dessert.

Glaze it: You could also top this delicious sweet pudding with some kind of glaze, whipped cream, or caramel sauce.

Crunchy: For a crunchy topping, add some chopped nuts or crumbled cornflakes.
Frequently asked questions
What are the different types of pasta?
Although many are not well-known, there are more than 350 types of pasta in varying shapes, textures, sizes, and flavors. The top 10 include spaghetti, macaroni, penne, lasagna, ravioli, rigatoni, linguini, cannelloni, fusilli, and farfalle (bowtie pasta). The first recipes date back to Italy in the 1200s, but it is thought that pasta has been being served for dinner since ancient Asians started using it thousands of years ago.
How does macaroni differ from other pasta?
While pasta can be anything from angel hair to linguini, macaroni is typically a short and tubular shape made from durum wheat. Just like there are different types of noodles, there are also different types of macaroni. Some of these include penne, rigatoni, ziti, manicotti, cavatappi, and fusilli. Some also consider ravioli, cannoli, shells, and cavatelli to be macaroni.
Can make this in a slow cooker?
Yes, it would be a perfect dish for the slow cooker or crockpot. If you are in a hurry, dump it all into the pot and stir it. Just make sure to cook the pasta al dente before you add it. Then, cook on high for three hours or on low for six hours. Just remember, if you stir it when it is cooking, the milky paste will not form and that is one of the most delicious parts of this classic recipe.
How to store leftovers:
Store: If you have any leftover macaroni pudding, let it cool and cover it with cling film. It will stay fresh in the fridge for three to four days.
Freeze: Freezing is not recommended.
Reheat: To reheat macaroni pudding, place it in a microwave-safe dish and heat in the microwave for one minute.
More dessert casseroles to try:
Creamy Macaroni Pudding
Ingredients
6

oz

macaroni

dry

2

eggs

room temperature

1

yolk

room temperature

2

tablespoons

granulated sugar

3

tablespoons

brown sugar

1

teaspoon

vanilla extract

2

cups

milk

1/3

cup

cream

1

tablespoon

butter

unsalted

1/2

teaspoon

ground nutmeg

1

teaspoon

cinnamon

1/2

teaspoon

salt

for cooking pasta
Optional:
1

orange

zested

1/3

cup

raisins

or cranberries
Instructions
Preheat the oven to 350 degrees F.

Bring a pot of water to a boil and when the water starts to boil, add some salt and pasta. Cook for 10–14 minutes, or as instructed on the package. The pasta should be soft but not soggy.

Next, drain the pasta, and then put it back in the pot.

After that, in a large bowl, whisk together: milk, eggs, sugars, vanilla, nutmeg, and cinnamon. Whisk until combined.

Pour the custard into the pot over the cooked macaroni and mix well until combined. Also, here you can mix in orange zest and raisins if using.

Use the melted butter to grease a 2-quart dish, and then transfer the macaroni mixture into the dish. Level the top with a spatula.

Place the dish on a large baking tray and bake in the preheated oven for about an hour.

Sprinkle the macaroni pudding with sugar and use a torch to burn it like for creme brûlée. Or just sprinkle some powdered sugar on top and serve it with fresh fruits.
Recipe tips:
Sprinkle the top of your pudding with white sugar and use a flame to burn to make it like crème brûlé.
Make extra. This is enough for several people but the whole lot will be gone in one sitting.

Although it tastes best when it is warm, it is also delicious and served cold.
You can also make this easily in a pie dish instead of a casserole dish.