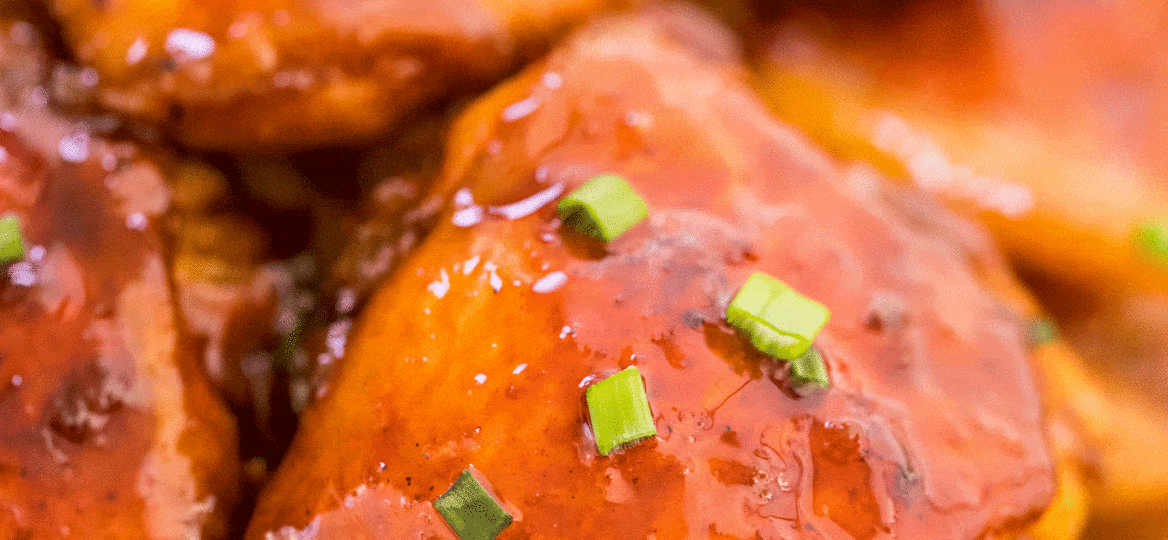 Baked Brown Sugar Garlic Chicken
Baked Brown Sugar Garlic Chicken is the BEST and JUICIEST chicken ever! It is baked to crisp-tender perfection and ready in less than 40 minutes.
This dish is super flavorful and the sweet and savory sauce makes it so much better! Enjoy it with some roasted asparagus, twice baked potatoes, or crispy roasted rosemary potatoes.
Baked Brown Sugar Garlic Chicken
Sometimes the simplest and easiest recipes are just the best. This Baked Brown Sugar Garlic Chicken requires nothing fancy or complicated, yet it results in one of the most flavorful meals ever. It is a simple oven-baked recipe, with just 5 ingredients that will be ready on your tables in about 30 minutes. Enjoy it as a delicious weeknight meal with some vegetables on the side.
Every time we make this dish, the meat turns out super juicy and tender. We love making it with thighs, but you can also replace it with breasts or even drumsticks. Either way, you will end up with a great dinner, and you'll go back to it again and again.
This amazing mixture coats the meat perfectly and it gives a huge flavor boost. It has a perfect balance, with a slightly sweet note to it, and with just a bit of spice which mixes together amazingly well. Also, it freezes well, and leftovers are just as good!
Main INGREDIENTS FOR Baked Garlic CHICKEN and potatoes:
Chicken thighs, but you can use breasts as well
Oil
Light brown sugar
Minced garlic or garlic powder
Seasonings
Hot sauce
HOW TO MAKE Baked BROWN SUGAR Garlic CHICKEN?
Start by seasoning the thighs with salt and pepper, and arrange them on the bottom of a prepared baking dish.
Combine all the sauce ingredients in a bowl.
Add the meat and the potatoes to the sauce and toss to fully coat.
Transfer the potatoes to the prepared baking dish and top with the chicken
Bake at 375 degrees F for about 40 minutes or until cooked through and browned.
Make sure not to overcook the chicken as the sugar might be burned if cooked for too long.
This sweet and garlicky crust is to die for. You can double the sauce if desired. It can be served over everything and anything.
Can I make this dish in advance?
Absolutely. Follow the preparation steps up to the point before baking. Just let the mixture cool down completely before coating the meat. Then, cover the dish tightly with aluminum foil, and refrigerated for up to 1 day before cooking. When ready to eat, simply bake it at 400 degrees F for about 25 minutes.
Similarly, you can store it in an airtight container and place it in the freezer for up to 3 months.
Baked Brown Sugar Garlic Chicken Recipe Tips:
If desired, you can cover the baking pan with foil for the first 15 minutes of cooking.
Always try using fresh minced garlic as it gives a deeper and richer flavor to this dish.
When it is done baking, you could remove the meat to a platter and add a little bit of soy sauce.
Use a food thermometer to check the internal chicken temperature. It should be between 160-165 degrees F.
Also, for a spicier kick, add some red pepper flakes or a squirt of Siracha.
Serve with rice, roasted brussels sprouts, and mashed potatoes.
You can also bake some potatoes at the same time, to make it a full meal.
More homemade chicken recipes:
Tools used to make this recipe:
Baking pan – We love using this enamel cast iron pan as it spreads the temperature evenly, and always results in the best cooking experience. Kitchen thermometer – It is a handy tool to have, and helps you know precisely when the meat is done, without guessing.