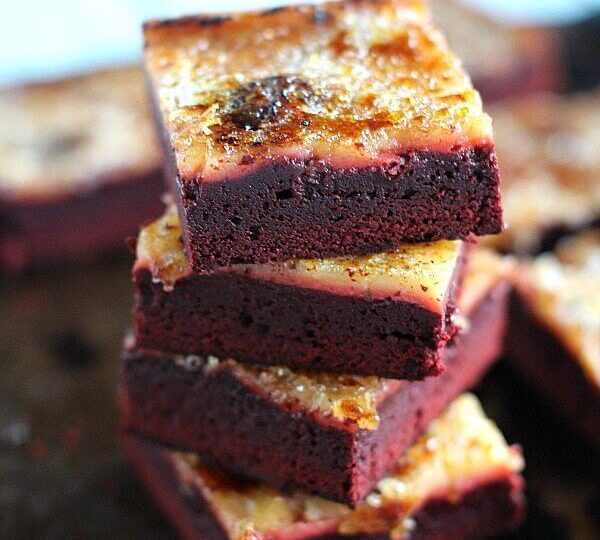 Red Velvet Creme Brûlée Brownies
Red Velvet Creme Brûlée Brownies are the perfect combo of rich, decadent chocolate, creamy vanilla and caramelized crunchy sugar.
I love making Creme Brûlée desserts like our popular Pumpkin Pie Creme Brulee and Sugar Cookie Creme Brulee.
Red Velvet Creme Brulee Brownies
The idea of Red Velvet Creme Brûlée Brownies has literally kept me up at night! These are two of my favorite desserts combined into one. I would go to sleep thinking how great it would be to have them married into one single decadent treat. With Valentine's Day right around the corner, I wanted to make a red dessert.
Red Velvet Creme Brûlée Brownies are very easy to make, and taste even better. They are loaded with chocolate, dense, rich, moist and fudgy. The creme brûlée layer is very thin, just enough to add some vanilla flavor, creaminess and some crunch. Its the perfect finish to each bite. If you are looking for a creative, delicious, easy to make and gorgeous dessert for Valentine's Day or just any other occasion, these brownies are the way to go!
Why You'll Love these Red Velvet Creme Brulee Brownies:
They are rich and chocolaty and are a show stopper dessert.
Easy to find ingredients and minimum prep work and dishes to clean.
Perfect for brunch parties and for bigger crowds.
Easy to transport if you have to take them to a brunch party.
Perfect for Valentine's Day.
Can be made 1 or 2 days in advance so you don't have to worry about a last minute dessert.
Pin This Red Velvet Creme Brûlée Recipe to your Favorite Board
Can you make Red Velvet Creme Brûlée without a torch?
Yes, you can. Place the pan in the oven on the top rack, and turn on the broiler. Broil for 5 to 10 minutes, making sure to rotate the pan frequently so that it broils evenly. Watch the pan closely and take it out when the brownie's top are golden brown and bubbling.
How Long Will Red Velvet Creme Brûlée Stay Fresh?
The brownies can be stored wrapped in plastic wrap at room temperature for about 4-5 days.
Can You Store and Freeze These Red Velvet Creme Brûlée Brownies?
Absolutely! This brownies freeze well. Cool the brownies completely and fully wrap it in plastic wrap, tightly. After that wrap in aluminum foil. Freeze for up to 2-3 month. Defrost before serving.
Looking for more Brownies recipes?
Fudgy Walnut Coffee Brownies
Tools/Ingredients used to make the Red Velvet Creme Brûlée Brownies Recipe:
Non Stick Baking Pan – I use it for many recipes, brownies, fudge and blondies, the quality is great and it will last you a long time.
Unsweetened Cocoa Powder – delicious flavor, it will make any chocolate dessert amazing.
Gel Food Coloring – this set comes in a variety of colors and it won't add extra water to your recipe.
Parchment Paper – a kitchen staple, it just makes life so much easier with it's non-stick magical powers.
Torch – a must have in the kitchen even if you don't use it that often, but very handy when creme brûlée craving stuck.