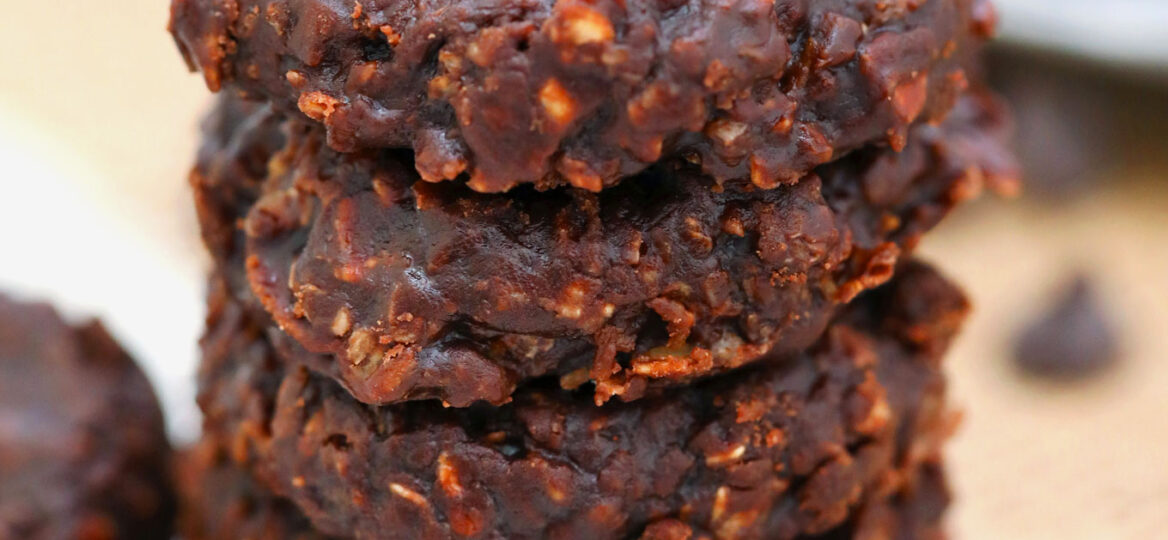 Chocolate Peanut Butter No-Bake Cookies [Video]
No-Bake Cookies are chewy, chocolaty and nutty at the same time! The best part is that they are quick to make and no use of the oven in this recipe!
I am a fan of anything that does not require baking because it means less waiting time and no need to watch the oven. I even have several similar recipes that are worth checking out like this Tiramisu Cheesecake, Chocolate Pie with Oreo Crust, and Peanut Butter Bars.
Chocolate Peanut Butter No-Bake Cookies
These No-Bake Cookies are made with pantry staples so you can enjoy them anytime a craving strikes. They are a classic favorite! Aside from not using the oven like what typical cookies require, there is no use of flour and eggs in this recipe.
All you need is a few sticky ingredients to bind the dry ingredients. Even when no cooking is required, there is no skimping on texture and flavor here.
The crunch that the corn flakes and oats bring is delightful. And the contrasting creaminess of the rest of the ingredients, especially the peanut butter, adds appeal to this comforting dessert. Pretty sure, family and friends of all ages will enjoy them.
What are No-Bake Cookies?
From the name itself, this kind of cookies does not require heat to set. The raw ingredients are safe to eat, easy to form, and never short on flavor.
With no use of flour and egg, this dessert easily becomes one of the easiest recipes there is. They are chocolaty and crunchy at the same time.
Once prepared on the baking sheet, just wait for them to set, and you are done!
How to make No-Bake Cookies:
Ready the sheets: Prepare the baking sheets by putting parchment paper on them.
Prep the wet ingredients: In a saucepan, melt some butter and whisk in the sugars, cocoa, and dairy. Over medium heat, stir until the mixture boils. Once it starts to boil, let it be for one whole minute without disturbing it.
Add the rest of the ingredients: Once the minute is up, then, remove the saucepan from the stove. Then, add the rest of the ingredients and combine completely.
Set: Scoop out small balls of about 2 tablespoons each and arrange on the baking sheets. Allow everything to set for at least 20 minutes. You can also chill the cookies to hasten the process.
Serve or store: When already set, you can then serve the cookies or store in an airtight container for later.
Flavor Variations:
No corn flakes: You can make a whole new batch using the same recipes, but instead, oat that has been processed in the blender or food processor can be used.
Add-ins: Stir in some chopped nuts or raisins for more flavor and texture.
Sugar alternatives: You can replace the sugars in this recipe with sweeteners like stevia, xylitol, or allulose.
Can you make them in advance?:
Yes! They keep well whether at ambient temperature or in the fridge. Simply put in airtight containers and they will stay good for at least a week. That is if you can get your cravings under control and not indulge every so often!
Recipe Tips:
Substitute coconut oil with butter or nut milk to milk. These are vegan alternatives.
Use quick oats, not rolled oats. They naturally absorb more moisture which makes it more effective in binding.
The cookies may set even at ambient temperature. Refrigerating them is optional.
Serve it with milk and enjoy!
If you want flourless recipes like this, you can also check out the recipe for peanut butter cookies, chocolate cake with raspberry sauce, and white chocolate plum pie.