Flourless White Chocolate Plum Pie
Last updated on June 18th, 2021 at 04:12 pm
Flourless White Chocolate Plum Pie is insanely creamy, sweet and a tad tangy, with three layers of pure deliciousness that will make you ask for more.
While I like to stuff my face with decadent mousse layered brownies, chocolate cakes and even custard cakes, my love for creamy, light desserts has been equally documented on this blog. Today I want to share with you a light, end of summer, flourless white chocolate plum pie that is insanely creamy and delicious.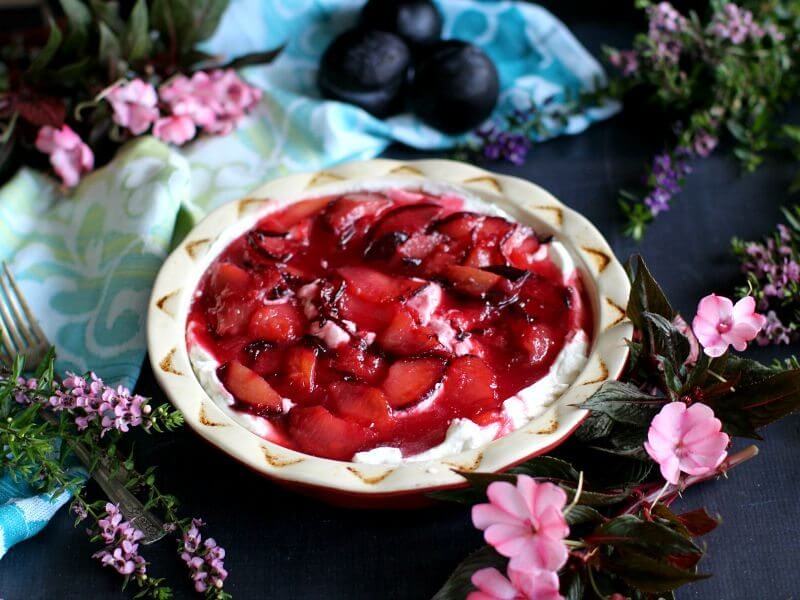 Flourless White Chocolate Plum Pie
I have been eyeing some juicy plums at the Farmer's Market for quiet some time. But got the chance to actually incorporate them into a dessert only this weekend. This flourless white chocolate plum pie is the perfect "kiss goodbye" to summer dessert. First layer is a white chocolate flourless cake, that is sweet, buttery, moist and so tender. Next, there is a layer of sweet and fluffy fresh whipped cream. It is then topped with a tad tangy, juicy and flavorful lemon plum sauce. Each bite is a party for your taste buds!
I can't even describe how good this flourless white chocolate plum pie is. If you are that person who likes airy, creamy desserts that are still scrumptious and delicious you have to make this to satisfy your sweet tooth. Additionally, you can use any stone fruit for this pie, for a more sweet and fresh flavor. Also, I would recommend using peaches or nectarines with some fresh mint leaves. Raspberries and blackberries would work well too.
The secret, and the magic is in the flourless white chocolate layer. That is the one that adds enough texture, the layer is so buttery and soft that it just melts in your mouth with the cream. The sweet and tangy plums balance the white chocolate and sugar perfectly. In addition, the small amount of lemon juice that was added to the plum sauce adds some freshness and clears the palette for your next indulgent bite.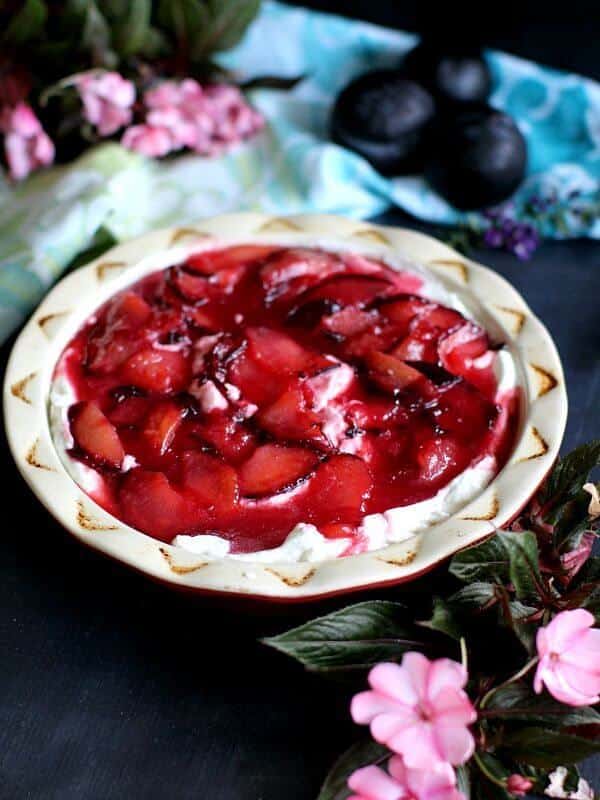 Flourless White Chocolate Plum Pie
Make sure you refrigerate the cake after topping it with whipped cream and plum sauce. I couldn't wait any longer and started to shoot right after I was done layering it. Also, since the cream is soft it started melting a little. After that, I put it in the fridge for two hours and the layers looked perfect!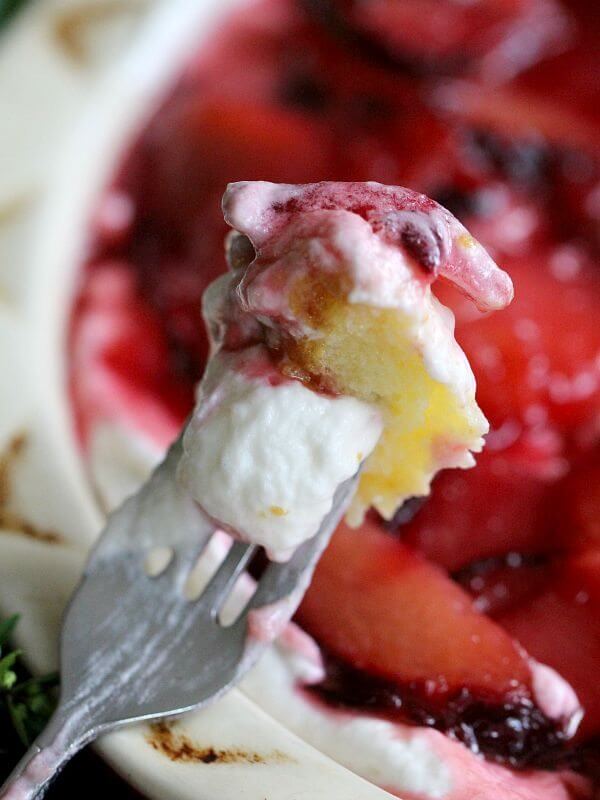 Flourless White Chocolate Plum Pie
Flourless White Chocolate Plum Pie is insanely creamy, sweet and a tad tangy, with three layers of pure deliciousness that will make you ask for more.
Save
Share
Print
Pin
Rate
Ingredients
Flourless White Chocolate:
4.2

ounces

white chocolate

(chopped)

110

grams

stick butter

(room temperature + extra for greasing the pan)

3

eggs

(egg whites and egg yolks separated)

2

cups

boiled water
For the Whipped Cream:
1

cup

whipping cream

3

tablespoons

sugar
For the Plum Sauce:
3

large plums

(halved and pitted)

3

tablespoons

sugar

2

tablespoons

butter

juice of one lemon

1

tablespoon

cream of tartar
Instructions
Fill a small saucepan with water and bring to a boil and let the water simmer, choose a heat safe bowl that would sit nicely over the sauce pan and add the white chocolate to it.

The bowl should not come into contact with the water in the saucepan as this can cause over heating. Remove the bowl from the saucepan while there are still a couple of small lumps of unmelted white chocolate, stir until completely melted and smooth. If there are a few lumps that didn't melt just put the bowl back over the saucepan of hot water for a minute or two and stir again. Set chocolate aside to cool to almost room temperature.

Preheat oven to 340F.

In the bow of an electric mixer fitted with the whisk attachment (or using a hand mixer) whisk the butter until smooth and fluffy, about 1 minute. Add the cooled down white chocolate to the whipped butter and slowly whisk until just combined, add the egg yolks one at a time, whisking gently on low speed until just combined.

Whisk egg whites until white and fluffy, about 2 minutes, and using a spatula fold half of the egg whites into the batter, then the other half.

Butter a 9inch pie dish and pour the batter into it, smooth the surface using a spatula.

In a deep baking pan, pour 2 cups of hot water and place the pie dish on the pan. Bake for 15 minutes at 340F and without opening the oven reduce temperature to 320F and bake for another 15 minutes. Turn the oven off (do not open the oven) and let it rest in the oven for another 15 minutes.

Remove from oven, transfer dish to a wire rack and let cool completely to room temperature.
For the Whipped Cream:
Place a metal mixing bowl and metal whisk into the freezer for 10 to 15 minutes.

Place the sugar into the mixing bowl and add the whipping cream. Whisk just until the cream reaches stiff peaks. Top the white chocolate layer with whipped cream and place in the fridge. In the meantime work on the plum sauce.
For the Plum Sauce:
Cut plums lengthwise into slices.

Place a medium skillet over medium heat on the stove. When the skillet is hot add the butter, when butter has melted add the plums and sugar, and cook for 5 minutes stirring occasionally. Add the lemon juice and cook for a few more minutes until plums start to get tender. Stir in the cream of tartar and cook for 1-2 more minutes for the sauce to thicken. You don't want the plums to be completely soft and start to fall apart, so stir gentle during this process. Let the sauce cool completely at room temperature.

When the plum sauce has cooled down pour it over the whipped cream layer, refrigerate for 1 hour before serving.

Enjoy!
Nutrition
Calories:
254
kcal
|
Carbohydrates:
15
g
|
Protein:
2
g
|
Fat:
20
g
|
Saturated Fat:
8
g
|
Cholesterol:
70
mg
|
Sodium:
114
mg
|
Potassium:
287
mg
|
Fiber:
0
g
|
Sugar:
13
g
|
Vitamin A:
490
IU
|
Vitamin C:
1.7
mg
|
Calcium:
40
mg
|
Iron:
0.3
mg
More recipes you might love