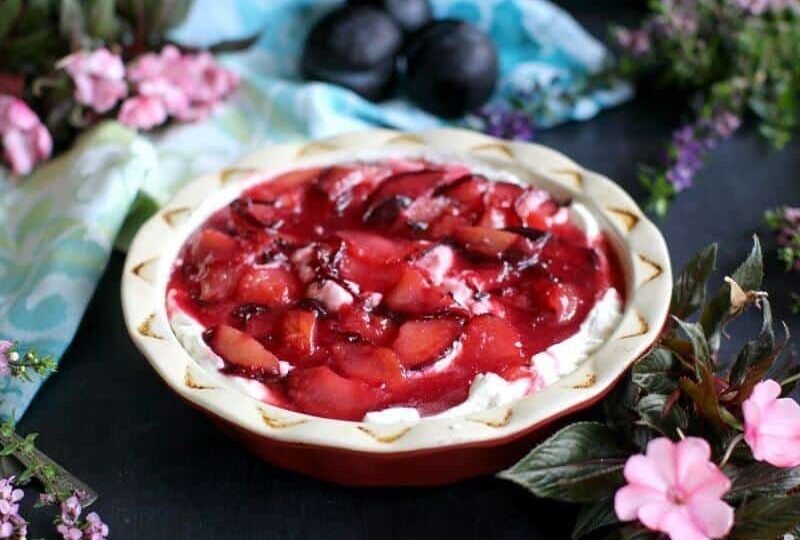 Flourless White Chocolate Plum Pie
Flourless White Chocolate Plum Pie is insanely creamy, sweet and a tad tangy, with three layers of pure deliciousness that will make you ask for more.
While I like to stuff my face with decadent mousse layered brownies, chocolate cakes and even custard cakes, my love for creamy, light desserts has been equally documented on this blog. Today I want to share with you a light, end of summer, flourless white chocolate plum pie that is insanely creamy and delicious.
Flourless White Chocolate Plum Pie
I have been eyeing some juicy plums at the Farmer's Market for quiet some time. But got the chance to actually incorporate them into a dessert only this weekend. This flourless white chocolate plum pie is the perfect "kiss goodbye" to summer dessert. First layer is a white chocolate flourless cake, that is sweet, buttery, moist and so tender. Next, there is a layer of sweet and fluffy fresh whipped cream. It is then topped with a tad tangy, juicy and flavorful lemon plum sauce. Each bite is a party for your taste buds!
I can't even describe how good this flourless white chocolate plum pie is. If you are that person who likes airy, creamy desserts that are still scrumptious and delicious you have to make this to satisfy your sweet tooth. Additionally, you can use any stone fruit for this pie, for a more sweet and fresh flavor. Also, I would recommend using peaches or nectarines with some fresh mint leaves. Raspberries and blackberries would work well too.
The secret, and the magic is in the flourless white chocolate layer. That is the one that adds enough texture, the layer is so buttery and soft that it just melts in your mouth with the cream. The sweet and tangy plums balance the white chocolate and sugar perfectly. In addition, the small amount of lemon juice that was added to the plum sauce adds some freshness and clears the palette for your next indulgent bite.

Flourless White Chocolate Plum Pie
Make sure you refrigerate the cake after topping it with whipped cream and plum sauce. I couldn't wait any longer and started to shoot right after I was done layering it. Also, since the cream is soft it started melting a little. After that, I put it in the fridge for two hours and the layers looked perfect!