How to Seed a Pomegranate [Video]
Pomegranate seeds are juicy and delicious, but they are quite tricky to prepare. In this post, learn how to seed a pomegranate and prepare this fruit all by yourself!
If you love fruits, then, enjoy having them as desserts and pastries as in our recipes for Peach Cobbler, Apple Crumble, and Strawberry Banana Smoothie!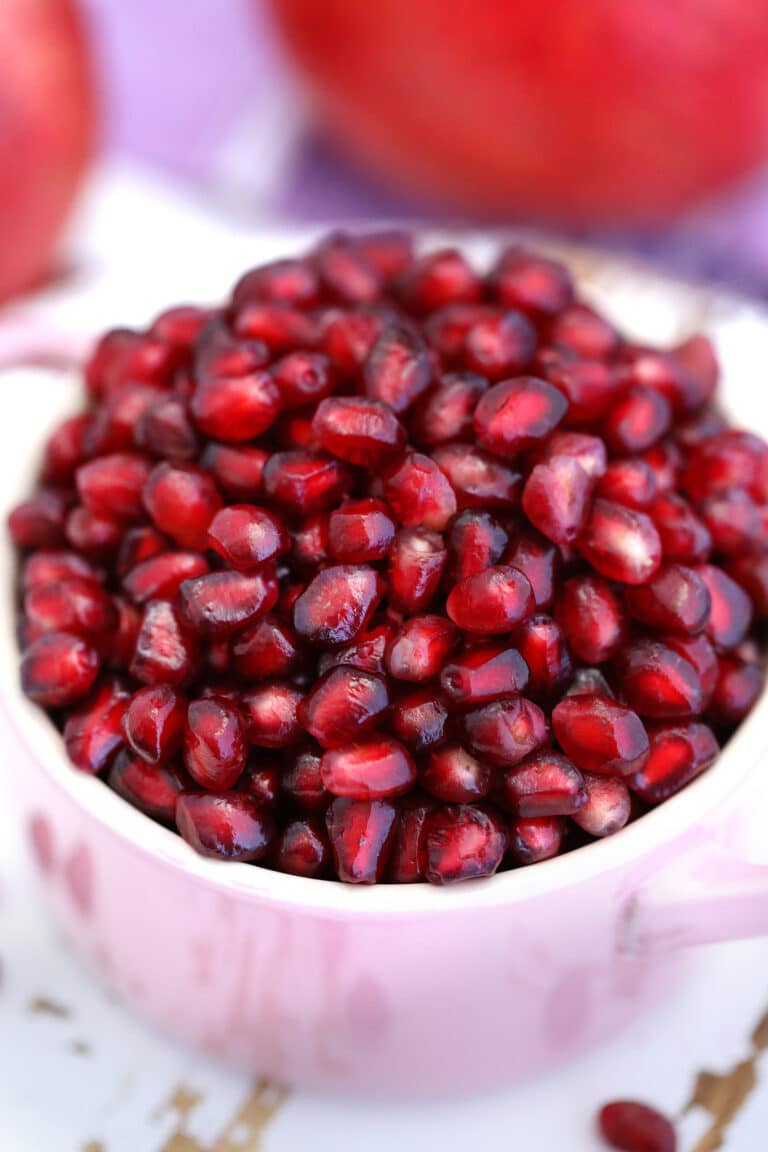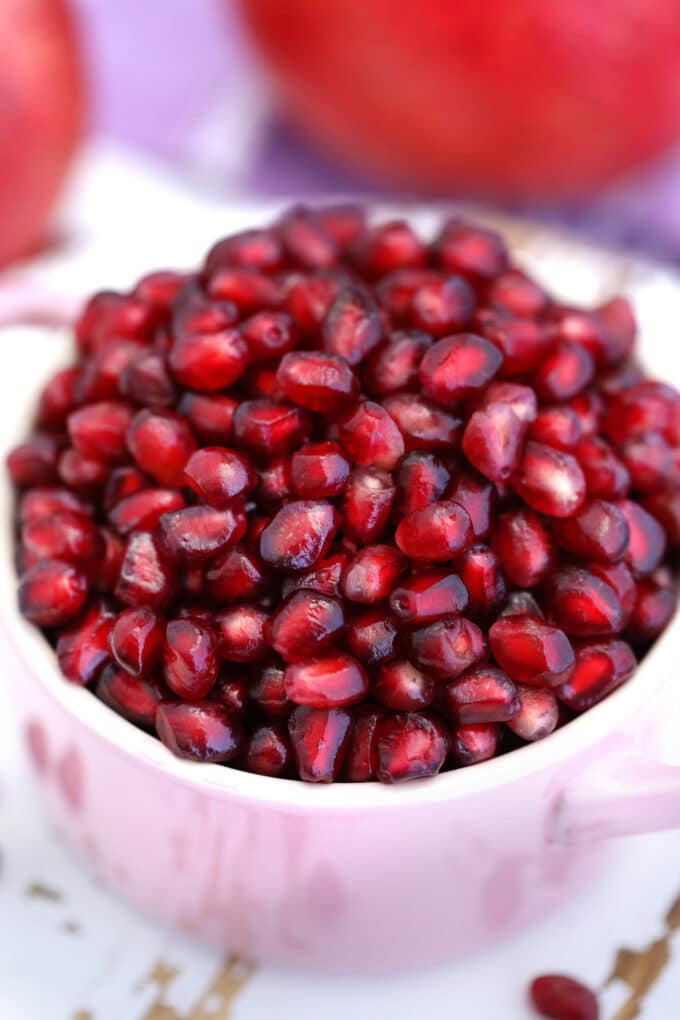 How to Seed a Pomegranate
Pomegranate seeds are more aptly called arils. The seed in the middle and the juice comprise the arils which are the prized parts of the fruit.
The fruit is round and bulbous with a thick membrane containing the seeds. Some people will simply cut through the center with a knife, destroying the precious arils.
You can snack on these arils or prepare a few pieces of the fruits to make fresh juice. Though cutting through the middle is fast and easy, you will cause the arils in the middle to burst and the juice can stain your cutting board or countertop.
To avoid this, read this post! I will teach you how to prepare the arils without getting your hands dirty!
What is a pomegranate?
It is a fruit that is red and smooth on the outside, about the size of an orange. It contains many juicy arils, which accounts for half of its weight. These arils taste sweet and tart at the same time.
In season from around September until November, during this time, you can be sure to get only the freshest produce in the local markets.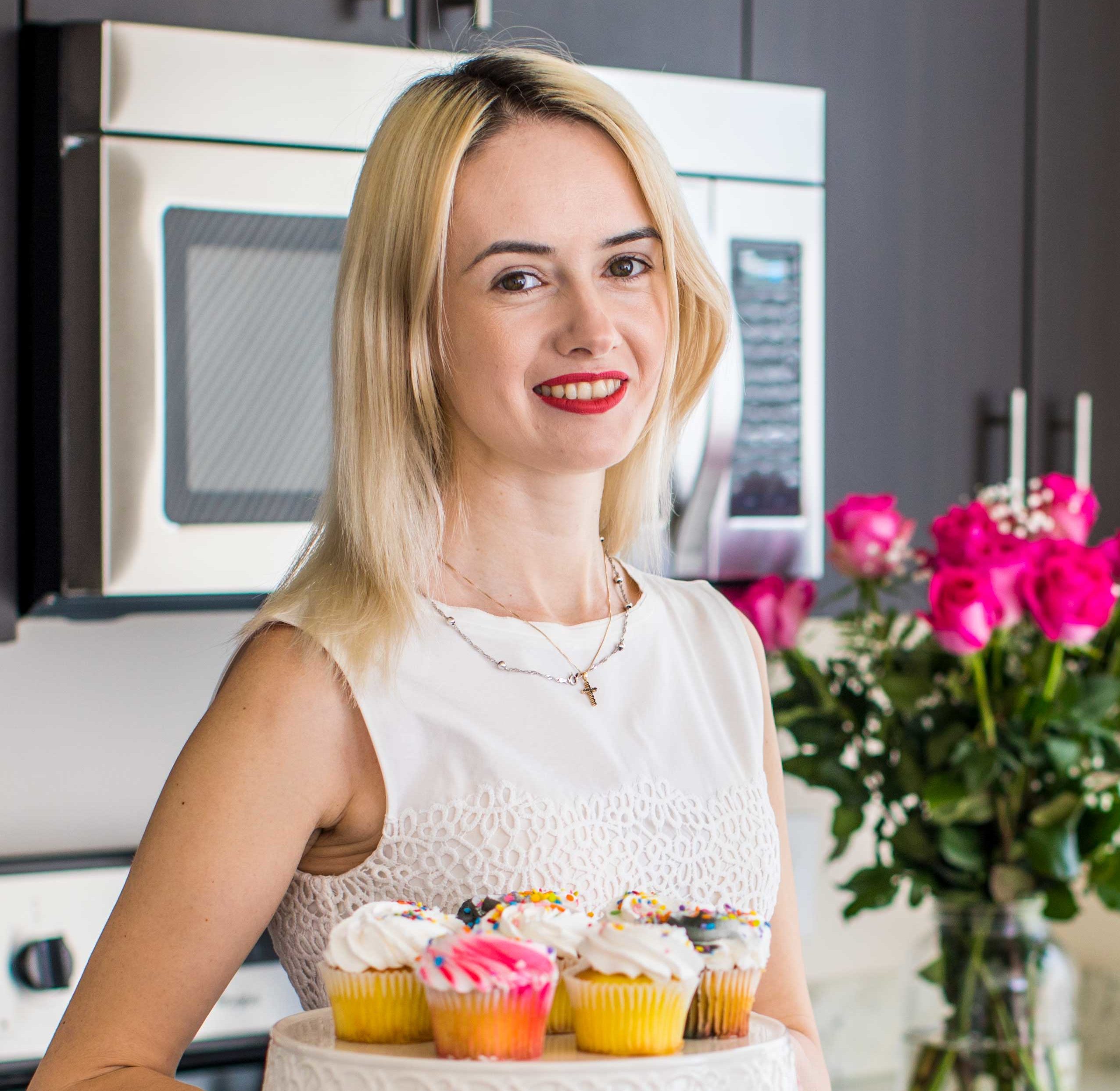 Follow us on Pinterest for more delicious recipes!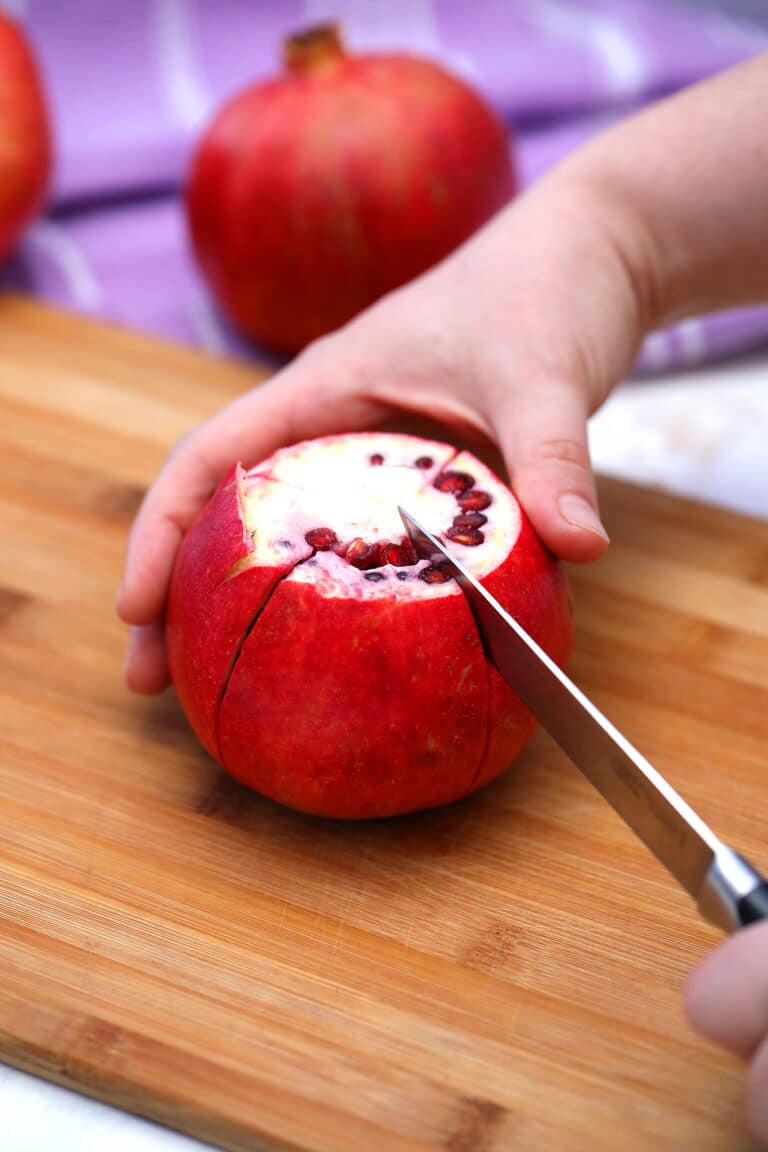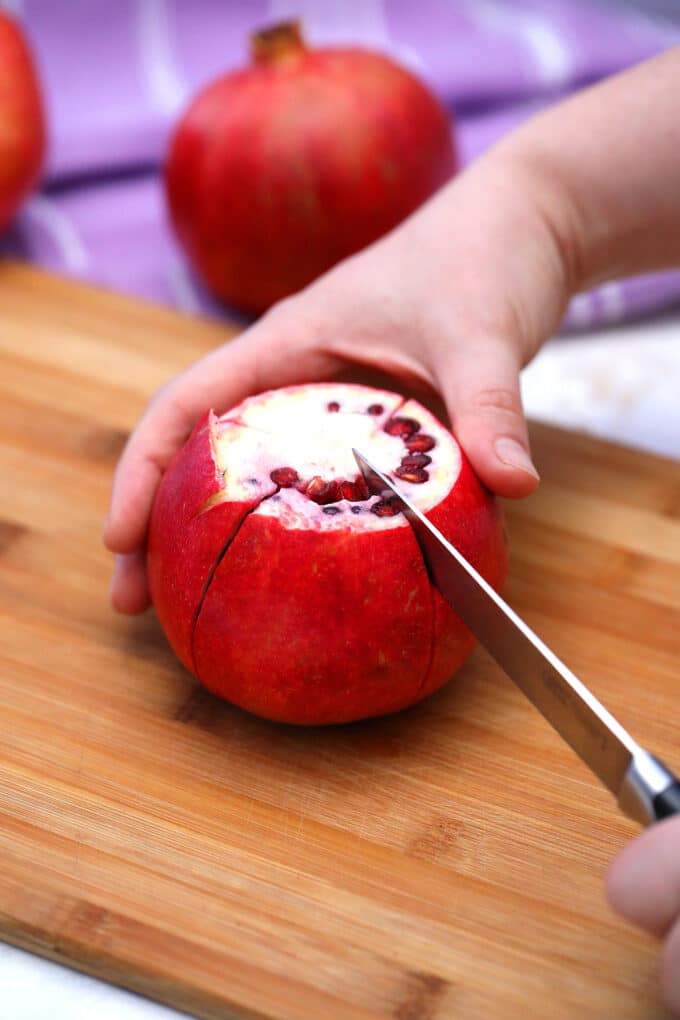 Pomegranate Health Benefits
It has high levels of antioxidants, probably the main health benefit that you can get out of this fruit. Its levels of antioxidants are even better than that of red wine!
These antioxidants help in reducing inflammation in the body, fighting off cancer and infection, and lowering blood pressure.
Also, based on USDA's report on this fruit, one cup of arils will give you:
135.60 g water
144 kcal energy
2.91 g protein
411 g potassium
17.7 g vitamin C
66 µg folate
Despite the high nutritional value of this fruit, it has minimal calories and so, it is good for those trying to lose weight as well.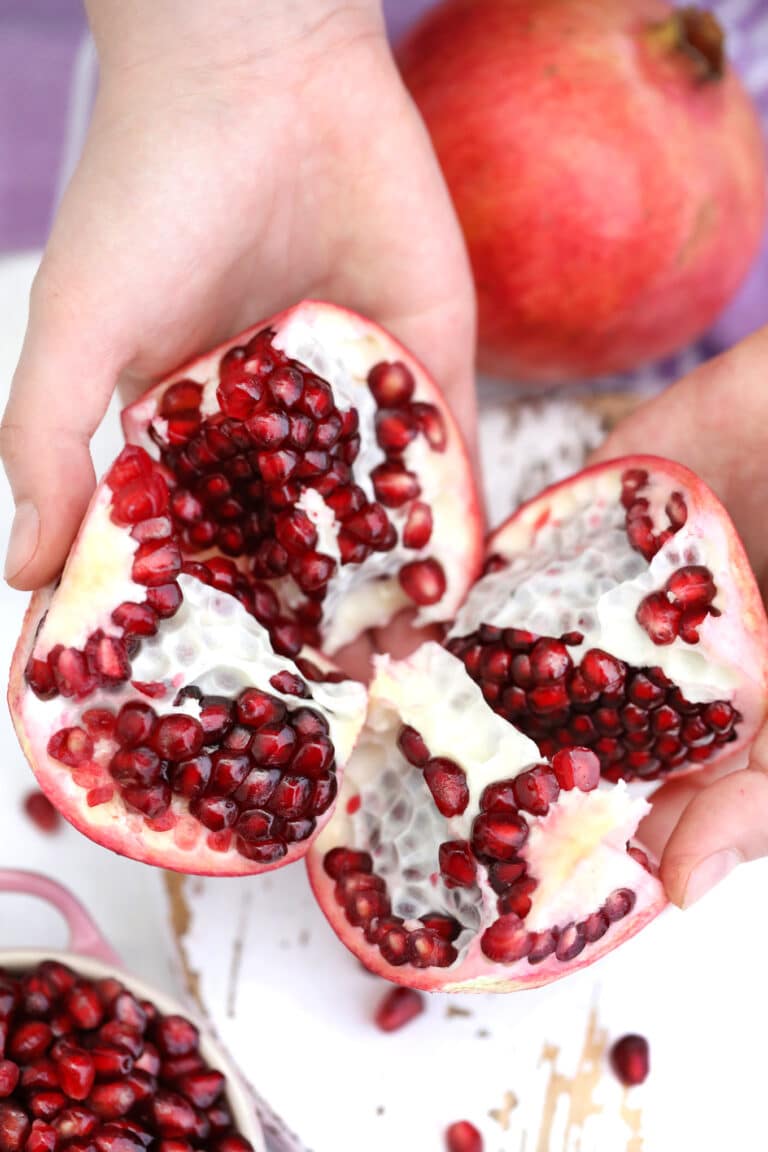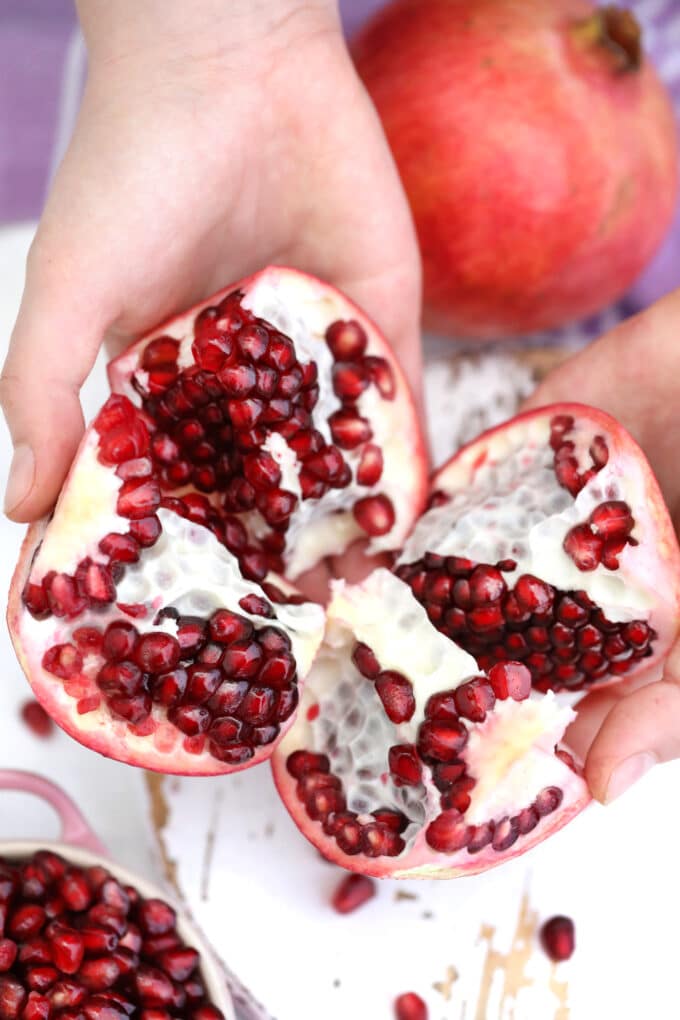 How to seed a pomegranate?
Cut: Slice off the top (crown) and bottom sides of the fruit. Then, lightly cut vertical lines on the skin along the ridges. Remember to go about lightly on this. The knife must only touch the membrane.
Crack open: Get a bowl of water and submerge the fruit in it as you crack the fruit open. This will help contain the juice of any aril that may get damaged during this step as the juice may stain. Crack each piece along the vertical cuts on the skin you induced earlier.
Separate: Release the arils from the membrane by rolling with your fingers until each one is detached. The arils will sink in the water while the membranes float which effectively separates the two. You may get a strainer to collect the arils after.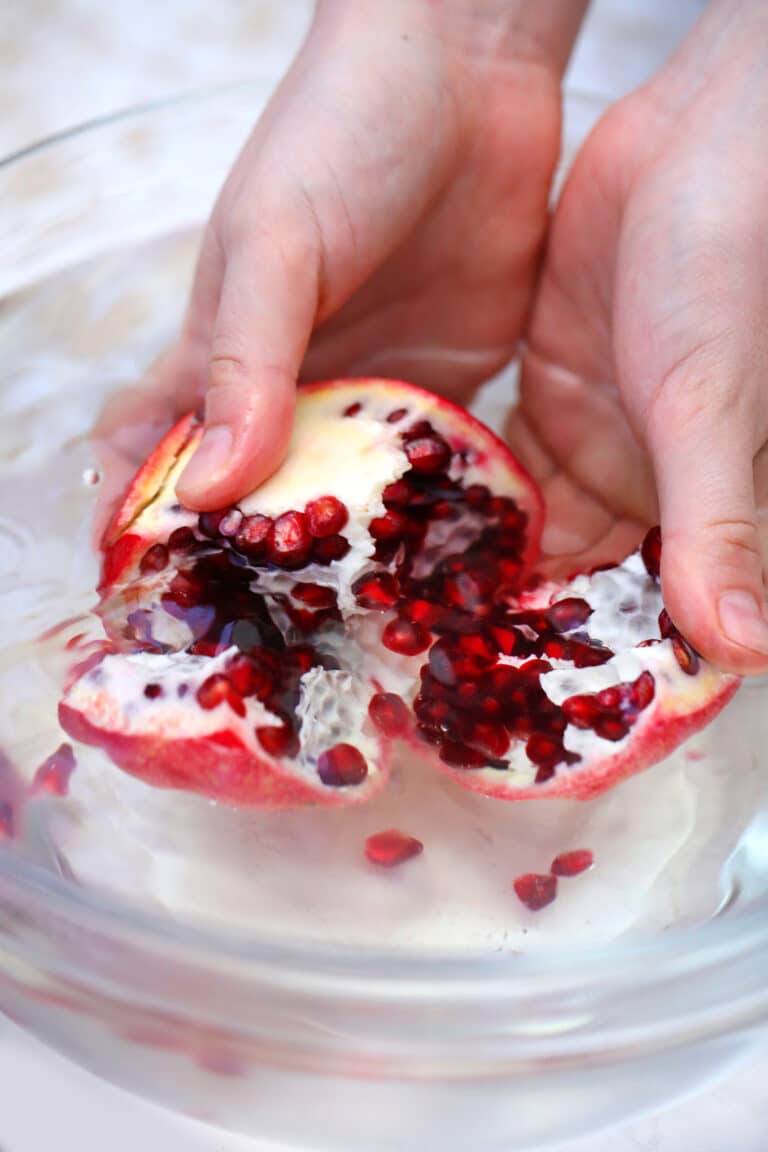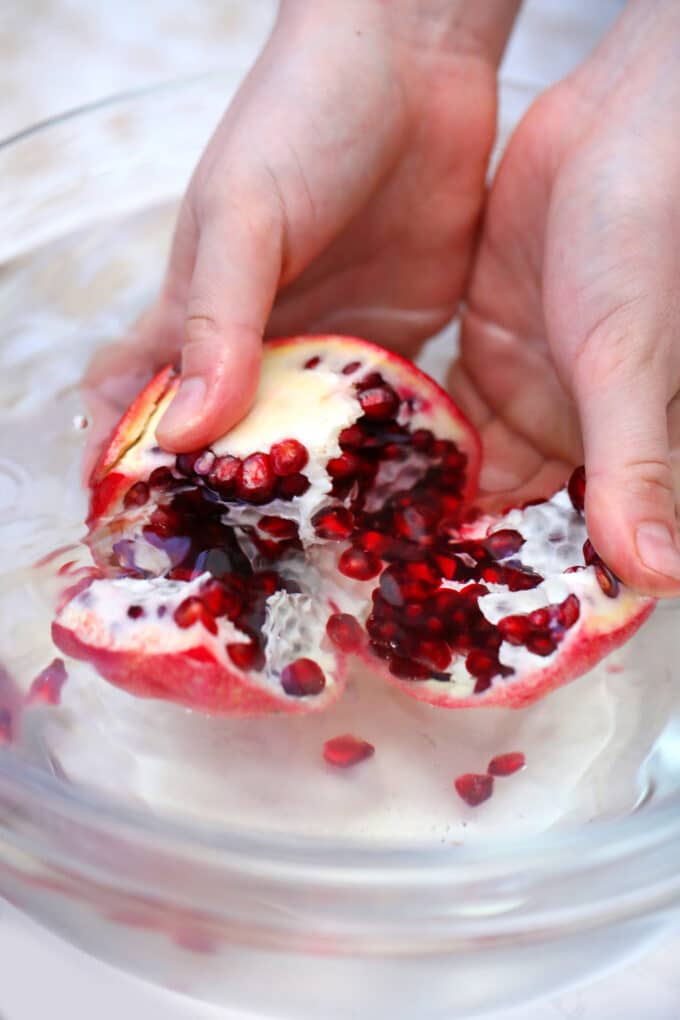 Is it safe to eat pomegranate seeds?
Yes! They are a good source of fiber and nutritious, too. So, you can eat them whole, and there is no need for you discard each one.
How to eat pomegranate seeds?
Often eaten raw by itself, you can also add the pomegranate seeds in salads or make into juice.
To prepare the beverage out of this, you can pulse once or twice with a blender, press to release the juices, then strain the pulp.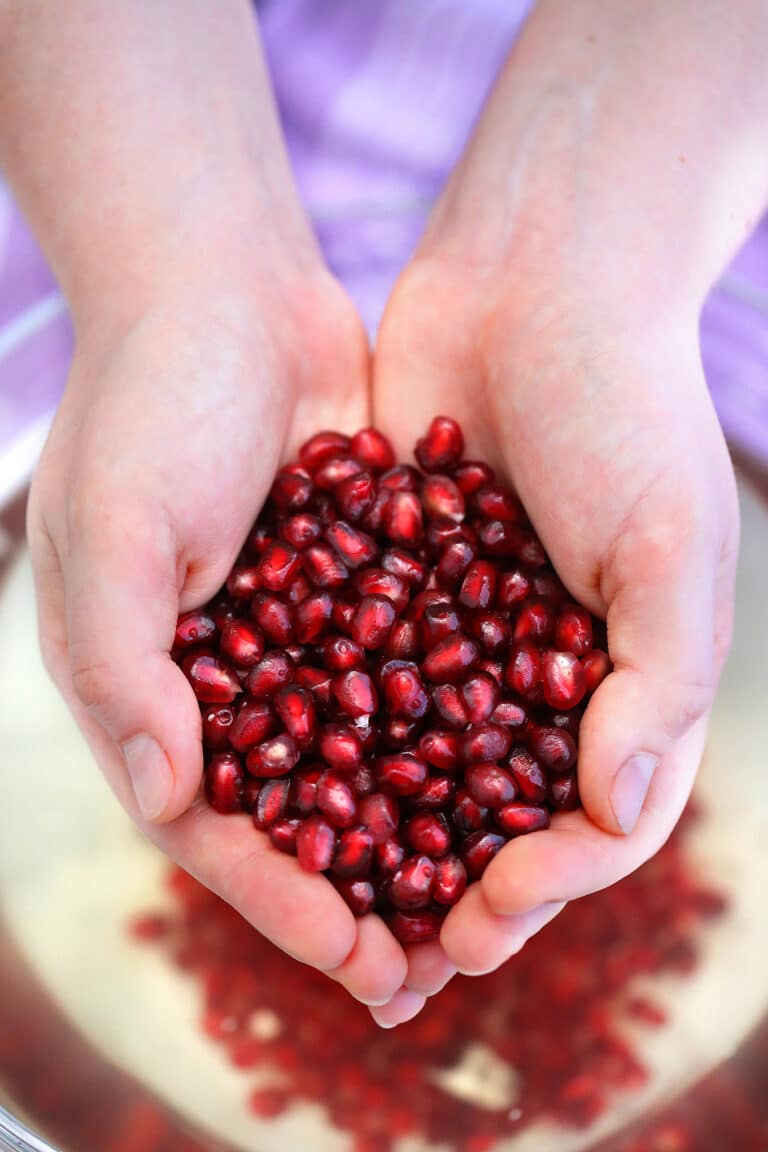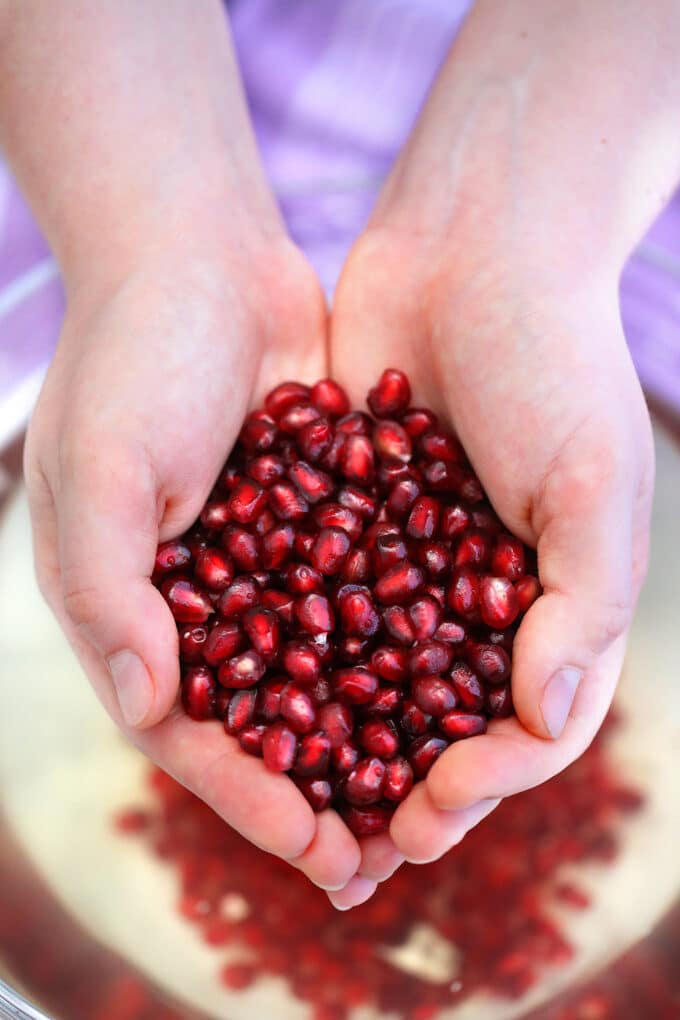 Storing instructions:
To refrigerate: You can chill the pomegranate seeds for 3 days in the fridge, stored in an airtight container.
To freeze: To extend the shelf life to 6 months, you can freeze the pomegranate seeds. Arrange the arils in a single layer on a baking sheet and flash freeze for about two hours. Once frozen, you can transfer the pieces into freeze-proof containers.
Recipe Tips:
When you buy pomegranates, look for ones that feel heavy for their size. It is perfectly fine to get those with natural cracks which are produced when the arils are just too many and juicy for the fruit to even contain.
Also, whole pomegranates can be stored quite well at room temperature away from direct sunlight for several weeks and even for until 3 months when refrigerated.
Do not try to eat the raw membrane as it tastes bitter.
Save Recipe
How to Seed a Pomegranate
Pomegranate seeds are juicy and delicious, but they are quite tricky to prepare. In this post, learn how to seed a pomegranate and prepare this fruit all by yourself!
Author: Catalina Castravet
Serves: 1 pomegranate
Prep time:

10

minutes
Total time:

10

mins
Instructions
Cut:
Crack open:
Separate:
Nutrition information
Calories: 234 Carbohydrates: 52 Protein: 4 Fat: 3 Saturated Fat: 0 Cholesterol: 0 Sodium: 8 Potassium: 665 Fiber: 11 Sugar: 38 Vitamin C: 28.8 Calcium: 28 Iron: 0.8
Save Recipe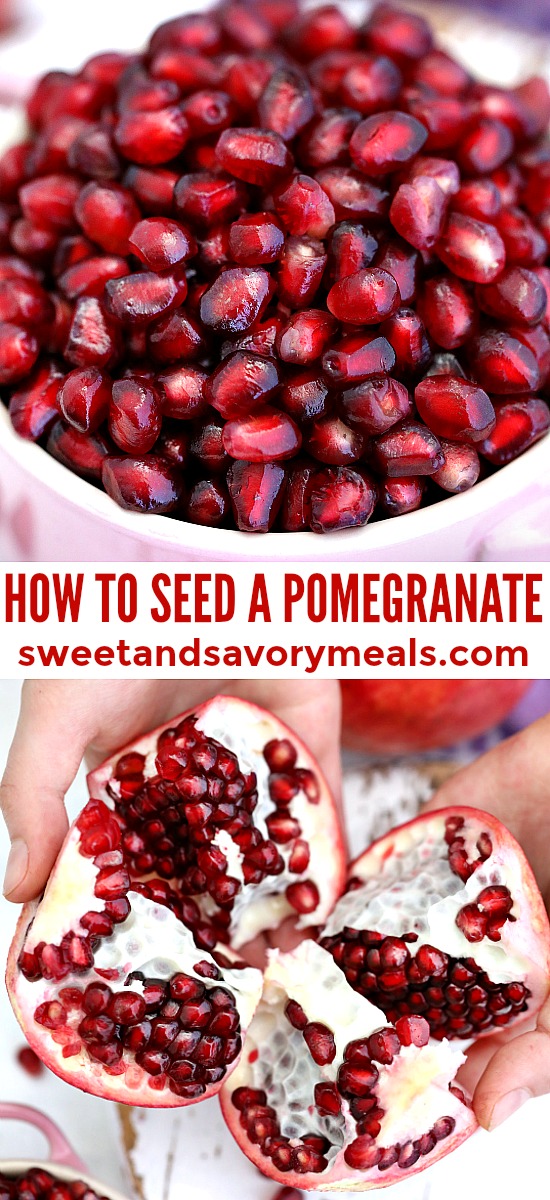 More recipes you might love
Categories: