White Chocolate Funfetti Cake
This post may contain affiliate links. Please read my disclosure policy.
Funfetti Cake is very easy to make with just a few ingredients, loaded with sprinkles and topped with melted white chocolate, this cake is a fun dessert.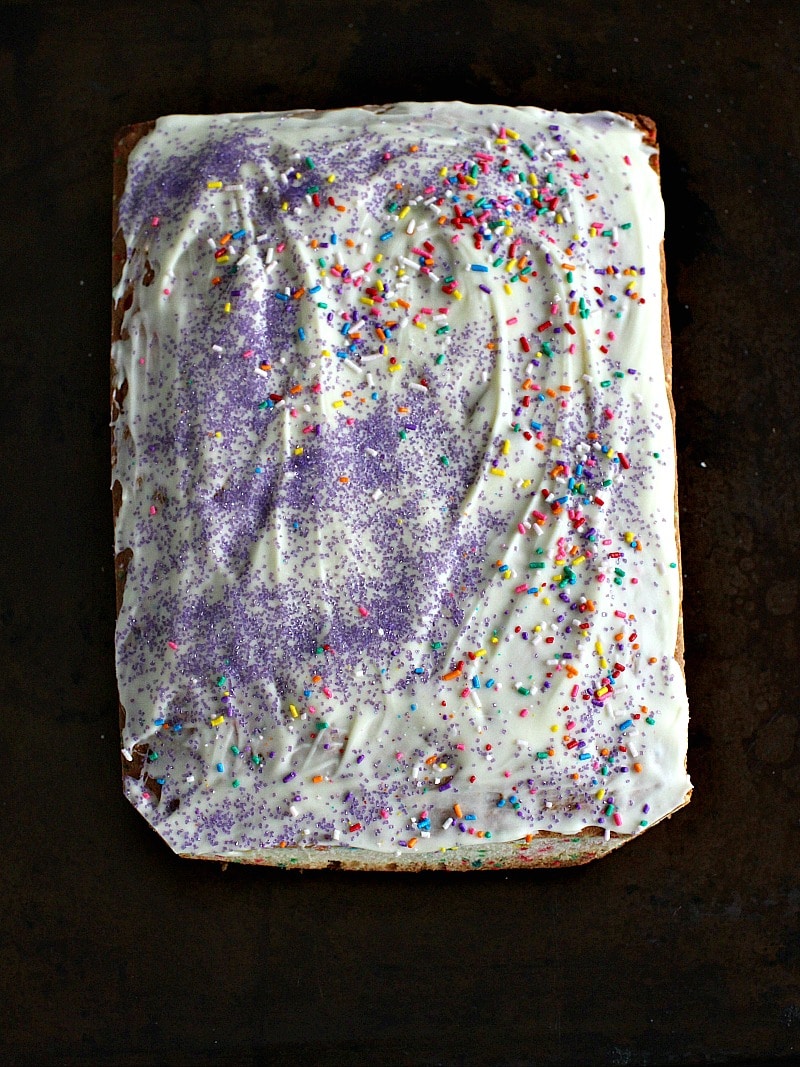 Funfetti cake covered in white chocolate, what else can you wish for! I can just hug this fluffy and sweet cake and eat it all by myself.

Sprinkles are so much fun, they just make me happy, no matter how old are you, sprinkles are meant to put a smile on your face. This funfetti cake is very easy to make, mix, bake and enjoy. This funfetti cake is super fun to make with kids as it has super simple ingredients and they will love to stir in the colorful sprinkles. My toddler had so much fun mixing and taste testing, which involved a lot of spatula licking.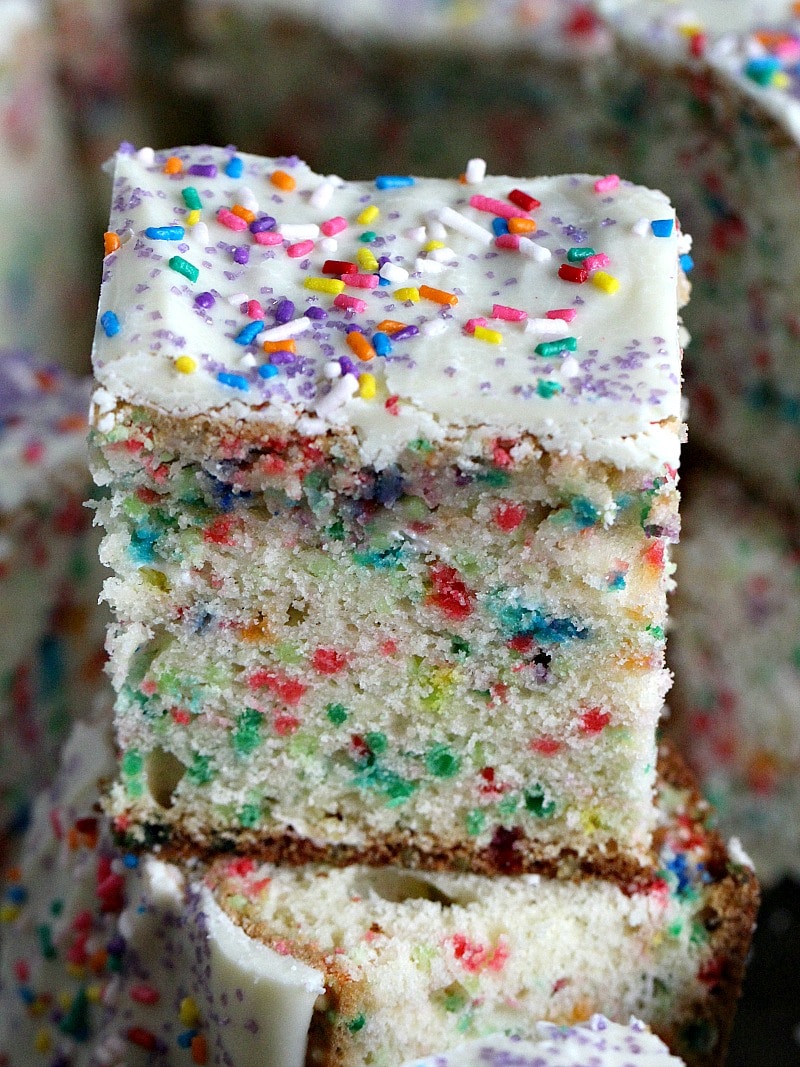 The batter for this funfetti cake is very versatile, you can easily use it to make cupcakes, or a layered funfetti cake, or if you want an easy funfetti cake and to save some time just bake it in a sheet pan.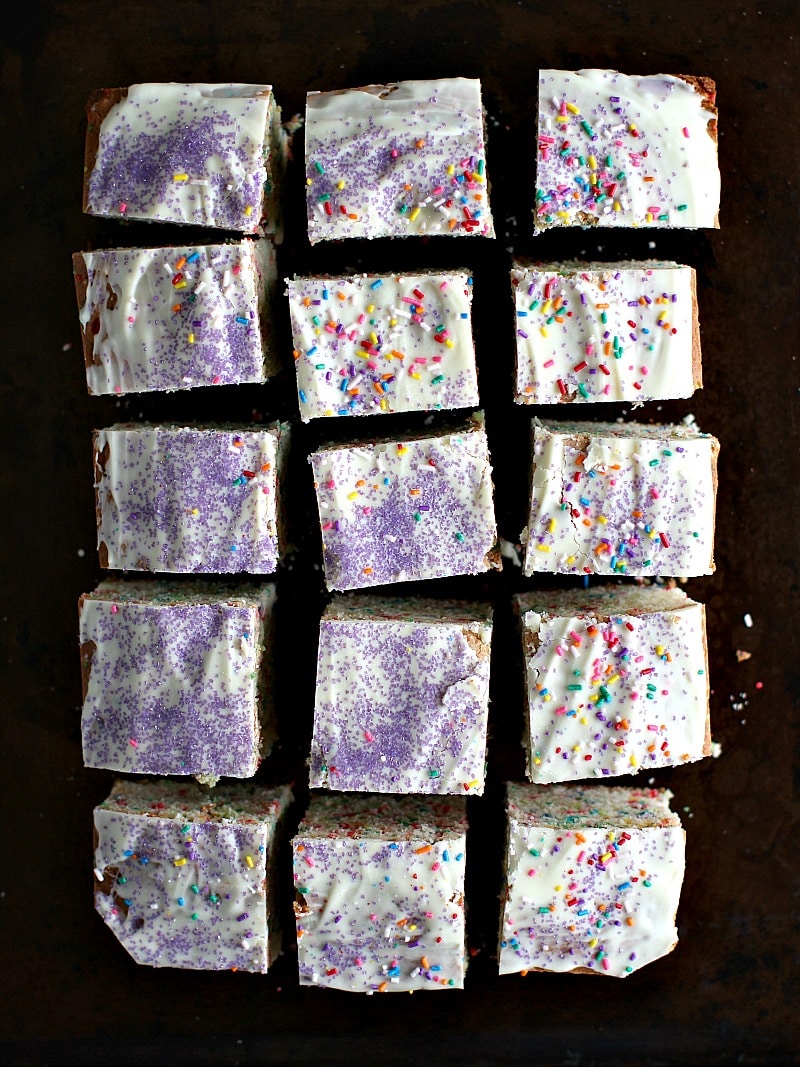 The toppings are again based on preference, since I made this funfetti cake with the intention to send it to my son's pre-school I covered it in white chocolate and sprinkles, since its easier to transport. Also, its much easier for kids to eat, and should I add mess free. My son absolutely loves it when I give him treats to take to school, and he is super excited to share this chocolate covered funfetti cake with his friends and teachers.

MY LATEST VIDEOS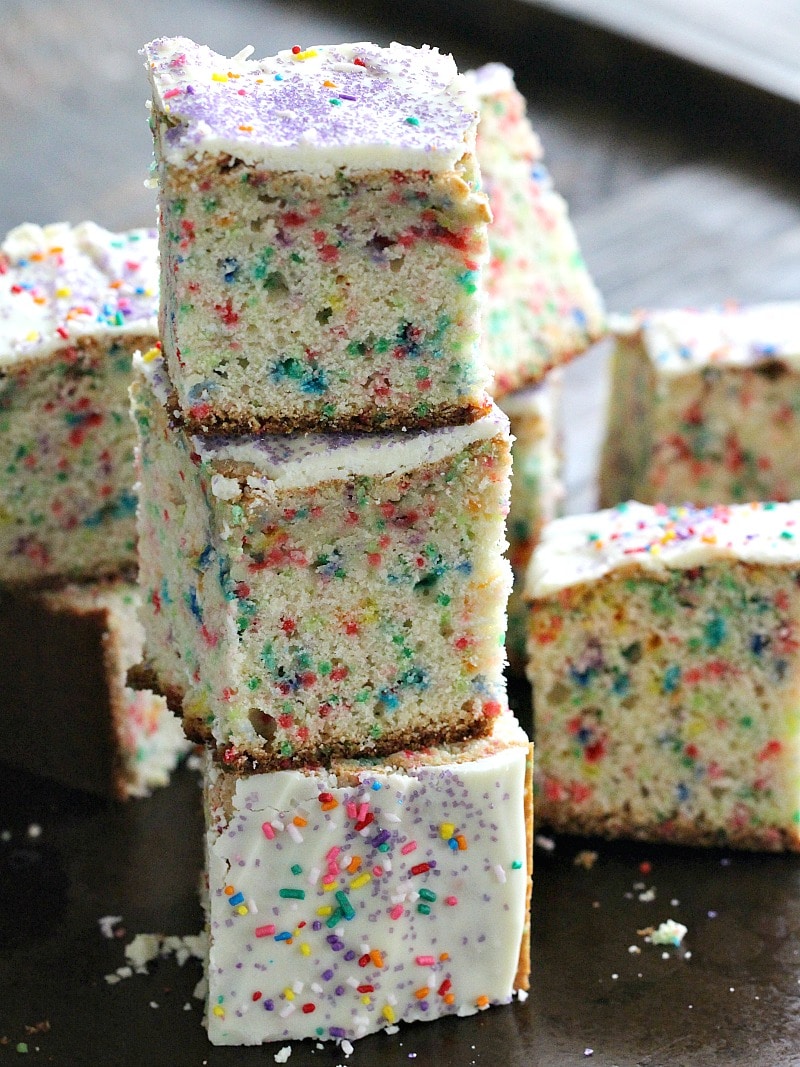 I might sneak a bite or two, as I am a 3 year old obsessed with sprinkles!

White Chocolate Funfetti Cake
Funfetti Cake is very easy to make with just a few ingredients, loaded with sprinkles and topped with melted white chocolate, this cake is a fun dessert.
Author:
Katalina Kastravet
Ingredients
1 cup butter / 2 sticks / 226 grams, unsalted butter at room temperature
2 cup sugar
4 whole eggs
2 tablespoon vanilla extract
3 cups flour
2 teaspoon baking powder
⅔ cup milk
1 cup assorted brightly colored sprinkles + more for topping
4 ounces white chocolate, chopped
Instructions
Preheat oven to 350 degrees F.
Line an 11-by-8-inch baking pan with aluminum foil, spray with cooking spray; set aside.
Using a mixer, cream together butter and sugar until fluffy, about 3 minutes. On low speed, add eggs one at a time, add vanilla extract and beat until combined, making sure to scrape the sides of the bowl with a spatula. Combine flour, baking powder and salt in a bowl. Add half of the dry ingredients to the wet ingredients, mixing until just combined, add the milk and once combined, add remaining dry ingredients.
Using a spatula, fold in assorted sprinkles. Pour into prepared pan and and bake for 50 - 60 minutes, or until a cake tester inserted into the middle of the cake comes out clean. Half time into baking, rotate the pan, to make sure the cake bakes uniformly.
Let the cake cool into the pan for 10-15 minutes, before transferring to onto a wire rack. Let the cake completely cool before topping with white chocolate.
Let the cake cool completely before drizzling with white chocolate.
Bring a medium saucepan half filled with water to a boil. Place white chocolate in a medium bowl set over the saucepan of simmering water, let it melt, stirring just a few times. Make sure the bowl doesn't touch the boiling water, to avoid overheating. Remove bowl from heat and pour the white chocolate over the cake, top with sprinkles.
Let stand for 15-20 minutes before serving for the chocolate to settle, or better place cake in the fridge for 10 minutes for the chocolate to harden quicker.
Notes
The batter can be used for cupcakes, reduce baking time to 18-20 minutes. Or it can be baked in round pans for a layered funfetti cake.
Peas and Peonies, LLC. owns the copyright on all images and text and does not allow for its original recipes and pictures to be reproduced anywhere other than at this site unless authorization is given. If you enjoyed the recipe and would like to publish it on your own site, please re-write it in your own words, and link back to my site and recipe page. Copying and/or pasting full recipes to social media or personal blogs is strictly prohibited. Sharing this recipe is very much appreciated and encouraged. Read my disclosure and privacy policy. This post may contain affiliate links.