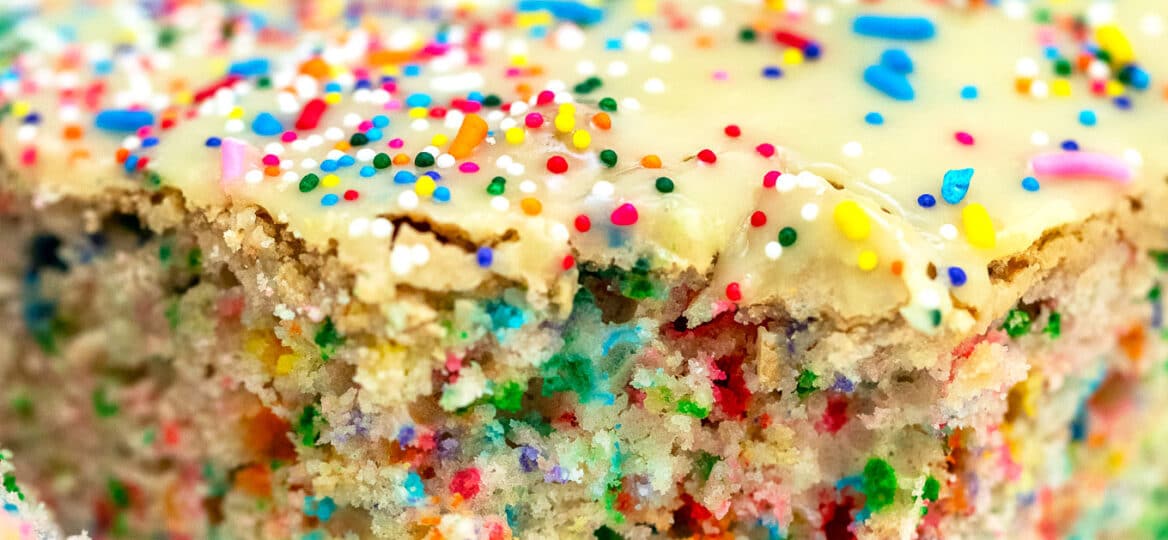 Funfetti Cake with White Chocolate Topping
White Chocolate Funfetti Cake is very easy to make with just a few ingredients. It is loaded with sprinkles and topped with melted white chocolate, making it a fun and tasty dessert.
This light and fluffy cake is super easy to make from scratch. Also, it is perfect for themed parties, and is a hit with kids and adults alike! I love making cool and easy cakes, like my other popular once Purple Cake, Raspberry Angel Food Cake, and Triple Chocolate Pound Cake.
Homemade Funfetti Cake
This White Chocolate Funfetti Cake is covered in white chocolate and is perfectly fluffy and sweet. This cake is fun to make, and a great kitchen project with kids.
Also, it is quite simple to prepare, and all you need is a few simple ingredients. This is one of the best desserts to enjoy during the Christmas holiday season. The batter for this Funfetti Cake is very versatile, you can easily use it to make cupcakes or a layered funfetti cake.
The toppings are again based on preference. I made the cake with the intention to send it to my son's pre-school, so I covered it in white chocolate and sprinkles, since its easier to transport. However, you can mix things up if desired.
Also, its much easier for kids to eat, and should I add, mess-free. My son absolutely loves it when I give him treats to take to school, and he is super excited to share this chocolate-covered cake with his friends and teachers.
Why you'll love this White Chocolate Funfetti Cake:
First of all, it is very easy to make and requires only a few ingredients.
Would make for some pretty darn cute hostess gifts.
Also, it is great to make together with kids!
Easily transportable for parties or events.
Can be made 1-2 days in advance.
What is Funfetti?
Funfetti cake is a type of cake that has rainbow-colored sprinkles baked into the batter. It is commonly used for birthday cakes, and holidays, such as Christmas due to its rainbow color and festive look.
To bake this cake you'll need:
Baking pan: I like baking the cake layers in this baking pan. I prefer the aluminum pans over any other type of cake pans.
Stand Mixer: To make the batter, I recommend using a Stand Mixer. It makes life so much easier!
Silicone Spatula: To spread the batter and even it, I like using silicone spatulas.
HOW TO MAKE FUNFETTI CAKE (CONFETTI CAKE)?
This is a simple dessert to make. The recipe comes together quickly and the cake layers only take about 50 minutes to bake. For exact ingredient measures and steps, please see the recipe card below. However, the general steps are as follows:
Prepare the batter: Using the mixer, prepare the cake batter by beating the ingredients together with the flour.
Bake the batter: Grease and flour your pans at the bottom. This ensures the cake does not stick to the pan. Then, pour the batter and bake for about 50 minutes, or until baked. To check if it is ready, insert a toothpick into centers. If it comes out with only a few moist crumbs attached, it means that is ready to be taken out of the oven. Set aside, and let it cool.
Make the frosting and frost it: You can use regular cream cheese frosting to top it. In this version, I went ahead and used melted white chocolate. Once melted, simply evenly pour over the top, and level nicely with the spatula. Decorate the cake with more sprinkles if desired. I chose to use different sprinkles for decorating the outside part.
WHAT ARE SPRINKLES MADE OF?
The sprinkles are made of sugar, corn syrup, cornstarch, little food-grade wax, and artificial coloring and flavoring.
How to store FUNFETTI CAKE?
To store: You can slice it, and transfer to an airtight container or cake keeper. Keep the cake covered in an airtight container or cake keeper. The cake will stay fresh for up to 3 days at room temperature or up to 5 days in the refrigerator.
To freeze: Cool the funfetti cake completely. Then, fully wrap it in plastic wrap tightly. Next, wrap in aluminum foil or place it in freezer bags. Freeze for up to 3 months. Defrost before slicing.
Recipe Tips:
Using funfetti cake mix is best it ads a lot of flavors to it. It is also very festive and decorative. However, you can also use a yellow cake mix if you don't have a confetti cake mix on hand. Just add more sprinkles to the batter.
The unsalted butter must be room temperature. So try not having greasy and oily, as at that point the butter is way too melted.
Adding extra sprinkles to the batter is optional, but why not load it with sprinkles.
Be careful when melting the white chocolate as it tends to separate, start by melting for 30 secs and stir well.
Also, I like using rainbow color sprinkles similar to these. But you can use any type you prefer. It is important to pick the rainbow sprinkles carefully. Some brands taste awful and will ruin the cake.
If you do not want to use white chocolate for frosting, feel free to use regular cream cheese frosting, or whipped cream one.